Pink Leg of Lamb
Home
>>
Recipes
Superb Turkish recipe for a seared and simmered leg of lamb in a pink sauce.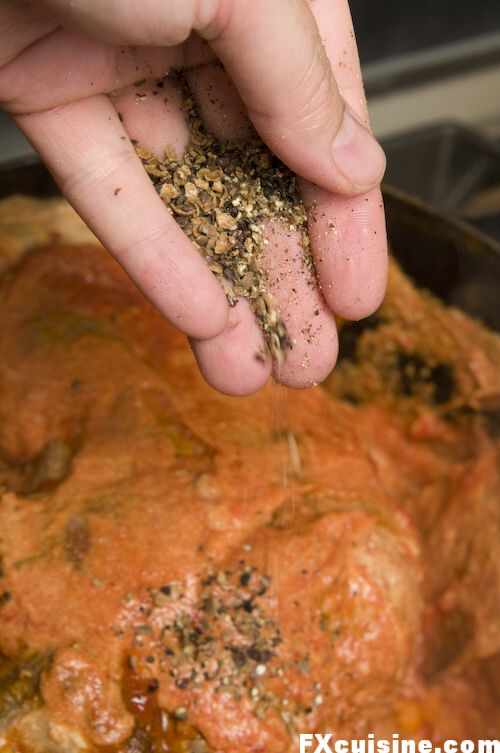 This is a very simple and delicious way of eating leg of lamb Turkish style. I discovered it in a book by Clifford Wright, a unique American cookbook author, food scholar and cultural historian much versed into Mediterranean cookery. It shows how to prepare regular yogurt so that you can simmer it for hours without ever splitting it. A lesson many Indian curry houses would benefit from!
Pink Leg of Lamb
1.5kg 3lbs deboned leg tied
3-5 garlic cloves slivered
Salt and pepper
Oil
1 cup tomato purée
5 allspice berries
1 cup stabilized yogurt made with:
1 liter/quart yogurt
1 egg white from a large egg
1 tbsp cornstarch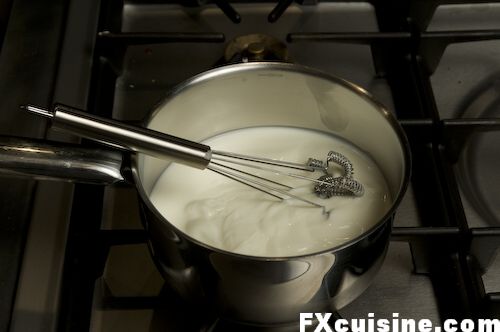 To make the stabilized yogurt, pour your yogurt in a saucepan...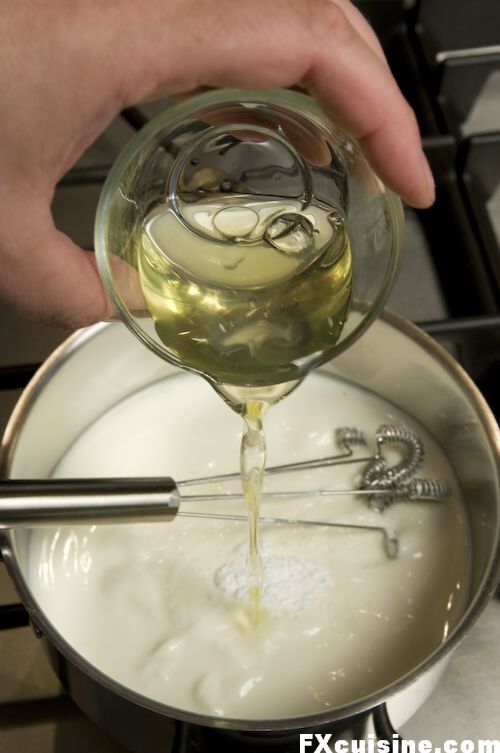 ... add the cornstarch and egg white. Use a whisk to combine thoroughly.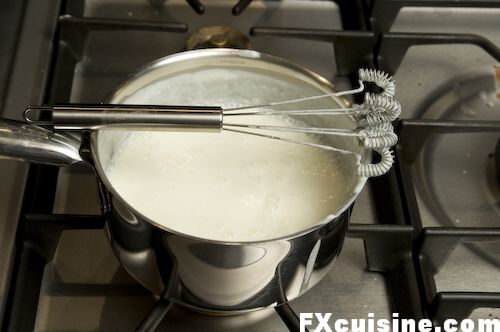 Simmer for 5 minutes. That's it. Let it cool down and store in the fridge for later use. We will need only half this quantity for our recipe.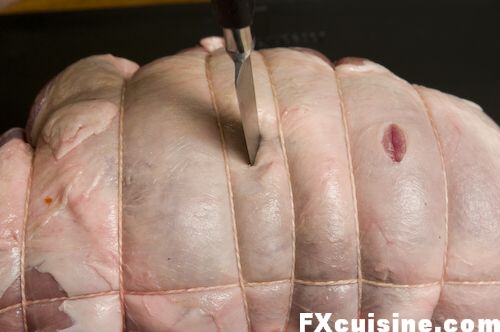 Using a sharp and narrow blade, make deep incisions in the deboned and tied up leg of lamb.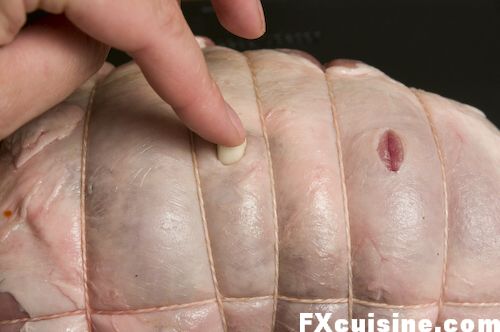 insert peeled garlic cloves in each hole.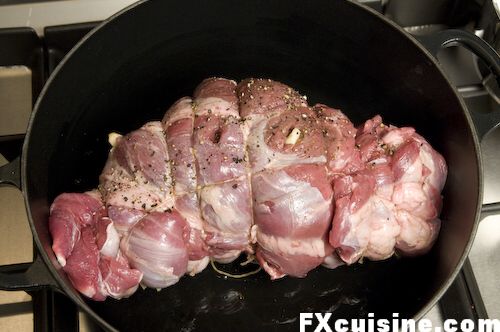 Season with salt and pepper. Heat a spoonful olive oil in a large Dutch oven ...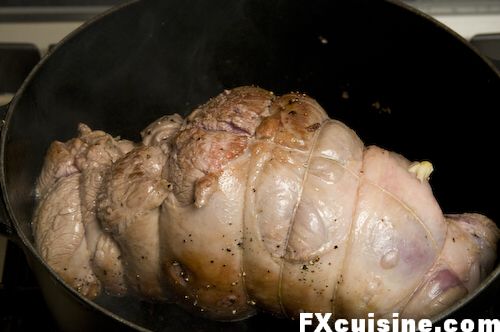 ... and sear the meat all over, turning until every side has turned in color.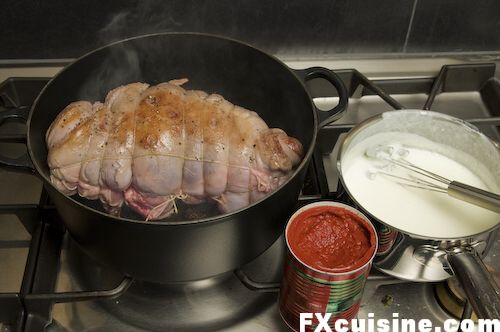 Prepare the yogurt and tomato concentrate.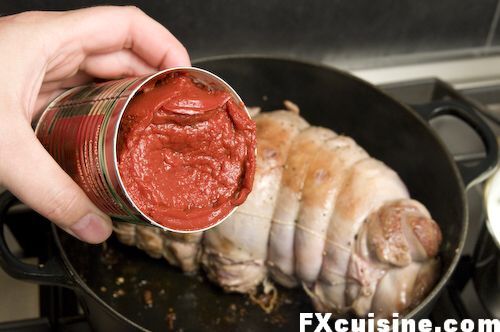 Add the concentrate much like you would in a Neapolitan ragù, either spoonful by spoonful ...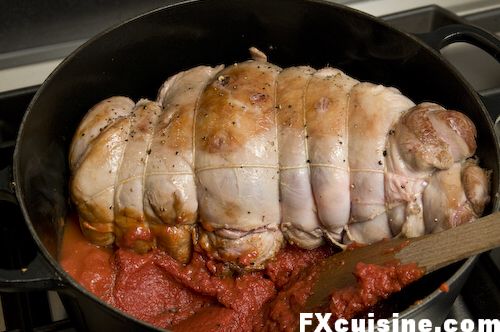 ... or all in one go if you are in a hurry and want to give up that caramelized tomato taste.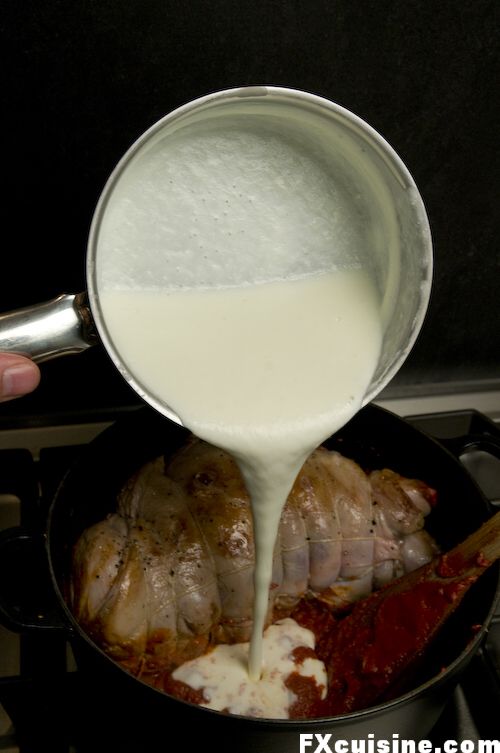 Pour the stabilized yogourt and enjoy the contrast between red and white.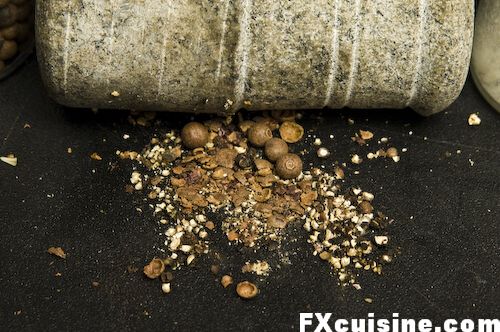 Crush the allspice berries and add to the pot.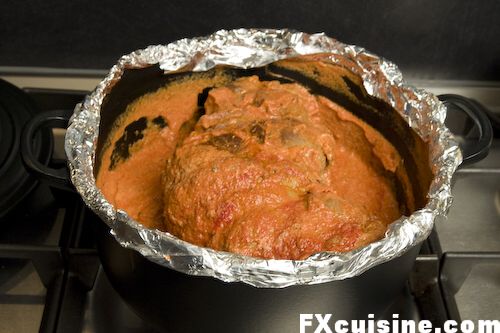 Lute the pot with tin foil or a quick dough made with flour and water. The idea is to seal the pot shut. Bring to a boil before sealing, then place on the lowest flame or in the oven at around 100 °C and simmer for 2 hours.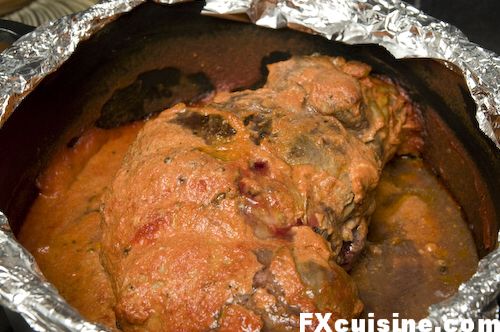 You should not exceed 100C° so that the leg of lamb remains rosy no matter how long you cook it.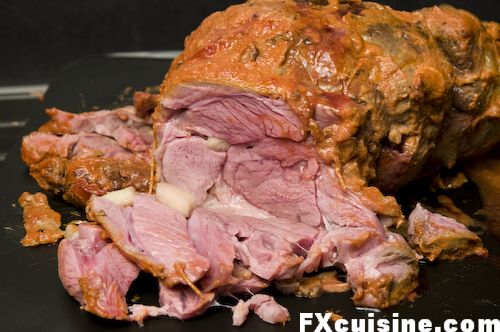 Slice and discover the gorgeously juicy inside, flavored with steamed garlic and swimming in the slightly tart pink sauce.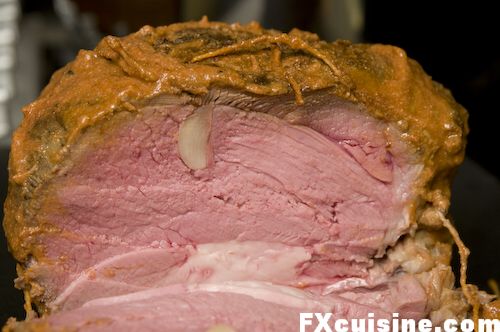 Sorry for the poor food styling but I was so hungry by the time this was ready, the courage to bring out props and tools failed me. A most delicious recipe and very simple despite the relatively long cooking time.
I warmly recommend Real Stew by Clifford Wright.
139665 views
Copyright FXcuisine 2023 - all rights reserved.
If you do this recipe at home please let me know how it worked for you by submitting a comment or send me a picture if you can. Thanks!