Ultimate Speck
Home
>>
Experiences
Proper Speck, a cult Tyrolian dried and smoked pork meat, can only be found in a narrow corner of Val d'Ultimo, in Italy. Probably the best dried meat on earth, and you can't really buy it. But let me show you how it's made.
I am moving FXcuisine.com to video and it takes me time to get my films at par with the articles you have enjoyed for the last 2 years. I won't be able to publish as many photo articles as before, so you photo-fans, enjoy this one! Give me time and you'll see that the videos will be just as good, with the added benefit of sound, moving images and live jokes.
Nobody eats proper Speck these days. Even Italians think that industrially dried hams are where Speck ends. Nothing could be further from the truth. Real Speck [shpayk] is a whole pig carcass, deboned, rubbed with salt and spices, then dried and smoked in an alpine chalet's kitchen for a year. It is one of the most flavorful meats on earth. You can't buy it because nobody makes Speck like this any more. Or almost nobody.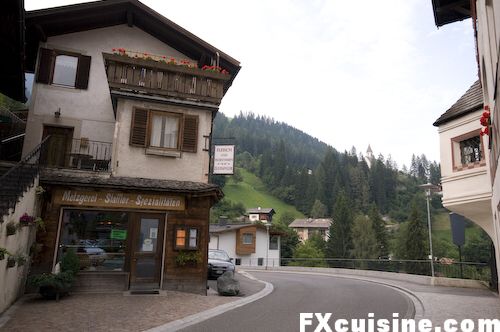 Sometimes when the great wave of time comes and erases all, it misses a little spot. For a while, that spot preserves what was as it was. If you are fortunate enough you can visit until the next wave comes. I found such a sport in Val d'Ultimo in the Italian Dolomites, where two local gentlemen took me in their car to show me how traditional Speck was done. Very, very few people still do it like this. Most of today's Speck is the dried deboned thigh of an imported pig. Until I came to Val d'Ultimo, I thought that this was proper Speck.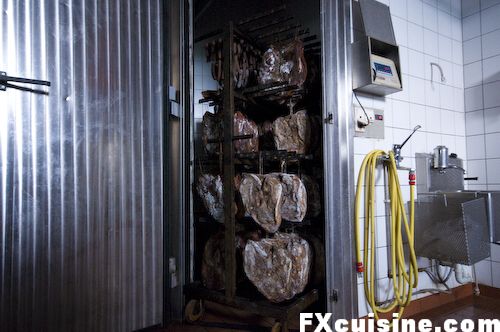 Even the best salumerie in Italy produce dried meats in semi-industrial facilities as clean as a German dentist's waiting room, streamlined, efficient but soulless. But people work for money or they soon close shop, so such Specks are usually made from Austrian pigs raised industrially, and they are dried for only a couple months. Edible products, no doubt, but compared to real Speck this is like airline food and homecooked meal at FXcuisine.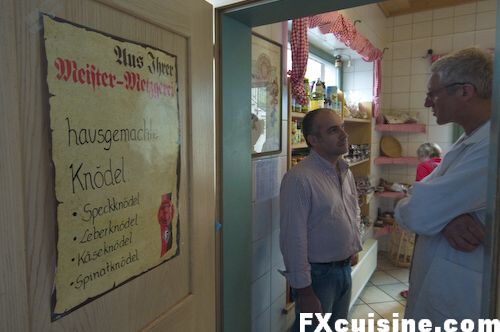 Dietmar Staffler (right) used to be Karl Telfser's (left) schoolteacher, until he took over the family butcher's shop, in operation for more than a century. Each has his own business producing all sorts of Tyrolian delicacies. On top of that, and more for the art than for profit, they manage to produce about two dozens traditional Specks of the highest order, hard core slow food treats for the real connaisseur.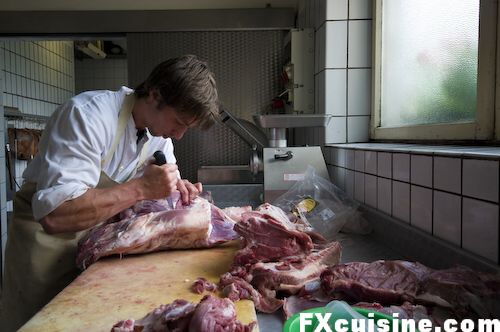 Karl and Dietmar raise a few pigs sulla malga, up in some remote alpine pastures, where they spend the whole summer enjoying the fresh air and good diet. They are slaughtered in December, then deboned and rubbed with salt and spices and left to dry for a month. Then ... but let me show you rather than tell you.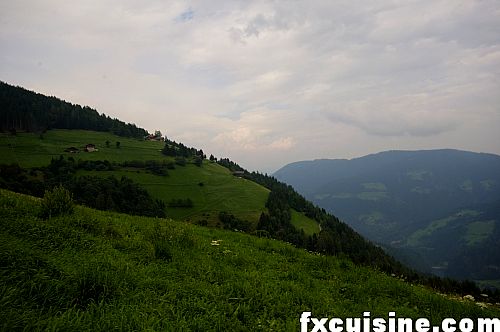 We climb in Dietmar's car in the middle of a glorious afternoon and drive up the mountains in the enchanted landscape of Val d'Ultimo. Hear it straigh from the horse's mouth: this is every bit as gorgeous a setting as the Swiss Alps.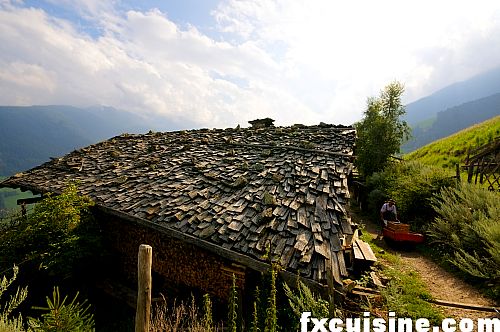 The car stops and we walk down a small road in the middle of nowhere, until we reach an age-old Tyrolian chalet with wooden tiles on its roof. How many winters did it weather?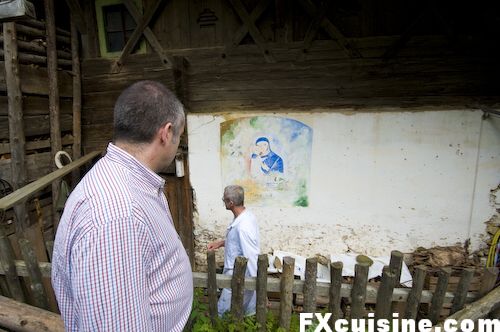 Dietmar walks to the door to call the owner ...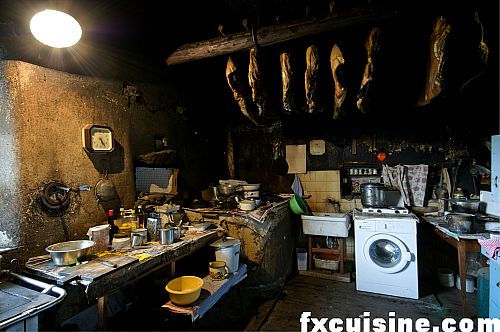 Nobody home, but the door is open. We walk into an impossibly atmospheric kitchen, straight from the days of yore, one of those places that would give an instant heart attack to a EU slow-food-killing inspector. And well done that would be, for these guys understand nothing of traditional foods.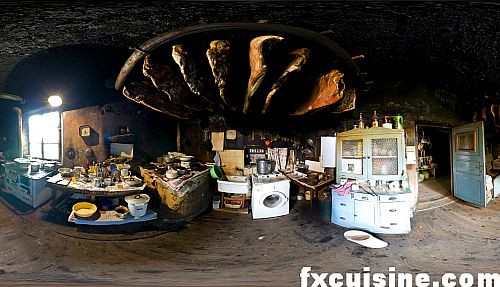 Interactive 360° panorama
See the whole kitchen with its hearth and half a dozen 100kg specks hanging from the ceiling with my spherical panorama.
La bohème of unmarried tyrolian cowboys in all its humble poetry ...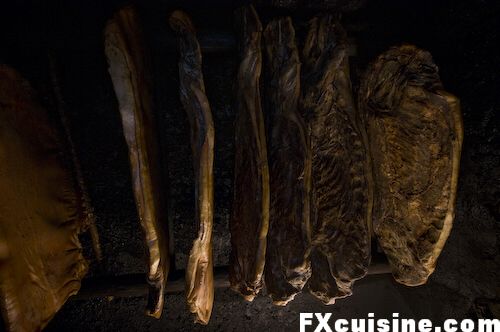 ... and above me a dozen majestic specks, each 100 kilograms, a whole pig sliced in half and deboned hanging for a whole year, enjoying the smoke from the open hearth, like in the old days. Layers upon layers of smoky flavor slowly imbibe the meat to give a unique product fit for a king.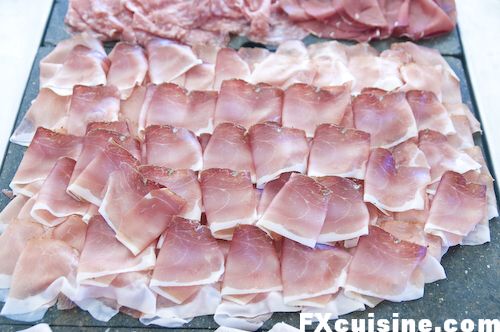 Speck is often used to prepare pasta sauces or knoedel, but I like it best thinly sliced. The meat is very lean and is extremely fragrant with the smoke, juniper and rosemary. A pure delight!
Each Speck is 100kg/200 lbs. The problem is not to sell them - Karl and Dietmar have a waiting list. What's hard is to produce it. Alpine pastures can accommodate only a couple pigs each, and slow-smoking the traditional way requires a very traditional smoker - not many of those left! Even I was not able to buy any.
Hey Karl, can you put me on the waiting list for 100kg?
selected Foods
Karl Telfser
Kirchsteig 5 via salita alla chiesa
I-39012 Merano
T+39 0473 23 45 56
F+39 0473 27 51 90
k.telfser-ohg [AT] dnet.it
Karl and his wife run a business in Südtyrol that sells really seriously slow food you can find nowhere else. Products like his proper Speck are made in such small quantities that they can bring in only a minuscule profit, but Karl continues to produce it along with more conventional Tyrolian food specialties, out of sheer love for proper food. You have to taste his apricot jam - just incredible. If he was English he'd be nominated Food Hero of the year and they would be invited to have tea with the Queen.
Staffler-Spezialitäten
Dietmar Staffler
Hauptstrasse 191
I-39016 St. Walburg/Ulten
T+39 0473 79 53 23
dietmar.staffler [AT] rolmail.net
Tell Dietmar I sent you. His family butcher's shop has been in a lovely village in Val d'Ultimo since 1906. The baker right opposite is well worth visiting too.
249482 views
Related Articles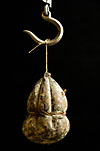 Salama da sugo ***
This medieval Italian sausage from Ferrara nearly made me pass out.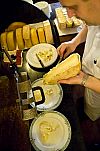 Swiss Raclette ** Popular
The national dish of Valais, my Swiss canton, raclette is the most gorgeous melted cheese you will ever have. Here at its best at the Manoir de Villa in Sierre.

Slow Food Fair **
My visit of the largest traditional food fair in the world in Torino, Italy.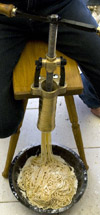 Bigoli, Bigolaro, Bigolarist **
My largest and most unusual pasta-making accessory, the bigolaro, made 28 fat spaghettis, called bigoli, each as long as the room. Served with the traditional duck ragù, this made my guests very happy despite the fact they had to make their own pasta.

Foie Gras Terrine (Video) **
Learn how to make a foie gras terrine from scratch in only 12 minutes.
Copyright FXcuisine 2023 - all rights reserved.
If you do this recipe at home please let me know how it worked for you by submitting a comment or send me a picture if you can. Thanks!