Sicilian Cartwheel Driver Pasta
(page 2 of 2)
Home
>>
Recipes
Delicious authentically Sicilian pasta and an excuse to tackle the intriguing Caciocavallo, the king of Sicilian cheeses.
Crush the garlic and add to the pot.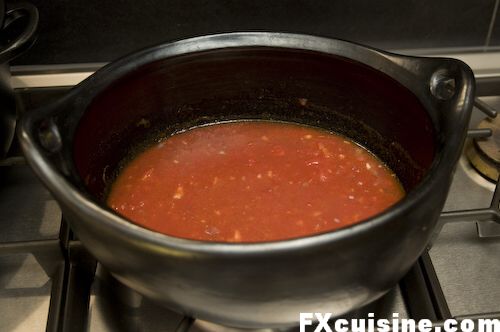 Mix a little water in, toss, cover and simmer for 30 minutes or so.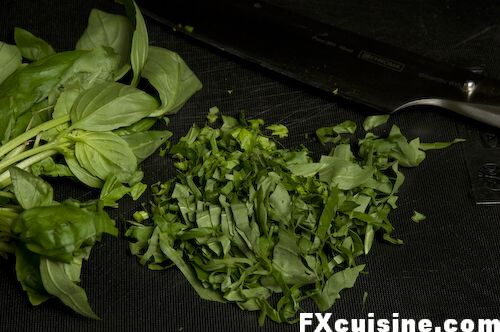 To ensure that your basil remains fresh and does not turn black and soft, you need to actually slice it with a front-and-back-and front movement with a sharp knife. It just doesnt't cut it to chop it up-and-down like a guillotine. If you do this, you crush the edges of the basil leaves and your basil will blacken in less time than it takes to say cornuto. If you do this, you'll get to show off by calling it by its French technical name, chiffonade ([shee-faw-nad], with every syllable pronounced with the exact same length).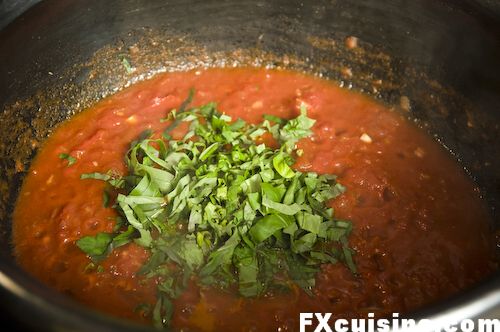 Should you add the basil while you cook or right before you serve? I've never been able to solve that question, and I always add basil both while the tomato sauce simmers and right before serving. After all, there is no such thing as too much basil, the herb of the kings, is there?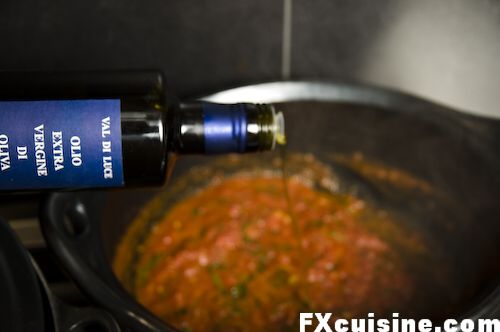 For most people oil is a necessary evil, something you just can't really totally eliminate when it comes to cooking. Then plan is to use as little as possible, right? Wrong. In Sicily, mamas flavor their tomato sauces with a generous amount of olive oil after they are almost cooked through. By generous I mean a 1dl / 0.3oz. Here I'm using a bottle I got from my friend Richard who visits the olive orchards in Tuscany. Very nice.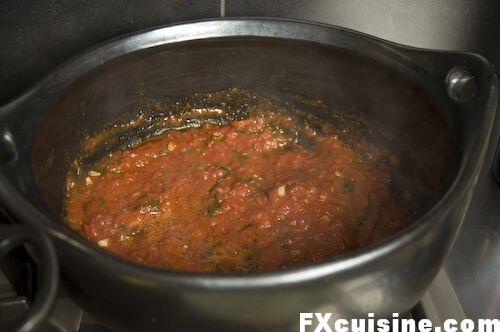 Cover and simmer on the lowest flame until you are ready with the pasta.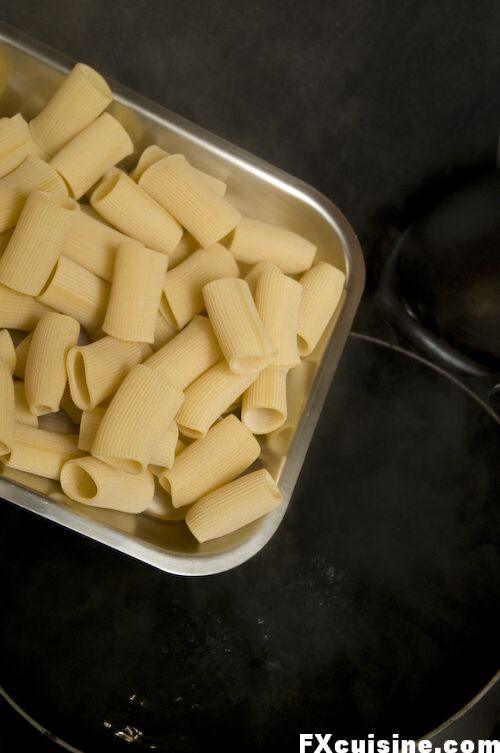 You can use all sorts of tubular pasta for this dish, as long as it is made from hard wheat and bronze extruded. Cook in your largest pot with a bit of salt and no oil.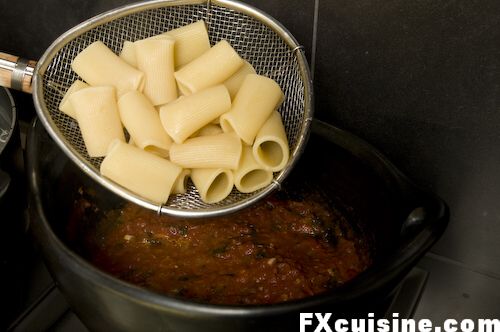 Remove the still-slightly-undercooked pasta from the water with a sieve and place in the sauce.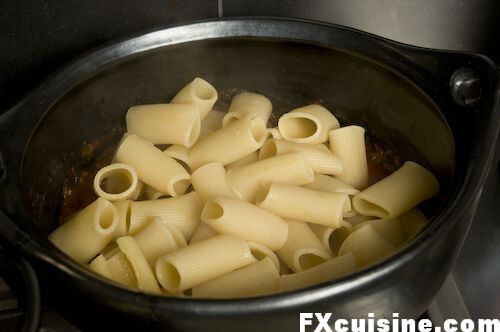 I felt a moment of gastronomic guilt when I saw that one my paccheri had split open. Not so much for the pachero itself, but because the week before, in a luxury hotel where I had been invited to lunch, I sent back to the kitchen a plate of the same pasta as it was hopelessly overcooked. I didn't even have to taste, they looked overcooked from across the room. The maître d' came to me, more pissed off about the dish that had been served than about me sending it back, and said «You must understand it's a difficult pasta to cook, it takes 20 minutes.» I answered that I did understand, that I had ordered it more than 20 minutes ago and that clearly this one had cooked for a good 40 minutes and that if they were not able to cook them properly I could understand but then they should not put it on the menu. The maître d' admitted they precooked it and apologized. So when I saw that even in my kitchen I had ripped one pacchero open, you understand how I felt! But they were very bity and perfectly al dente.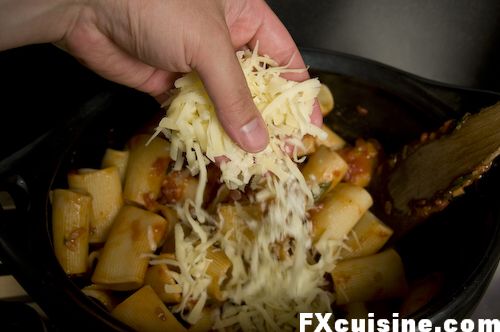 Add the grated caciocavallo...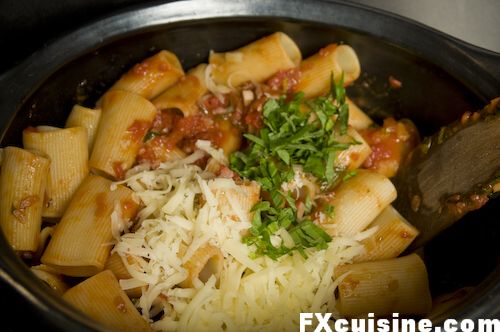 ... the some of the op. cit. basil chiffonade.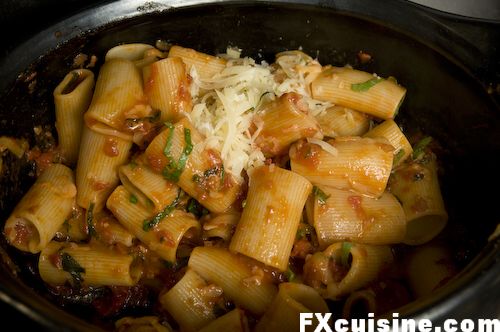 Toss...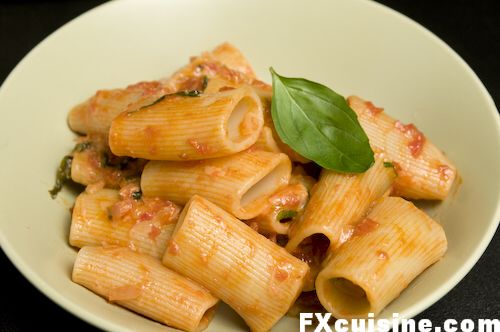 ... and serve. You may curse like a cartwheel driver at never having eaten such ¬§°@#§°#@ damn good pasta before ever in your life.
194566 views
Related Articles

Authentic Sicilian Pasta With Broccoli ** Popular
This traditional Sicilian recipe brings together North African and Italian culinary traditions. A cult dish!

Serious Pasta alla Norma ** Popular
Pasta alla Norma, a divine combination of eggplants, tomatoes, basil and ricotta, is one of the most elegant traditional Sicilian recipes. A real cult classic!

Arancini, the cult Sicilian dish * Popular
These glorified deep-fried stuffed rice croquettes are a cult sicilian dish celebrated in a recent best-selling Italian novel.
Copyright FXcuisine 2023 - all rights reserved.
If you do this recipe at home please let me know how it worked for you by submitting a comment or send me a picture if you can. Thanks!