Mandeldragees aus Verdun
(Seite 2 von 2)
Home
>>
Kulinarische Erfahrungen
Während meines Aufenthaltes im Hattonchâtel-Schloss in Frankreich gelang es mir, eine private Führung durch die Fabrik des größten Drageeherstellers in Verdun, Dragées Braquier, zu organisieren.
Herr Heusele selbst denkt, dass das interessanteste Produkt, das Braquier herstellt, die Grenzen des guten Geschmacks überschreitet. Trotzdem verkaufen wir etwa 1000 Schokoladenhülsen pro Jahr - und die Leute lieben sie. Es werden nur etwa 200 exportiert, hauptsächlich nach Großbrittanien. Wir dürfen sie nicht mehr in die USA exportieren.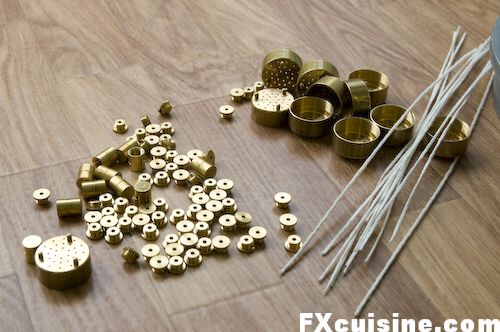 Das hier ist kein qualitätsloser chinesischer Schund. Jede Artilleriehülse hat eine Basis aus Messing und ein handgemachtes Gewinde.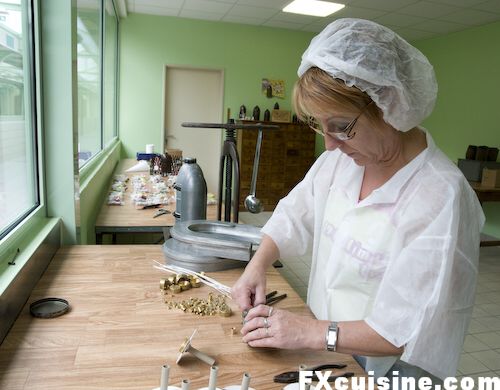 Diese Frau baut die Basis für jede einzelne Hülse zusammen...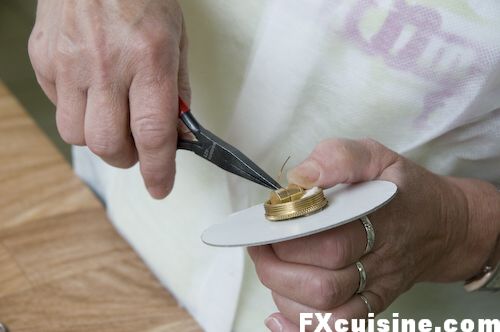 ...während sie den Baumwollfaden mit einer Kammer verbindet, die mit nicht-rauchendem Pulver, wie das für Pistolen, gefüllt ist.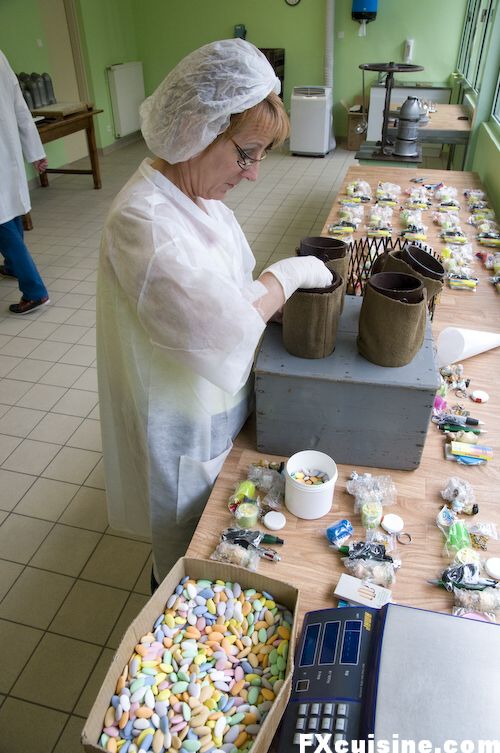 Die Artilleriehülsen aus Schokolade kommen in drei Standardversionen: "10", "15", oder "20", je nach dem, was sich in ihnen befindet. Sie funktionieren ausgezeichnet, die einzige Beschwerde, die wir manchmal erhalten, ist, dass in einer "20"-Hülse manchmal nur 19 Sachen drin sind, sagt Heusele scherzhaft. Sie kosten entweder 78 € oder 108 € pro Stück. Manche Menschen bestellen sie gesondert und bitten darum, dass man Autoschlüssel oder Hochzeitsringe in ihnen verstecke. Ich frage mich ob das in diesem Zeitalter der erhöhten Sprittpreise eine gute Idee ist.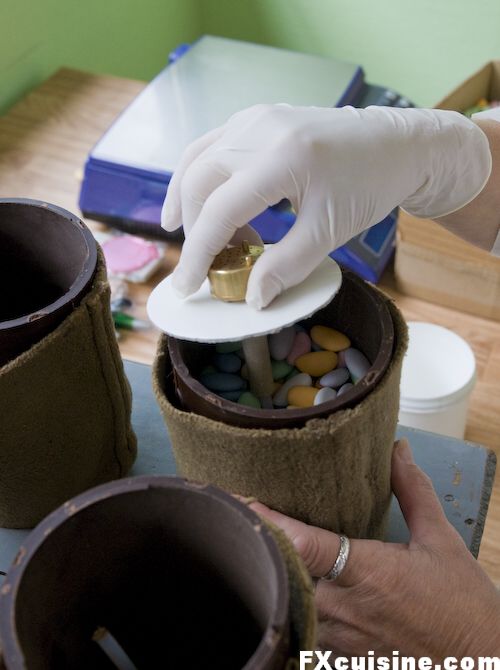 Die Artilleriehülsen aus Schokolade werden auf den Kopf gestellt, mit Süßigkeiten oder Spielereien gefüllt. Am Ende platziert man den Explosionsmechanismus.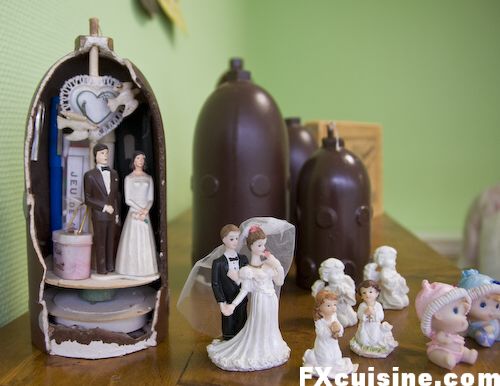 Man findet wahrscheinlich auch andersweitig  ähnliche, aber weniger schmackhaftere Hochzeitsglocken - aber Herr Heussele besteht darauf, dass Braquier derartige Dragees bereits 1869 verkaufte. Trotzdem dürften die Begriffe Verdun und Artilleriehülse sogar jemandem etwas sagen, der von Geschichte kaum Ahnung hat. Denn bei Verdun fand eine der größten Schlachten des Ersten Weltkrieges statt.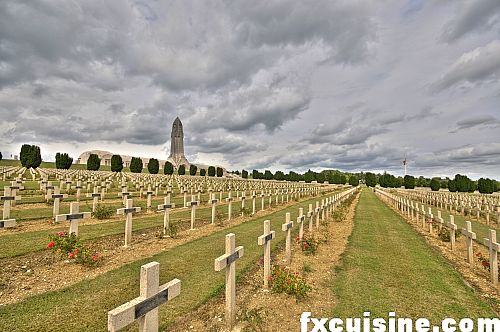 Für die Besucher, die gerne daran erinnert werden möchten, wie vergänglich das Leben ist, empfehle ich, die Straße, in der die Baquier-Fabrik liegt, drei Kilometer runterzufahren um zum Beinhaus von Douamont zu gelangen. 1916 war eine Rekordernte für den Schnitter - die Kämpfte bei Verdun bedeuteten das Ende für 300.000 Soldaten, die man später nicht mehr identifizieren konnte. Pétain, der Verdun mit Erfolg verteidigte, stiftete dieses Beinhaus in 1920, damit die Familien derer, die der Sense des Schnitters nicht entkommen konnten, wenigstens ein Grab haben, an dem sie weinen konnten.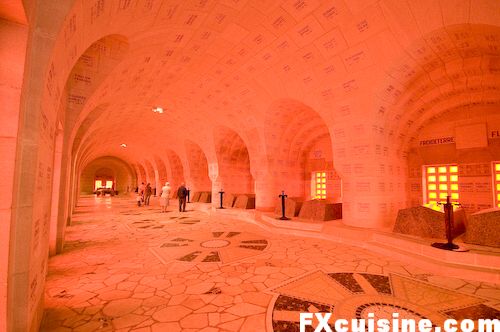 Später wurde ein Kappelle gebaut für jeden einzelnen der 52 Sektoren der Schlacht von Verdun und in einer großen Kirche untergebracht. Die Kirche hat die Form eines schwarzen Oberschenkelknochens mit einer Artilleriehülse als Glockenturm. Man sagt, dass die Kirche so entworfen wurde, damit sie aussieht wie ein gigantisches Schwert, das in die Erde stößt. Dies hier ist kein schöner Anblick, und Kriegstreiber sollten diesem Platz einen Besuch abstatten, damit sie sehen, auf was Krieg immer hinaus läuft. Das Licht im Beinhaus ist das Produkt des roten Buntglases. Ich habe nichts an der Farbe verändert, damit man einen Eindruck davon bekommt, was man an so einem Ort empfindet, und wie es ist, sich zwischen den sterblichen Überresten von 300.000 Menschen zu befinden.
 Während des Ersten Golfkrieges 1991 interviewte das französische Fernsehen Antoine Pinay, einen ehemaligen französischen Finanzminister und Veteran des Ersten Weltkrieges. Der Journalist woltle ihn dazu bewegen, diesen Krieg zu segnen und zu sagen, der Krieg sei gerecht. Ich erinnere mich immer noch, wie er seine Ärmel hochkrempelte. Sehen Sie, sagte er, während er eine Narbe an seinem rechten Arm zeigte, ich wurde während des Ersten Weltkrieges verwundet. In meinem Handgelenk befindet sich immer noch ein Stück Schrapnell. Heute bin ich 100 Jahre alt, und es habe jeden Tag meines Lebens deswegen gelitten. Also, Madame, wünsche ich niemandem Krieg.
Man kann Dragées Braquier in Verdun besuchen, an der öffentlichen Fabriksführung teilnehmen oder einfach den Fabriksshop plündern: 
Dragées Braquier
http://www.dragees-braquier.com
email
50, rue du Fort de Vaux
F-55100 Verdun
France
466198 gelesen
Related Articles

A Jam Fit for a Queen ***
The most expensive jam in the world is made in Bar-le-Duc from  red currants hand-seeded with a goose quill. Worth every penny!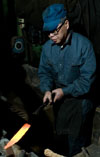 Japanese Bladesmiths ** Popular
A unique behind-the-scenes visit of the crafstmen who hammer out the best and most expensive kitchen knives in the world in the city of Sakai, Japan.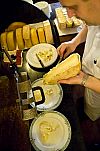 Swiss Raclette ** Popular
The national dish of Valais, my Swiss canton, raclette is the most gorgeous melted cheese you will ever have. Here at its best at the Manoir de Villa in Sierre.

Potato Chips Night Shift **
At midnight sharp, I entered Burt's factory in Devon to see how my favorite potato chips are made. Hand Fried in Devon.

French Blanc-Manger **
This extraordinary French sweet almond jelly must be the best food that survived the Middle Ages. My final and most tasty dish in the Hattonchatel castle serie.
Beliebste Artikel ¦ Letzte Artikel ¦ Nach Stichwort ¦ Letzte Kommentare
Copyright FXcuisine 2023 - all rights reserved.
If you do this recipe at home please let me know how it worked for you by submitting a comment or send me a picture if you can. Thanks!