La Minestrone Auténtica - La Sopa Italiana de Verduras
(página 2 de 2)
Home
>>
Recetas
La más deliciosa sopa campesina tradicional italiana, cocida durante 3 horas.  Aprende a hacer esta sopa con tus verduras locales de la estación y los 
tres ingredientes secretos
que la hacen realmente italiana.
Ahora para el toque italiano elegante.  El ingrediente secreto #2 es una rebanada de chicharrón (piel de cerdo) (a la izquierda) reciclado al cortar el tocino.  No te lo vas a comer y lo quitaré de la sopa al final, pero le añadirá sabor.  Por lo que respecta al ingrediente secreto #3, el más importante y el más italiano de los ingredientes es la costra de parmesano (a la derecha), cortada del trozo de parmesano que utilizaremos después.  Los chicos en Italia se pelean para ver quien se lo come, y añade sabor a la sopa.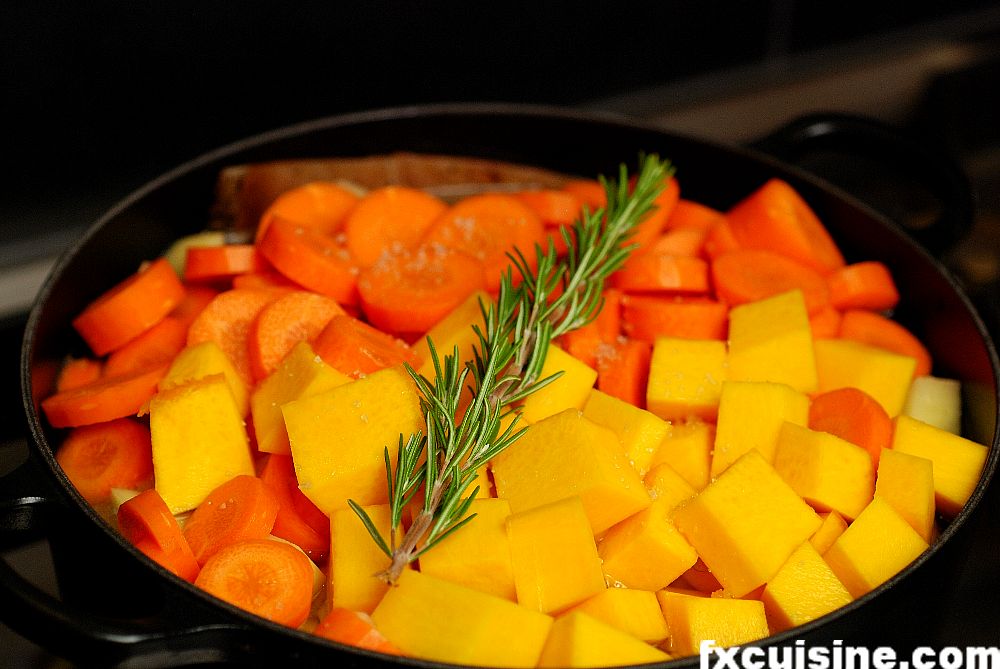 Una varita de romero o tomillo se cocinará con la sopa.  Puedes añadir hojas de laurel y amarrar todo en la hoja exterior de un poro para un poco de técnica francesa.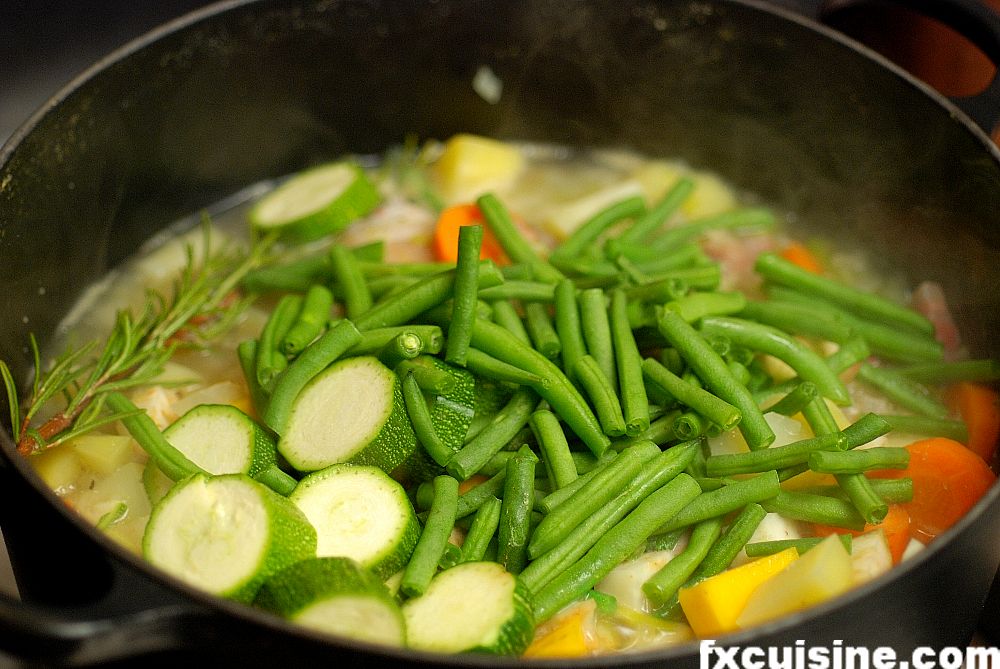 Los ejotes recién cortados y la calabacita.  No te preocupes de sobrecocer la calabacita, la intención es que se cuezan tanto que se volverán un delicioso puré que ayudará a espesar la sopa.
Después de 20 minutos de lavar, quitarles los tallos y cortar las hojas de espinaca, finalmente están listas para ser añadidas a la sopa (a la izquierda). Los frijoles  cocidos (a la derecha) se cuelan de su caldo negro de cocción (en la misma foto en la parte trasera, haz click para acercar la foto).
Tapa y cuece a fuego bajo hasta que la mayoría de las verduras comiencen a deshacerse sin que las tengas que machacar - como 3 horas.
Saca el chicharrón, las hojas de laurel y las hierbas.  Agrega un poco de perejil o albahaca finamente picados.  Ajusta la sazón con sal y pimienta de ser necesario.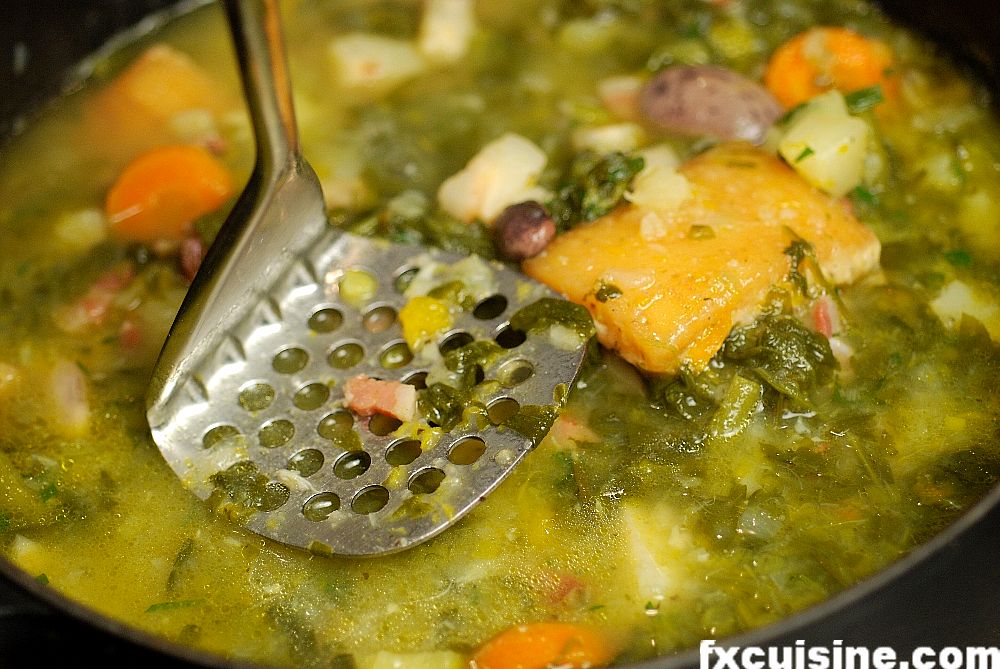 Con un triturador de papas machaca las verduras.  El espíritu de esta sopa es muy distinto a las sopas de hoy en día, en las que las verduras deben cocerse al dente, quedar un poquito duras y ser reconocibles.  Aquí cocinamos todo por largo tiempo hasta que el sabor de cada componente se une en una mezcla de puro cielo de verduras.  Las vitaminas ciertamente se pierden en el largo proceso de cocción.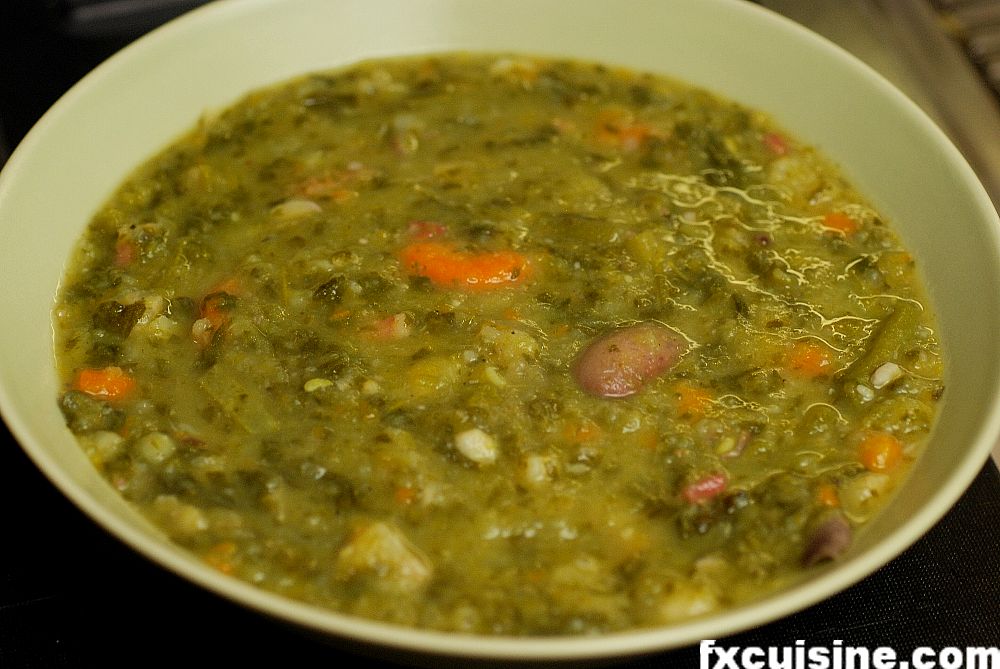 Aquí la tienes.  Sirve la sopa con pan a la parrilla, aceite de oliva crudo y un poco de queso parmesano recién rallado.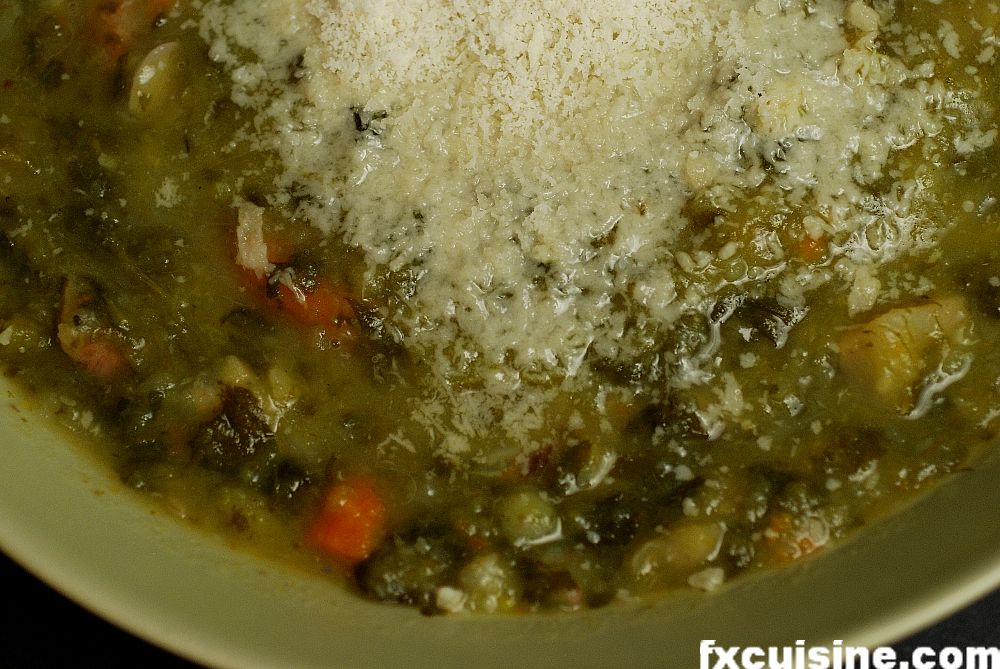 Puedes recalentar esta sopa al día siguiente, y también el que le sigue y hasta comerla fría.  Ya que la mayoría de los ingredientes se han disuelto en la sopa, la textura se mantiene bien y apetecible.  Hice esta sopa el martes pasado y comí una poca todas las noches hasta el viernes.  2 galones de sopa para 4 comidas ¡No está mal!
1401990 visitas
Artículos Relacionados

Magical Italian Pesto Soup ***
This legendary Italian and French traditional vegetable soup is turned into an elixir of long life by mixing in fresh pesto. A cult summer delicacy ready in under an hour.

Proper Pea Soup ***
Probably the best soup in the world, provided you get the key ingredient - a smoked ham bone.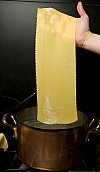 Lasagna From Scratch **
One of the most memorable pasta ever - lasagne bolognese made from flour, eggs and sweat!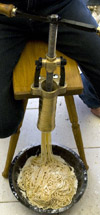 Bigoli, Bigolaro, Bigolarist **
My largest and most unusual pasta-making accessory, the bigolaro, made 28 fat spaghettis, called bigoli, each as long as the room. Served with the traditional duck ragù, this made my guests very happy despite the fact they had to make their own pasta.

Halloween Pumpkin Risotto **
Serious gourmet traditional pumpkin risotto from Lombardy (Italy) anybody can cook in under 40 minutes.
Artículos màs populares ¦ Ultimos artículos ¦ Por temas ¦ Ultimos comentarios
Copyright FXcuisine 2018 - all rights reserved.
If you do this recipe at home please let me know how it worked for you by submitting a comment or send me a picture if you can. Thanks!