Ragú Boloñesa
(página 2 de 2)
Home
>>
Recetas
Boloñesa es una de los platos más famosos en Italia, pero donde fuera de Bologna puede uno comer un verdadero ragú en estos dias? En tu propia cocina si tu sigues mi receta.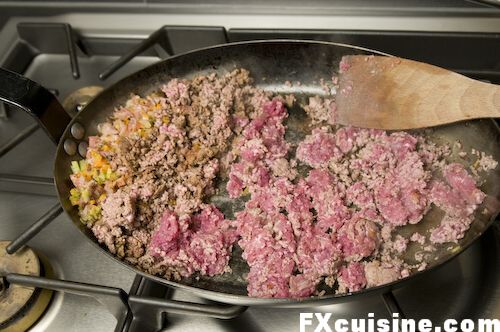 Aplasta la carne con tu espatula y revuelve constantemente  hasta que la carne este uniformemente dorada.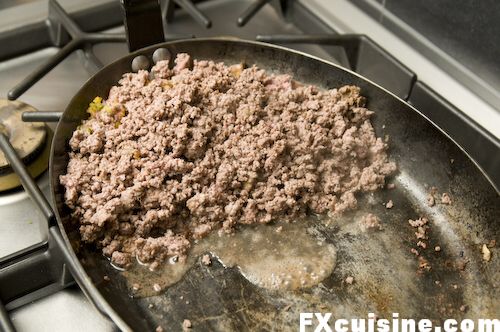 Colocala a un lado. Mira cuan relativamente grande es la cantidad de carne  sobre el lado relativamente frio de el sarten hace que salga el jugo de la misma? Eso es lo que sucederia si no hubieses prestado atención a mi advertencia acerca de colocar mucha carne en tú sarten. Pero ahora la carne esta dorada y ya no importa.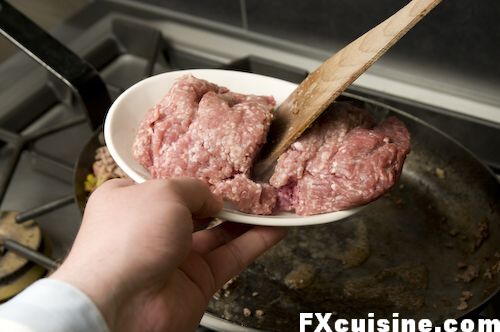 Continua con el resto de la carne ...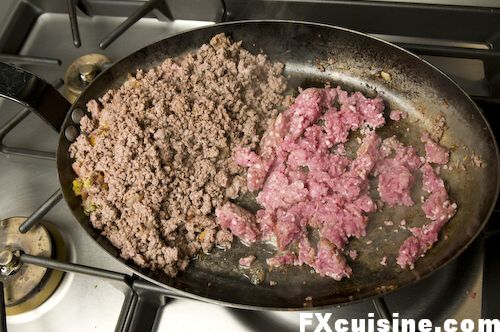 ...dorandola hasta que casi se te acabe la carne. Si se te acaba el espacio en tú sarten, solo remueve la carne dorado y colocala en el mismo plato donde colocastes el aderezo aromatico.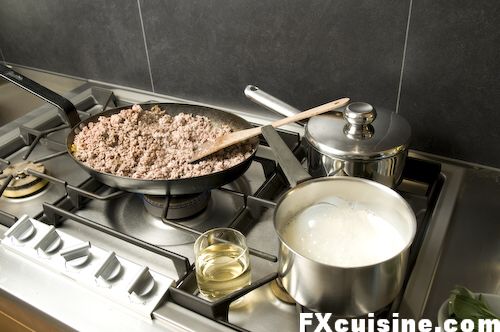 Un buen y organizaco espacio esta noche en  FXcuisine.com! Aqui estuve calentando consome/caldo de pollo (olla de arriba) y llena de leche descremada (abajo). Yo no me serví un vaso grande de vino blanco - esta será agregada en la carne en un segundo.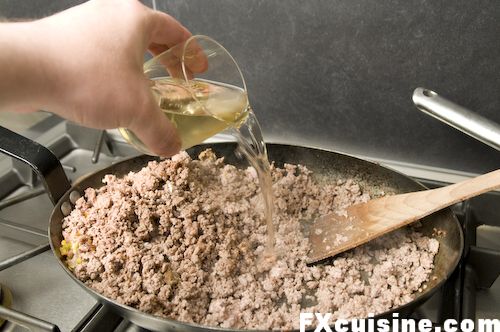 Mueve la carne y el aderezo aromatico en el centro de el sarten (ó devuelta en el sarten si lo tienes puesto en un plato aparte), manteniendolo en alta temperatura. Añadele el vaso de vino a la carne ...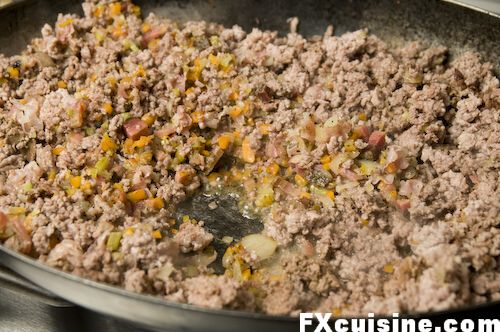 ... y dejala evaporar. Lo que queremos aqui es disolver los deliciosos pedacitos de carne quemada que se quedaron adheridos al sarten. Los chefs le llaman a esto deglacear y tú ciertamente debistes ver a tú Mamá hacerlo! Las hermanas Simili dicen que el vino esta suficientemente caliente cuando ya no lo huelas.  Basicamente puedes permitir que se evapore en su totalidad.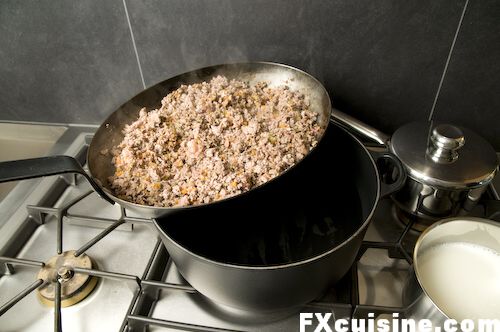 Ahora vamos hacia la ultima estapa - pronto descansaras! Toma una olla grande resistente al horno con una tapa, por instancias un olla holandesa. Vacia todo lo que hemos cocinado hasta ahora en la olla.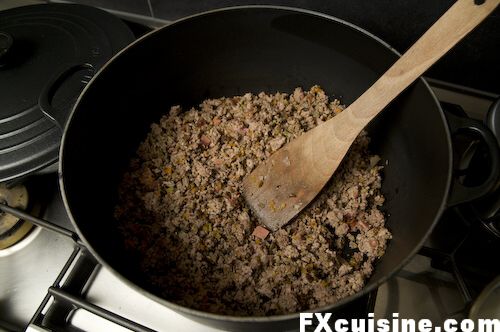 Coloca tú cabeza sobre la olla y huele. Acaso la vida no es maravillosa?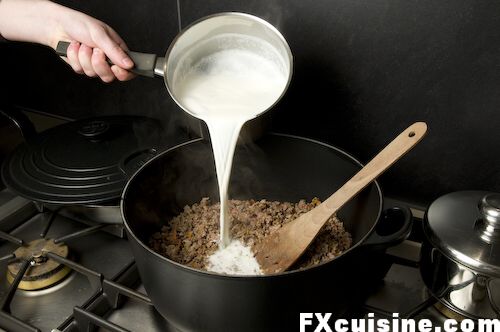 Coloca la leche en el ragú como tal cual cascada blanca.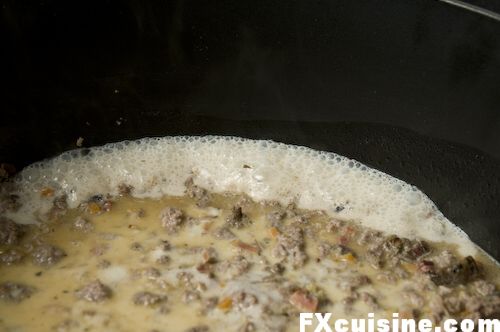 Mezcla y ponlo a hervir.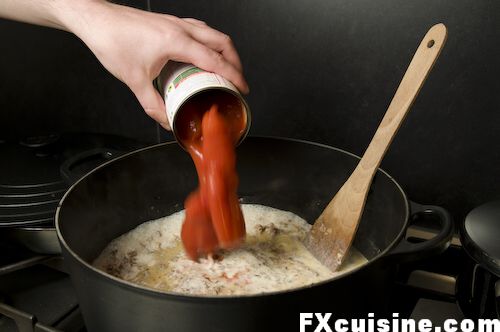 Aagrega los tomates - aqui utilize tomates enlatados  San Marzano de Vesuvio, aprovado por el dios de comidas de lenta cocción. No puedo dejar de preguntarme si los dioses han chequeado recientemente el paisaje en el estado de Campania.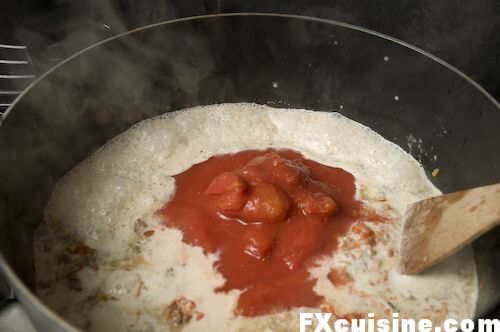 Luego  otra lata y mezclar. Si nadie de Bologna esta cerca, tú discretamente puedes colocar un  un poco de hierbas en el sarten. Si fuese por mi yo estaria orgullosamente en agregar un palito de canela y uno de mis adorados chiles Serranos, pero luego no seria una ragú boloñesa pero un ragú d'autore, una interpretación  personal del plato tradicional. rendering of the traditional dish. Quizás para la proxima.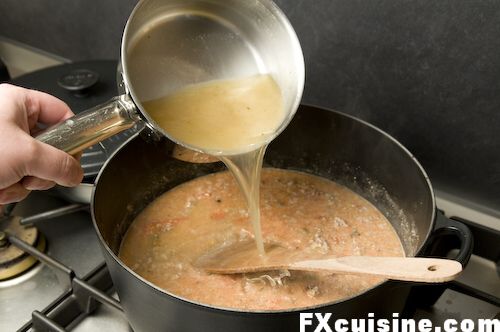 Agrega el consome/caldo de pollo, cubrelo y dejalo cocinar de 3 a 4 horas. Si  tienes un horno electrico puedes colcoarlo en 120C°/250F° y coloca la olla firmemente cerrada en el horno. No hay necesidad de más atención y puedes ya tomarte un merecido descanso.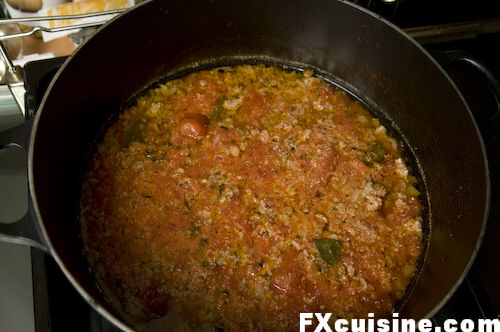 Awui esta el ragú cocinado - aún tiene una gruesa apariencia de los grandes pedazos de tomate y de carne. Increible despues de 3 horas, pero debemos prevalecer. Usa un batidor de inmersión para reducir parte de la carne a una consistencias más fina. No lo hagas mucho, no queremos que se convierte en sopa y alguna textura es deseable!. Coloca la olla de vuelta en la estufa sin la tapa y asi se hierve el exceso de liquido. Dependiendo en lo que quieres usar de ragú, si lo deseas espeso ó de larga consistencia.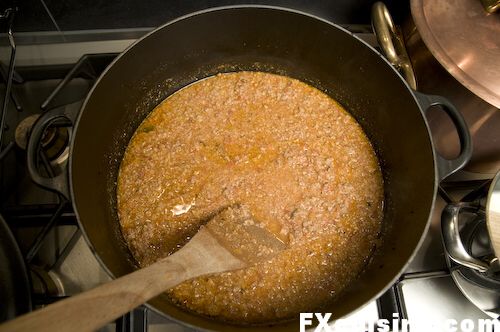 Ahi tenemos - tú ragú esta terminado. Felicitaciones!  Puedes congelarlo ó utilizarlo inmediatamente en cualquier pasta. Los Italianos no solamente comen salsas con carne con spaghetti. Spagbol es más que una invención Britanica mejor dejarla en esta isla, methink (yo creo).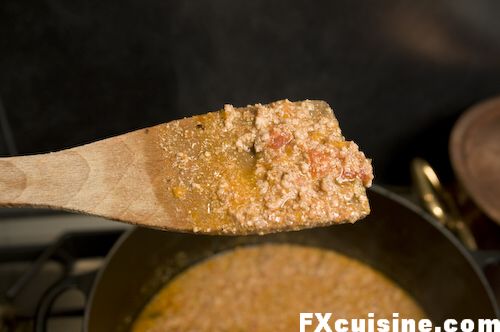 Prueva un poco.
Proxima semana te mostrare como hacer lasaña boloñesa usando este ragú.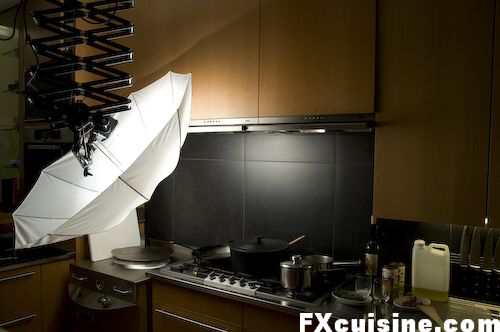 Hoy levante parte de la cortina en FXcuisine - no conoceras a el mago  aún pero aqui tienes un vistazo de como yo le doy iluminación a la comida. Un poderosa luz de halogeno que guinda desde el techo y alumbra la comida por medio de una sombrilla traslucida. Solo utilizo una luz en todas mis fotografias. Lo que ves en una foto - cualquier foto - es luz reflejada por le escena hacia los lentes. Si tienes mala iluminación, tendras malas fotos. Mala luz puede estar incorporada en la camera ó un tubo de neon en el techo. Para hacer buenas fotografias necesitas una luz grande.
La luz es tan intensa que para tomar esta fotografia tuve que combinar varias exposiciones una bien oscura, una mediana y una muy ligera, asi que puedes ver ambas la sombrilla y la relativamente oscura estufa. Esta tecnica es llamada HDR. Aqui esta  otra fotografia de la misma escena  justo antes de agregar las zanahorias y el celery pero con una apariencia más realista.
934235 visitas
Artículos Relacionados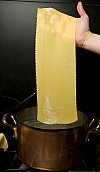 Lasagna From Scratch **
One of the most memorable pasta ever - lasagne bolognese made from flour, eggs and sweat!

Priest-stranglers in Neapolitan Meat Sauce **
These gnocchis served in the cult Napolitan ragù sauce would be a world-famous dish if they didn't take 7 hours to cook.

Arancini, the cult Sicilian dish * Popular
These glorified deep-fried stuffed rice croquettes are a cult sicilian dish celebrated in a recent best-selling Italian novel.
Artículos màs populares ¦ Ultimos artículos ¦ Por temas ¦ Ultimos comentarios
Copyright FXcuisine 2020 - all rights reserved.
If you do this recipe at home please let me know how it worked for you by submitting a comment or send me a picture if you can. Thanks!