Almendras Confitadas de Verdun
(página 2 de 2)
Home
>>
Experiencias Gastronómicas
Durante mi estadia en el castillo Hattonchâtel en Francia, logre conseguir un tour privado en la fabrica más grande de paladillas/almendras confitadas en Verdun, almendras confitadas Braquier. 
El Sr Heusele no considera que este sea el producto más intrigante hecho en Braquier es de buen gusto. Pero vendemos 1000 cascaras de chocolate al año, a la gente les encanta. Solo 200 son exportadas, principalmente a el Reino Unido UK. Ya no podemos exportarlas a Estados Unidos de America.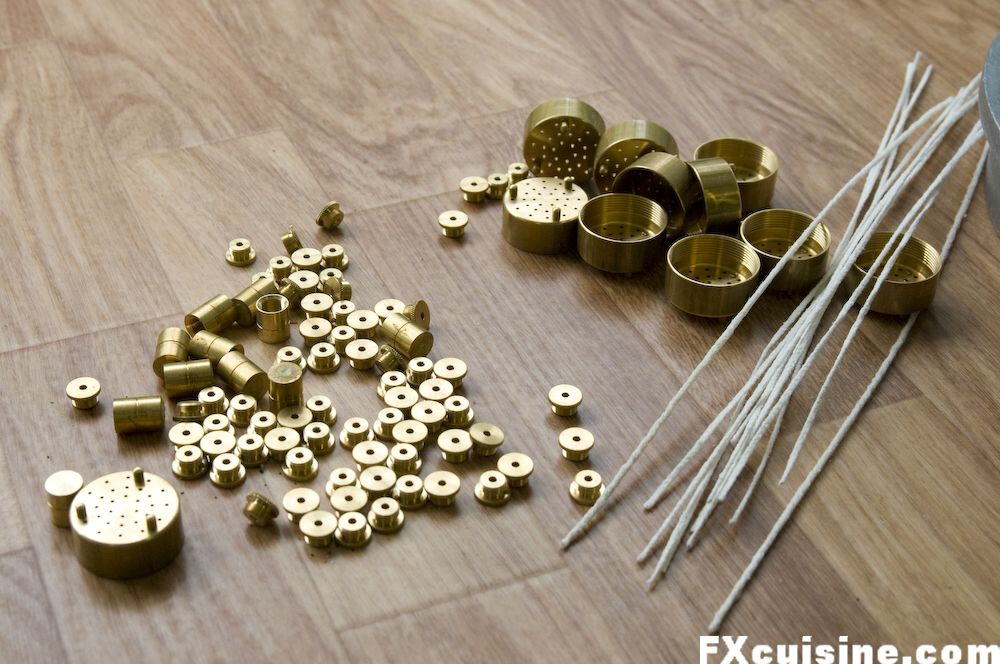 Esto no es un mal producto chino. Cada cascara de artilleria tiene una base de cobre tejida a mano.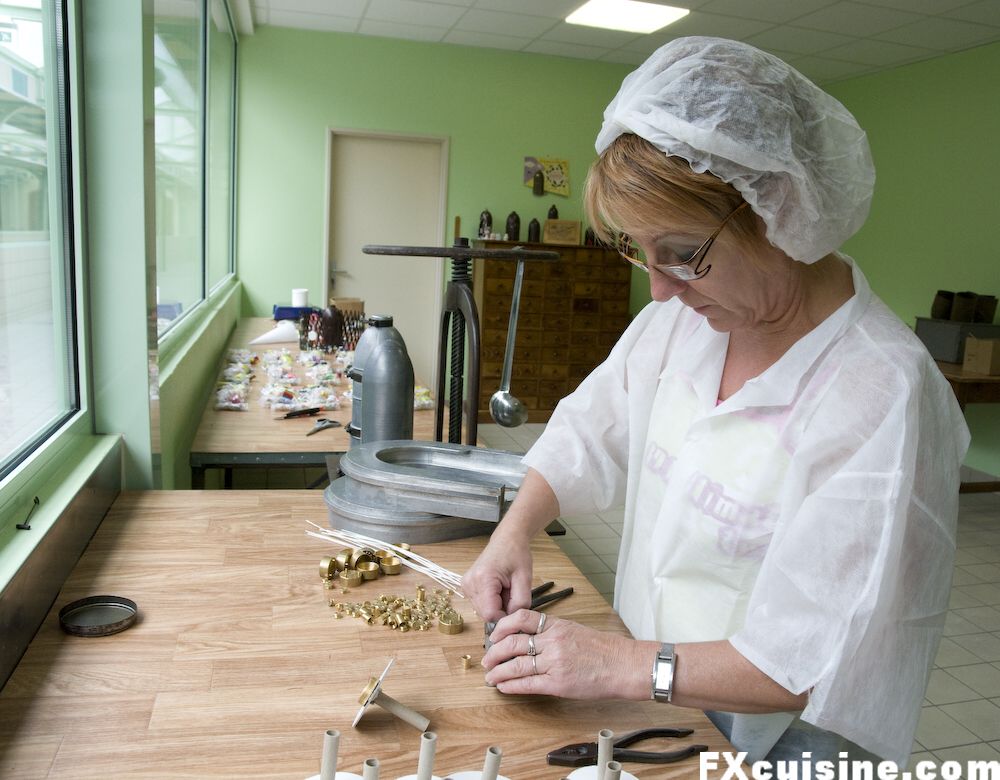 La señora a cargo de la artilelria esambla cada base de la cascara a mano...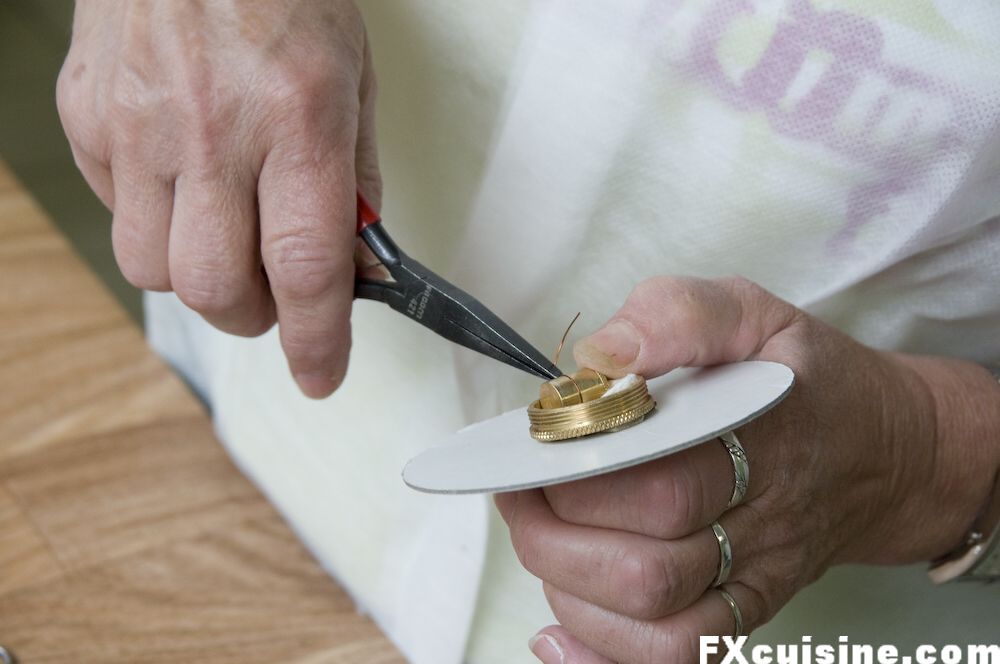 ... cuidadosamente atando el hilo de algoldon hacia una pequeña camara llena de polvora sin humo, la clase usada en armas.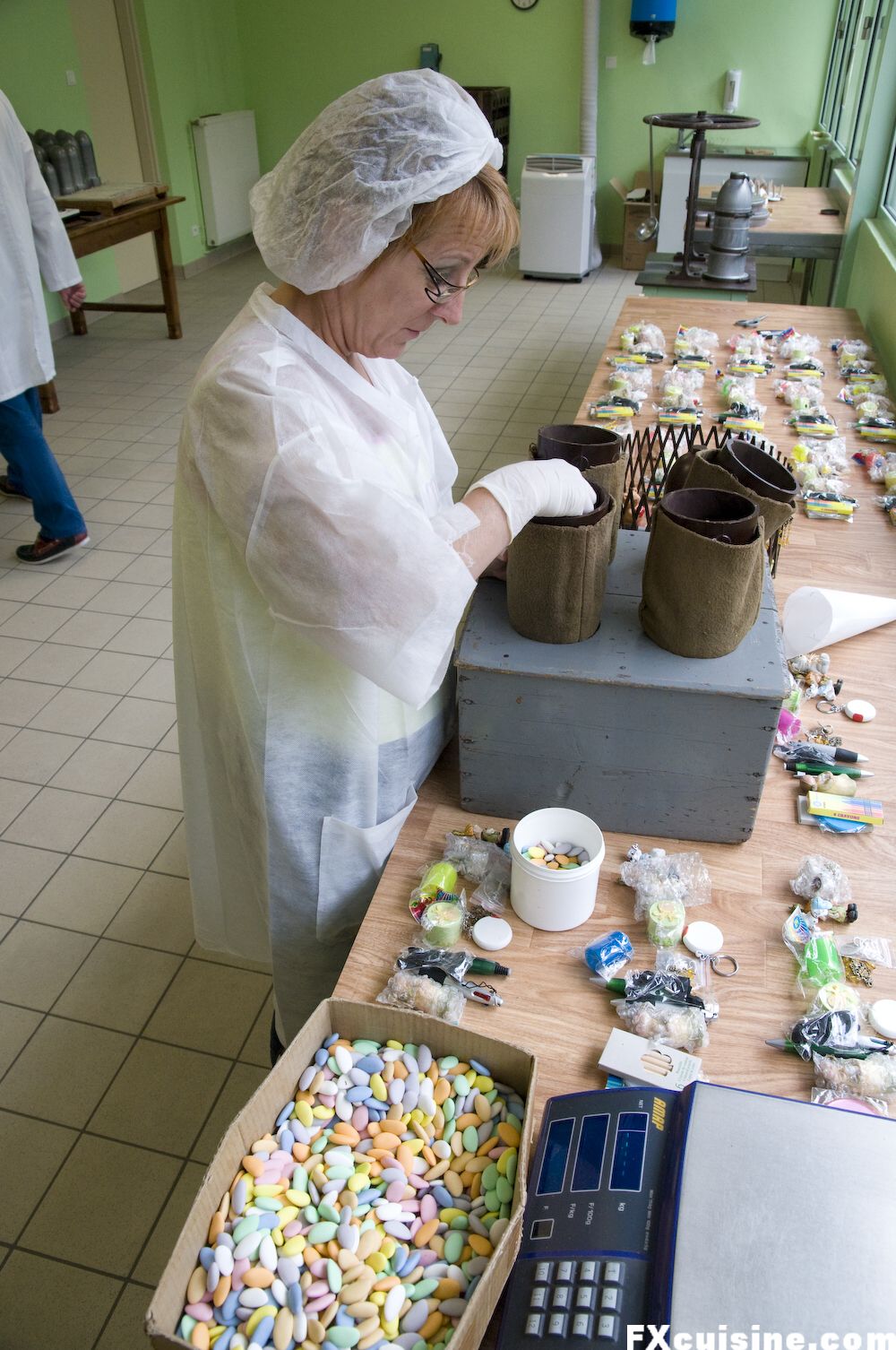 La artilleria de cascaras de chocolate viene en tres versiones "10", "15" y "20", de acuerdo con las cosas que lleve por dentro. Estos trabajan bien, los unicos reclamos que hemos recibido de vez en cuando es que hay 19 cosas dentro de una cascara de "20" shell, dice  Heusele. Ellas se venden por  €78 a €108 la pieza. Algunas personas las ordenan especiales, y preguntan por anillos de boda ó llaves de automobiles para ser colocados adentro de la cascara. Con los altos precios de la gasolina que llegan al techo, es esta una buena idea?
Las cascaras de chocolate son colocadas de arriba a abajo, llenas de dulces y entre otras cosas, y finalmente el mecanismo de explosión el cual está en la base cuidadosamente colocada.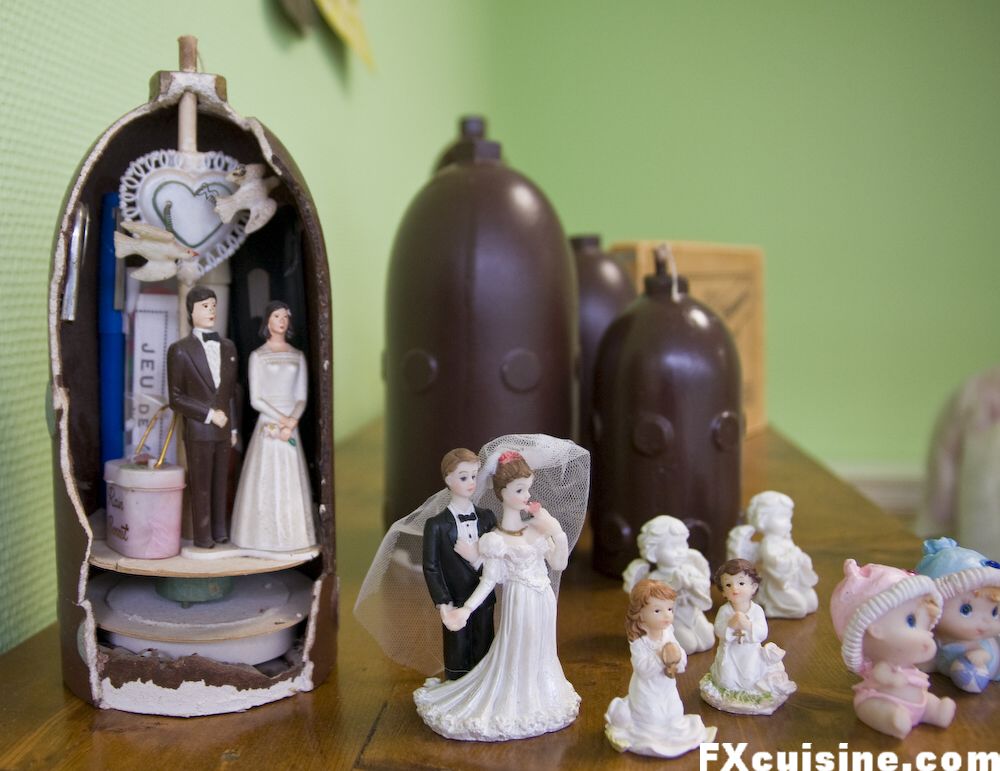 Posiblemente puedes encontrar algo similar, pero menos sabroso, bombas de boda en algun otro lugar. Pero sin embargo  el Sr Heusele insiste que  Braquier vendia estas cascaras en 1869, la mención de la Bomba Verdun para el postre es para acaparar la atención de aún aquellos con poca cultura historica. Verdun es conocido como el centro de una de las peores batallas de la segunda guerra mundial.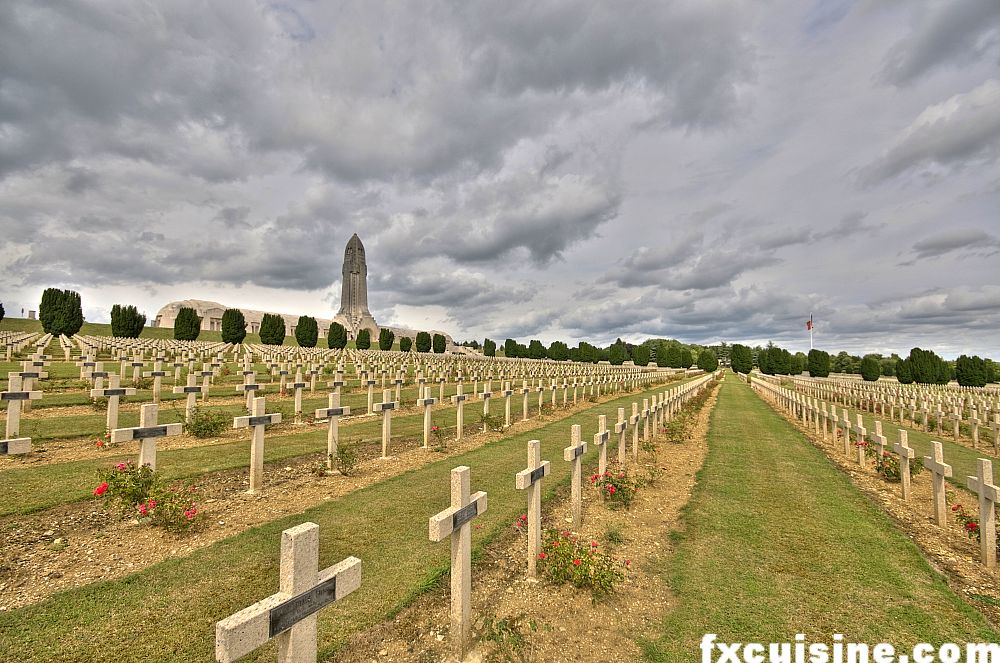 El visitante de Verdun el cual necesita un recordatorio de cuan traseunte es la vida humana necesita conducir 2 millas por el mismo camino de Braquier, y llegará a el Cementerio Douaumont Ossuary. En el 1916 fue un año el cual se dieron muchas muertes, con operaciones militares en Verdun, dejando un estimado de 300,000 soldados fallecidos sobre los campos de batalla en apenas pocos meses. Pétain, el cual defendió exitosamente en Verdun, inaguró un gran osario en 1920 donde los huesos de los jovenes de aquellos fallecidos pueden ser recordados por sus familias quienes no pudieron tener tumbas para llorar.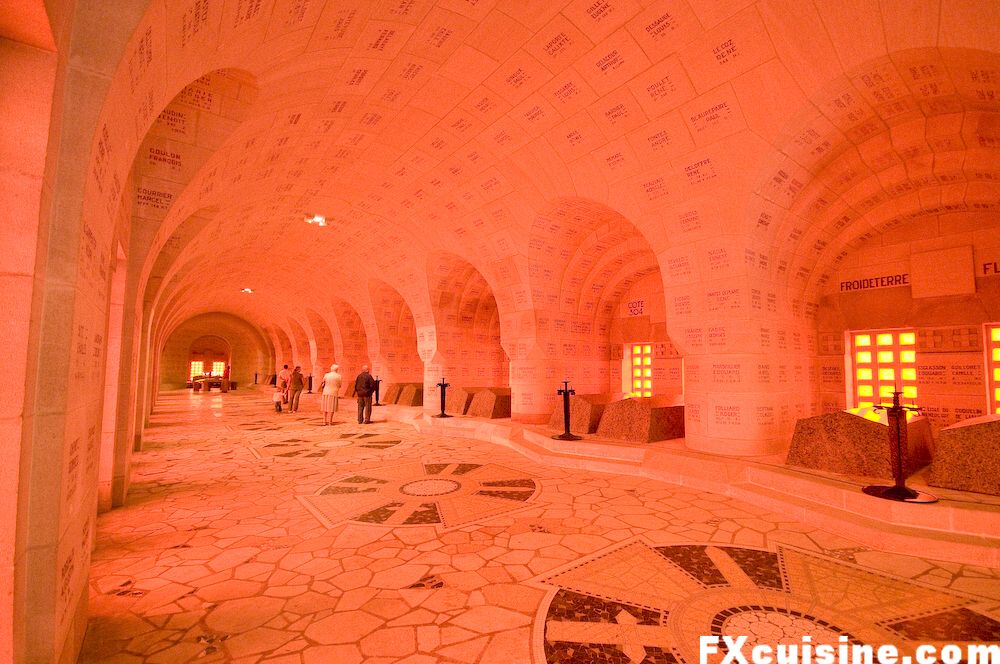 Una capilla fue hecha para cada uno de los 52 sectores de la Batalla de Verdun dentro de la gigante iglesia con forma de un femur negro con cascaras de artillerias como campanario. Ellos dicen que fue diseñada para que luciera como una espada gigante enterrada en la tierra. Esta no es una vista que se olvida facilmente, y cualquier aficionado a las guerras debe visitar este lugar para que vea en lo que resulta una guerra. La luz interna del osario viene de una vidrio rojo el cual hizo que inmediamente mi camara tuviera una ataque cerebral. Mantuve la impresión del color tal cual como se siente dentro de este lugar, el cual estas alrededor de restos humanos de 300,000 personas. 
Durante la primera  Guerra del Golfo, en 1991, la televisión Francesa entrevisto a Antoine Pinay, un ex ministro de Finanzas y veterano de la segunda guerra mundial. La periodista queria que el bendiciera la guerra del golfo y decir que la causa era justa. Aúnr ecuerdo como se desabotonaba sus mangas. Ves, dijo el, mostrando una cicatriz en su muñeca/mano izquierda, fui herido en la primera guerra mundial. Y todavia tengo un pedazo del residuo de la bala dentro. Ahora tengo 100 años, y me hace sufrir todos lso dias de mi vida. Asi que entonces Madam, no le deseo la guerra a nadie. 
Puedes visitar  Dragées Braquier en Verdun y ser parte de un tour publico de la fabrica ó comprar en la tienda de la misma:
Dragées Braquier
http://www.dragees-braquier.com
email
50, rue du Fort de Vaux
F-55100 Verdun
France
466073 visitas
Artículos Relacionados

A Jam Fit for a Queen ***
The most expensive jam in the world is made in Bar-le-Duc from  red currants hand-seeded with a goose quill. Worth every penny!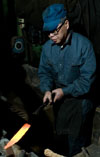 Japanese Bladesmiths ** Popular
A unique behind-the-scenes visit of the crafstmen who hammer out the best and most expensive kitchen knives in the world in the city of Sakai, Japan.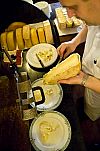 Swiss Raclette ** Popular
The national dish of Valais, my Swiss canton, raclette is the most gorgeous melted cheese you will ever have. Here at its best at the Manoir de Villa in Sierre.

Potato Chips Night Shift **
At midnight sharp, I entered Burt's factory in Devon to see how my favorite potato chips are made. Hand Fried in Devon.

French Blanc-Manger **
This extraordinary French sweet almond jelly must be the best food that survived the Middle Ages. My final and most tasty dish in the Hattonchatel castle serie.
Artículos màs populares ¦ Ultimos artículos ¦ Por temas ¦ Ultimos comentarios
Copyright FXcuisine 2023 - all rights reserved.
If you do this recipe at home please let me know how it worked for you by submitting a comment or send me a picture if you can. Thanks!