Sopa Suiza de Queso y Vino Blanco
Home
>>
Recetas
Una robusta sopa suiza basada en queso de los Alpes y vino blanco para calentarte durante los mesos fríos.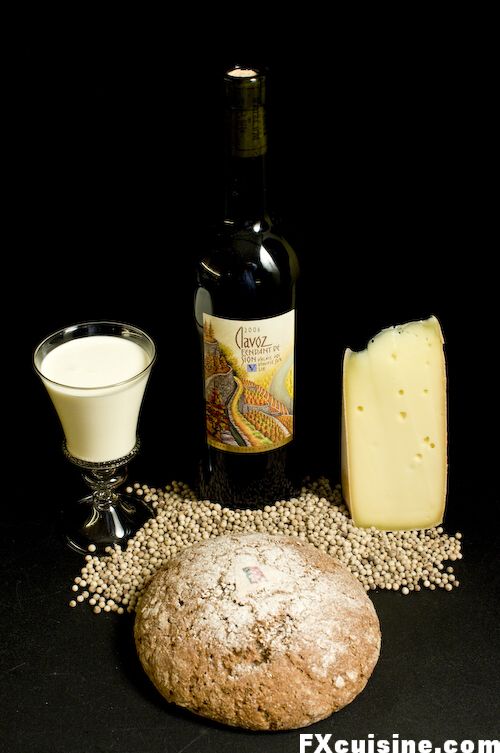 Aquí tienes una robusta sopita de mi rincón en los Alpes. Se hace con el fanoso vino blanco del  Valais llamado Fendant, crema, queso alpino y pimienta blanca. Lo puedes servir con pan tostado o con pan suizo de centeno sin levadura.
Sopa de Queso y Vino Blanco
Soupe au Fendant
2 tazas de caldo de pollo
1 taza de crema
1 taza de vino blanco (Fendant si puedes)
200gr (0.4 lb) Queso suizo Alpkaese (fromage d'alpage)
Pimienta blanca
Pan de centeno sin levadura o pan tostado
Trata de usar fromage d'alpage, hecho allá arriba en los Alpes up the Alps de vacas que pastan flores.  Fendant es un queso seco y ácido muy popular en el Valais.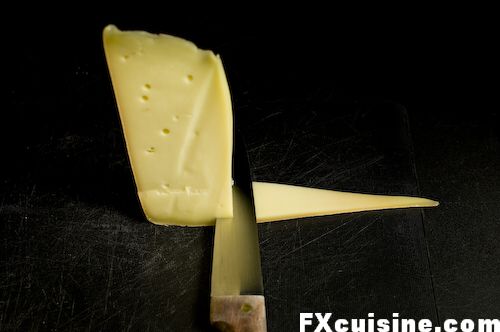 Corta la costra del queso ...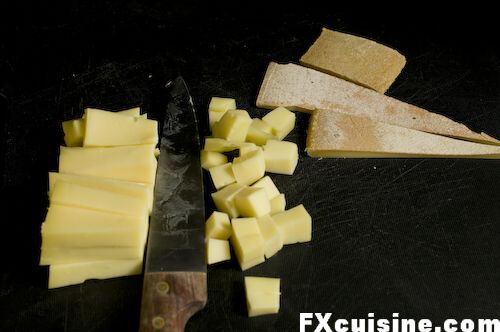 ... rebánado slice y córtalo en cubitos.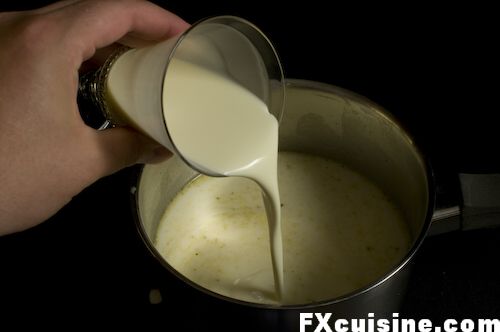 Mezcla la crema con el caldo de pollo en una olla ...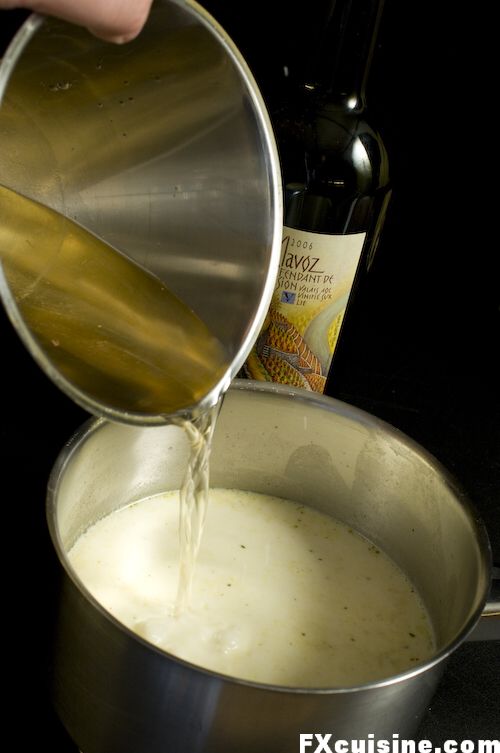 ... y agrega el vino.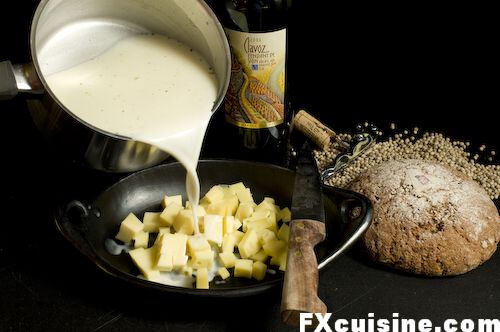 Aále un hervor, luego mézclalo con el queso en un cuenco.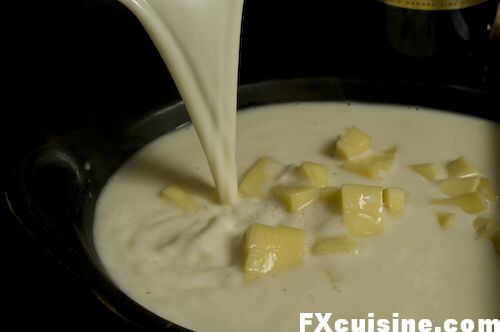 Asegúrate de no vertir el líquido demasiado caliente ni de hechar el queso en la olla en la lumbre - se tienen que mezcar con suavidad.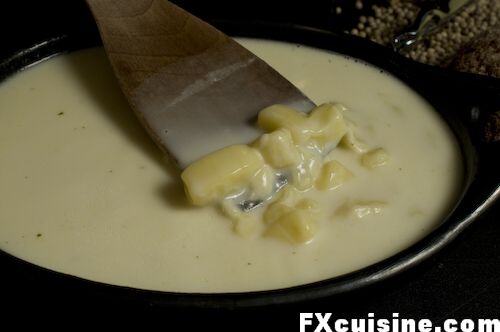 Mezcla con una palita de madera hasta que se derrita.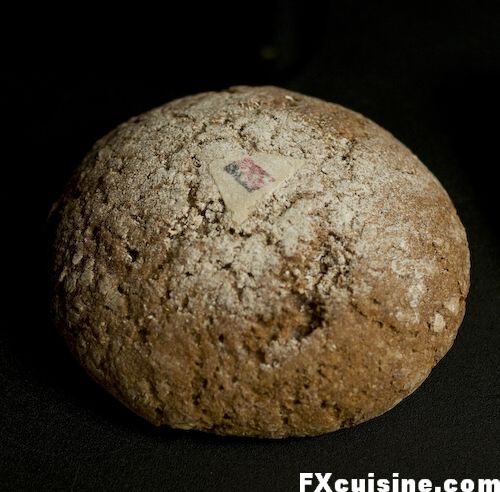 Puedes servirla con crutones pero yo utilicé pan valaisiano de centeno sin levadura, el pan más popular en el Valais...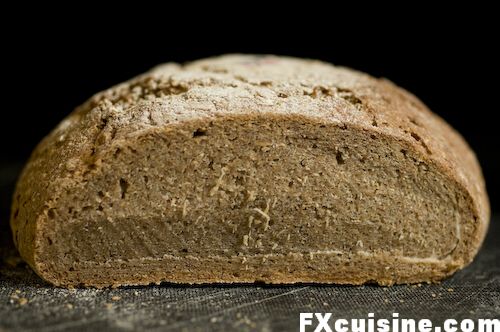 ... rebánalo delgado.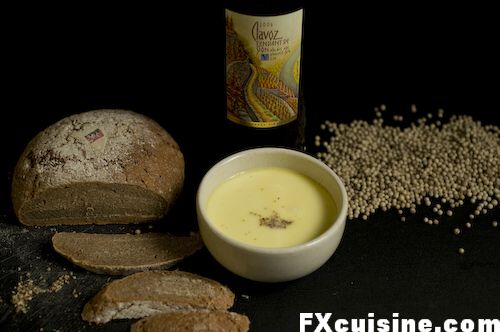 Quiebra un poco de pimienta blanca white pepper, espolvoréala ...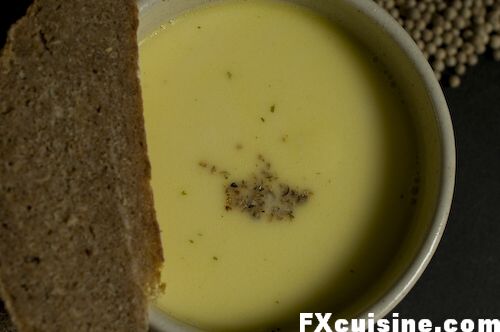 ... y sírvela.
226174 visitas
Artículos Relacionados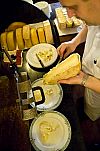 Swiss Raclette ** Popular
The national dish of Valais, my Swiss canton, raclette is the most gorgeous melted cheese you will ever have. Here at its best at the Manoir de Villa in Sierre.
Artículos màs populares ¦ Ultimos artículos ¦ Por temas ¦ Ultimos comentarios
Copyright FXcuisine 2023 - all rights reserved.
If you do this recipe at home please let me know how it worked for you by submitting a comment or send me a picture if you can. Thanks!