Soufflé de Trufa Negra
(página 2 de 2)
Home
>>
Recetas
Así puedes hacer este impresionante postre de 
La Truffière
, Un restaurante de Paris especializado en trufa negra.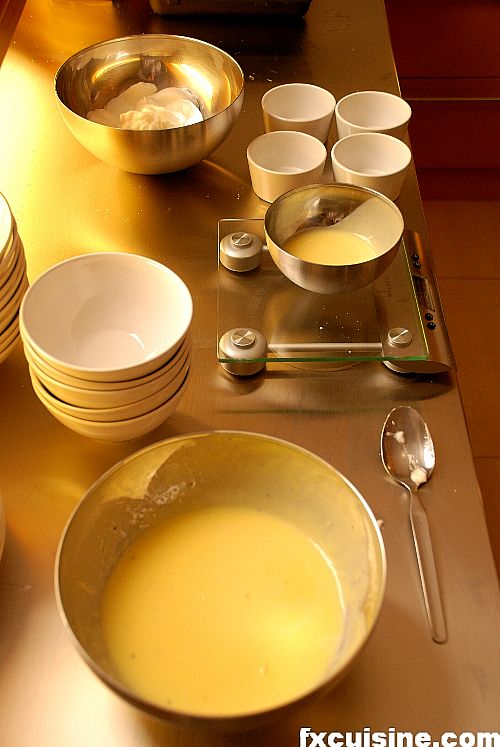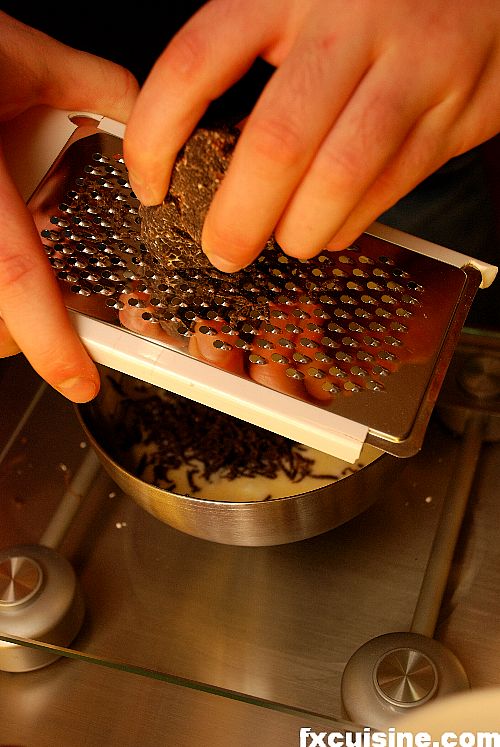 Rallando la trufa negra directamente sobre el soufflé.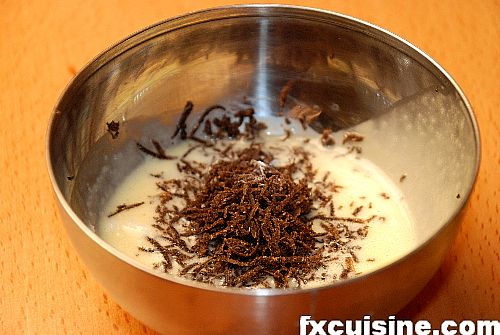 El soufflé con un montoncito de trufa rallada..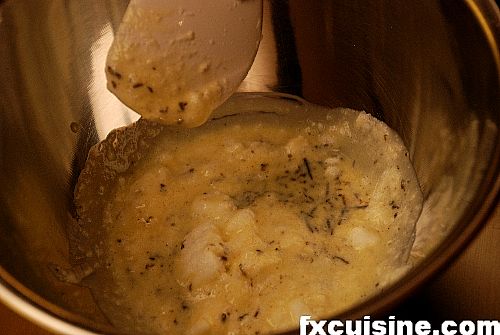 Mezclando todo despacio y con mucha delicadeza.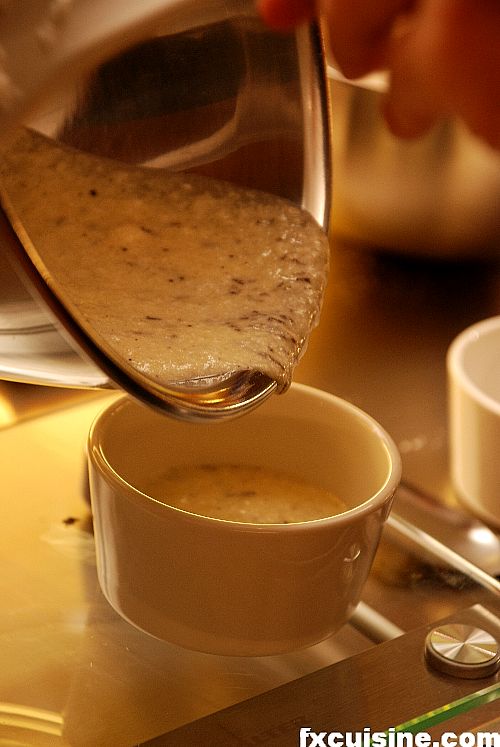 Vertiendo la mezcla en los ramekines individuales.  No pongas mucho ya que el soufflé subirá.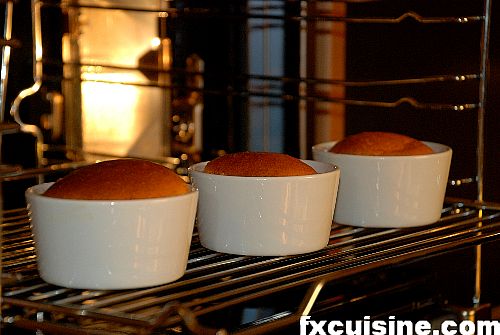 Después de unos 12 minutos en el horno los soufflés están listos ...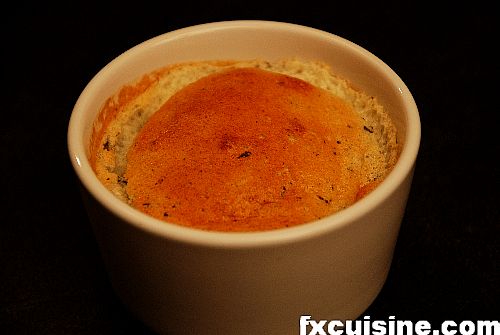 Después de apenas 1 - 2 minutos los soufflés comienzan a bajarse.  Si aún no estás listo para servir mételos de nuevo al horno para que suban.
El soufflé estuvo sensacional pero algo le faltaba.  Entonces me acordé.  En el restaurante le ponen un líquido agridulce al soufflé frente al comensal.  Llamé de nuevo al restaurante y esta vez hablé directamente con M. Rizet, el joven chef en pleno ascenso que tomó a su cargo la cocina en 2002. 'Preparamos un coulis de frutas con guayaba fresca, piña, fruta de la pasión y mango.  Luego lo reducimos con un jarabe de gengibre, vanilla y citronelle.  También le puedes añadir un poco de pimienta exótica.  El capitán le pone un shot pequeño de este coulis al soufflé en la mesa.' Yo no estaba seguro como añadir la trufa - rallarla resultó en pedazos grandes, nada vistosos, en el fondo de mi soufflé, por lo que le pregunté al chef.  'El truco es utilizar miel de trufa como base de sabor, luego añadir trufa negra fresca.  Necesitas picarla en los cubitos más finos que puedas, ya que sólo estará en contacto con el soufflé 10 minutos, y cualquier pedazo de mayor tamaño se hundirá hasta el fondo. Nosotros usamos la trufa entera, sin pelar'.
Intentaré mjorarlo la próxima vez, pero definitivamente éste está entre mis 10 postres favoritos.
Si decides visitar La Truffière - te lo recomiendo ampliamente - asegúrate de que te den una mesa en el precioso sótano de piedra con techo de bóveda y no en el piso de arriba.  Además, si al final de la comida el mesero te pregunta si quieres tomar café en el salon, debes saber que el 'salon' son las dos bancas junto a la puerta en la parte superior.  Bonitas bancas pero no mucha intimidad.  Échales un ojo al entrar y tú decides.  Habiendo dicho esto, el servicio es muy amable y si no lo deseas no te insistirán.
La Truffière
http://www.latruffiere.com
4 Rue Blainville
75004 Paris
FRANCE
+33 46 33 29 82
359647 visitas
Artículos Relacionados

Bubble gum ice cream **
This ice cream by Alain Ducasse is flavoured by the king of the French bubble-gums, the Malabar.

Duck Tour d'Argent * Popular
Probably the most spectacular classical French recipe, le canard à la presse, here made at La Tour d'Argent, a Paris restaurant open since the 16h century.
Artículos màs populares ¦ Ultimos artículos ¦ Por temas ¦ Ultimos comentarios
Copyright FXcuisine 2023 - all rights reserved.
If you do this recipe at home please let me know how it worked for you by submitting a comment or send me a picture if you can. Thanks!