Ramadan Kebabs in Istanbul
(page 2 of 2)
Home
>>
Experiences
A reader invited me in a neighborhood kebab house in Istanbul for the first night of Ramadan. After a short introduction, 50 pictures to take you through the whole meal from preparation to finish. Don't miss this!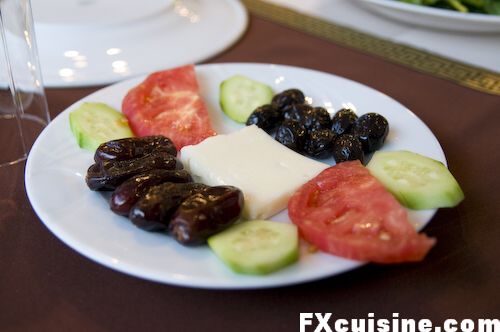 During Ramadan, muslims start to eat only when the sun sets. At 19h27 we sit down and wait a few minutes for the ezan, the moment when the sun has disappeared and you can start to eat.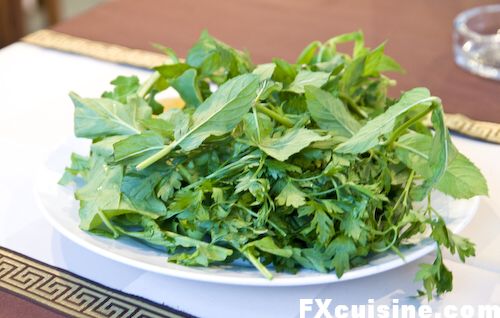 The first item to arrive on the table was a plate of fresh herbs - mint, parsley and rucola. Metin will show us how to eat them in a little while.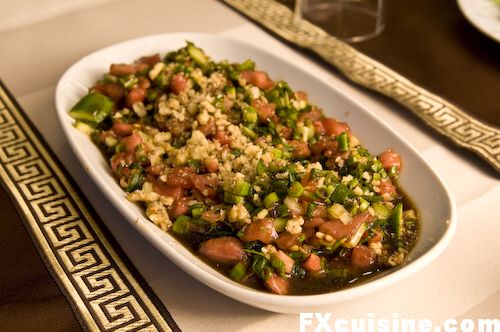 A fresh salad looking much like North African chermoullah arrived. I'm not keen on fresh tomatoes and didn't try it, but it certainly contains pomegranate seeds, cucucumber dices, freshly ground walnuts, green onions, fresh tomatoes, mint and olive oil.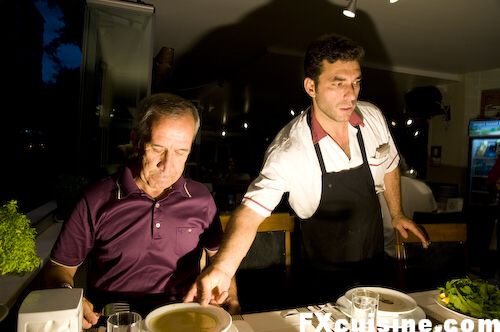 Soup - some of us get a light lentils soup but I make the right choice and go for yuvarlama, a meat, chickpeas, mint, olive oil and yogurt soup (recipe). This amazing soup is typical of Anatolia, a mountainous and rural area of Turkey where all the restaurant staff and its owner come from. The owner Hayrettin Sürmeli is away, his daughter Eda, after which he named the restaurant, marries in Gaziantep, his hometown. They only make it once a year, for the first day of Ramadan apparently. It has a wonderfully tart flavor and white color, both on account of the yoghurt. The lentils soup tastes bland in comparison.
Alcohol is widely consumed by Muslims in Turkey, but not during Ramadan. My Turkish friends drink what Utkun translates as carrot juice with pepper. I try it and nearly puke - this things is like a purgative medicine and then some. So bitter. It looks like the delicious sour cherry juice seen everywhere in Turkey, but I won't acquire its taste tonight. Utkun's father also drank the popular savory liquid yogurt. I got myself a Coca Cola Zero from a huge tray.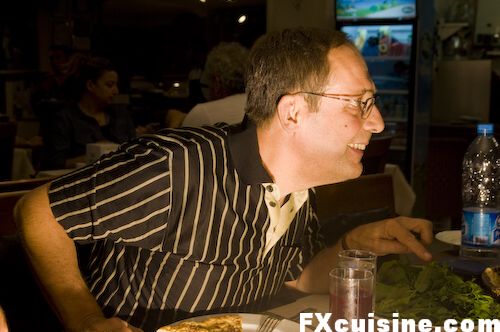 Irfan makes good-humored remarks while we discuss the war with Georgia. Is this a danger or an opportunity for Turkey?, I ask Both, they answer gravely.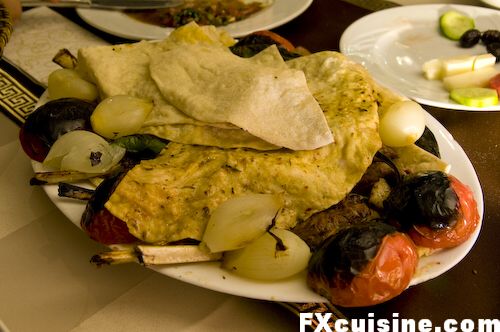 Shortly after 20h00 this platter of kebab arrive, with the bread on top and the vegetables on the side. All use forks and knives to serve from the platter but I can't help grabbing a piece of bread with my bare hands under Metin's scrutinizing glaze.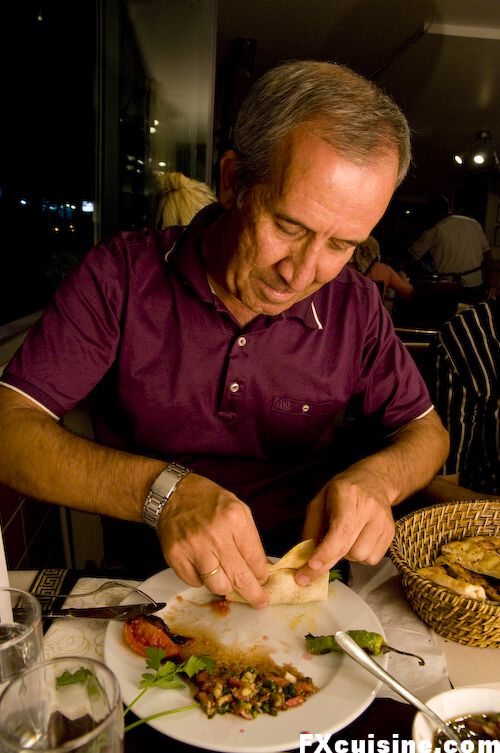 Metin undertakes to demonstrate me how to eat a kebab like a Turkish gentleman, while the rest of the table cheers him on.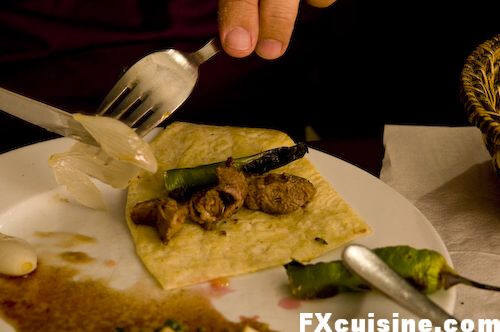 You take a piece of flat breads (much flatter than the ones we saw being prepared a moment before). Place a few pieces of grilled lamb, one hot pepper, an onion and a roasted tomato.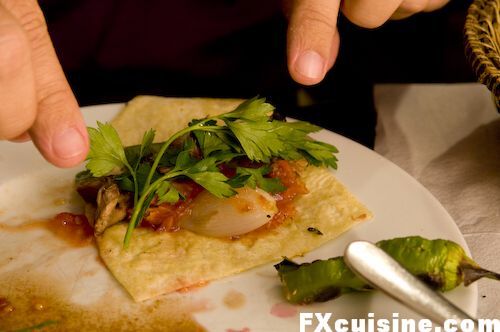 Garnish with a twig of parsley.
Roll like a cigar...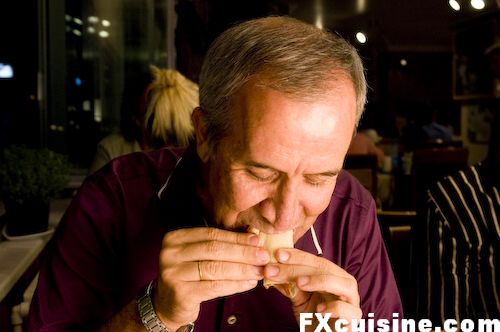 ... and enjoy!
I follow suit and for half an hour we gorge ourselves on these luscious kebabs mixing the smokey, spicy but tender meat with the juicy roasted vegetables. For a moment I thought I was in heaven.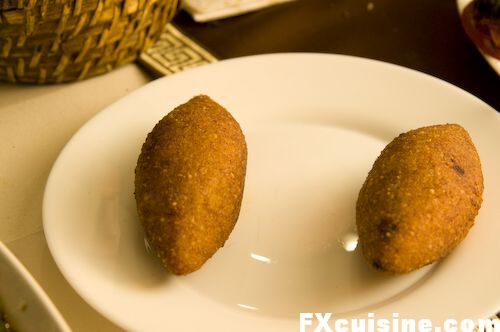 As more food arrives, my face turns pale. How many people have choked to death on bad versions of these içli köfte? In my country you get the impression that they are made a month before you eat them. I was suspicious at first, but ended up eating three of them. Just amazing. Ground lamb meat is mixed with spices and herbs and ground walnuts. Then each ball is wrapped in crunchy cooked bulgur (steamed wheat grains) and deep-fried. The crust is light and crunchy, and the inside wet. These were better than most Arancini I've ever eaten.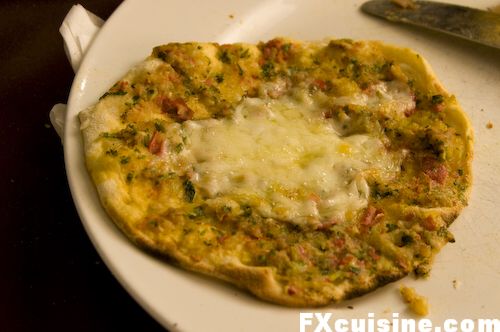 The lahmacun topped with melted cheese - a pure delight.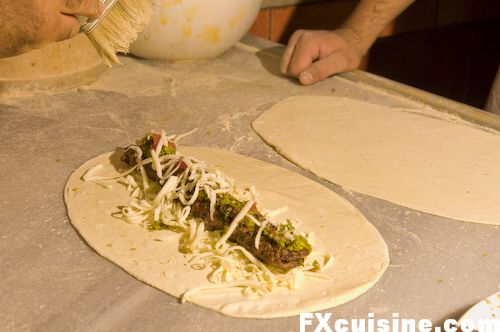 Suddendly the chef rushes to our table and grabs me. It is half past eight and the restaurant is chock-full. He wants you to see how they make the house specialty, explains Utkun. Inci Kebap or 'Pearl Kebab' is made from a ground lamb kebab grilled on hot coals, just like the kebabs we just ate.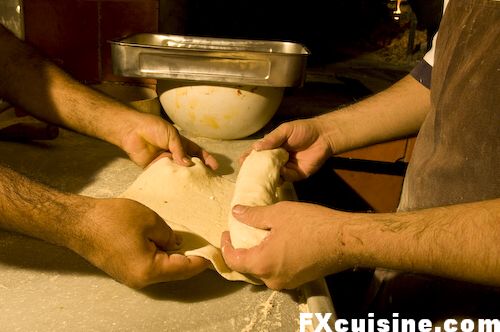 The grilled kebab is sprinkled with cheese and wrapped in a thin uncooked flat bread.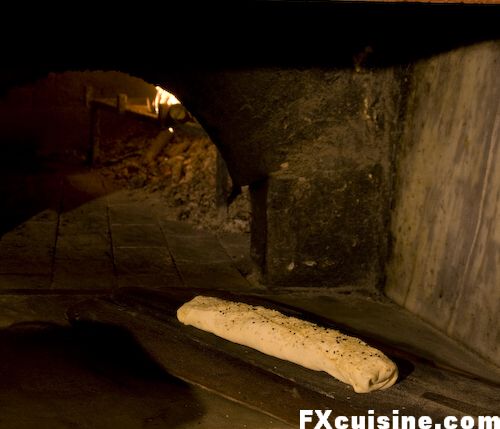 They brush the roll with oil and place it in the wood-fired bread oven until crispy.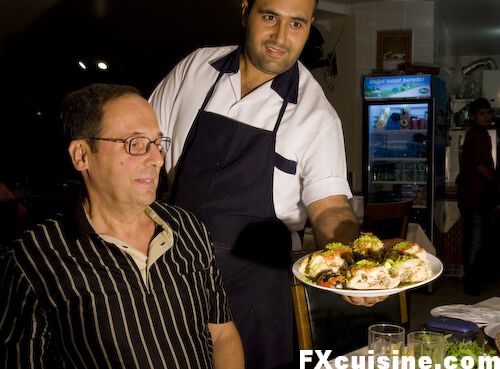 The rolls are cut in thick slices, then garnished with eggplant caviar, tomato sauce, melted cheese, freshly pounded pistachios and a few roasted hot green chili peppers.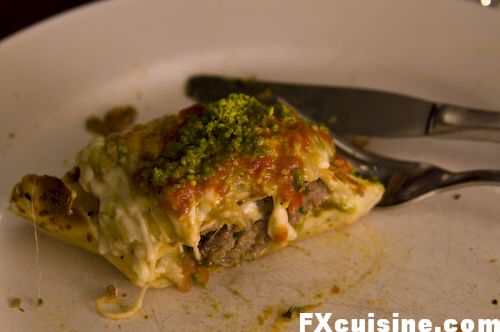 If you saw this in a regular kebab joint in London or Zurich, you might hardly give it any notice. But here in this neighborhood kebap restaurant in Istanbul, where everything is cooked fresh, including the bread, the pearl kebab works out to be a gem. The bread is slightly crispy, with a decadent layer of wet roated tomatoes and eggplants and cheese, and the meat inside will make any Western kebab look like Cornish pasties. Extraordinary!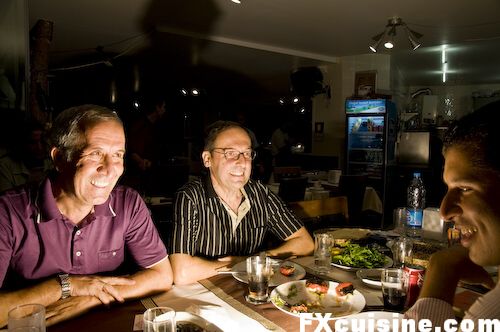 While we reminisce our delicious meal, ...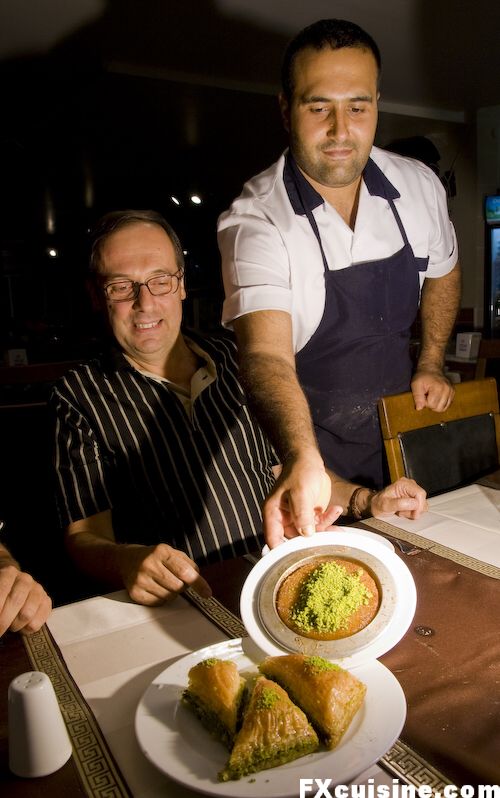 Soner arrives with the most delicious, homebaked baklava (bottom) and sweet cheese pudding künefe (top right).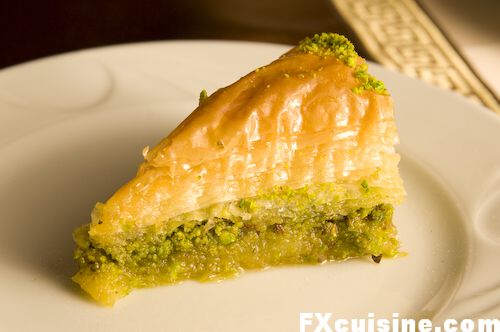 You see baclava in every döner kebab joint but they are rarely as good as this - soaked in sugar syrup and made with freshly ground pistachios.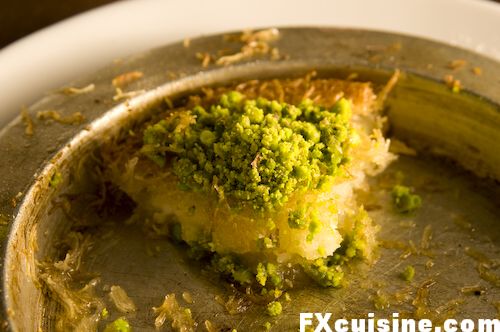 The chef is concerned about what we think of his künefe. We like it. He explains that he makes it with a layer of angel hair pasta at the bottom, then grape molasses, pistachios, sugar and unsalted cheese. This is no cottage cheese but real seasoned cheese that contains no salt. Utkun mentioned a cheesy dessert, which I pointed out would not work out to be an attractive name in English. I meant a dessert made from cheese, he replied good humoredly. The pudding is then baked in the oven for 10 minutes and turned upside down and covered with syrup.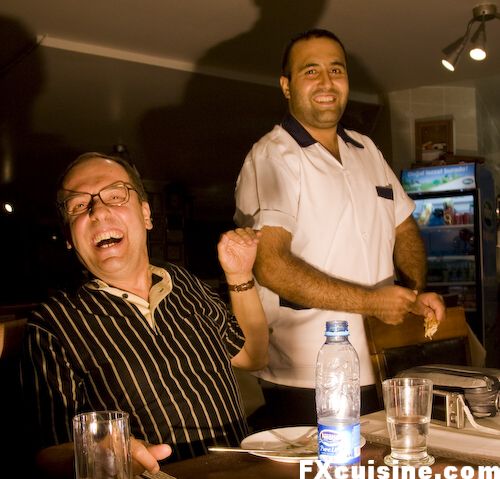 Do you eat like this every Ramadan night?, I ask. If you do, I'm willing to convert to Islam tonight. All laugh and protest that this is an exceptional meal. The gentleman standing explains that he has not drunk a single glass of water nor eaten anything for the whole day. It's now past nine at night and he is off to the Mosque for prayer before he has his first meal of the day.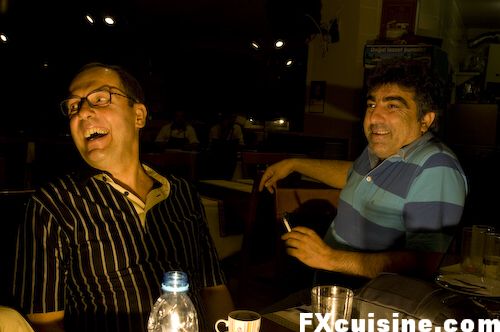 Half past nine. They ask me what I'll have for drinks after the dessert. Coffee, very sweet., I answer. I smile while Utkun first says kahve, then the waiter asks him How sweet?, like they always do. They laugh and Lokman, who came to sit with us, tells me: Francois, we call those who drink sweet coffee: «students». Grown-ups don't need any sugar.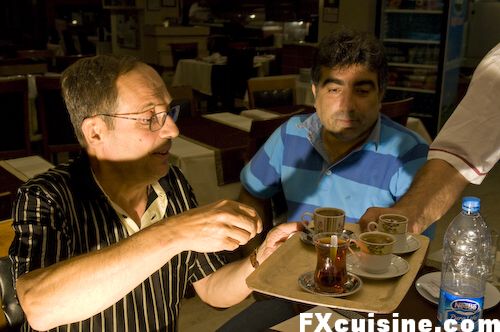 The coffees and teas arrive. I try to take a picture of the cup, but the head chef (in blue) adds a glass of water next to the cup. He explains that You drink the water before the coffee to cleanse your mouth of the meal's taste so you fully enjoy the coffee. I dutifully drink some mineral water before the coffee, the move the cup away for the picture.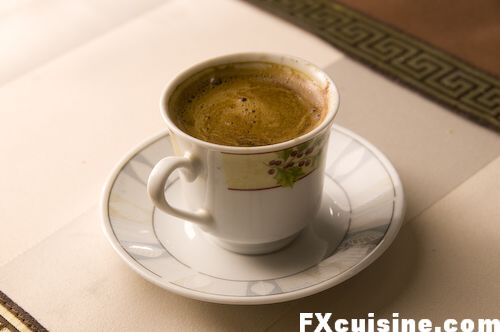 I like my coffee sweet. Turkish coffee is served with the coffee powder at the bottom of the cup. The more you drink, the riskier it becomes to fill your mouth with coffee lees. And you can't add the sugar yourself as this would mean unsettling the lees at the bottom with a spoon.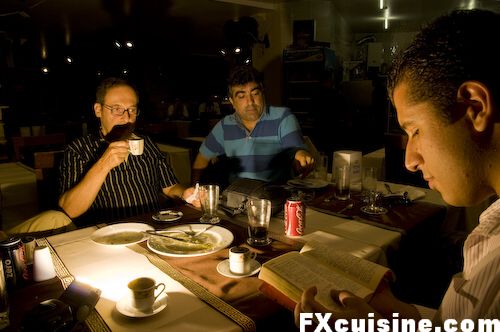 While we prudently sip our Turkish coffee, Utkun looks up a word in his dictionary. How thoughtful! Utkun speaks and writes great English, but he wanted to be sure to be able to translate accurately special spices or herbs' names for me. Please send me more readers like Utkun!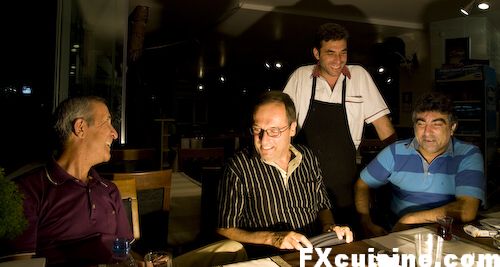 When I go in the back to pay discreetly for the whole meal, as I had planned, the chef comes back to the table with an angry face. He starts speaking in Turkish to my hosts who all burst in laughter. Utkun translates. The chef said you wanted to pay for the meal? No way. You were kind enough to come and visit us, we pay. They would not have it any other way. Metin pulls out a credit card and quietly pays while Utkun tells me I think if we stay any longer they'll ask us to clean the dishes. The staff now wants to go the Mosque so that they can have dinner. As we leave, Metin asks if I get paid to make FXcuisine.com. I sure don't, but from time to time I get a free meal is my answer. They all laugh and disappear into the night while Utkun drives me back to the ferry.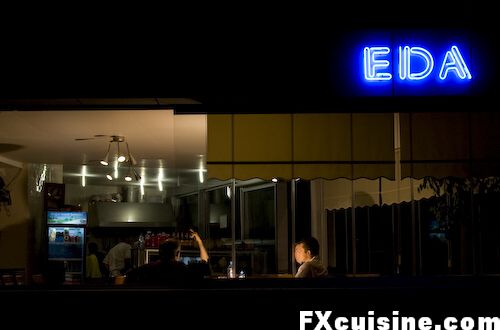 Eda Ocakbaşi (Kebab House «Eda»)
Kaya Sultan Sk. No:73 (corner of Kaya Sultan Sk. with çevre yolu streets)
34742 Kozyataği - Kadıköy
Istanbul
Phone: +90 (0) 216 463 34 23
250515 views
Related Articles

The Passion of the Boar **
We roasted a whole boar on woodfire at Hattonchâtel castle in France for a memorable medieval banquet. See how it's done, from start to finish. Not for the faint of heart!
Copyright FXcuisine 2018 - all rights reserved.
If you do this recipe at home please let me know how it worked for you by submitting a comment or send me a picture if you can. Thanks!