Homemade Casarecce Pasta
Home
>>
Recipes
Just flour and water and my Kenwood Kitchen Machine with a new bronze die made for a wonderful evening.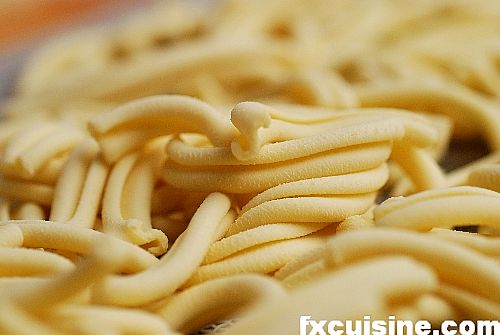 After making my first batch of homemade maccheroni with my Kenwood Kitchen Machine, I finally received the casarecce die. It came through the mail yesterday in a red showcase like a rare coin. The same day I made by first batch, using only flour and water.
Casarecce, also known as caserecce or caserecci, are traditional scroll pasta from Southern Italy with an S-shape designed to grab as much sauce as possible. The term casarecce means 'homemade' but until yesterday I had never seen it outside a shop.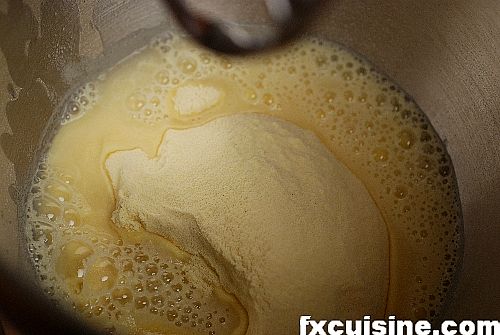 Start by mixing 100 gr semolina flour per person and and a little water in the kitchen machine using the K hook used for pastry dough. Put as little water as possible so your dough will remain very dry and crumbly. You can also add a little salt and olive oil.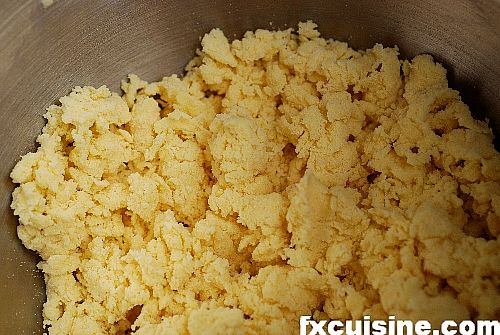 Gradually add more water until you reach a crumbly texture which you can form into a ball if you press it in your hand but is still very dry. If you overdo it and the crumble turns into a pudding, just add more flour. Too soft a dough and your pasta will collapse and stick. Too hard and the machine will blow up and burn and that will ruin your dinner.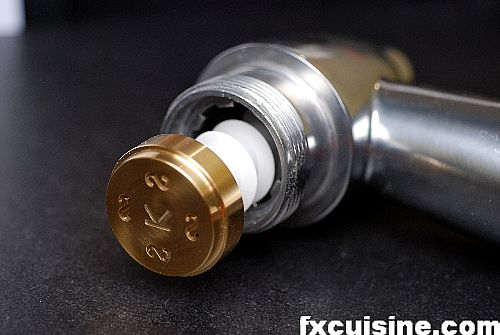 Assemble the pasta extruder with the casarecce bronze die and the Archimedes screw that will push the dough through the die.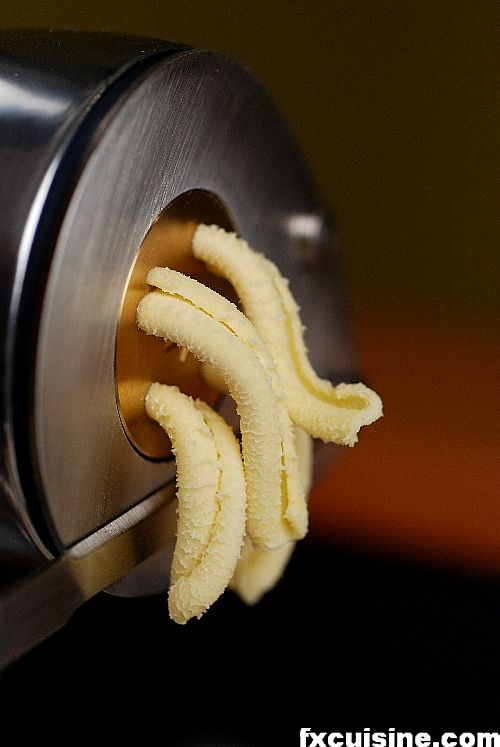 My first four casarecce are slowly coming out the extruder. What an emotion!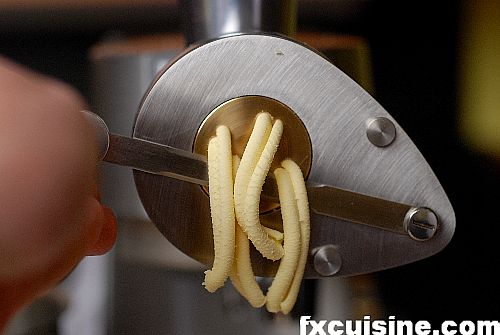 Using the built-in guillotine, I cut down the casarecce four by four to an arbitrary length.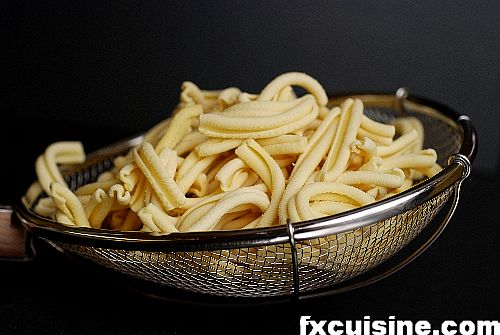 Using my casarecce in my Kappabashi-Dori-bought Japanese strainer I immerged the casarecce in a pot of salted boiling water. They were cooked in under a minute. Maybe they should have dried for a couple hours as they were rather soft. But so delicious!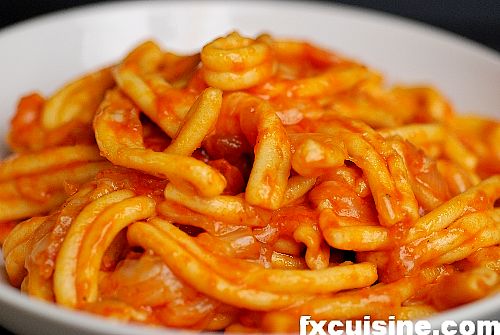 A full plate of freshly made casarecce in a gorgeous amatriciana sauce with real guanciale. What a treat!
164151 views
Related Articles

My New Italian Chitarra Pasta Cutter *
Homemade pasta with the legendary Italian chitarra, a harp-shaped pasta cutting tool.

Priest-stranglers in Neapolitan Meat Sauce *
These gnocchis served in the cult Napolitan ragł sauce would be a world-famous dish if they didn't take 7 hours to cook.

Pasta con l'anatra - pasta in duck sauce *
Using a whole duck to make pasta sauce is uncommon outside Italy.

Pasta for Dessert I *
My painstaking preparation of homemade ricotta-filled raviolis in a honey-quince sweet white wine sauce was my first test of dessert pasta.
Copyright FXcuisine 2023 - all rights reserved.
If you do this recipe at home please let me know how it worked for you by submitting a comment or send me a picture if you can. Thanks!