Sicilian Watermelon Folly
Home
>>
Recipes
Eleonora makes Gelo d'anguria, the cult Sicilian dessert, in her home on Mount Etna.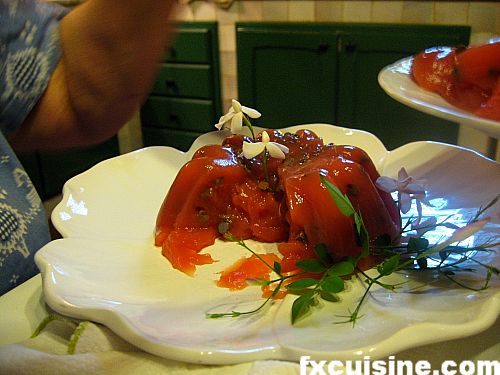 I followed Mrs Consoli, the cookbook author, as she prepared this old-fashioned Sicilian dessert it in her home in Sicily.
Gelo d'anguria [jaylow dan-goo-ree-ah]
1 liter (4 cups) watermelon juice
120gr / 4oz sugar
90gr / 3oz wheat starch or cornstarch if you can't find it
50gr / 1.5oz candied pumpkin (optional)
50gr / 1.5oz chocolate grains (same size as the watermelon seeds)
Vanilla extract a pinch
Cinammon a pinch
Jasmin flowers
Mrs Consoli draws her curtains between 10 AM and 5 PM every day to keep the heat out, and the low light in the kitchen give the pictures their subjective quality - I hope you won't mind.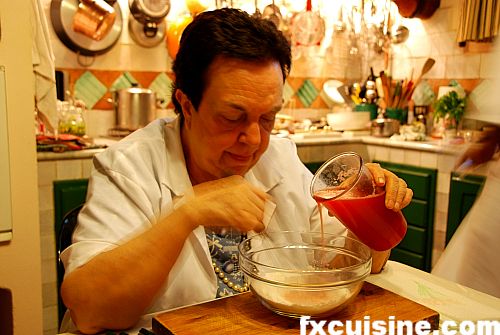 Start by making one liter of watermelon juice. Just cut the rind and deseed your watermelon, then cut into cubes and place in a clean cotton towel or T-shirt and squeeze. Measure 1 liter (4 cups) watermelon juice.
Pour the watermelon juice into the sugar (lead picture).
Add the starch. The traditional starch used in Sicily for this dessert is wheat starch, which you may not always find. Cornstarch works equally as well but it imparts a slightly sandy taste which some people don't like, says Mrs Consoli.
Break a little piece of cinammon from your stick and powder it in a mortar or spice grinder.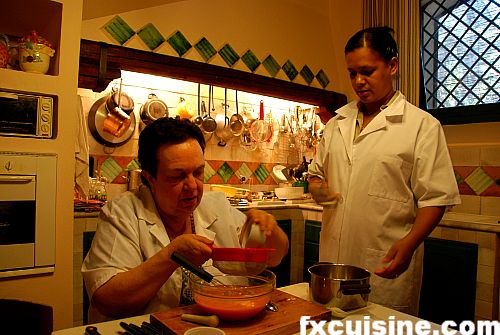 Pour the ground cinammon into the watermelon juice through a tea strainer or fine sieve to eliminate any large bits.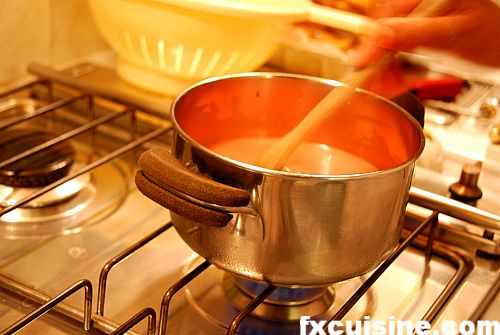 Pour the juice into a saucepan and heat while turning with a wooden spoon.
As the liquid cools down, add a little vanilla extract or pure vanillin, and the jasmine extract. where do I find jasmine extract?, I asked Mrs Consoli. You don't - all you need is infuse a few jasmine flowers in hot water, and there is your extract, she answered. When the liquid is back at room temperature, add the candied pumpkin if you have it and the little chocolate grains.
Pour into a large jelly mold or several smaller ones and place in the fridge overnight.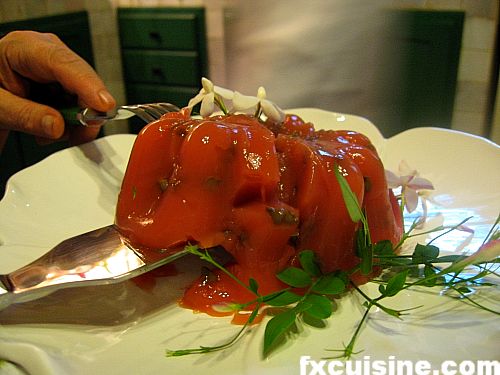 Turn over a serving dish and garnish with fresh jasmine flowers. Here is civilization at its best - we take the juice from gorgeous fruit that is a little messy to eat, supplement it with extra flavors and turn it into a refreshing and fragrant jelly.
Cultural note: Sicilians call the watermelon mellone but in your Italian dictionary you'll find cocomero and anguria as the official translations. Both are the same thing, a fruit designed as a metaphor of environmentalists politicians, green on the outside but red inside.
Mrs Consoli is a former food journalist and she teaches in Italian, French and English. Her cookbook La cucina del sole 'Sun's Kichen' is available in Italian and Japanese but not in English. If you ever travel to Sicily, make sure you give her a call.
Eleonora Consoli
[haylayawNAWnawrah KONsawlee] www.cucinadelsole.it
info@cucinadelsole.it
Via Contemare 9
95029 - Viagrande Catania
Italia
Tel/Fax +39-095-7890116 or +39-095-7899091
105589 views
Related Articles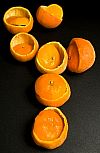 Sicilian Tangerine Sorbet ***
Extraordinary sorbet served in the shell for a spectacular dessert suited for the calorie conscious vegetarian and the truffle-eating epicure alike. With no cooking and no ice cream machine required, this is an offer I can't refuse.


A Sicilian Cookery Class on Mount Etna - Peperonata in Agrodolce ***
Sicily's top food authority let me into her kitchen on Mount Etna while she was preparing sweet-and-sour peppers.

Authentic Sicilian Pasta With Broccoli *** Popular
This traditional Sicilian recipe brings together North African and Italian culinary traditions. A cult dish!

Serious Pasta alla Norma *** Popular
Pasta alla Norma, a divine combination of eggplants, tomatoes, basil and ricotta, is one of the most elegant traditional Sicilian recipes. A real cult classic!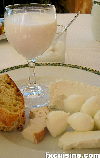 Sicilian Almond Sorbet ***
The most delicate sorbet of them all, and you don't even need an ice-cream machine!
Copyright FXcuisine 2023 - all rights reserved.
If you do this recipe at home please let me know how it worked for you by submitting a comment or send me a picture if you can. Thanks!