Sicilian Almond Sorbet
Home
>>
Recipes
The most delicate sorbet of them all, and you don't even need an ice-cream machine!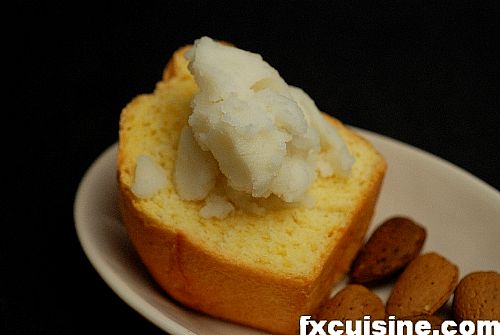 You can prepare one of the most delicate sorbets in Italy in no time and without an ice-cream machine. This gorgeous almond sorbet is one of Sicily's most famed dishes.
Sicilian Almond Sorbet
Granita di mandorle [grahneetah dee mandawrlay]
200gr almonds, shelled and skinned
1 liter mineral water
300gr sugar
Bitter almond extract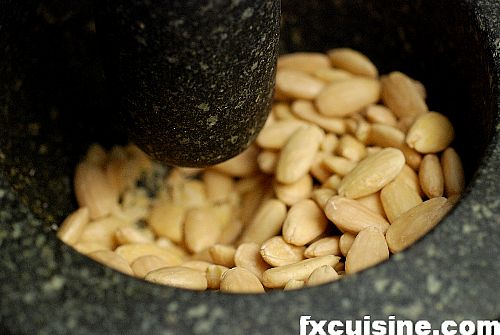 Start by grinding the almonds to a powder. You can use a mortar and pestle like I do or do it in the mixer, but please don't use ground almonds bought from the store, much of the delicate almond taste will be gone before you even start.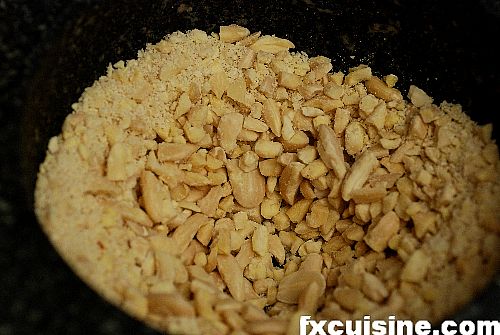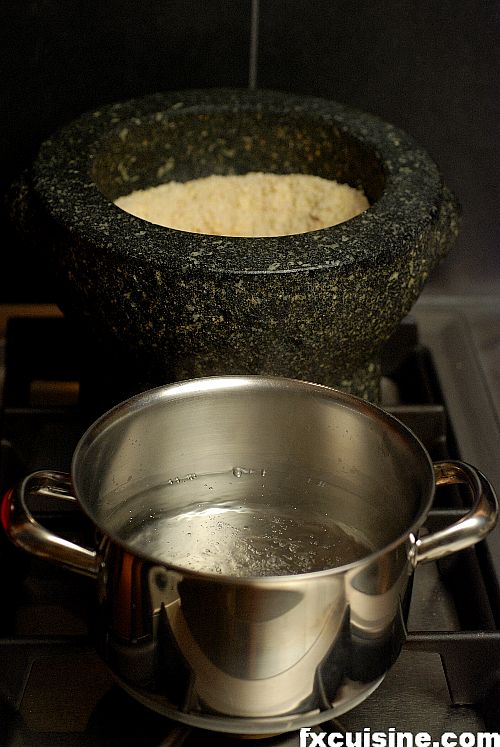 Bring the water to a boil, add the sugar and stir until dissolved.
Add the ground almonds and leave to rest overnight. You can use a mixer to further grind the almonds in the liquid if you want. The point of the overnight infusion is to draw as much of the almonds' flavor as possible.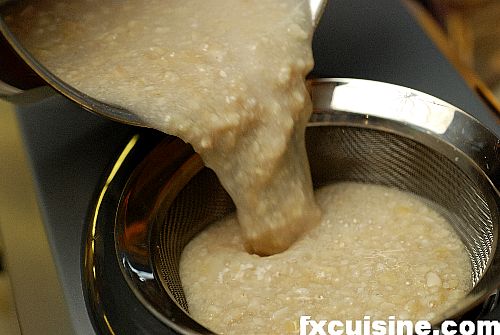 The next day, taste and add a little sugar or bitter almond extract if needed. Some Sicilians will not filter their granita but I find the bland almond powder distasteful. I recommend you use a cloth or find sieve to filter them out. You will end up with almond milk, a whitish liquid reminiscent of cow milk but with a delicious barley water flavor. Amazing for breakfast!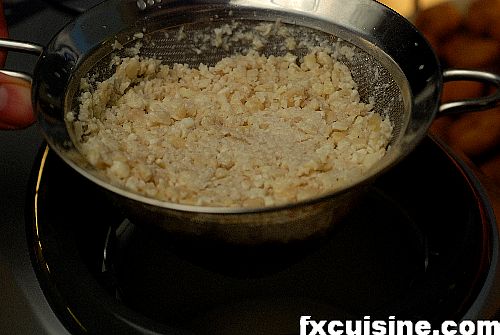 If you have an ice cream machine, just churn it until frozen. Most Sicilians don't have an ice-cream machine and just place the almond milk in the freezer, removing it every 30 minutes or so for a quick mixing with an electric mixer. You could even do it with a fork, the point being to avoid the formation of large water crystals and go for a snow-like consistency.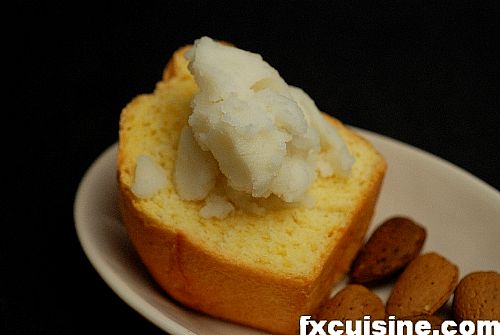 It is traditionally eaten over brioche, the French butter-and-egg Sunday bread, a testimonial of 19th century French influences over upper-class Sicilian cuisine. Although the association of ice cream and pastry seems odd and of the I-love-to-mix-ketchup-with-mustard kind, the combination is a real winner. 
I recently served this with brioche for tea to a British Sir and Lady - the real deal -  ending up with 'FX, we don't know how we dare invite you again, nothing we can serve you will stand up to this!'. They sure were nice, but since they finished the whole batch I think they were sincere!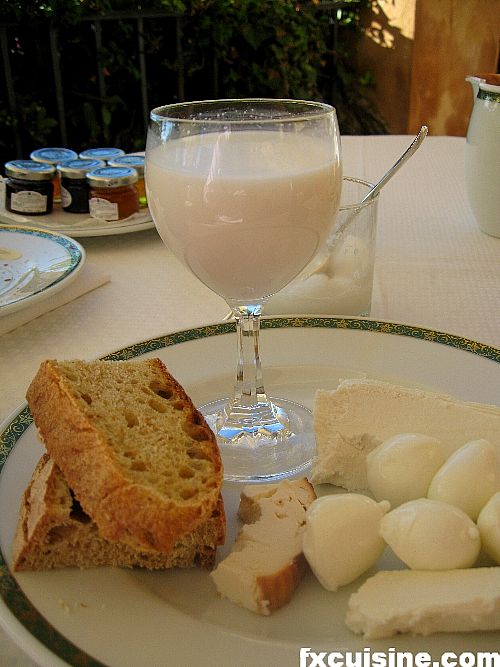 In luxury hotels in Sicily you would always find in the breakfast table both almond milk and its frozen brother granita di mandorle. Above is a picture I took of a white breakfast in Sicily, with a glass of almond milk, almond granita just behind in the glass with the spoon and a choice of fresh cheeses and bread. For all its troubles, this island sure has much to offer!
137879 views
Related Articles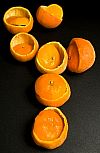 Sicilian Tangerine Sorbet ***
Extraordinary sorbet served in the shell for a spectacular dessert suited for the calorie conscious vegetarian and the truffle-eating epicure alike. With no cooking and no ice cream machine required, this is an offer I can't refuse.


Sicilian Watermelon Folly ***
Eleonora makes Gelo d'anguria, the cult Sicilian dessert, in her home on Mount Etna.

Authentic Sicilian Pasta With Broccoli ** Popular
This traditional Sicilian recipe brings together North African and Italian culinary traditions. A cult dish!

Arancini, the cult Sicilian dish ** Popular
These glorified deep-fried stuffed rice croquettes are a cult sicilian dish celebrated in a recent best-selling Italian novel.

Serious Pasta alla Norma ** Popular
Pasta alla Norma, a divine combination of eggplants, tomatoes, basil and ricotta, is one of the most elegant traditional Sicilian recipes. A real cult classic!
Copyright FXcuisine 2023 - all rights reserved.
If you do this recipe at home please let me know how it worked for you by submitting a comment or send me a picture if you can. Thanks!