The Battle of the Knoedel
(page 2 of 2)
Home
>>
Recipes
The story of a German secret weapon transformed into a delicious dish by the Italians.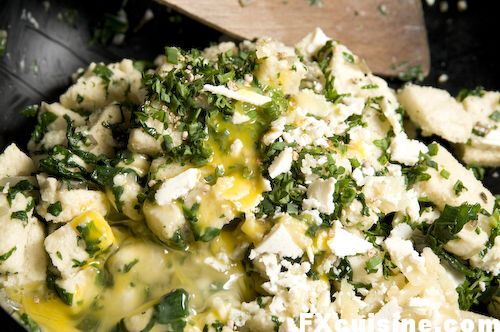 After 30 minutes all the liquid should have been soaked up by the bread. Add the beaten eggs, grated cheese, chives and season to taste. I admit I used a little more liquid than the 100ml indicated by Mr Pinkowski, only to find later that the eggs added a lot more fluid. You do not second guess a German cook.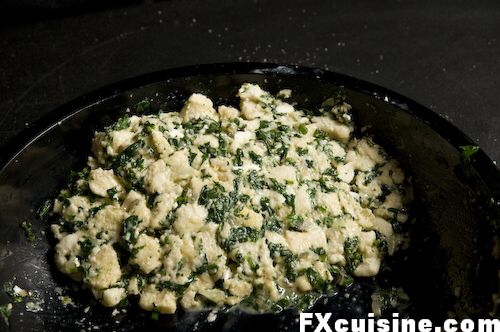 Here is your fresh knödel dough. In German restaurants it can happen, especially in times of war, that the dough is reused the next day, and then the day after. This is called weaponising the knödel. But if you are making them for yourself or for people you like, better make it right before dinner.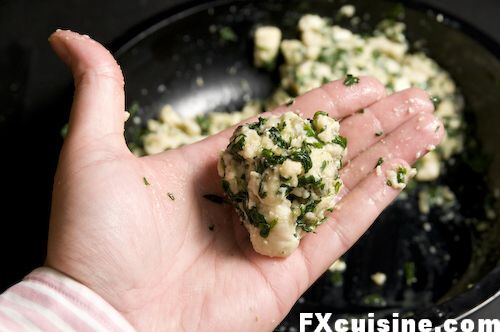 Wet your hands and dig into the dough and shape a little ball the size of a golf ball. Make sure the balles are smooth. No holes. Mine are really beginner knödels, too wet, too large bread cubes, big spinach leaves. Check the lead pictures to see Mr Pinkowski's knödels for reference. Lay the knödels on a plastic tray or an oiled wooden board.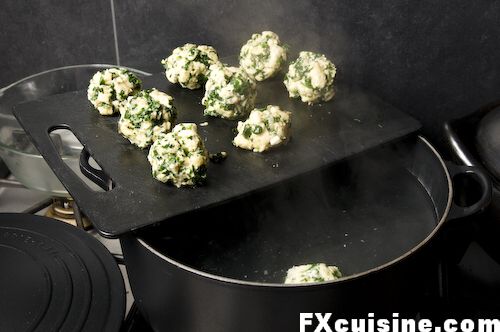 Fill your largest pot with water, add salt, cover and bring to a rolling boil. My friend Karl Telfser, who owns a catering company in Südtyrol, prefers to steam the canederli/knödels, otherwise when you boil them half the taste disappears in the water. Add the knödels one by one...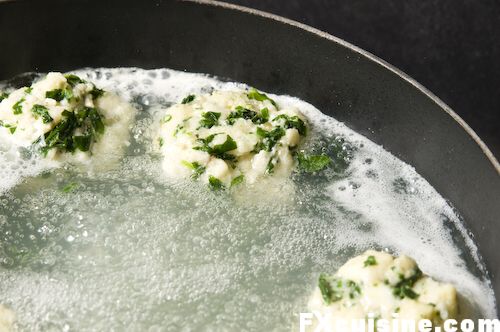 ... and let them boil for about 20 minutes. You can boil them for 20-30 minutes. Check that the internal temperature is 65°C at least - that's a must for sanitary reasons. Here at Vigilius we make the knödel dough every day so the risk is not that high, but in Germany and Austria sometimes they keep the same dough for a couple days - you get the picture, explained Pinkowski.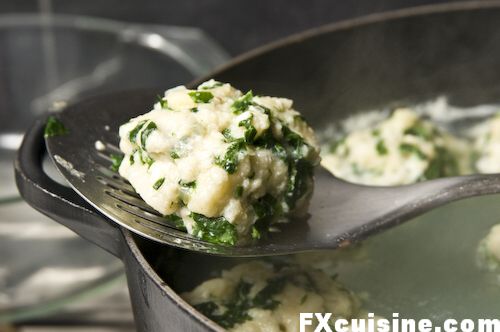 Remove with a slotted spoon or sieve. DO NOT empty the whole pot into some net and hope to get knödels you can get people to eat. It won't work as the weight of the water will turn them into pudding. Fish them out from the water one by one - that's the only way to go.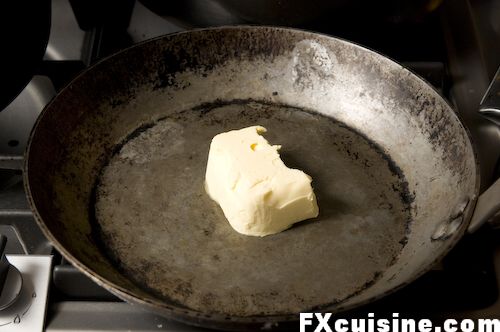 Melt a large piece of butter in a saucepan...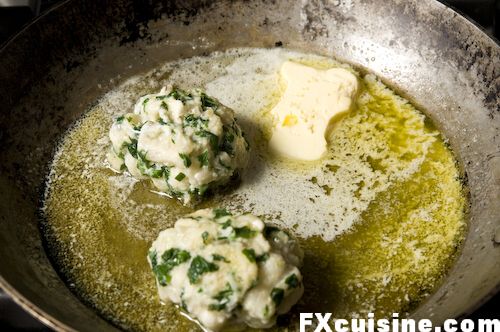 And roll the knödels in the melted butter until fully coated.
Serve as a first course with grated cheese on top and a salad. I give people two knödels a piece - double what's needed to do the job.
266701 views
Related Articles

Pear, Walnut and Gorgonzola Bruschetta ***
This traditional garnished grilled bread is Italian cuisine at its best. Utter simplicity based on excellent ingredients, around a time tested formula. Food for the gods.

Sicilian Cash Cow **
This baked eggplant pasta dish has been keeping client queuing at the door of Geneva's most successful popular Italian restaurant 15 years. Find out how you can milk the Sicilian cash cow for yourself.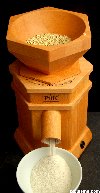 Italian Alpine Buckwheat Pasta Pizzocheri **
Traditional buckwheat noodles from the Italian Alps with cabbage and Fontina cheese. I made them from scratch with my own freshly milled buckwheat flour. Hard core pasta!

Italian Buckwheat Torta **
A unique Alpine recipe from those mountains where Italians speak German. For hardcore buckwheat lovers only!
Copyright FXcuisine 2023 - all rights reserved.
If you do this recipe at home please let me know how it worked for you by submitting a comment or send me a picture if you can. Thanks!