Verdun Sugar Coated Almonds
(page 2 of 2)
Home
>>
Experiences
During my stay at Hattonchâtel castle in France, I managed to arrange a private tour of the largest dragées factory in Verdun, dragées Braquier. 
Mr Heusele does not think that the most intriguing product made at Braquier is of very good taste. But we sell 1000 chocolate shells a year, people love it. Only 200 are exported, mainly to the UK. We can't export them anymore into the US.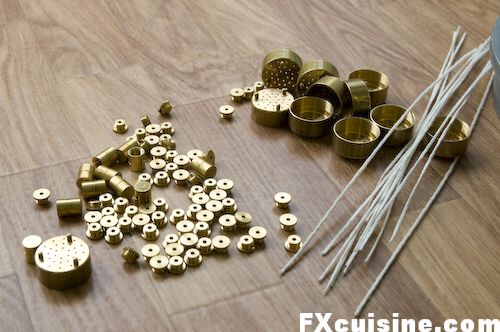 This is no Chinese crap. Each artillery shell has a brass base and handmade thread.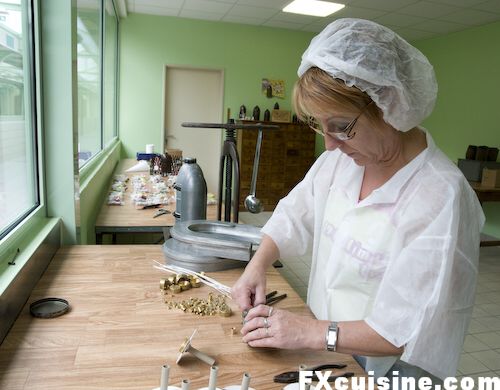 The lady in charge of artillery shells assembles each base by hand...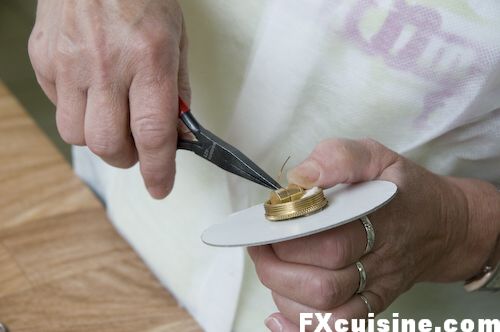 ... carefully tying the cotton thread to a small chamber filled with smokeless powder, the kind used in guns.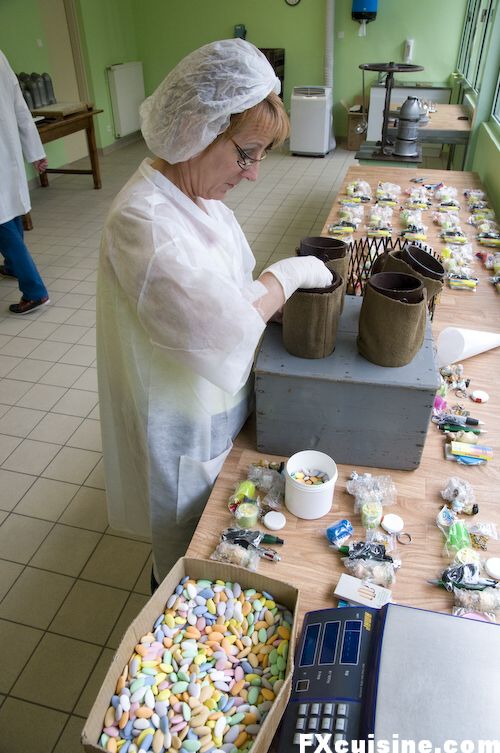 The chocolate artillery shells come in three standard versions "10", "15" and "20", according to the number of gadgets inside. They work fine, the only complaints we ever get is when from time to time there is only 19 gadgets in a "20" shell, says Heusele with tongue in cheek. They go for €78 to €108 a piece. Some people order them special, and ask for wedding rings or car keys to be placed inside the shell. With gas prices going through the roof already, is that such a good idea?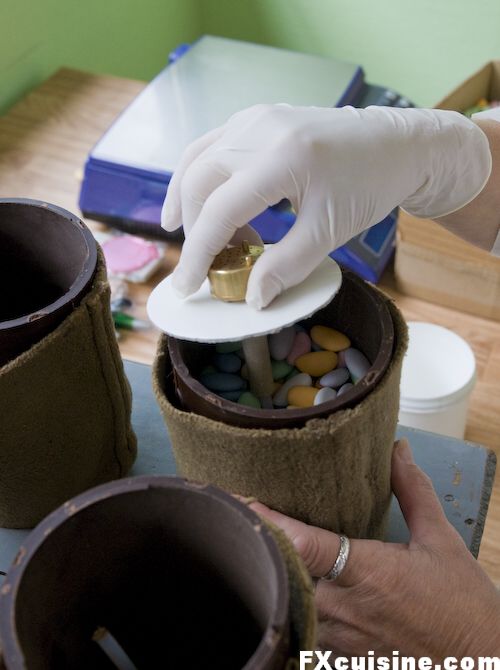 The chocolate artillery shells are place upside down, filled with the candies and gadgets, and finally the exploding mechanism which will sit at the base is carefully placed.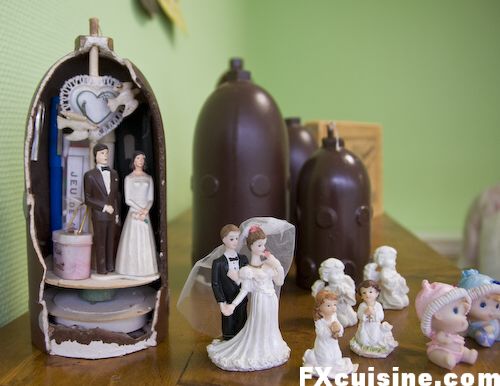 You can probably find similar, although less tasty, wedding bombshells elsewhere. But although Mr Heusele insists that Braquier sold those candy shells already in 1869, the mention of a Verdun Bombshell for dessert is bound to catch the attention of even those with the flimsiest historical culture. For Verdun is known was the center of one the worst battles of WWI.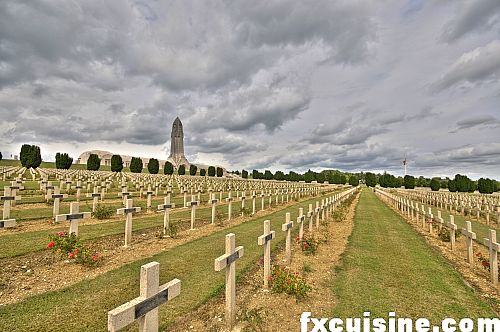 The visitor of Verdun who needs a reminder of how transient human life is just needs to drive on the same road were Braquier is for about 2 miles, and he will arrive at the Douaumont Ossuary. 1916 was a bumper crop for the Grim Reaper, with the military operations at Verdun leaving about 300,000 unidentified dead soldiers on the battefields in but a few months. Pétain, who successfully defended Verdun, inaugurated a large ossuary in 1920 where the young bones of those harvest by the Reaper's mighty scythe could be mourned by their families who so far did not even have a grave to weep on.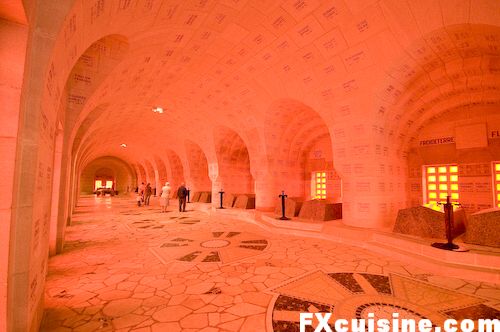 A chapel was made for each of the 52 sectors of the Battle of Verdun inside a giant church shaped like a black femur with an artillery shell as a belfry. They say it was designed to look like a giant sword buried into the earth. This is not a sight you are likely to forget, and any warmonger should visit this place to know what war comes down to. The light inside the ossuary comes from reddish stained glass and sent my camera into an immediate cerebral attack. I kept the color as it gives an impression of what you feel inside this place, where you are surrounded by the earthly remains of 300,000 people.
During the first Gulf War, in 1991, French television interviewed Antoine Pinay, a former French finance minister and WWI veteran. The journalist wanted him to bless the war and to say that cause was just. I still remember him unbuttoning his cuffs. You see, he said, showing a scar on his right wrist, I have been wounded in the First World War. There is still a piece of shrapnel in my wrist. I am now 100 years old, and it has made me suffer every single day of my life. So Madam, I do not wish war for anybody.
You can visit Dragées Braquier in Verdun and join the public factory tour or just ransack the extraordinary factory shop:
Dragées Braquier
http://www.dragees-braquier.com
email
50, rue du Fort de Vaux
F-55100 Verdun
France
466200 views
Related Articles

A Jam Fit for a Queen ***
The most expensive jam in the world is made in Bar-le-Duc from  red currants hand-seeded with a goose quill. Worth every penny!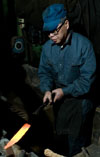 Japanese Bladesmiths ** Popular
A unique behind-the-scenes visit of the crafstmen who hammer out the best and most expensive kitchen knives in the world in the city of Sakai, Japan.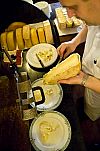 Swiss Raclette ** Popular
The national dish of Valais, my Swiss canton, raclette is the most gorgeous melted cheese you will ever have. Here at its best at the Manoir de Villa in Sierre.

Potato Chips Night Shift **
At midnight sharp, I entered Burt's factory in Devon to see how my favorite potato chips are made. Hand Fried in Devon.

French Blanc-Manger **
This extraordinary French sweet almond jelly must be the best food that survived the Middle Ages. My final and most tasty dish in the Hattonchatel castle serie.
Copyright FXcuisine 2023 - all rights reserved.
If you do this recipe at home please let me know how it worked for you by submitting a comment or send me a picture if you can. Thanks!