A Soba Noodles Class in Tokyo
(page 2 of 2)
Home
>>
Experiences
My private lesson at the Soba Academy in Tokyo to make these Japanese buckwheat noodles from scratch.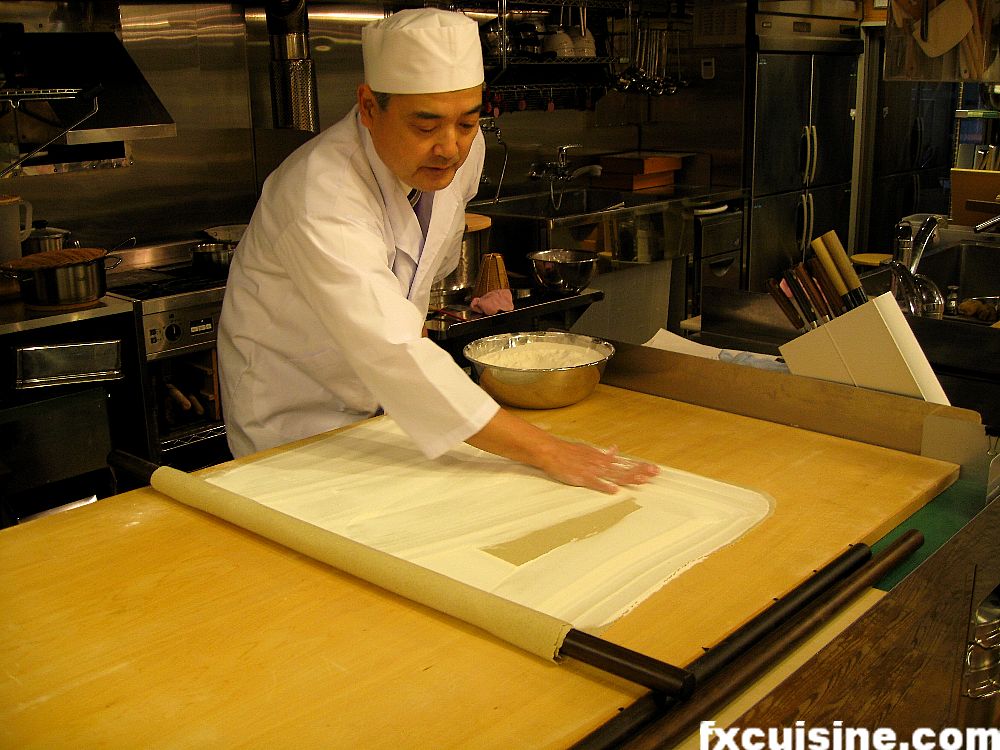 A very fine special buckwheat processing flour called uchiko is spread over the dough rectangle, which is then folded 4 times over itself. The uchiko prevents any sticking.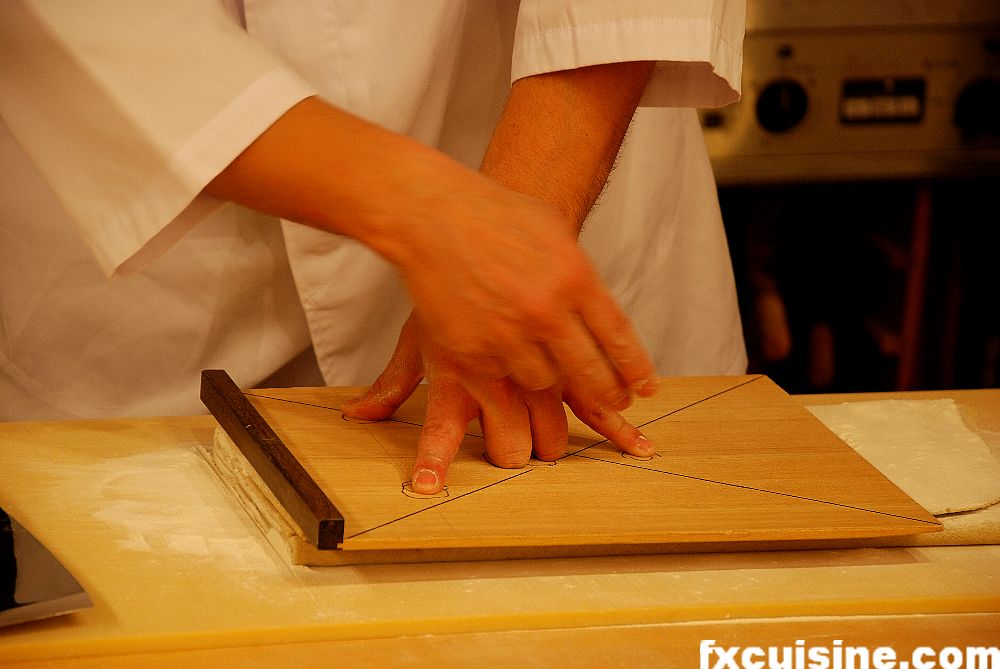 The folded dough is gently pressed under a light board and ready for cutting.

The chef takes out his giant, carbon-steel soba knife and starts cutting the noodles.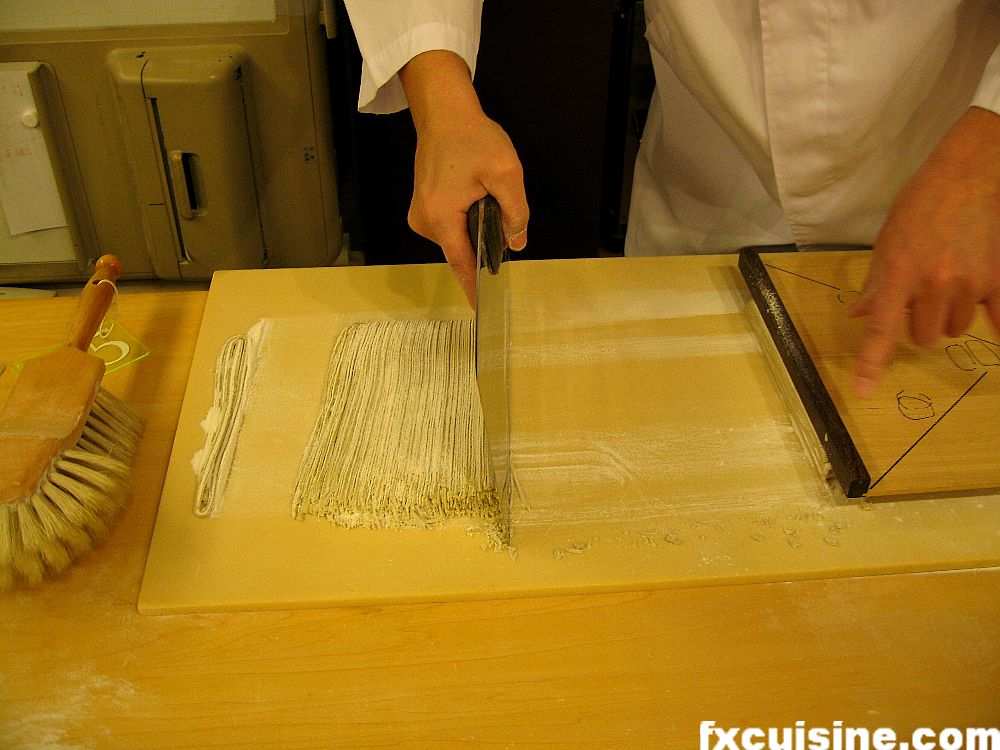 The noodles must be 1.6mm wide. 'How do you achieve such regularity?' I asked. 'Easy. Just place your knife at a 1.5° angle and it will push back the guiding board just enough so that the next noodle will be exactly 1.6mm'. Right. There is nothing to tell the chef when he reaches 1.5° so I guess the pupils must get their money's worth if they learn to do it right in 30 days!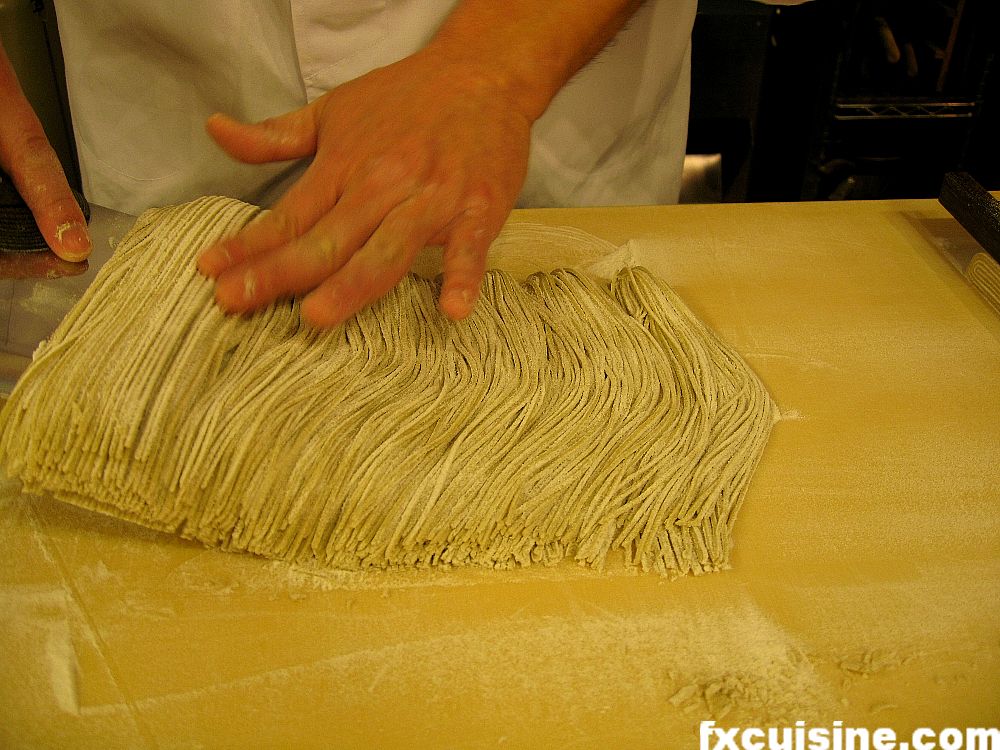 Using the soba knife's side, the chef scoops the noodles and takes them in his hand.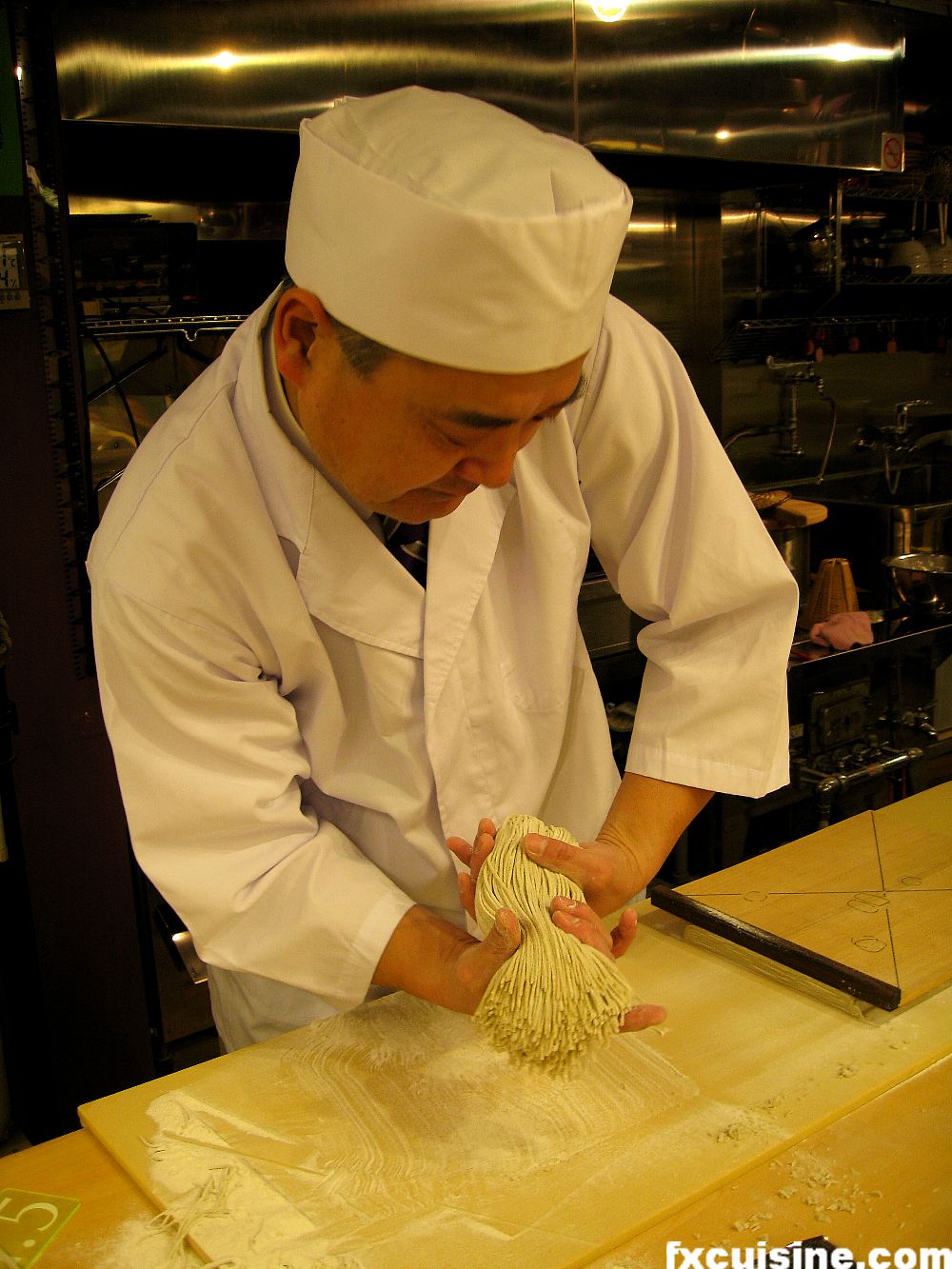 The noodles are gathered, then slightly twisted and shaken to remove the uchiko flour.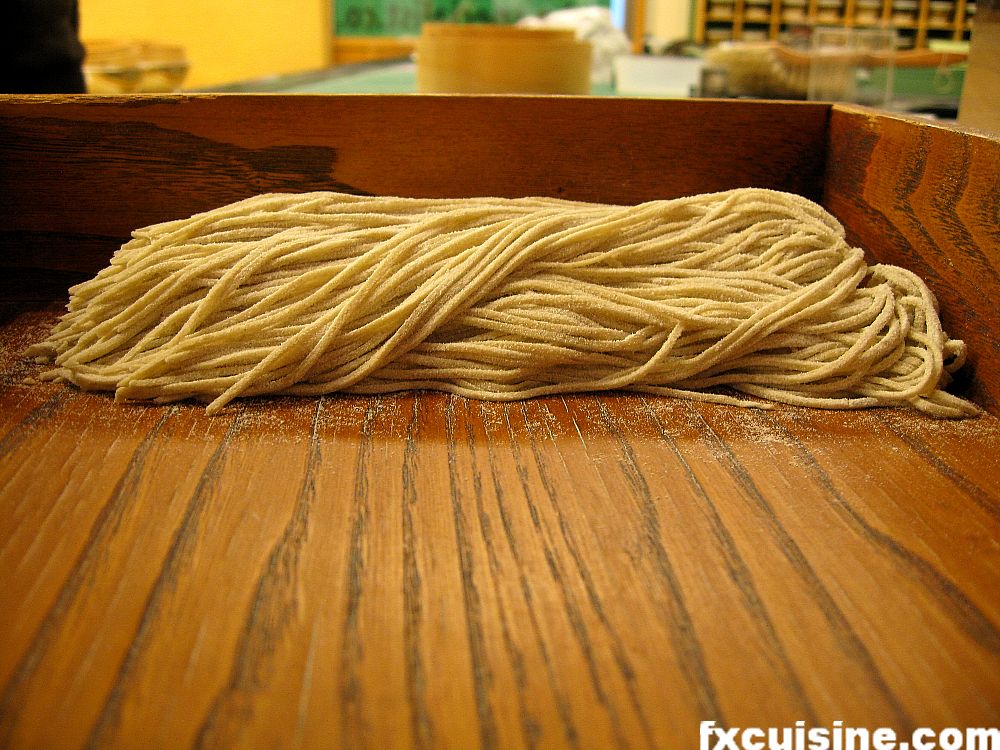 Finally they are carefully laid in a special wooden box until cooking.
Cooking
Soba noodles of this size - 1.5x1.6mm - should cook in 60 seconds.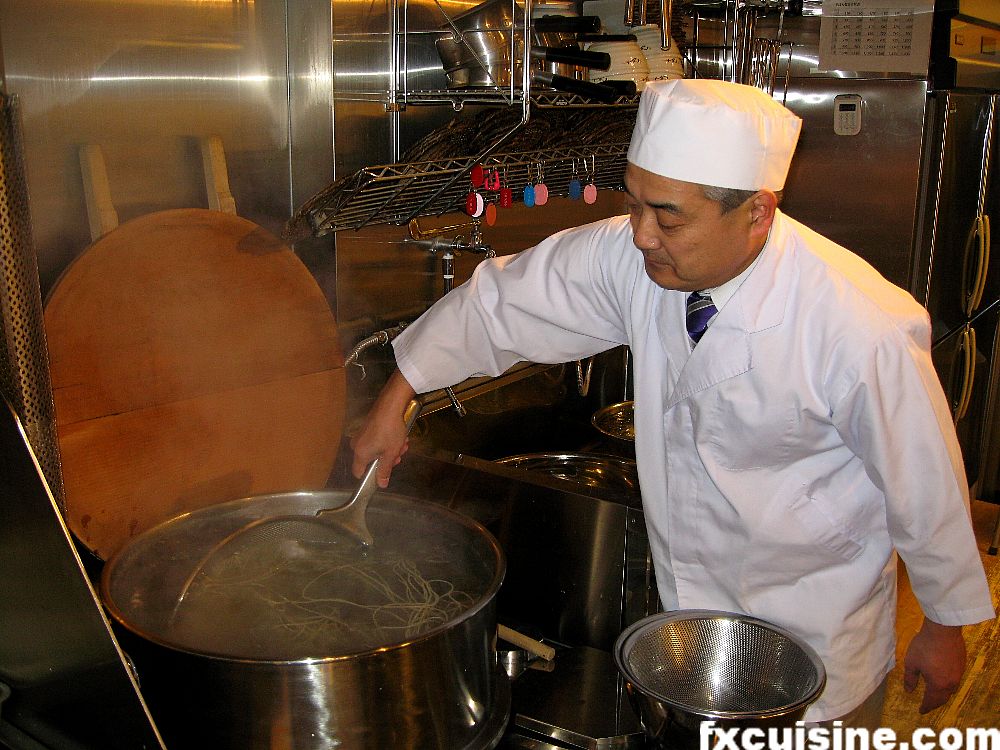 Mr Inuye probably owns the largest pot of boiling water I have ever used. He plunges the noodles in there, watches his Swiss train station clock for 60 seconds, then take them out. The cooked soba noodles are immediately immersed in a bucket of ice-cold water to stop the cooking. 'The texture is better also' he said. For a European gourmet it is quite difficult to understand how cold noodles could be better than warm ones but the Japanese do not do such things on a whim. I suspect they must be right but I can't say I'd rather eat them cold.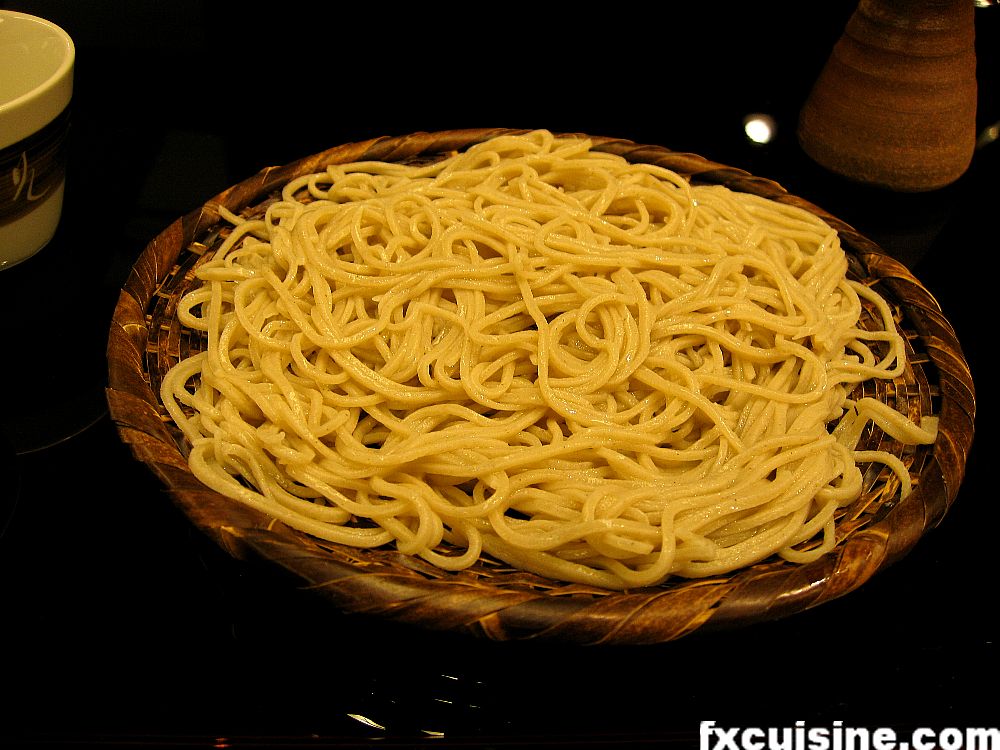 Chef Inuye asked us 'Are you guys hungry?' - well sure. We ate the soba noodles he just cooked, served with the traditional sugar-soy sauce-mirin dip and freshly grated wasabi. I think I can fairly say I didn't get many brownie points when I told the chef the dip reminded me of miso. Well it's brown and salty at least.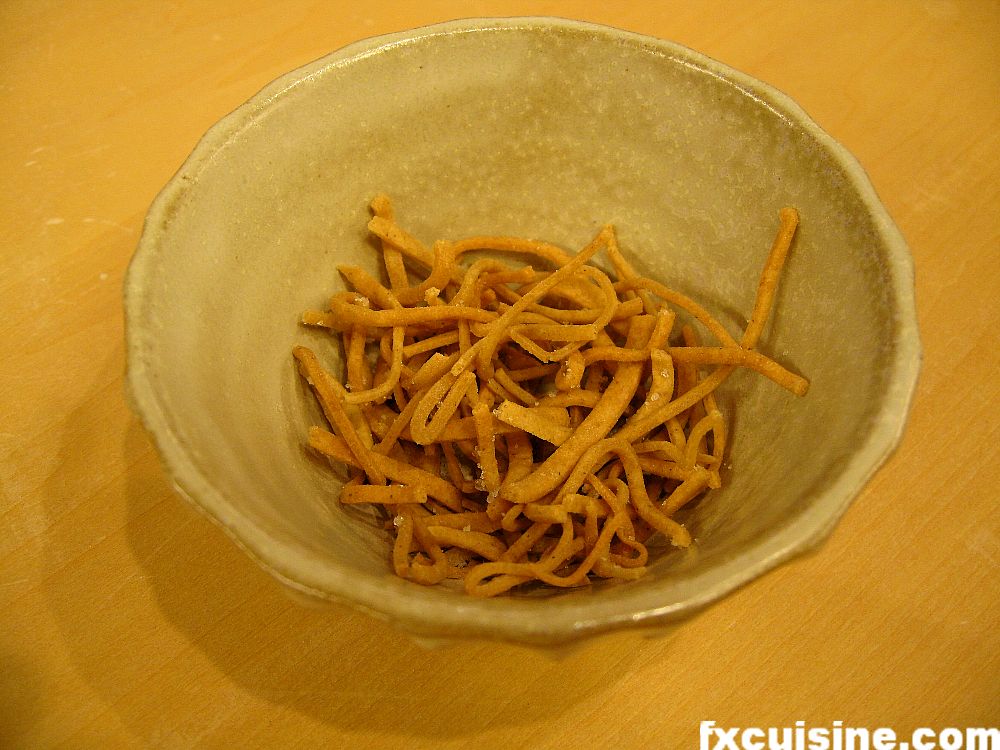 These are deep fried soba noodles served as an appetizer.
Now you try
Suddendly that was it. The chef's assistants had set up two tables such as the one below and it was our turn to try and make soba.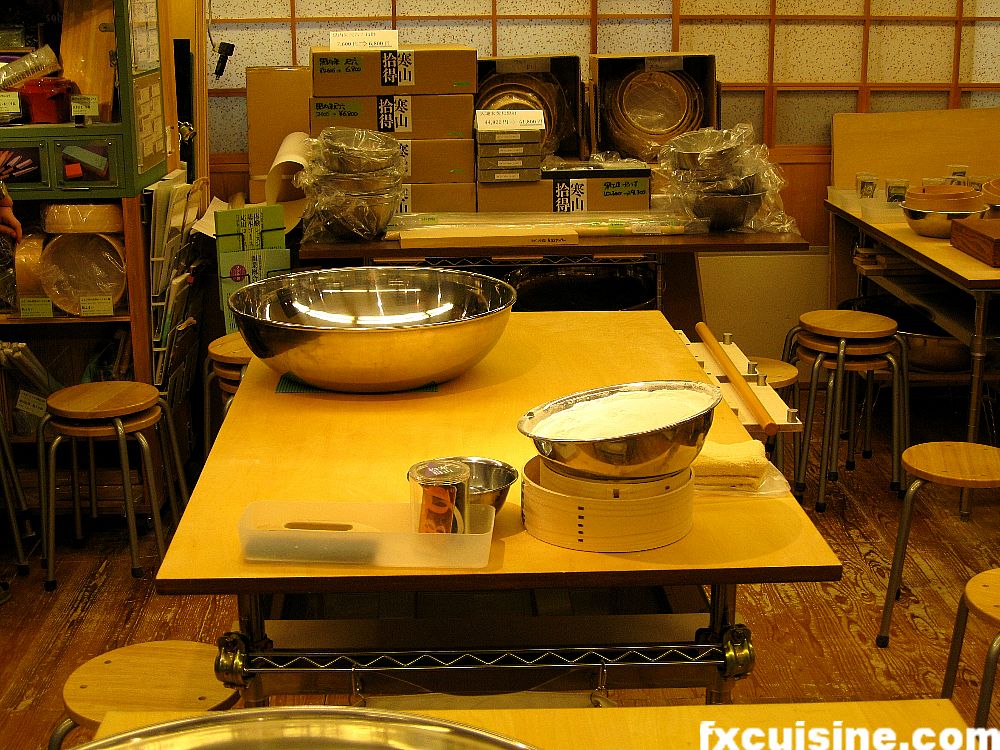 At first everything went fine, but the flattening is really not as easy as one could gather from chef Inuye's smooth movements. But we managed to finish our batch all right with some tips from the three cooks watching us with a friendly amusement and salvos of 'You are very good sobatician'. When I started to roll the dough backwards they laughed (very politely) and praised my 'Advanced soba making technique'. The work is surprisingly exhausting as all muscles are contracted to make a new, difficult movement, and the upper body is leaning towards the table.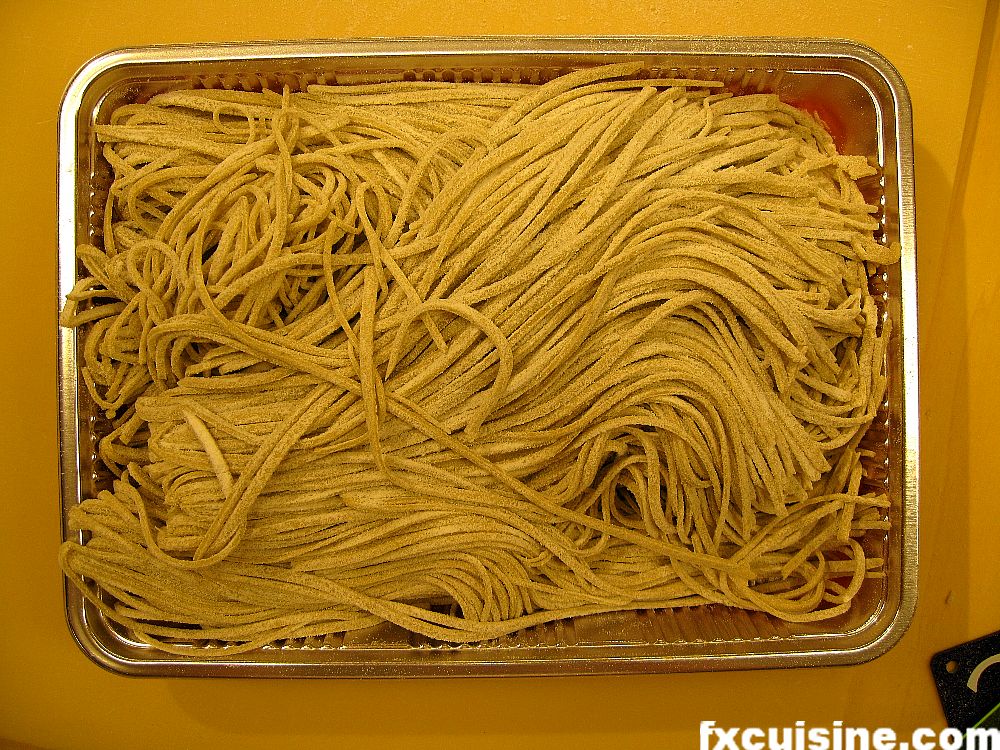 The cutting is the most fun. No surprise, it's really hard to get 1.6mm noodles consistently. At some point I put my hand heavily over the cutting board and almost cut all my noodles in half with the pressure. Definitely a bad mistake in a soba academy. But check the result on the picture above, not so bad for a first time!
Although the lesson wasn't cheap - I promised the chef not to disclose the special discount he gave us - I would definitely warmly recommend it to anybody who loves fun cooking techniques, hand pasta making and of course soba noodles.
You can buy all the equipment - sieve, rolling pins, knifes, gauges, wooden boxes and even chef Inuye's own book and DVD - at the academy. The space itself is beautiful, a Japanese ode to gourmandise in light wood and stainless steel.
The chef is really celebrity-chef style and I assume he must be on TV rather frequently as a soba expert. He has alumni all over the world. And a very nice guy too.
Tsukiji Soba Academy
http://soba.specialist.co.jp
a.inoue@specialist.co.jp
Tel: 03-5148-5559
Fax: 03-5148-5510
Tsukiji, Tokyo, Japan
672199 views
Related Articles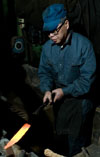 Japanese Bladesmiths ** Popular
A unique behind-the-scenes visit of the crafstmen who hammer out the best and most expensive kitchen knives in the world in the city of Sakai, Japan.

Priest-stranglers in Neapolitan Meat Sauce *
These gnocchis served in the cult Napolitan ragù sauce would be a world-famous dish if they didn't take 7 hours to cook.

Pasta con l'anatra - pasta in duck sauce *
Using a whole duck to make pasta sauce is uncommon outside Italy.
Copyright FXcuisine 2023 - all rights reserved.
If you do this recipe at home please let me know how it worked for you by submitting a comment or send me a picture if you can. Thanks!