Französische Schloss-Expedition
Home
>>
Kulinarische Erfahrungen
Ein Leser hat mich in sein Schloss in Hattonchatel bei Verdun in Frankreich eingeladen. Ich bin dort letztes Wochenende hingegangen um einige mittelalterliche Speisen zu kochen - seht, was noch mehr kommt in dieser Serie aus sieben Artikeln!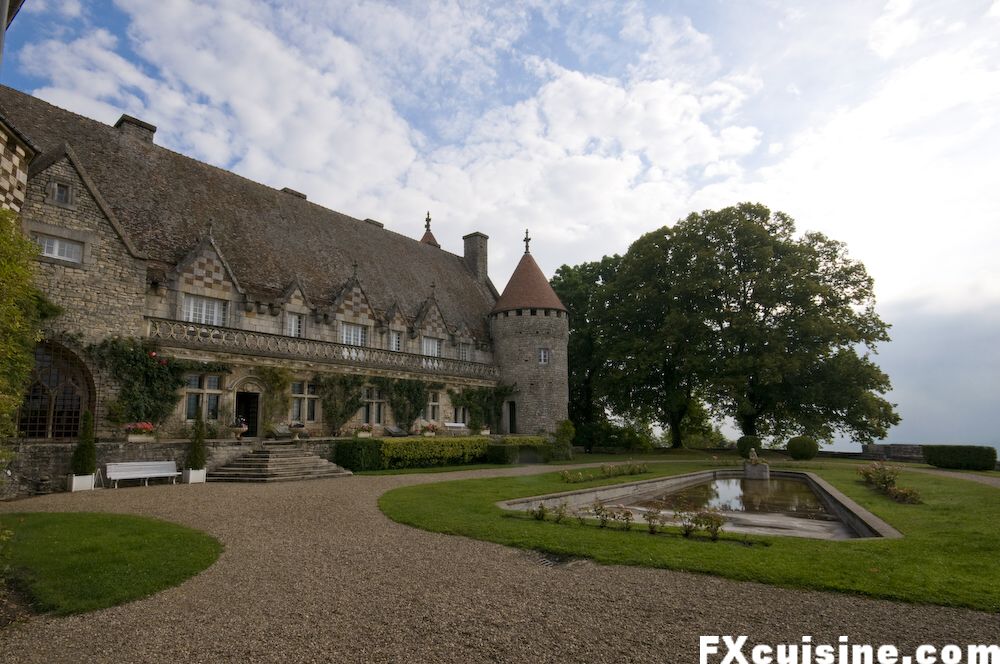 Ich habe schon so oft über Trüffel und andere teure Delikatessen geschrieben, dass so etwas passieren musste. Im Juni empfing ich folgende E-Mail:
Geehrter François-Xavier,
ich bin bereits seit längerer Zeit ein großer Fan deiner Seite. Jedes Mal, wenn ich mir die tollen Bilder ansehe, bekomme ich einen enormen Appetit. Ich wollte dein Rezept für Minestrone versuchen, aber leider konnte ich dort, wo ich wohne, keinen Schweinsfuß bekommen.
Ich schreibe dir diese E-Mail, da wir ein Château in Lothringen in Frankreich haben und ich dich gerne ein Wochenende dorthin einladen würde, damit du es dir ansehen kannst und wir etwas mit der regionalen Küche experimentieren können. Das Château ist von einer faszinierenden Landschaft umgeben, zwischen Wäldern mit Trüffeln und Wildschweinen! Es würde auf jeden Fall ein guter Artikel werden und es wäre eine tolle Publicity für uns und eine Anregung für die, die gutes Essen mögen. 
Das Château wird normalerweise vermietet für Hochzeiten und Feiern und nicht als Hotel, also hat man es fast für sich allein. Wir haben auch kein Küchenpersonal. Du kannst dir Bilder des Châteaus ansehen unter:  www.ritz-resorts.com
Du kannst auch gerne deinen Partner und/oder Kinder mitbringen. Falls du irgendwelche bestimmten Gerichte in Gedanken hast, die du hier gerne zubereiten würdest, oder irgendwelche bestimmten Zutaten oder Weine oder andere kulinarische Ideen, sorgen wir dafür, dass das geregelt wird. 
Ich würde mich freuen, von dir zu hören!
 Mit freundlichen Grüßen,
Midas
Das hörte sich sehr gut an, aber war es wahr? Falls ich ginge, würde ich am Ende von Graf Zaroff verfolgt werden, oder würde Graf Dracula mein Blut saugen?  Bei meinem Besuch im August würde ich es sicher erfahren.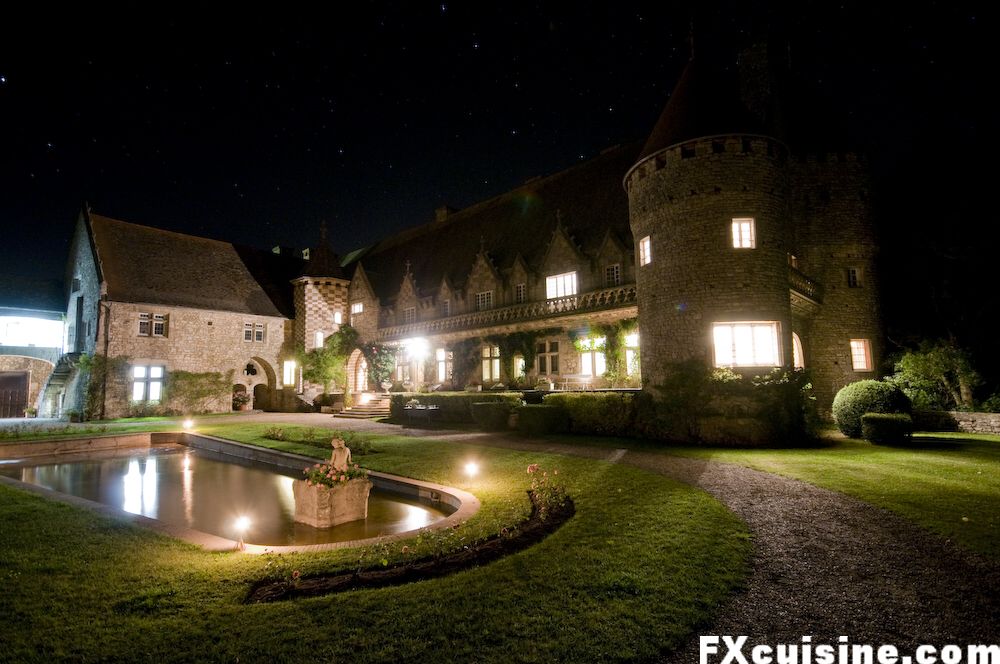 Dieses lange Wochenende in Hattonchâtel in der Nähe Verduns war eines der besten seit langer Zeit - ein schallender Erfolg. Ich habe 1847 Bilder in drei Tagen gemacht. Ich werde verschiedene Artikel schreiben darüber, was wir gemacht haben um euch zu bilden, zu informieren und vor allem zum Sabbern zu bringen! Hier ist ein Grundriss dessen, was wir machen werden - die kompletten Artikel werden zweimal in der Woche ab dem 5. September 2008 veröffentlicht.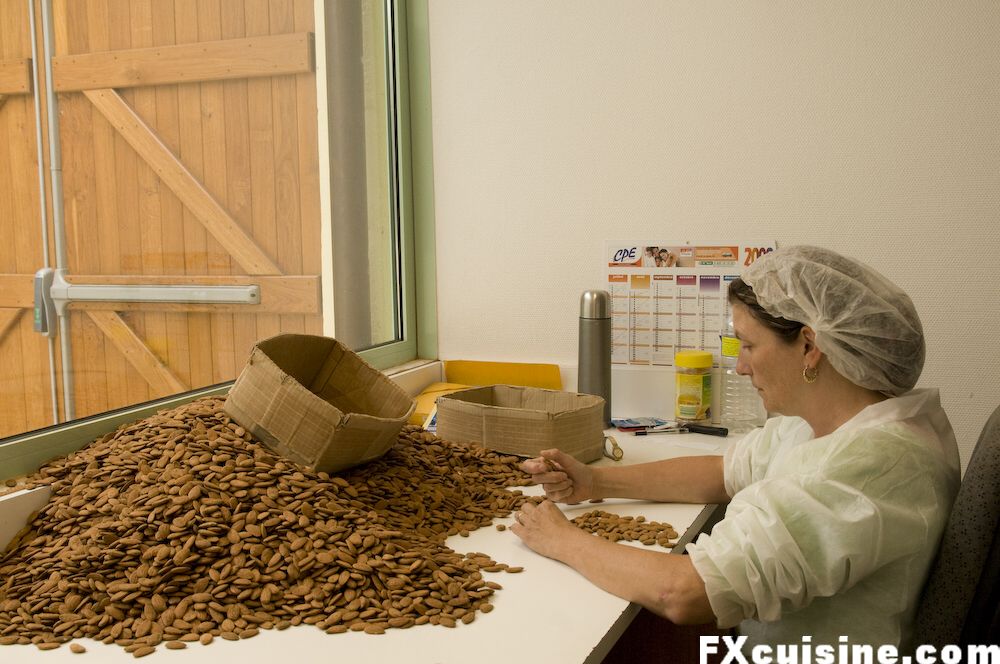 Mein Besuch an Dragées Braquier in Verdun, ein jahrhundertealter Hersteller von Mandel-Dragées, eine regionale Spezialität.Artikel lesen ... 
Ein Interview mit dem Mann, der Johannisbeermarmelade macht, indem er jede Beere mit einer Gänsefeder entkernt. Diese Marmelade ist kein Gelee und wird seit 600 Jahren so hergestellt. Der wohl berühmteste Liebhaber dieser Marmelade war wohl Alfred Hitchcock, der britische Regisseur.
Lesen ...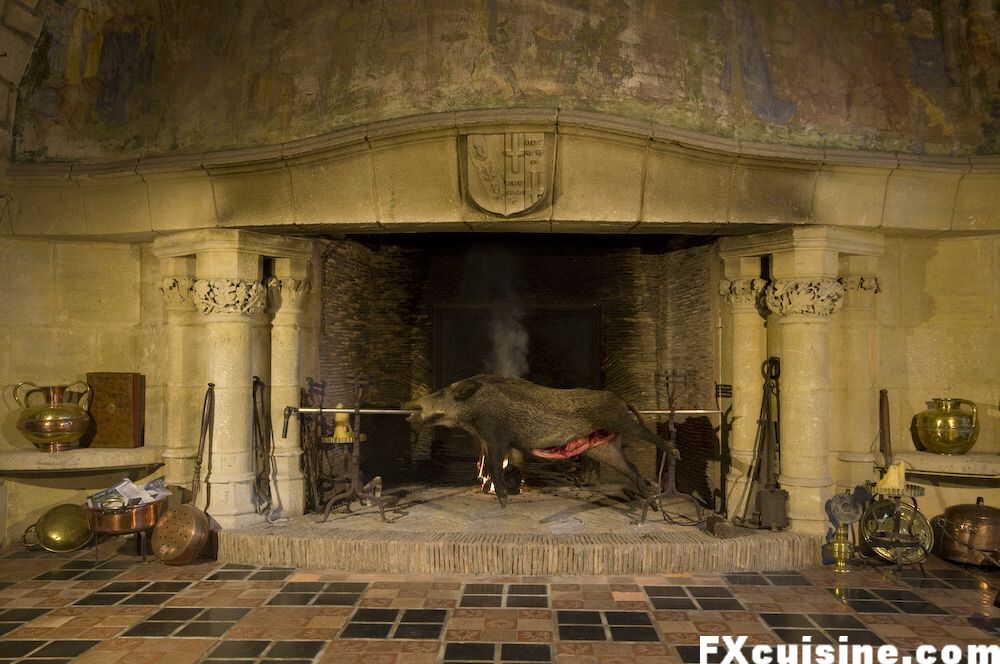 Ich sagte Midas, dass ich einen Food Angle bräuchte, damit ich über Hattonchâtel schreiben kann. Mach einfach eine Liste mit den Sachen, die du brauchst, sagte er. Ich schlug ein paar mittelalterliche Speisen vor, die ich schon immer kochen wollte, aber nie konnte - da ich kein Schloss zur Verfügung hatte. Die netten Leute vom Schloss befolgten meine Ideen und Ratschläge mit Enthusiasmus und Gewissenhaftigkeit und schufen außergewöhnliche Mittelalterspeisen, während ich Bilder vom ganzen Geschehen machte. Am Ende hatten wir so viele Speisen gemacht, dass wir lauter Lokalpolitiker - zu ihrer großen Freude - einluden um auch an diesem Mittelalter-Bankett teilzunehmen.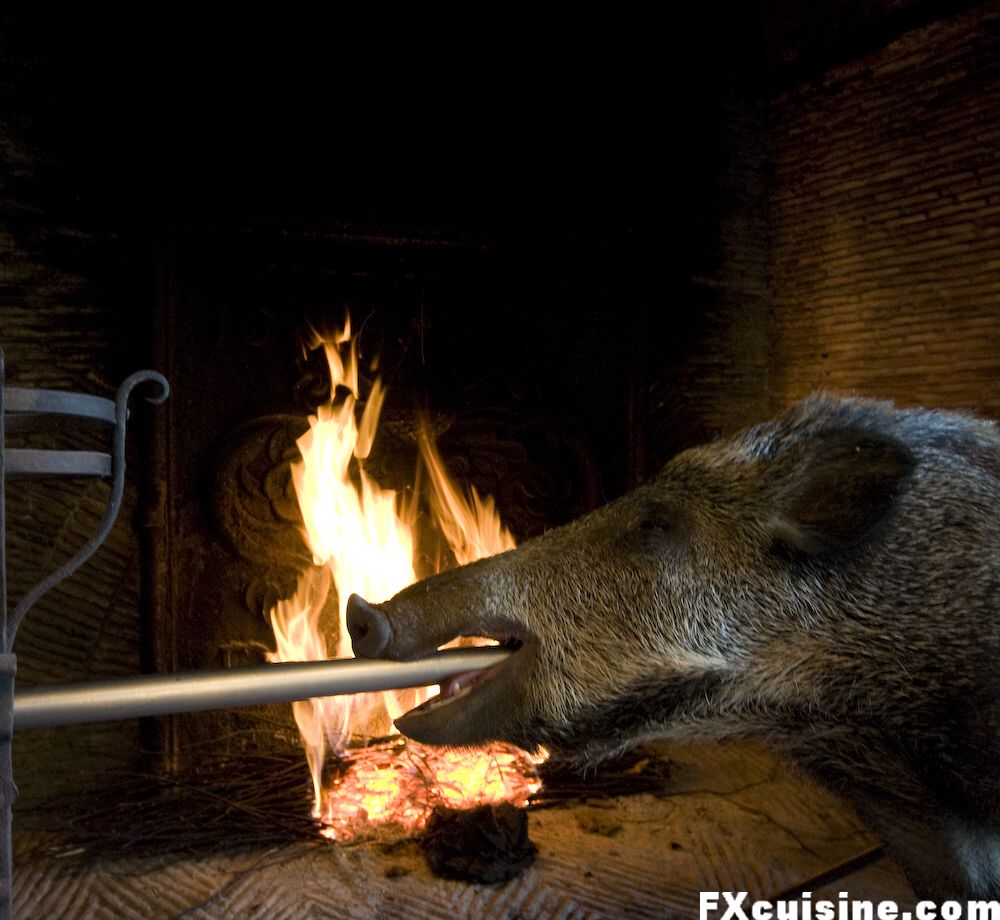 Ein ganzes Wildschwein am Spieß im Schloss-Herd, komplett mit Häutung und anschließendem vierstundenlangen Braten. Artikel lesen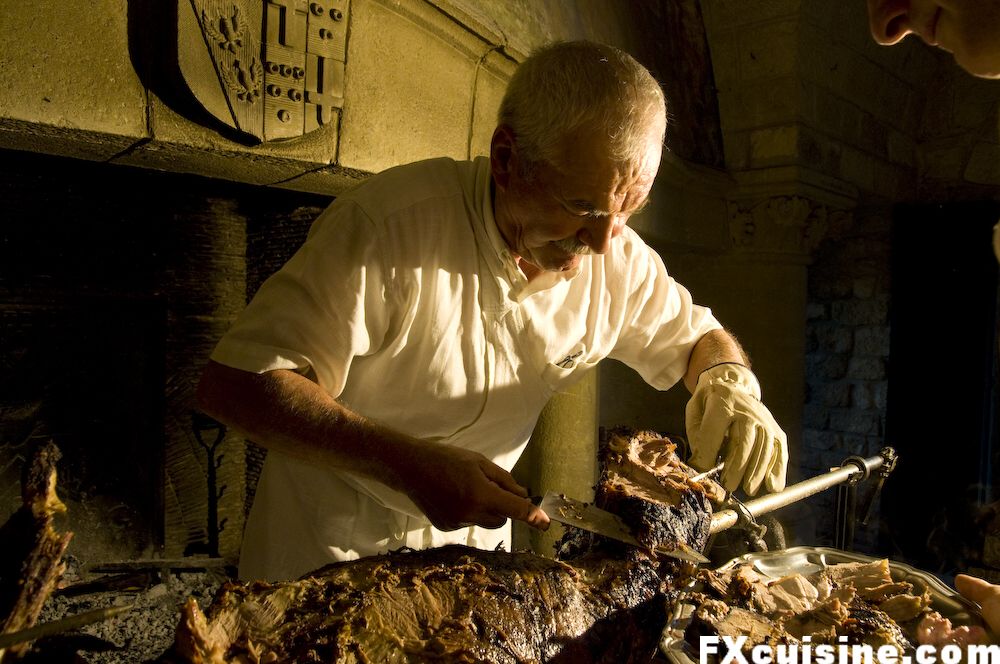 Das Fleisch wurde vom örtlichen Jäger Hubert auf exzellente Weise geschnitten, es war schon rosig von innen mit einer schmackhaften braunen Kruste von außen. Um Längen besser als herkömmliches Schweinefleisch!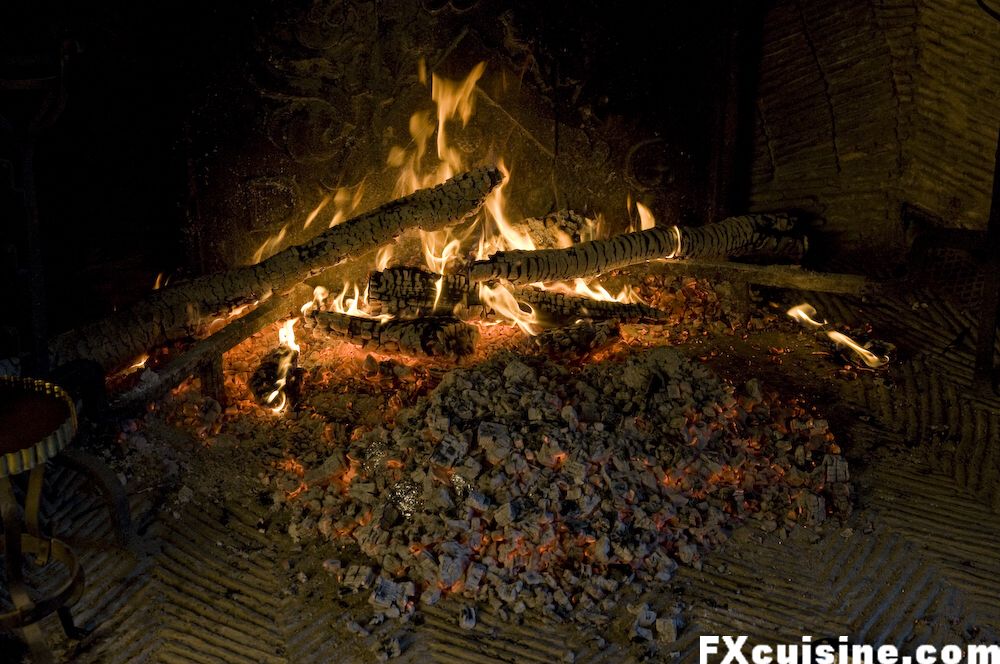 Wurzelgemüse aus den Schlossgärten (im ehemaligen Schlossgraben) unter der Asche gekocht in besagtem gigantischen Herd.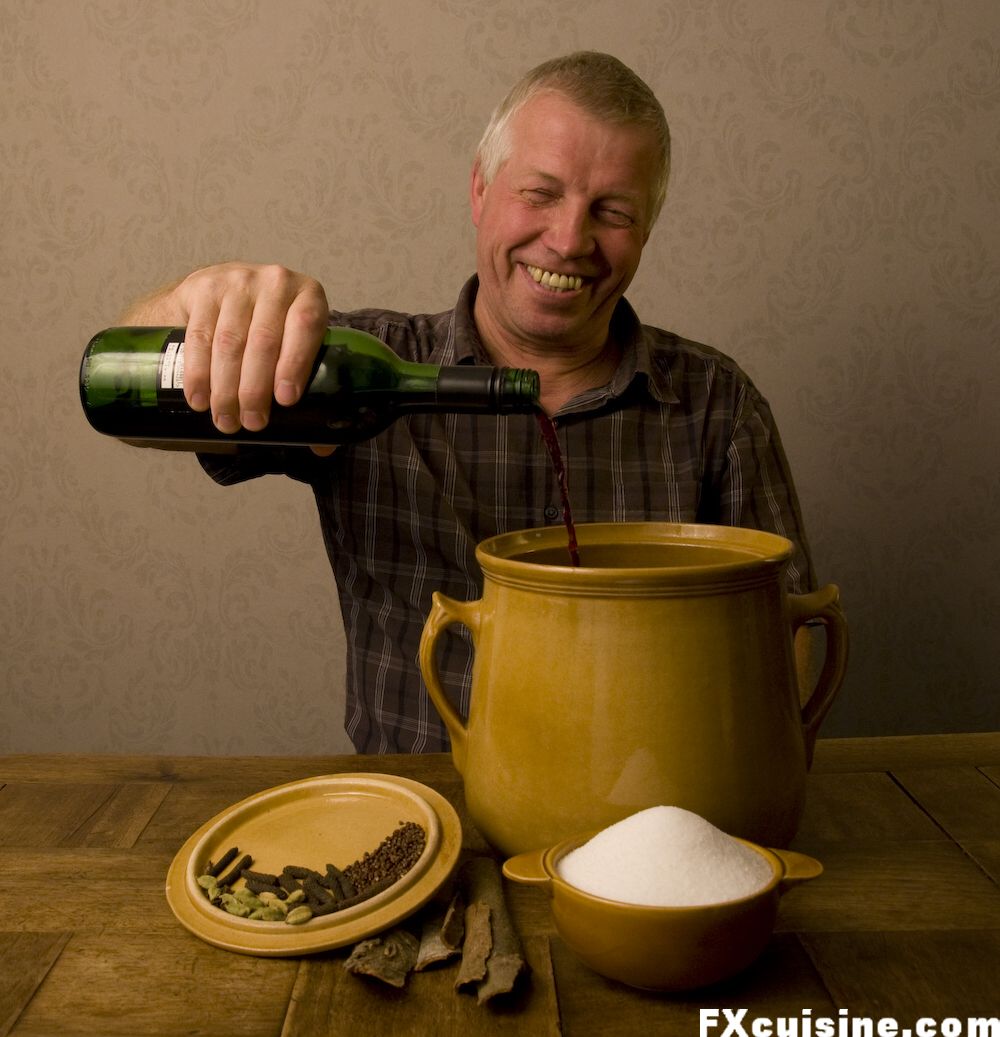 Hypocras - wir versuchen uns an diesem Wein mit Zucker und ungewöhnlichen Gewürzen, dann servieren wir den Wein an örtliche Glitterati. Weiter lesen...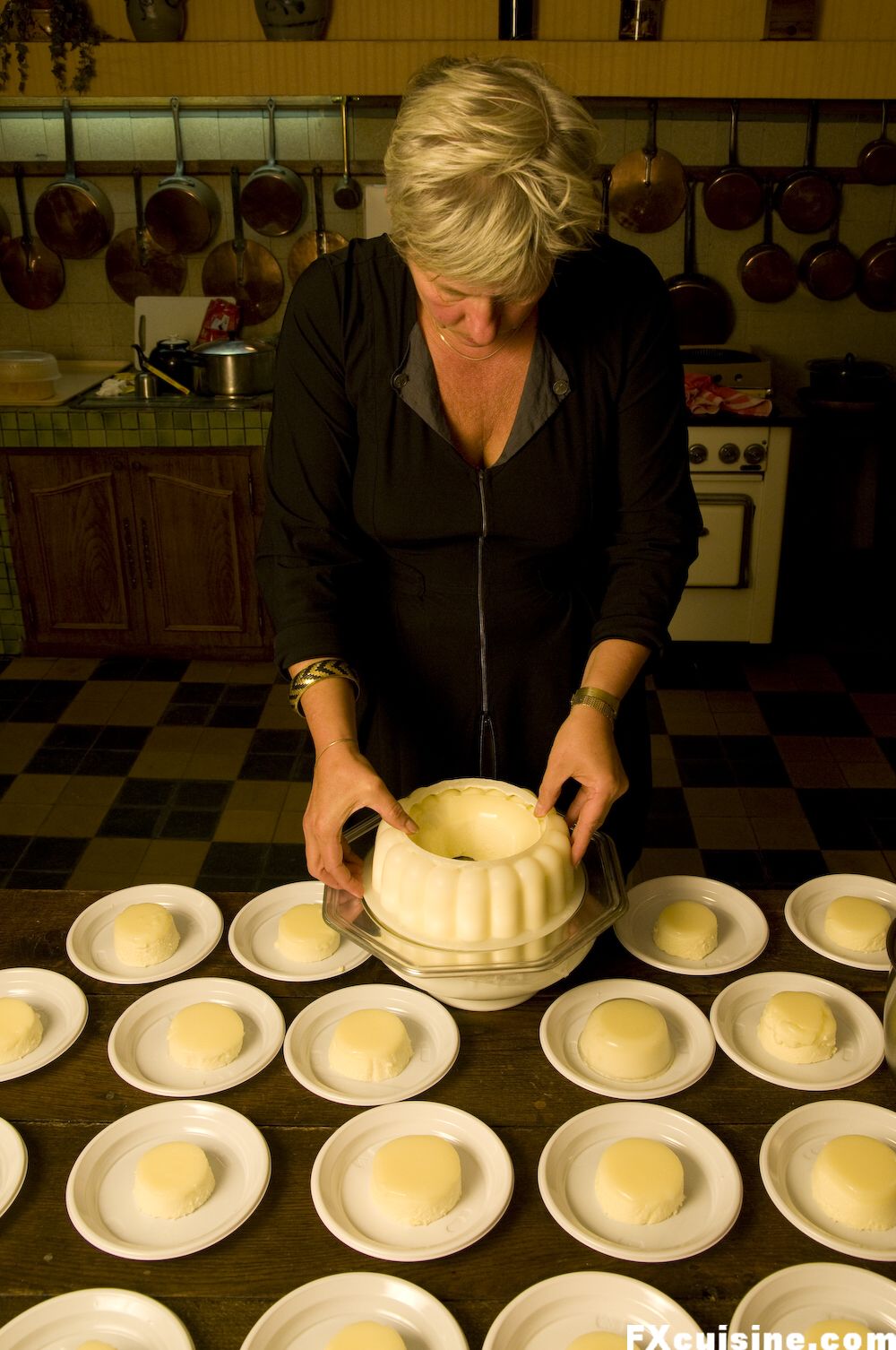 Eine meiner Favoriten, ein alter Klassiker - Blancmanger, das Mandel-Milch-Gelee. Zum Anbeißen.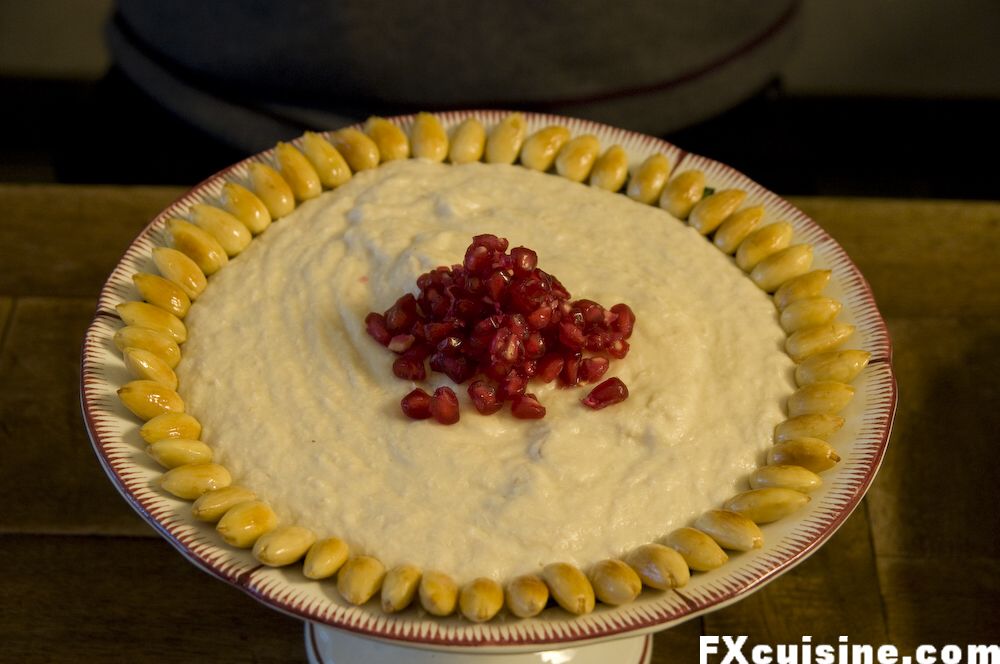 Als verblüffende Beilage ein historisches Blancmanger, zubereitet nach einem Rezept aus dem 14. Jahrhundert. Eine süße, schmackhafte Creme mit Mandeln und Putenbrust. 
Das mittelalterliche Bankett von FXcuisine.com war ein überwältigender Erfolg!
Am 5. September kommt der nächste Artikel. Ich werde versuchen, ab Freitag sieben Wochen lang einen neuen hier reinzustellen.
193558 gelesen
Related Articles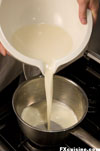 Chicken for Dessert **
One of the greatest desserts in Turkey is made with chicken breasts. It is based on an almond-and-chicken pudding once hugely popular in medieval Europe. See how it's made!
Beliebste Artikel ¦ Letzte Artikel ¦ Nach Stichwort ¦ Letzte Kommentare
Copyright FXcuisine 2021 - all rights reserved.
If you do this recipe at home please let me know how it worked for you by submitting a comment or send me a picture if you can. Thanks!