La Auténtica Raclette Suiza
(página 2 de 2)
Home
>>
Experiencias Gastronómicas
El platillo nacional del Valais, mi cantón en Suiza, la Raclette es el queso fundido más suculento  que probarás jamás.  Aquí está en su mejor expresión, en el Manoir de Villa en Sierre.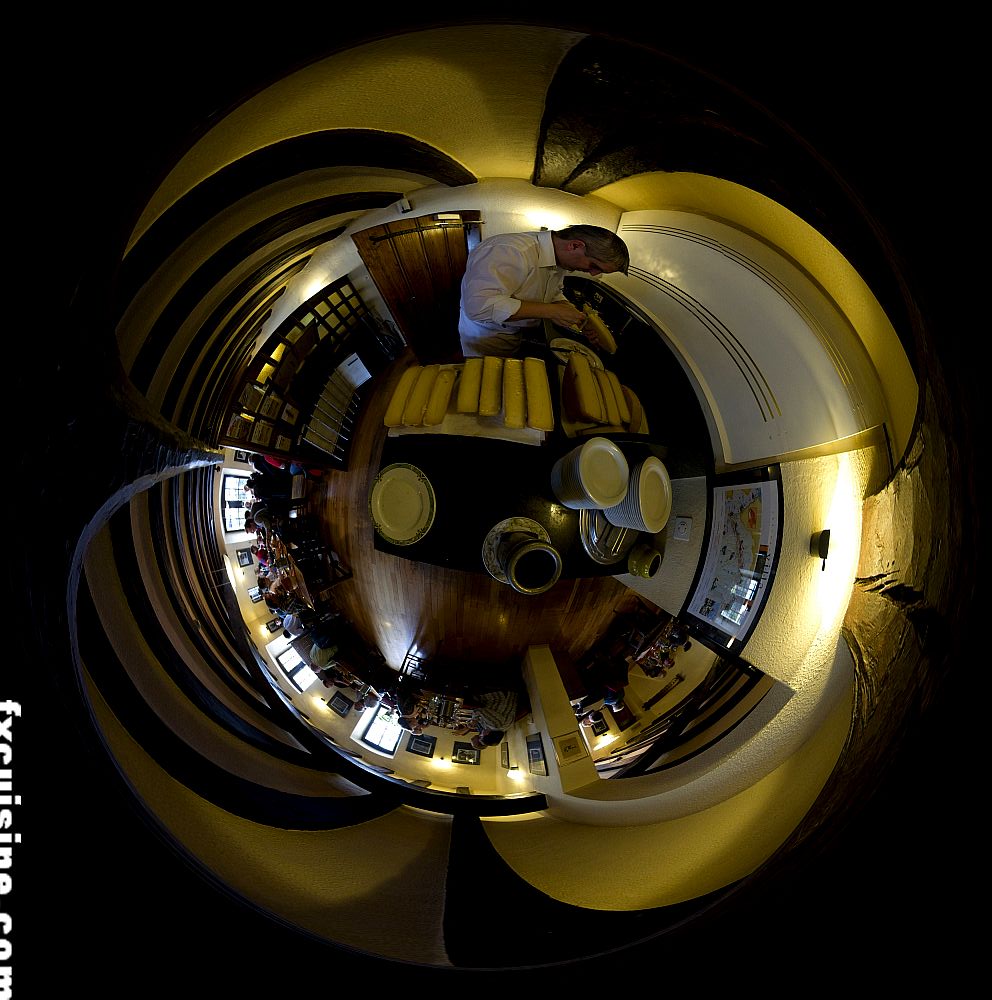 Panorámica de 360º 360° immersive panorama (Flash, 2 MB) - observa al racleur 'raspador' trabajando.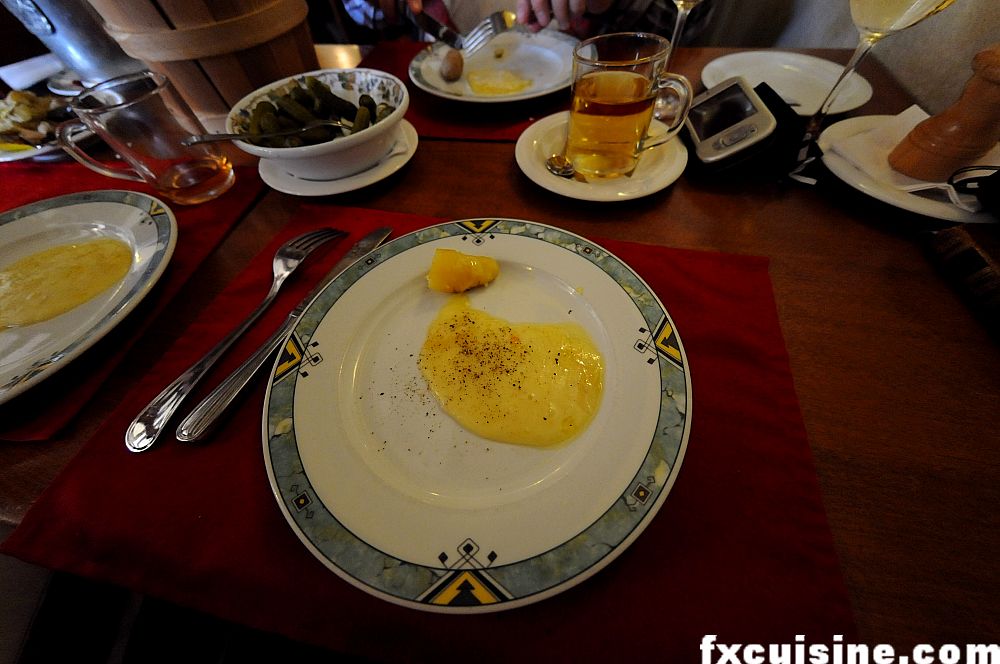 La Etiqueta de la Raclette es muy importante si comes con Valaisians.  Si le pones sal a tus quesos, la gente te verá como si le hubieras puesto hielo a una copa de Château Cheval Blanc en Bordeaux o pidieses un filete de Kobe bien cocido en Tokyo.  Por Dios, en una de esas te arrojan desde lo alto de un glaciar.  Luego viene la pimienta.  Yo le pondría pimienta al café si yo tomase café, pero si le pones pimienta a tu raclette antes de probar el primer bocado, la gente pensará menos de tí.  Como dice el cuento campestre 'Un día un hombre estaba entrevistándose para un trabajo nuevo y su futuro jefe le invitó una raclette.  El hombre le puso pimienta a su raclette sin haberla probado antes.  Al ver esto, el jefe decidió no contratarlo.  Y resultó que tuvo razón, ya que este hombre tenía tendencia a tomar decisiones precipitadas y prematuras y era un mal empleado.' Me han contado esta historia innumerables ocasiones y ahora la tengo tan grabada que no soñaría siquiera en ponerle un nanogramo de pimienta a mi raclette antes de probarla.  Desde luego tu me podrás decir que el cuento no tiene mucho sentido gerencialmente hablando, pero ese no es el punto.  La raclette es comida de identidad, y es cuestión de historia, de tradición, de comer-esto-nos-hace-ser-quienes-somos, tanto como de cualquier otra cosa.
Otro tip que el visitante casual del Valais puede equivocadamente tomar como otra tradición de las que definen nuestra identidad.  Pronto descubriría que esto no es tradición.  Con una raclette sólo puedes beber  alcohol o té tibio.  Intenta pasarlo con una coca cola o con agua mineral si deseas, pero por favor siéntate por allá atrás para que el olor de tu vómito no distraiga a los demás comensales.  Los padres valaisianos les dicen sus hijos que  'Si toman algo frío con la raclette, el queso se convertirá en una bola dura en su estómago y se enfermarán'. Los niños podrán argumentar que el vino blanco está frío y que nadie se enferma.  'El alcohol evita que se forme la bola en tu estómago'. Esos niños que discuten demasiado bien o que no escuchan el consejo de sus padres pronto aprenden por experiencia. al tener que salir corriendo del salón.
El hombre regresa después de un par de minutos, se lleva tus platos y regresa con más queso. 'Este es de l'Alpage du Marais en Grimentz'. Cada queso te dá una rebanada de los Alpes, la combinación única de topografía, suelo, micrometeorología, la raza de las vacas que ahí pastan, la manera en que el queso fue elaborado y sazonado.  Cada queso es muy distinto de los otros, aún siendo todos quesos de raclette, un poco como las personas de una misma familia le pueden parecer parecidas a un extraño, pero son un mundo aparte una vez que los conoces.
Los platos siguen llegando hasta que caes.  A menos que tengas un apetito de lilliputense,  pide la opción que incluye todo lo que puedas comer y prueba al menos un ciclo completo, 5 platos en total.
En otra ocasión te mostraré la raclette en otro ambiente. 
Château de Villa
http://www.chateaudevilla.ch
Rue de Sainte-Catherine 4
Tel. +41 (0)27 455 18 96
Sierre
Valais (the Matterhorn state!)
Switzerland
El castillo es propiedad de una fundación, y es manejado por Dominique Fornage, un prominente enólogo suizo.  Si al escuchar las palabras 'Fundación Suiza' imaginas un servicio estilo soviético, te espera una buena sorpresa.  El restaurante siempre está lleno, incluso el lunes a mediodía.  Reservar por adelantadao es absolutamente necesario.  Costando 44 francos suizos por una entrada y raclette ilimitada, tampoco es una comida barata.  La gente viene aquí no por el precio sino por la calidad y el servicio rápido.  En efecto, a leguas notarás que si  Mister Queso es tan apto para lograr que sus meseros trabajen el salón con tal eficiencia, seguramente no será el tipo de vinicultor que olvida un par de gotas en sus uvas.  Pero tampoco depende de su cava ni se la pasa tras su escritrio de director, y lo puedes ver por ahí ayudando a llevar fondue o raclette a una mesa.  Una operación muy bien manejada, particularmente para una organización sin fines de lucro.
618610 visitas
Artículos Relacionados

Hard Core Swiss Vacherin Cheese ***
Follow me as I wake up in the wee hours of the morning to see Swiss armailli make a unique cheese in a small chalet up the Gruyere Alps.

A night at the Liboson ***
A memorable fondue in an over-the-top dungeon chalet straight out of a Hammer film. Our host, Paul du Marchie, has been building an architectural fantasy in the middle of the woods for the last 50 years. Dont' miss my eight 360° panoramas!

Swiss Alps Ricotta ***
See how we make sérac, the Swiss ricotta, up in the Swiss Alps and learn about about Swiss cheese botanics with a field trip to see what the cows graze up there.

Swiss Alpine Pasture Cheese Croûte ***
How I bought cheese in a small cheese making chalet in the Swiss Alps 2 hours walk from the last road and how I turned it into a delicious Croûte au fromage.


Swiss Cheese Fritters ***
The mighty Beignets de Vinzel is a cult dish from the Swiss coast of Lake Geneva. It would fit nicely into the Scottish Diet.
Artículos màs populares ¦ Ultimos artículos ¦ Por temas ¦ Ultimos comentarios
Copyright FXcuisine 2023 - all rights reserved.
If you do this recipe at home please let me know how it worked for you by submitting a comment or send me a picture if you can. Thanks!