La Batalla del Knoedel
(página 2 de 2)
Home
>>
Recetas
La historia de un arma secreta alemana  transformada en un delicioso platillo por los italianos.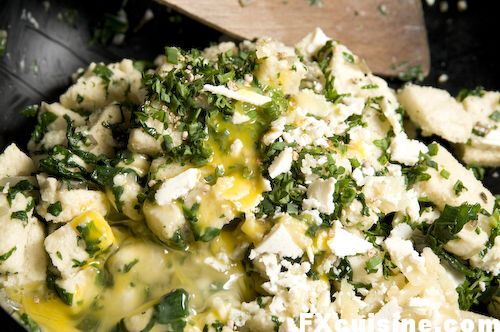 Después de 30 minutos todo el líquido ha sido absorvido por el pan.  Agrega los huevos batidos, el queso rallado, el cebollín y sazona a tu gusto.  Admito haber utilizado un poco más líquido que los 100ml indicados por Herr Pinkowski, solo para darme cuenta después que los huevos ańaden mucho más fluído.  No se le corrige la nota a un cocinero alemán.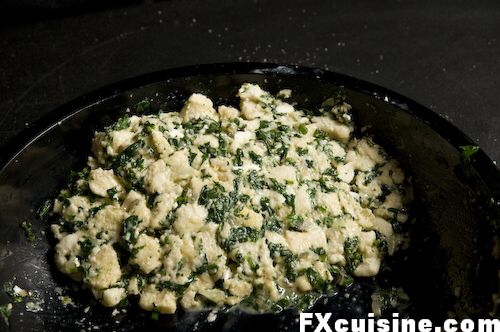 Aquí tienes la masa fresca de tus knödel.  En los restaurantes alemanes puede suceder, especialmente en tiempos de guerra, que la masa se vuelve a utililzar al día siguiente, y el que le sigue también.  Esto se llama armar los knödel.  Pero si los estás haciendo para ti o para gente que aprecias, mejor hazlos justo antes de comer.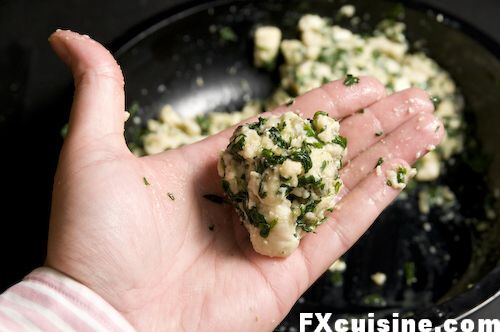 Con las manos mojadas, excava en la masa y forma una bola del tamańo de una pelota de golf.  Asegúrate de que las bolas estén parejas, sin hoyos.  Los míos son knödels de principiante, demasiado húmedos, los cubos de pan demasiado grandes, las hojas de espinaca muy grandes también.  Observa la foto del inicio, para tener los knödels del Sr.  Pinkowski's como referencia.  Coloca los knödels en una charola de plástico tray o en una tabla de madera engrasada.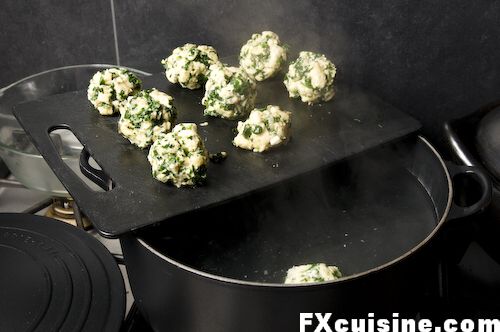 Llena tu olla más grande de agua, agrégale sal, tápala y ponla a hervir a fuego alto; que hierva con furor.  Mi amigo Karl Telfser, que tiene una empresa de banquetes, prefiere cocinar los  canederli/knödels al vapor, 'de otra manera, al hervirlos la mitad del sabor desaparece en el agua'. Ańade los knödels uno por uno...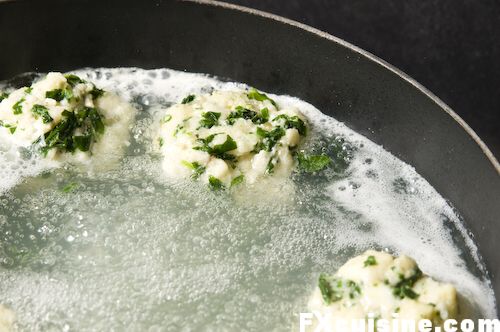 ... y déjalos hervir unos 20 minutos. 'Los puedes hervir de 20 a 30 minutos. Asegúrate que la temperatura interior alcance al menos 65şC - eso es por razones sanitarias.  Aquí en Vigilius hacemos la masa a diario, o sea que el riesgo no es tan grande, pero en Alemania y en Austria algunas veces mantienen la masa un par de días más- ya sabes a que me refiero' explicó Pinkowski.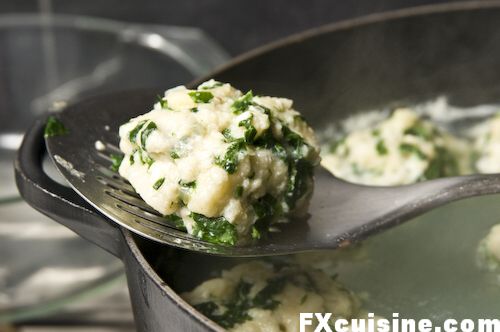 Retíralos con una cuchara perforada o un colador.  NO vacíes toda la olla y esperes obtener knödels que la gente pueda comer.  No funcionará pues el peso del agua, los convertirá en pudin.  Péscalos, uno a uno - es la única manera.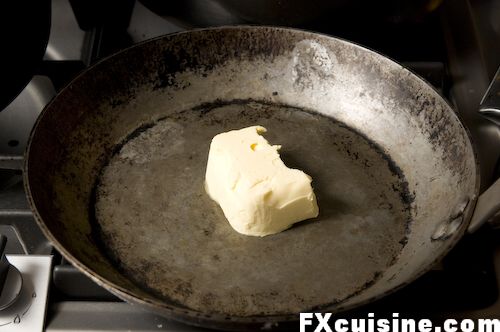 Derrite un pedazo grande de mantequilla en una sartén...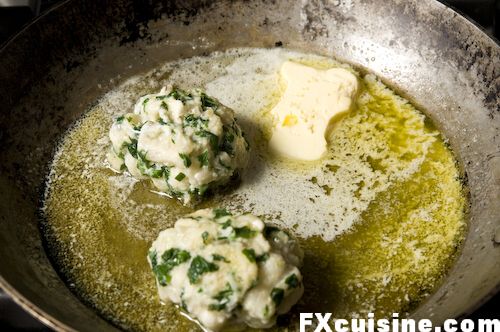 Y revuélca los knödels en la mantequilla derretida hasta que estén totalmente cubiertos.
Sírvelos como primer tiempo con queso rallado encima y una ensalada.  Yo le sirvo dos a cada invitado - el doble de lo que se requiere para lograr el cometido.
225595 visitas
Artículos Relacionados

Pear, Walnut and Gorgonzola Bruschetta ***
This traditional garnished grilled bread is Italian cuisine at its best. Utter simplicity based on excellent ingredients, around a time tested formula. Food for the gods.

Sicilian Cash Cow **
This baked eggplant pasta dish has been keeping client queuing at the door of Geneva's most successful popular Italian restaurant 15 years. Find out how you can milk the Sicilian cash cow for yourself.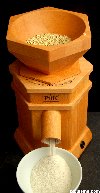 Italian Alpine Buckwheat Pasta Pizzocheri **
Traditional buckwheat noodles from the Italian Alps with cabbage and Fontina cheese. I made them from scratch with my own freshly milled buckwheat flour. Hard core pasta!

Italian Buckwheat Torta **
A unique Alpine recipe from those mountains where Italians speak German. For hardcore buckwheat lovers only!
Artículos màs populares ¦ Ultimos artículos ¦ Por temas ¦ Ultimos comentarios
Copyright FXcuisine 2020 - all rights reserved.
If you do this recipe at home please let me know how it worked for you by submitting a comment or send me a picture if you can. Thanks!