Kebabs para el Ramadán en Istanbul
(página 2 de 2)
Home
>>
Experiencias Gastronómicas
Un lector me invitó a un lugar de kebabs en Istabul para la primera noche del Ramadán.  Después de una breve introducción, 50 fotos para llevarte a una comida completa desde la preparación hasta el final. ¡No te lo pierdas!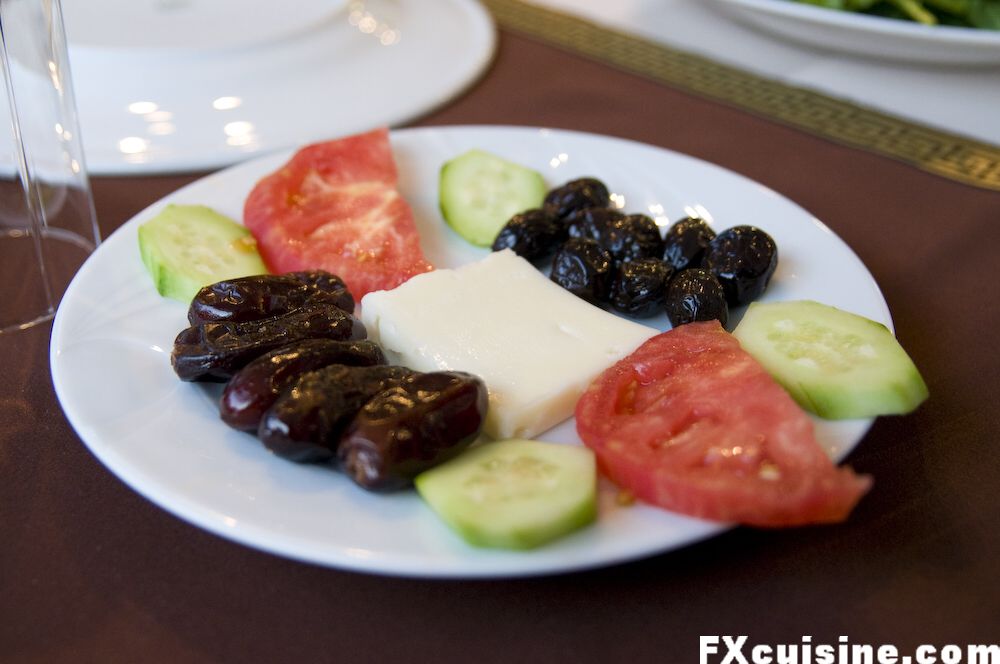 Durante el Ramadán, los musulmanes no comienzan a comer antes de que se ponga el sol.  A las 19h27 nos sentamos y esperamos unos minutos a que llegue el ezan, el momento en que el sol ha desaparecido y puedes comenzar a comer.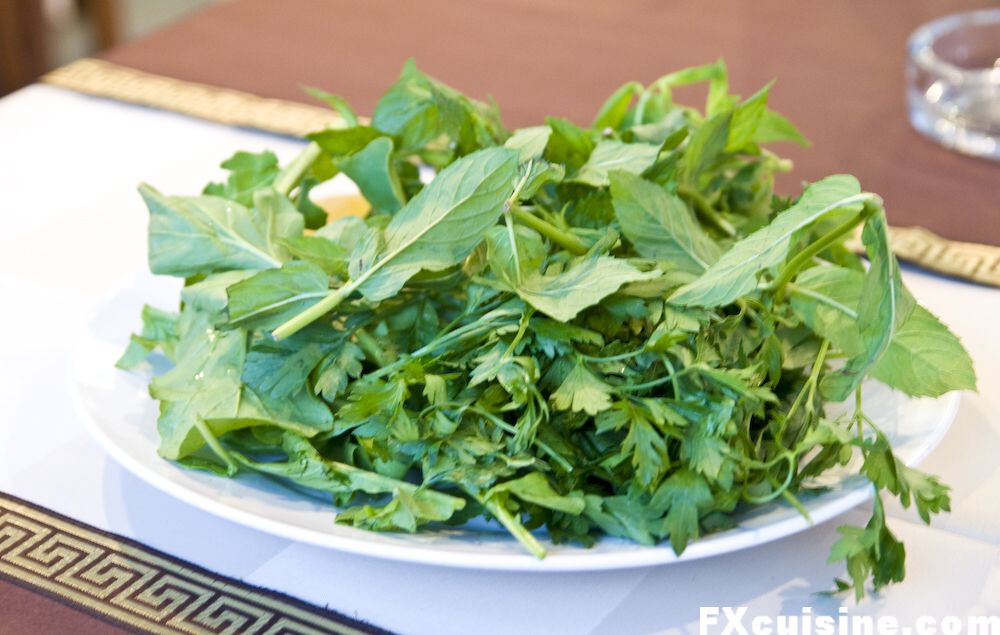 Lo primero en llegar a la mesa fue un plato de hierbas frescas - menta, perejil y arúgula.  Metin nos mostrará como se comen en un momento más.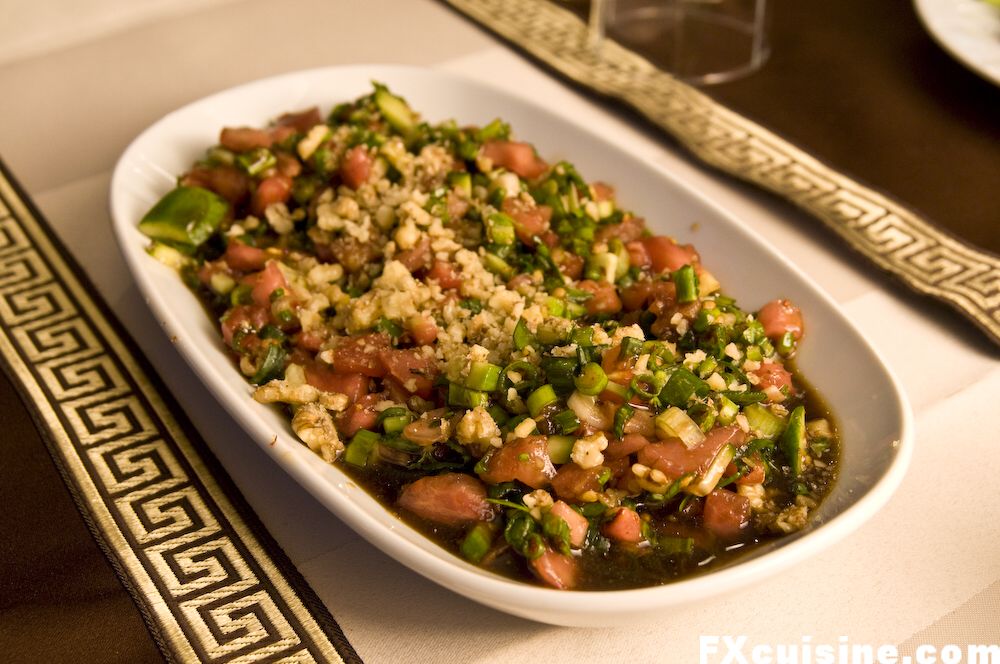 Llegó una ensalada fresca muy parecida a una chermoullah del norte de África.  NO son muy amigo de los jitomates frescos y no la probé, pero ciertamente tenía semillas de granada, cubos de pepino, nueces de castilla recién molidasa, cebollín de cambray, jitomates frescos, menta y aceite de oliva.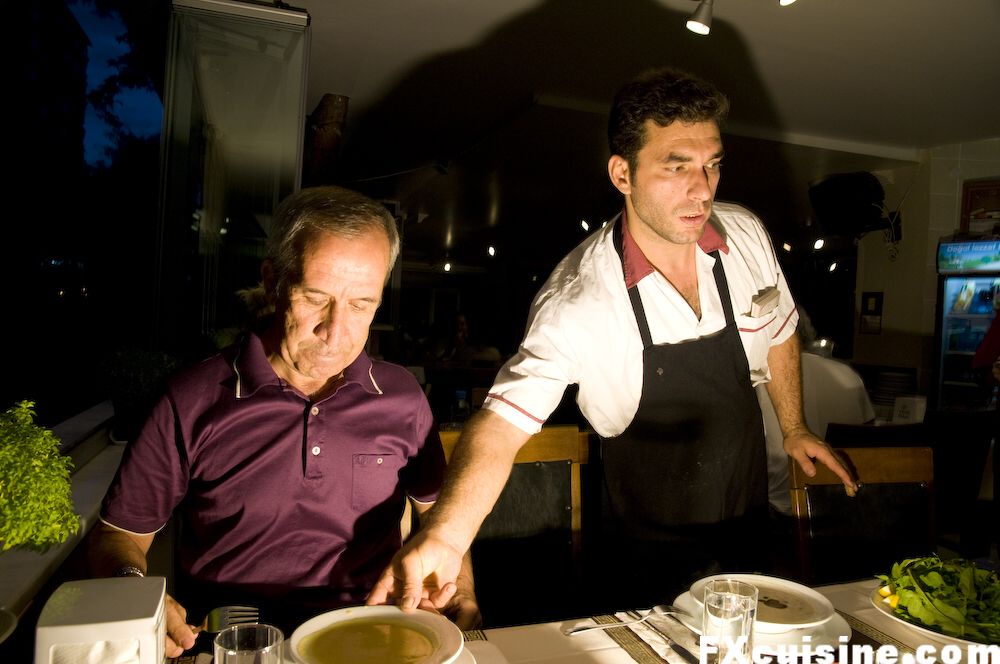 Sopa - Algunos de nosotros pidieron una sopa ligera de lentejas pero yo hago la elección correcta y pido la yuvarlama, una sopa de carne, garbanzo, menta, aceite de oliva y yoghurt (Ve la receta recipe). Esta increíble sopa es típica de Anatolia, una región montañosa y rural de Turquía de donde es todo el personal y el propietario del restaurante.  El propietario, Hayrettin Sürmeli se encuentra fuera; su hija Eda, cuyo nombre lleva el restaurante, se casa en su pueblo, Gaziantep.  Sólo la hacen una vez al año, aparentemente para el primer día del Ramadán.  Tiene un sabor ácido sensacional y color blanco, por el yoghurt.  En comparación a ésta, la sopa de lentejas sabe sosa.
Normalmente, Los musulmanes en Turquía consumen alcohol, pero no durante el Ramadán.  Mis amigos turcos beben lo que Utkun traduce como jugo de zanahoria con pimienta carrot juice with pepper.  Lo pruebo y casi vomito. Esta cosa sabe a purga y peor.  Extremadamente amargo.  Se ve como el delicioso jugo agrio de cereza que encuentras por todas partes en Turquía, pero ésta no es la noche en que adquiriré el gusto por él.  Le padre de Utkum pidió el popular y sabroso yoghurt líquido.  Yo tomé una Coca Cola Zero de una enorma charola.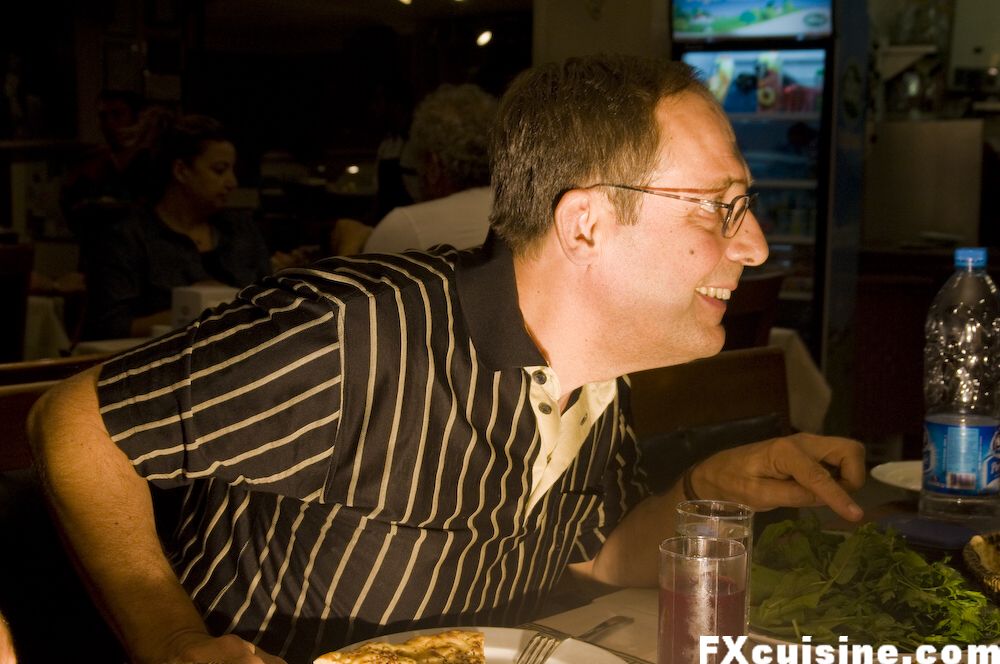 Irfan hace comentarios de buena gana mientras discutimos la guerra con Georgia.  ¿Es un perligro o una oportunidad para Turquía? Le pregunto a Ambos, y contestan con mucha seriedad.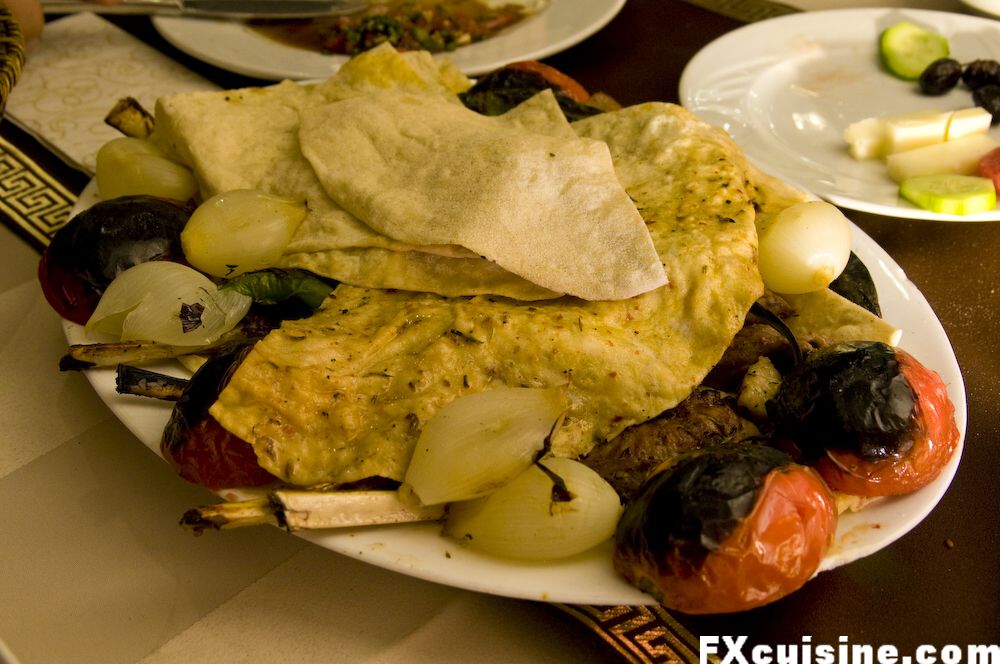 Poco después de las 20h00 llega este plato de kebabs, con el pan encima y las verduras a un lado.  Todos usan tenedores y cuchillos para servirse del platón pero yo no resisto agarrar con la mano un pedazo de pan bajo el escrutinio de Metin.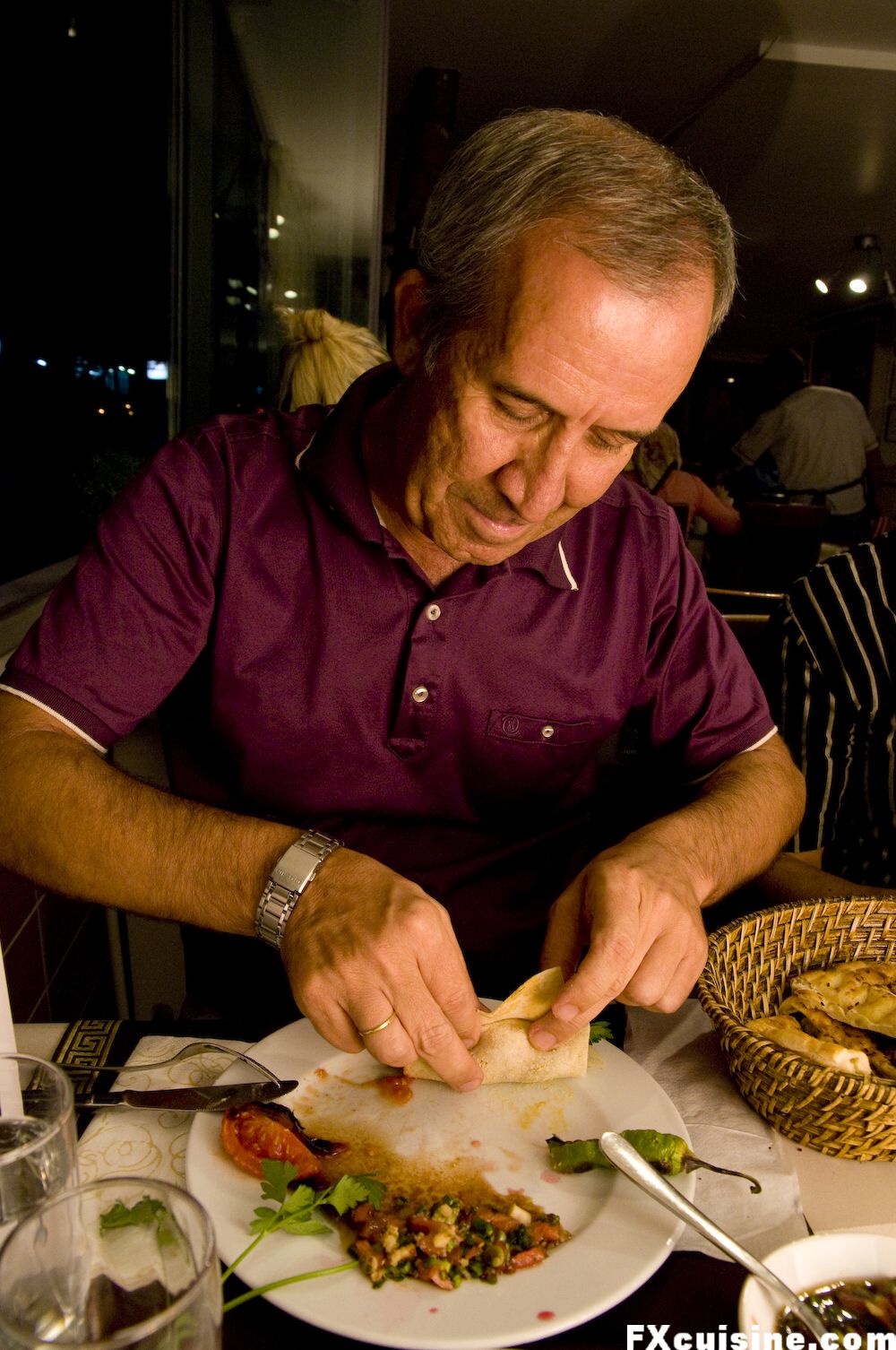 Metin se encarga de demostrarme como comer un kebab como un caballero turco, mientras el resto de la mesa lo anima.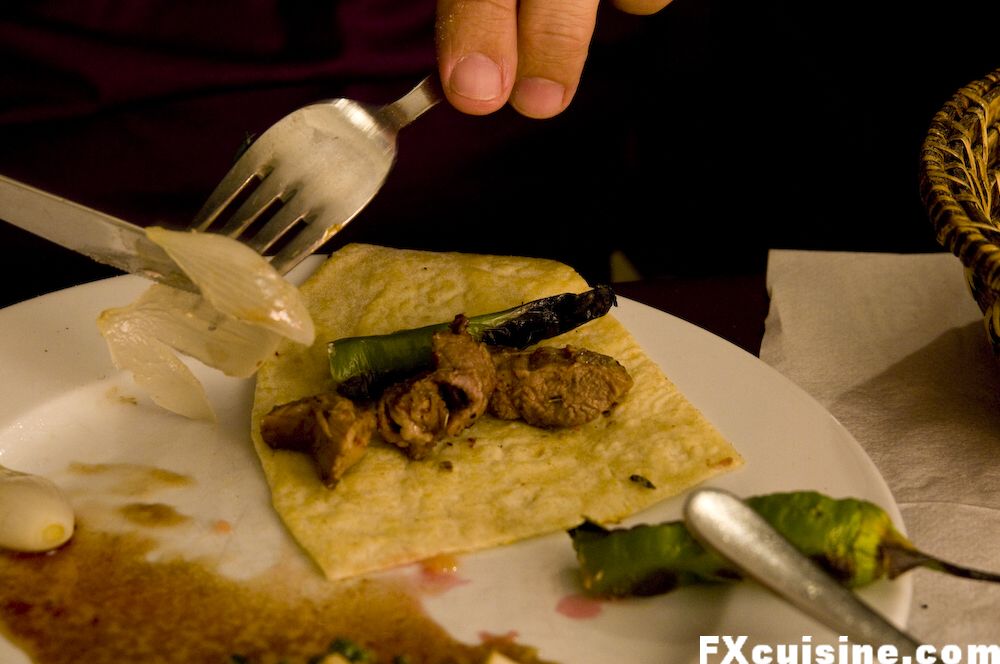 Tomas un pedazo del pan plano (mucho más plano que los que vimos preparándose hace un rato).  Coloca dos pedazos de cordero asado, un chile, una cebolla y un jitomate asado roasted tomato.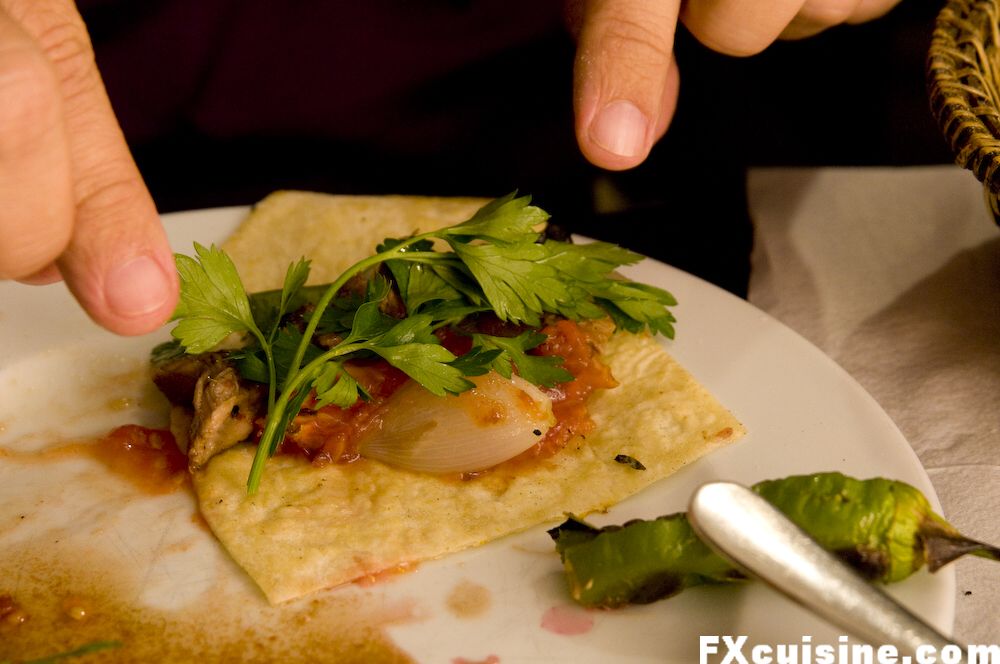 Lo adorna con una ramita de perejil.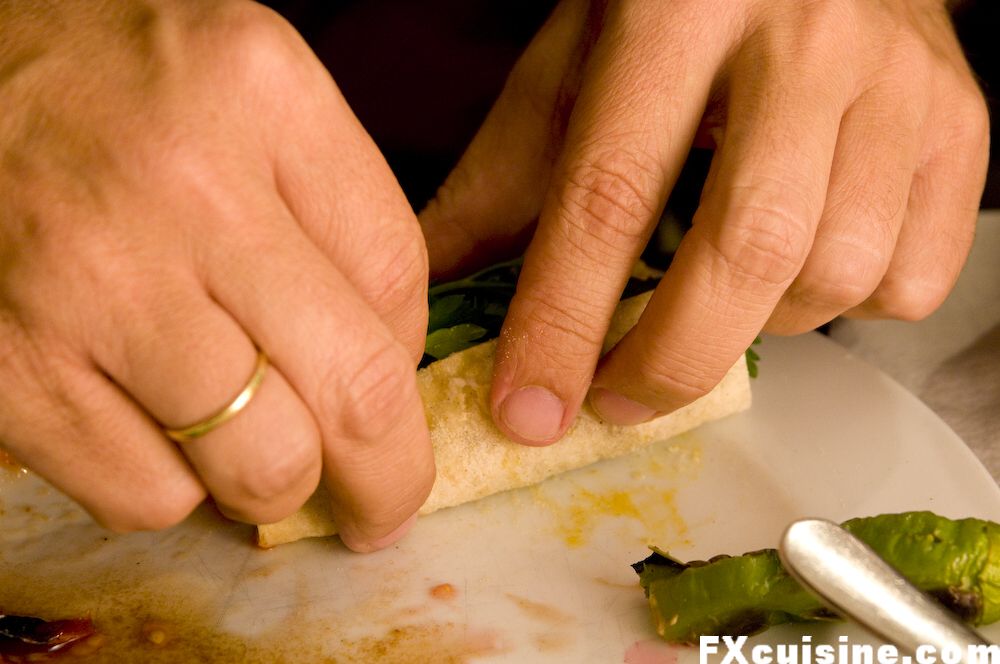 Lo enrolla como puro...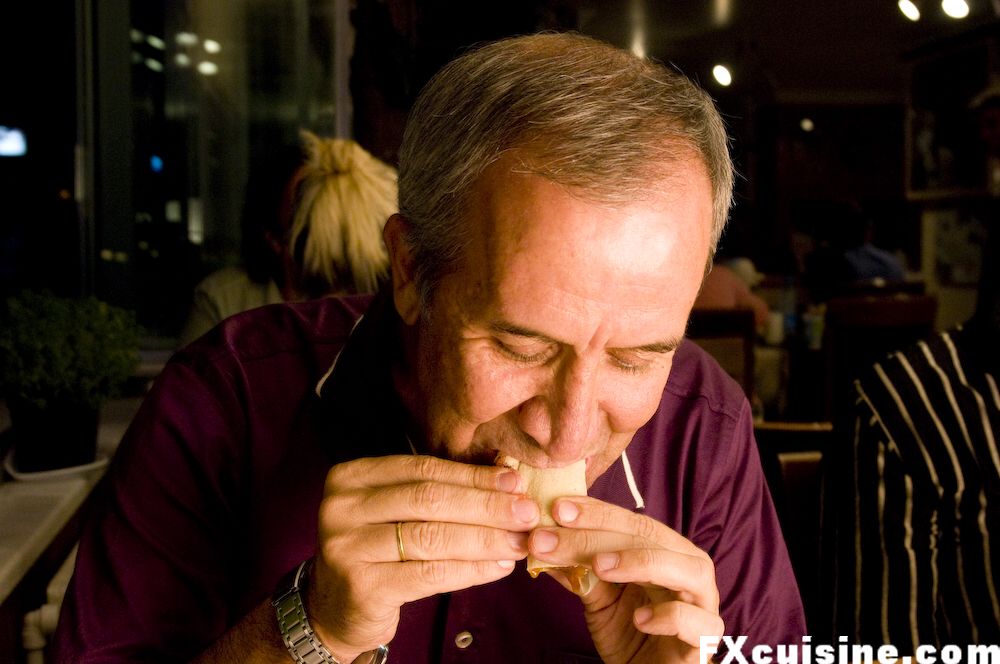 ...  y ¡A disfrutar!
Yo le sigo y durante media hora nos atiborramos de estos deliciosos kebabs mezclando la carne suave,  ahumada y con especias con las jugosas verduras asadas.  Por un momento pensé que estaba en el cielo.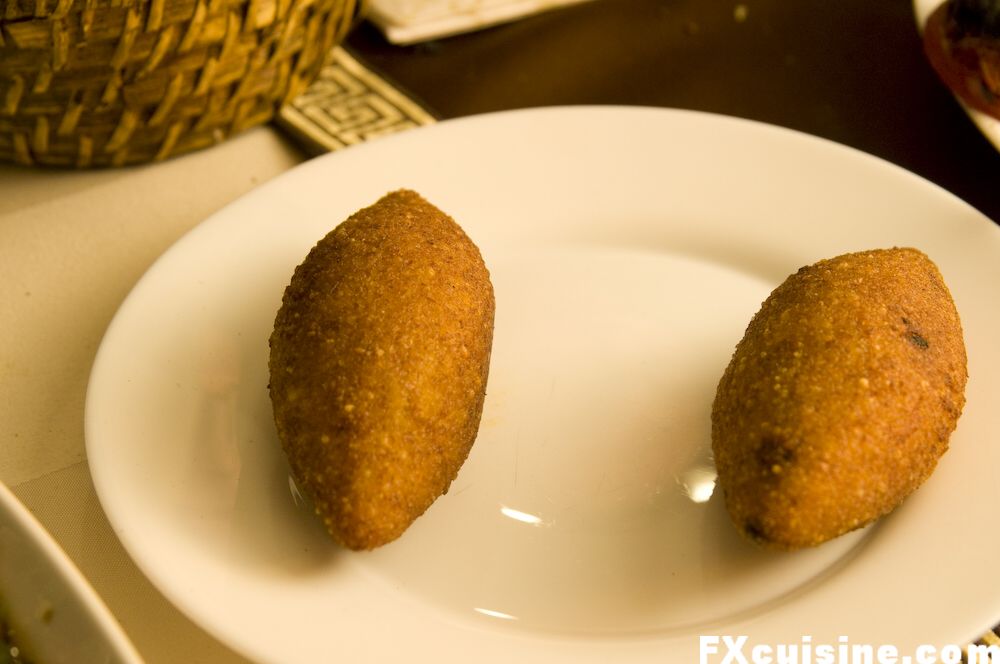 Cuando llega más comida, me pongo pálido.  ¿Cuántos han muerto ahogados por una mala versión de estos içli köfte?  En mi país te da la impresión de que los hicieron un mes antes de que los comas.  Tenía mis sospechas al principio, pero acabé comiendome tres.  Simplemente increíbles.  Carne molida de cordero con especias, hierbas y nueces de castilla molidas.  Luego cada bola se enrolla en un bulgur crujiente cocido (granos de trigo al vapor) y luego frito.  La costra es ligera y crujiente, y el interior húmedo.  Éstos estuvieron mejor que la mayoría de Arancini que he comido.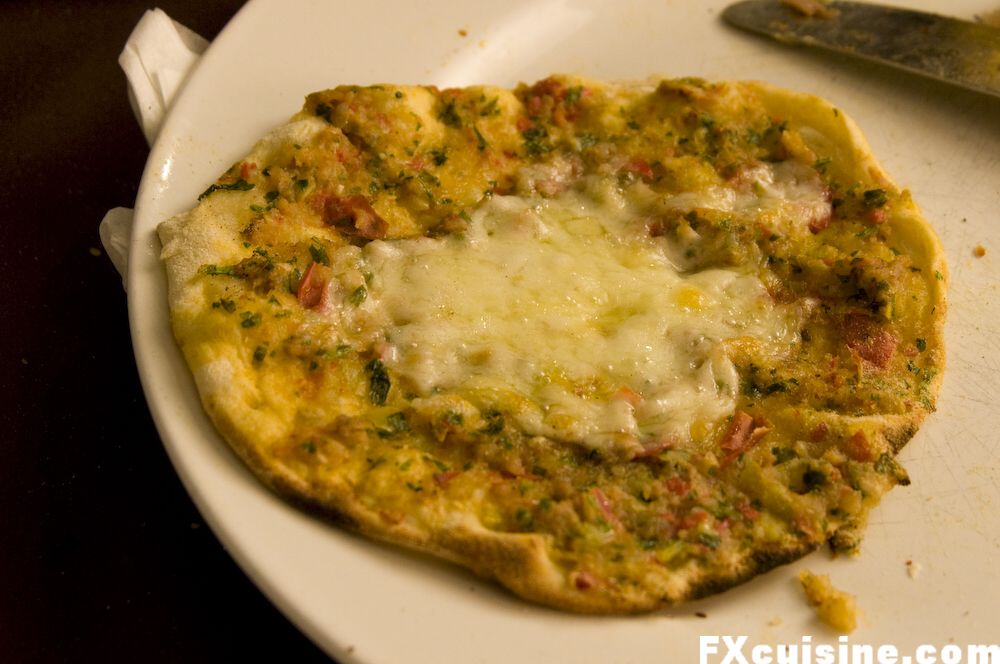 El lahmacun con queso fundido - delicia pura.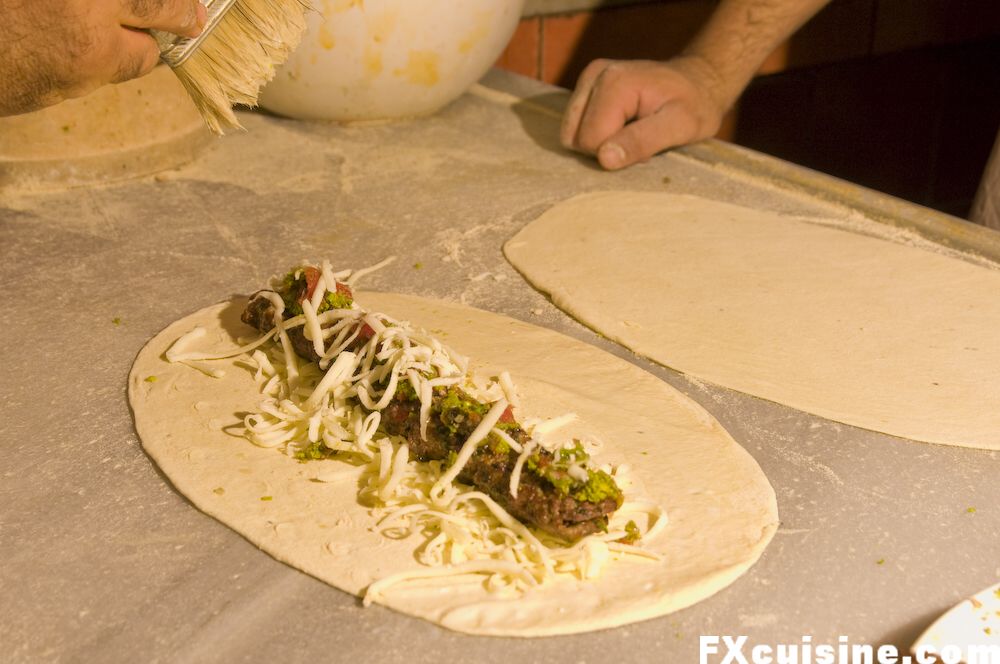 De repente el chef corre a nuestra mesa y me agarra.  Son las ocho y media y el restaurante está atestado.  Quiere que veas como hacen la especialidad de la casa, me explica Utkun. El Inci Kebap o 'Kebab Aperlado' se hace con un kebab de cordero asado al carbón, como los que acabamos de comer.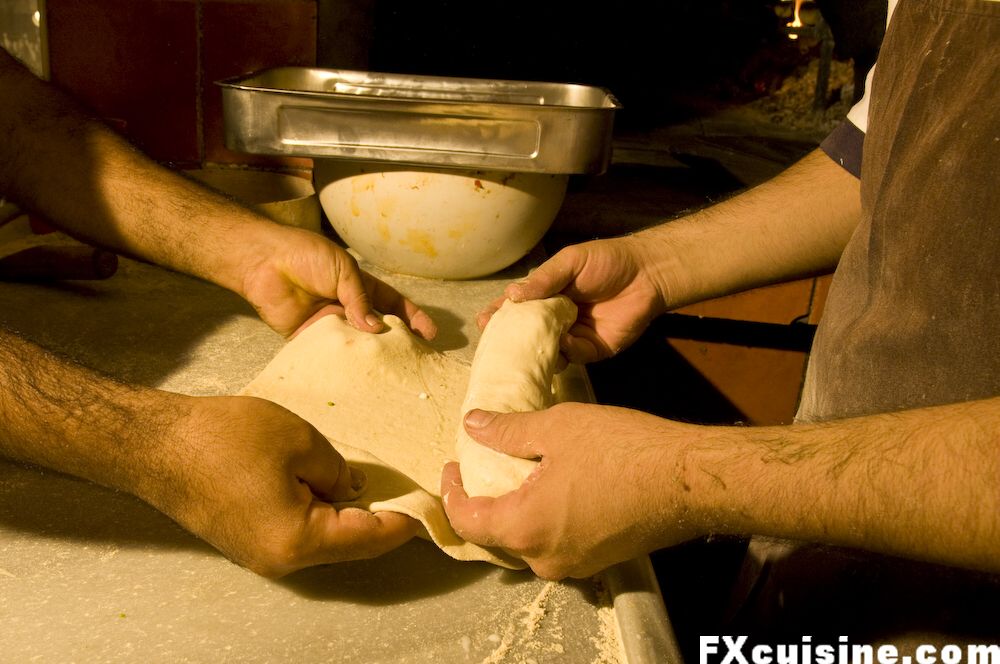 El kebab asdo se espolvorea con queso y se enrolla en uno de los delgados panes crudos.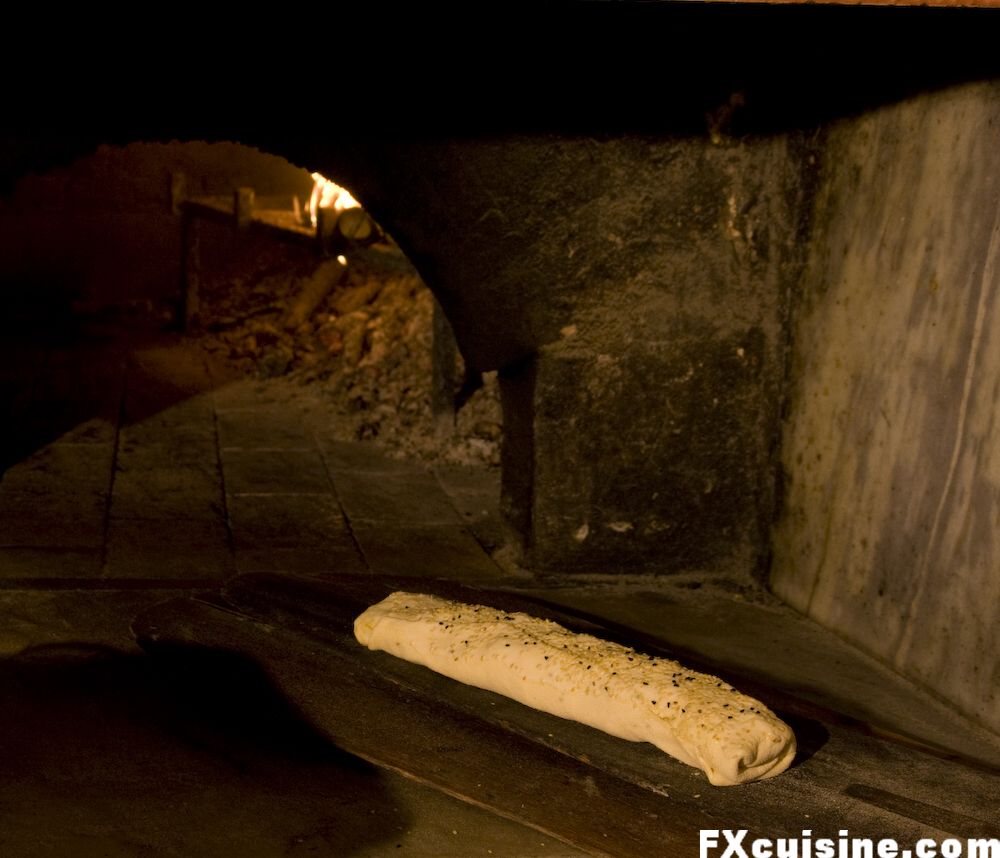 Lo barnizan brush con aceite y lo meten en el horno de leña para el pan hasta que está crujiente.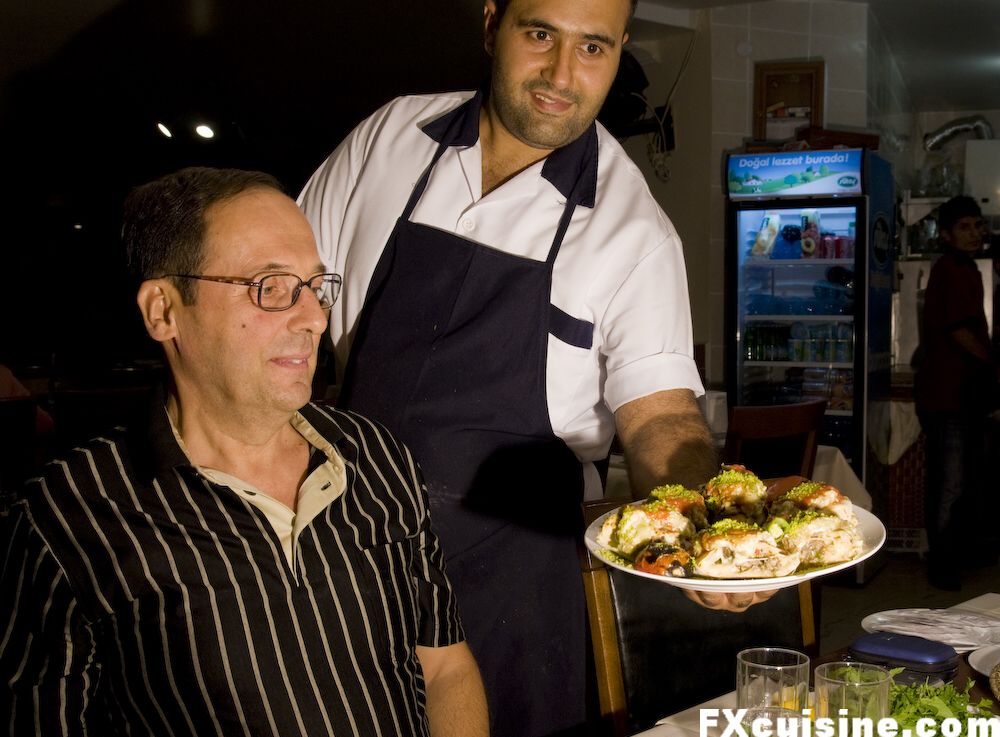 Los rollos se cortan en rebanadas gruesas, luego se completan con caviar de berenjena, salsa de jitomate, queso fundido, pistaches recién machacados y unos cuantos chiles verdes asados.
Si vieras ésto en un lugar cualquiera de Londres o de Zurich, difícilmente le prestarías atención.  Pero aquí en Istanbul, en un restaurante de kebabs de barrio donde todo se hace fresco, incluso el pan. el kebab aperlado resulta una joya.  El pan está ligeramente crujiente, con una capa decadente de jugosos jitomates asados, berenjenas y queso, y la carne en el interior hará que cualquier kebab occidental parezca un paste de Cornualles Cornish pasties. ¡Extraordinario!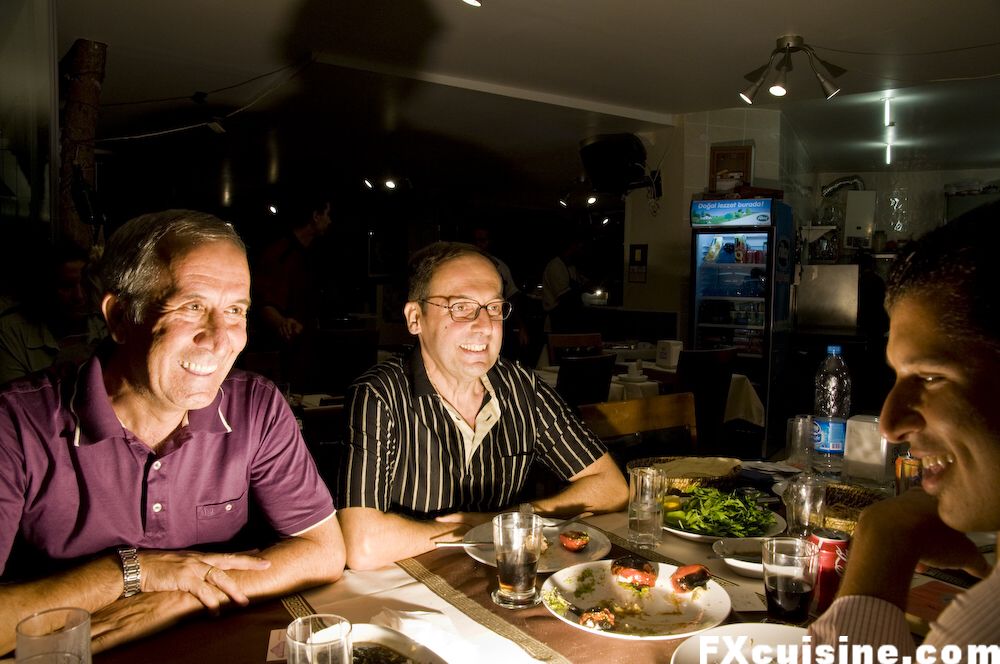 Mientras rememoramos nuestra deliciosa cena ...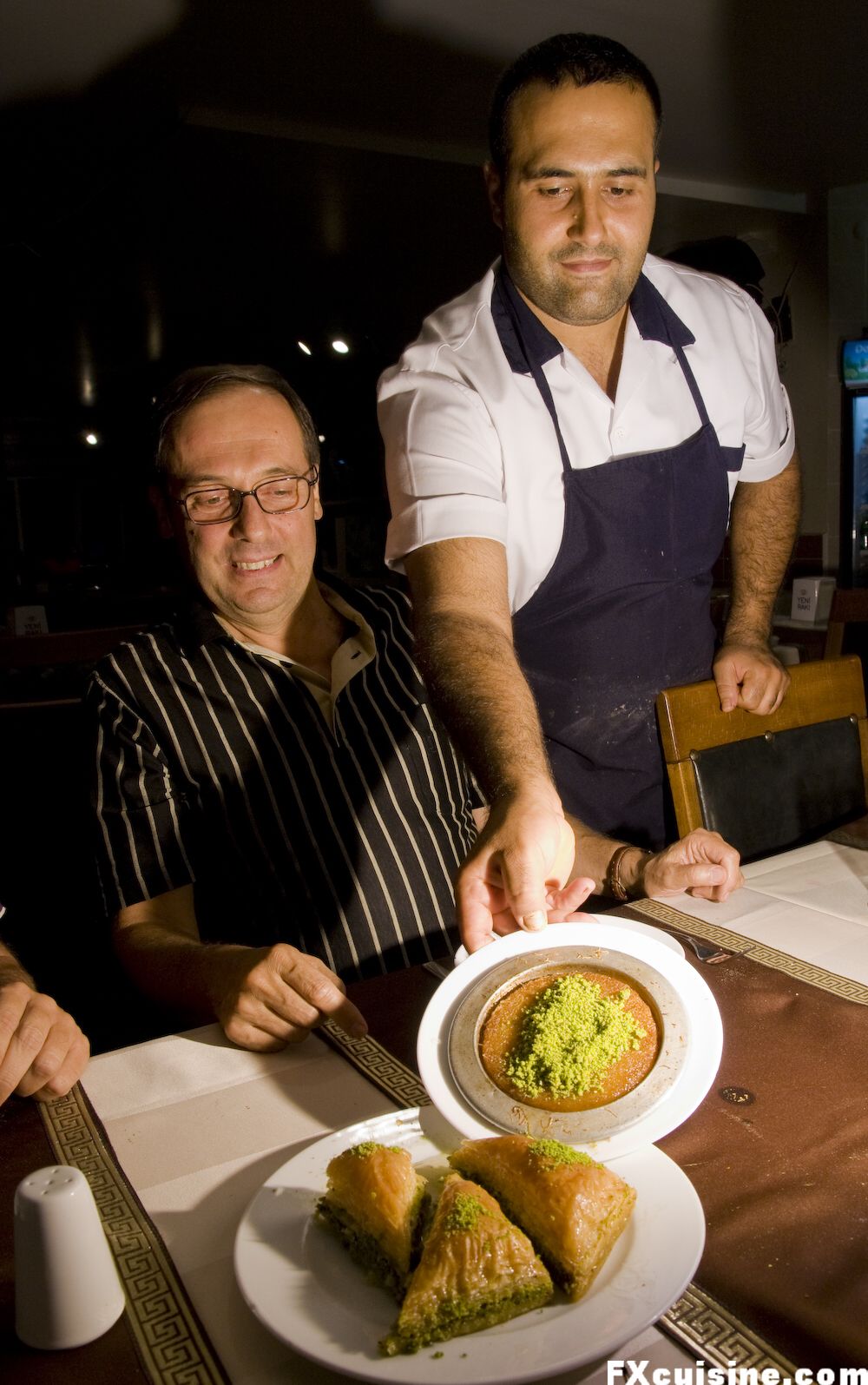 Llega Soner con la más deliciosa baclava horneada en casa (abajo) y pudín dulce künefe de queso (arriba a la derecha).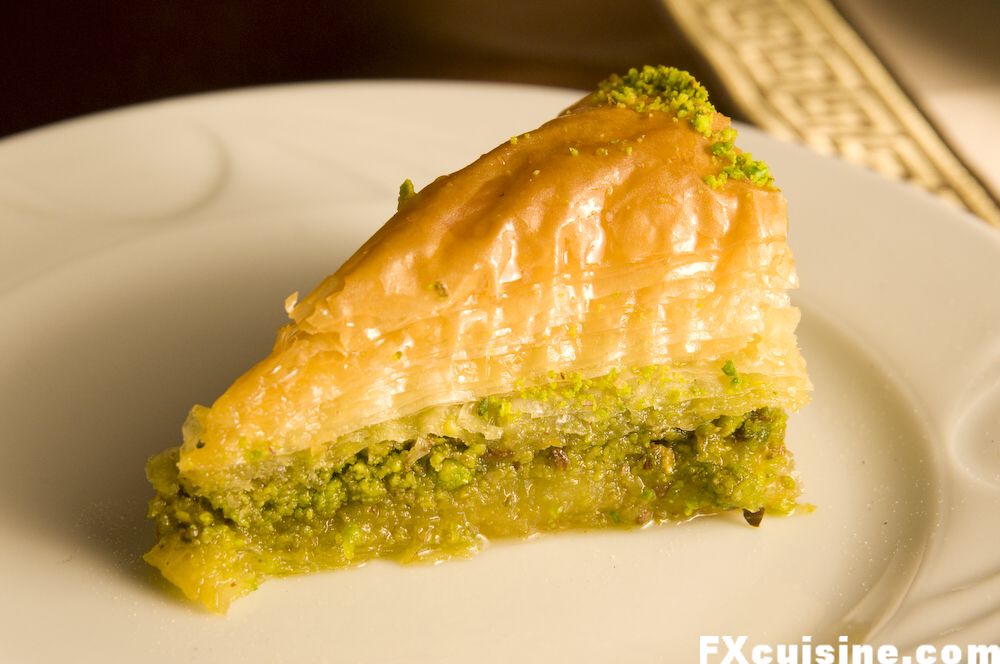 Encuentras baclava en cualquier lugar de döner kebabs pero rara vez tan buena como ésta - bañada en jarabe de azúcar y hecha con pistaches recién molidos.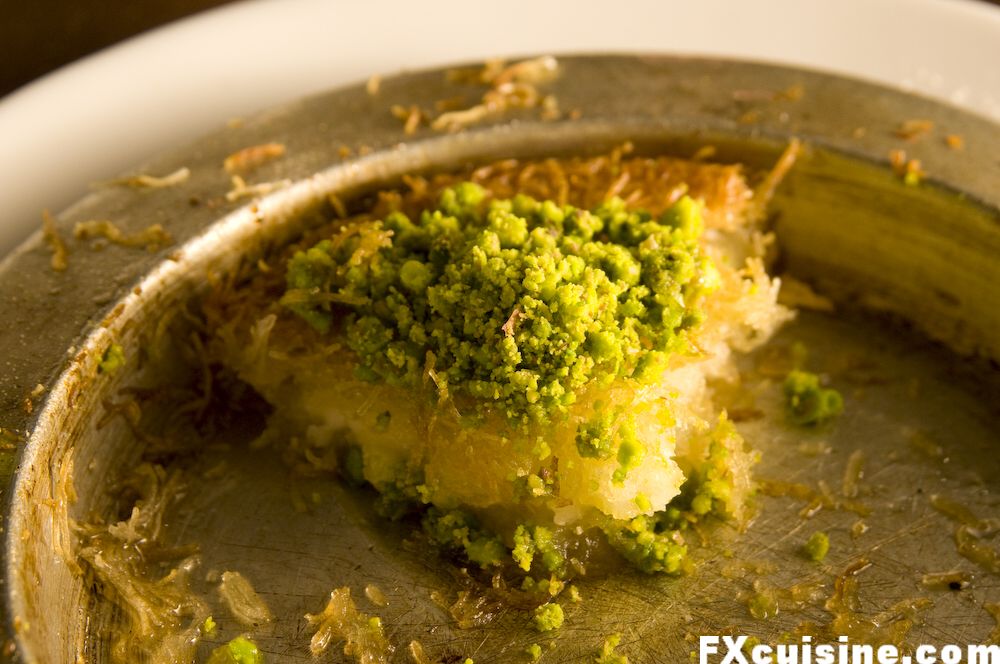 Al chef le preocupa lo que pensamos de su künefe. Nos gusta.  Nos explica que lo hace con una capa de pasta de pelo de angel en el fondo, luego melaza de uva, pistaches, azúcar y queso sin sal.  Éste no es simplemente un queso cottage que no tiene sal sino un queso real sazonado que no contiene sal.  Utkun mencionó el nombre postre quesoso (cheesy) pero le dije que ese nombre no funcionaría en inglés.  Quise decir postre hecho con queso,  contestó de buena gana.  El pudín luego se hornea 10 minutos en el horno, se voltea y se cubre de jarabe.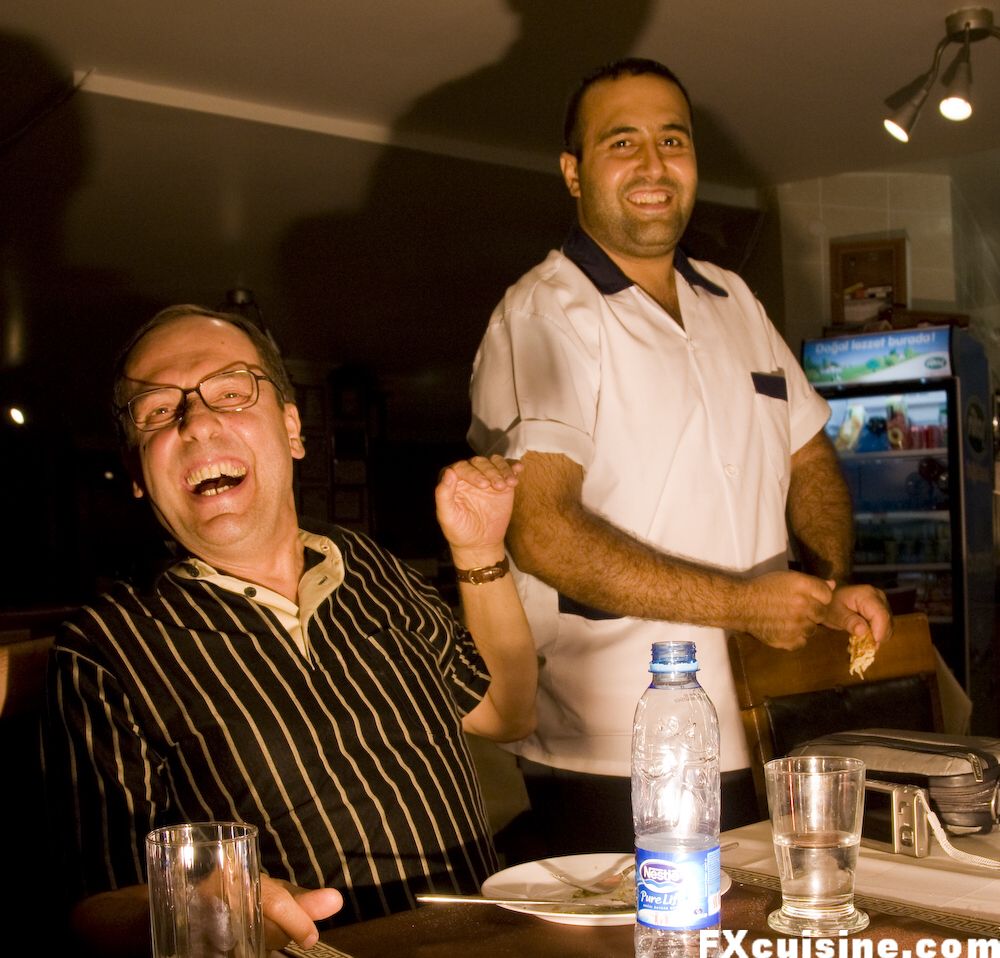 ¿Comen así todas las noches del Ramadán?, Pregunto. De ser así, me convierto al Islamismo esta misma noche.  Todos ríen y protestan que ésta es una cena excepcional.  El caballero de pie explica que no ha bebido ni un vaso de agua ni comido nada en todo el día.  Ya pasan de las nueve y ya se va a la Mesquita a rezar antes de su primera comida del día.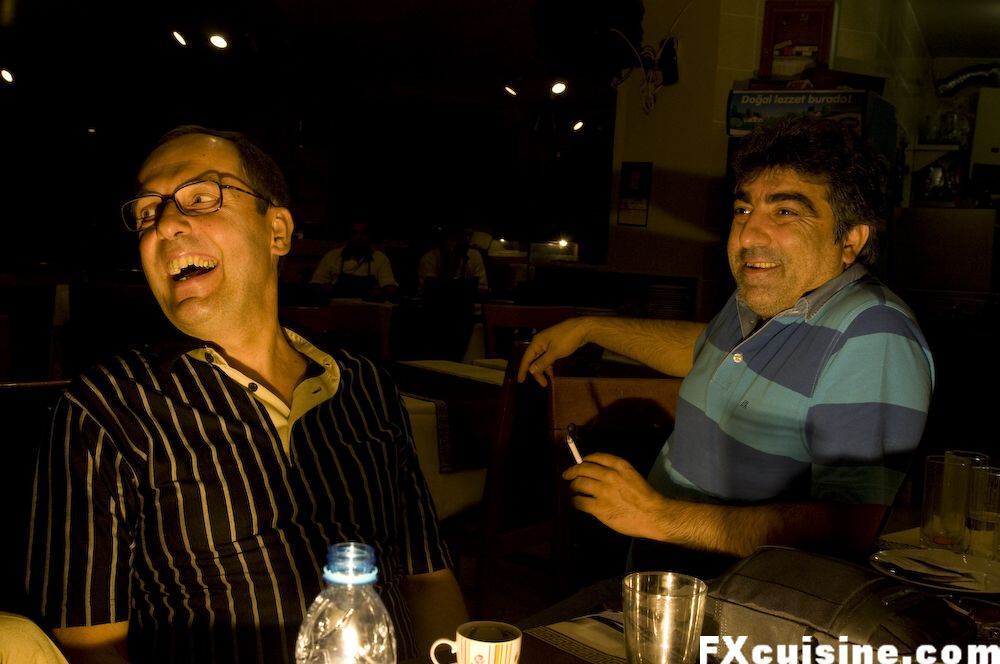 Las nueve y media.  Me preguntan que quiero beber después del postre. Café, muy dulce, Contesto.  Sonrío mientras Utkun dice kahve, luego el mesero le pregunta ¿Qué tan dulce?, como siempre hacen.  Se ríen y Lockman, que se vino a sentar con nosotros, me dice: Francois, a los que toman el café dulce les llamamos  «estudiantes». Los mayores no necesitan nada de azúcar.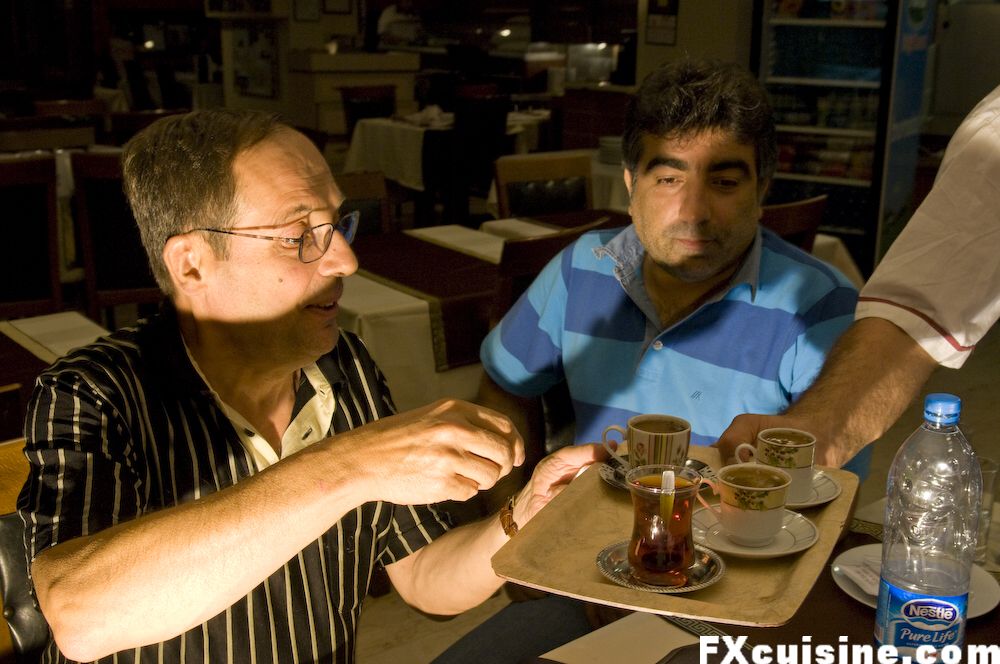 Llegan los cafés y los tés.  Trato de tomar una foto de la taza, pero el chef principal (de azul) pone un vaso de agua junto a la taza.  Explica que bebes el agua antes del café para lavar de tu boca el sabor de la comida y disfrutar plenamente el café.  Obedientemente tomo uno poco de agua mineral antes del café, luego retiro la taza para la foto.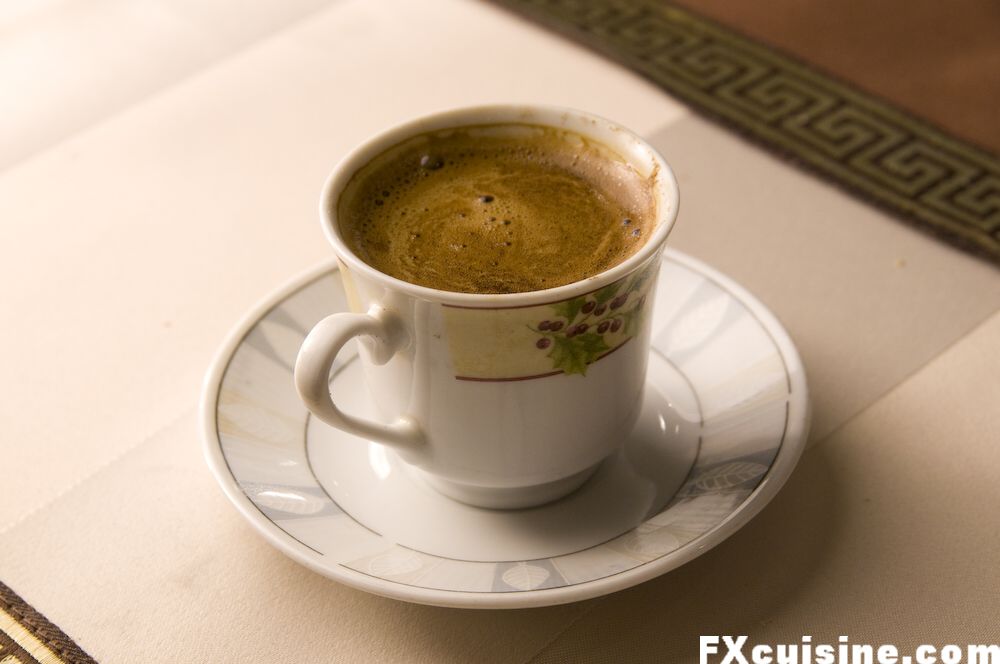 Me gusta el café dulce.  El café turco se sirve con el polvo del café en el fondo de la taza.  Mientras más bebes, más riesgo corres de llenarte la boca con los residuos de café.  Y no le puedes añadir azúcar pues albototas los residuos del fondo con una cuchara.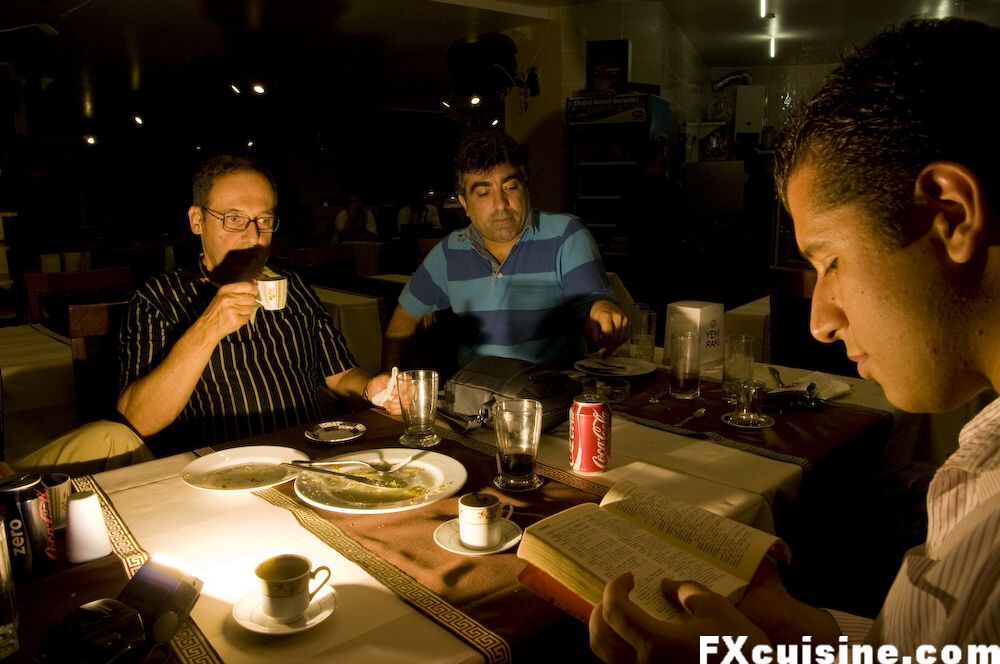 Mientras bebemos prudentemente a sorbos nuestro café turco, Utkun busca una palabra en su diccionario. ¡Qué considerado! Utkun habla muy buen inglés pero quería asegurarse de poder traducirme con precisión los nombres correctos de las especias y las hierbas.  ¡Por favor envíenme más lecores como Utkum!
Cuando voy a la parte trasera a pagar discretamente por toda la cena, como había planeado, el chef viene a la mesa con cara de enojo.  Comienza a hablarle en turco a mis anfitriones y todos estallan en una carcajada.  Utkun traduce.  El chef dice que querías pagar la cena.  Para nada.  Tuviste la amabilidad de venir a visitarnos, nosotros pagamos.  No aceptarían otra cosa.  Metin saca una tarjeta de crédito y paga tranquilamente mientras Utkun me dice Creo que si nos quedamos más tiempo, nos pedirán que lavemos los platos.  El personal ya se quiere ir a la Mesquita para que puedan cenar.  Al salir, Metin me pregunta si me pagan por hacer FXcuisine.com. Seguro que no, pero de vez en cuando consigo una cena gratis es mi respuesta.  Todos ríen y desaparecen en la noche mientras Utkun me lleva de regreso al ferry.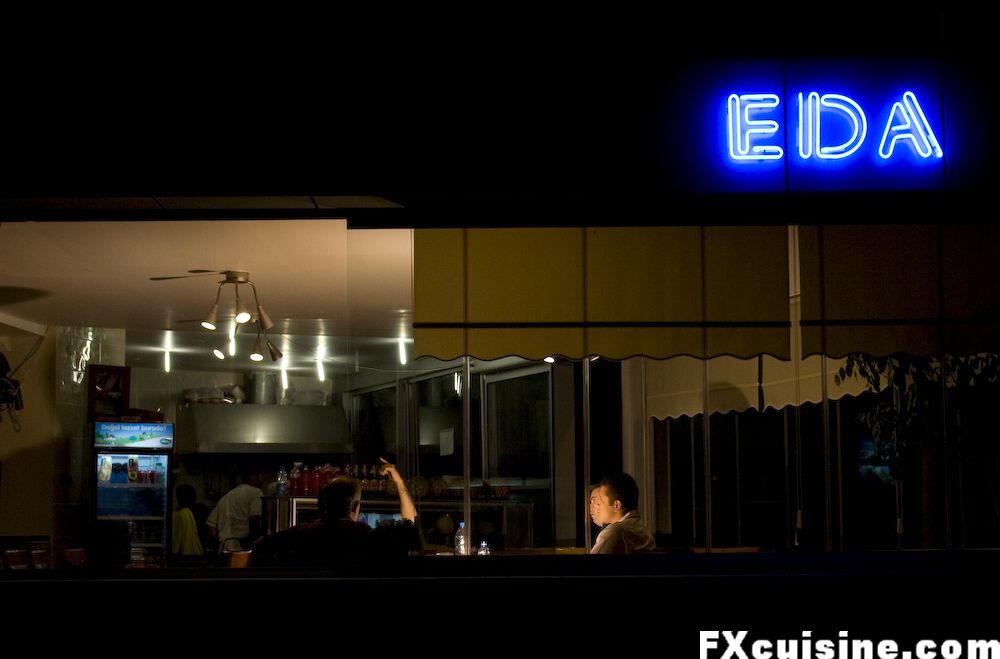 Eda Ocakbaşi (Kebab House «Eda»)
Kaya Sultan Sk. No:73 (en la esquina de las calles  Kaya Sultan Sk. y çevre yolu)
34742 Kozyataği - Kadıköy
Istanbul
Phone: +90 (0) 216 463 34 23
278712 visitas
Artículos Relacionados

The Passion of the Boar **
We roasted a whole boar on woodfire at Hattonchâtel castle in France for a memorable medieval banquet. See how it's done, from start to finish. Not for the faint of heart!
Artículos màs populares ¦ Ultimos artículos ¦ Por temas ¦ Ultimos comentarios
Copyright FXcuisine 2020 - all rights reserved.
If you do this recipe at home please let me know how it worked for you by submitting a comment or send me a picture if you can. Thanks!