Magical Italian Pesto Soup
(page 2 of 2)
Home
>>
Recipes
This legendary Italian and French traditional vegetable soup is turned into an elixir of long life by mixing in fresh pesto. A cult summer delicacy ready in under an hour.
In your mortar crush 4-6 garlic cloves cut in half with the stem removed. Add the basil leaves little by little and grind them down to a paste.
For chemical reasons unknown to me, basil loses its taste if you cut it with a knife but retains it if you use scissors. You can ask food physicist Hervé This why that is, but it is. You can of course add the whole leaves directly in your mortar but that will result in rather large crushed bits of basil leaves in the end product. It is not so problematic in a soup where you have loads of things floating in anyway, but for pasta you would definitely need to cut the leaves with scissors prior to grinding them in the mortar.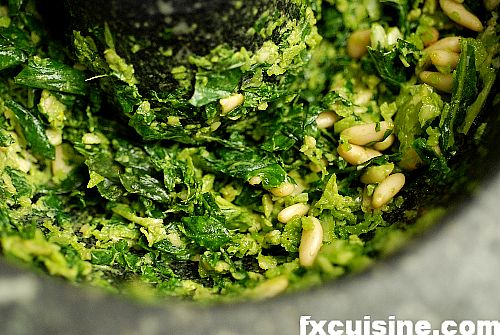 Pesto normally calls for pinenuts or at least walnuts. In a pesto soup these are, in my opinion, optional. But they add taste, texture and fat. If you use nuts, any nuts, be sure to keep them in the fridge lest their oil turns rancid.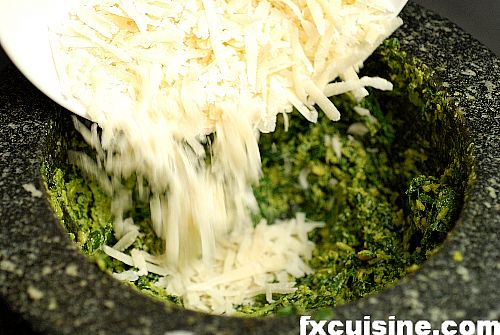 When all of your basil has been turned into a paste, add the cheese. In Provence chefs use half Parmesan with one half Gruyère cheese, whereas Ligurian cooks prefer all Parmesan or half Parmesan and half Sardinian cheese. Parmesan has a wonderful flavor but is a little dry. The addition of Gruyère or another younger full-fat hard cheese increases the amount of milk fat in the soup and makes for a much more appetizing dish.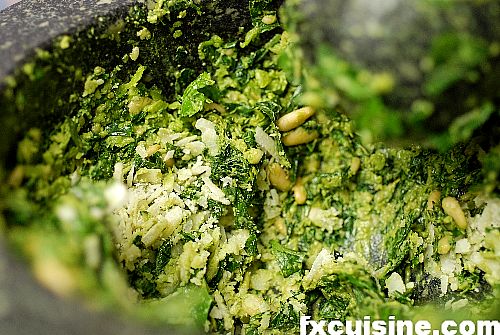 Some recipes add a few anchovy fillets to the pesto, making an hybrid sauce halfway between Provence's anchoïade and regular pistou.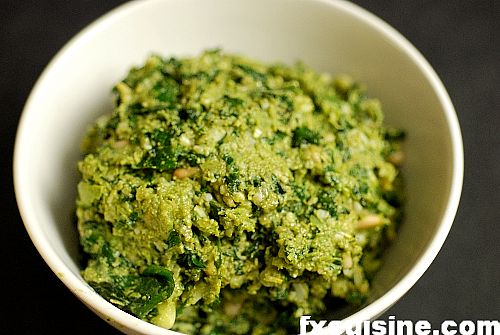 You can prepare a bit more pesto than needed and store it overnight in the fridge with a tight cover, then use it on pasta the next day.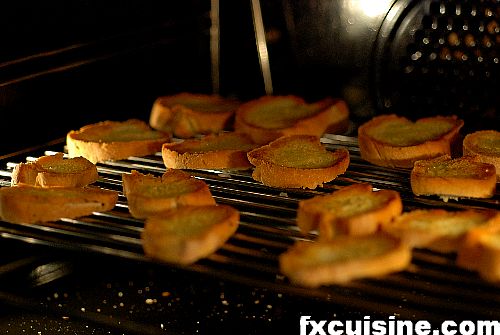 Italians add some pasta to this soup 10 minutes before serving. French cooks would rather serve it with croûtons, [crootong] fried slices of stale bread. The croûtons was on his deathbead as a 19th century calorie-bomb fossil until it regained interest after the Olive Oil Revival. You can make traditional croûtons by thinly slicing a baguette or another long bread and leave them a couple days to dry, then fry the bread in oil until golden. The modern way, which I learned at Ducasse's (see my article) sprinkles a few drops olive oil on the croûtons and places them in a very hot oven for a few minutes until they turn golden. One would expect to be able to make good croûtons with fresh bread, for he who can do more can do less, but it is not so. If you don't have stale bread you can slice the bread and leave it to dry in a 50°C oven for about 30 minutes, but the result won't be the same. I'd recommend you go the Italian way and add some maccheroni or penne at the end of the cooking.
To thicken the broth Provence chefs crush one of the cooked zuchinis to a paste and mixing it in the broth. This works really well and those who don't like too thin a broth around the vegetables will like it.
There is no question that the pesto should be mixed in with the soup until the liquid turns a beautiful pale green. But few can give up the notion of serving small spheres of pesto on top of the soup and just let the guests mix it in themselves.
If you make more soup than you can eat in one day, pour the liquid off in a separate jar and store it overnight in the fridge. If you leave the vegetables in the liquid, they will absorb most of it and turn into horrible bloated creatures with no taste in them. It takes only a minute to pour the liquid in some saucepan or even just remove the vegetable with a strainer and put them back in the pot in the strainer so that they don't touch the broth.
The pesto disappears into the hot soup and the cheese does not melt but actually dissolves in the broth. A proper soup needs a little fat and you cannot get more tasty fat than pesto. The effect of eating a bowl of this magic emerald liquor is like drinking a pint from the fountain of Eternal Youth. The glory of summer made into soup flows into your veins and turns you into a green giant.
350895 views
Related Articles

Italian Minestrone Vegetable Soup *** Popular
The most delicious traditional Italian peasant soup, simmered for three hours. Learn how to make this soup with your local seasonal vegetable and the three secret ingredients that will make your soup really Italian.

Proper Pea Soup ***
Probably the best soup in the world, provided you get the key ingredient - a smoked ham bone.

Halloween Pumpkin Risotto ***
Serious gourmet traditional pumpkin risotto from Lombardy (Italy) anybody can cook in under 40 minutes.

Creamy Agliata Verde ***
This traditional recipe from the confines of Italy and Switzerland brings together the delicious full fat creamy tomme with a unique Alpine herbal pesto.

French Garlic Soup ** Popular
Simple and healthy garlic soup from the Provence.
Copyright FXcuisine 2023 - all rights reserved.
If you do this recipe at home please let me know how it worked for you by submitting a comment or send me a picture if you can. Thanks!