Serious Fruitcake
Home
>>
Recipes
Fruitcake extraordinaire prepared from Philippe Rochat's own recipe.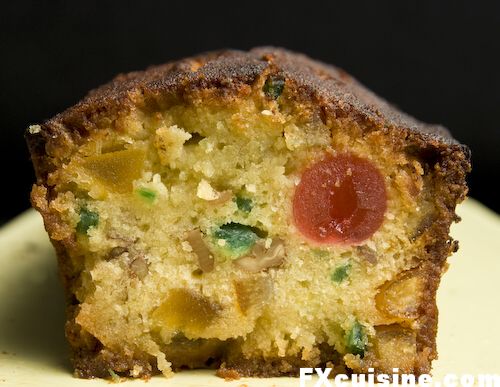 You have to hand it to them, when it comes to fruitcakes, the English have no equals. But I made this one following a recipe by Philippe Rochat, my favorite chef who also makes this delicious Strawberry Sorbet. For Christmas he sells these cakes through Globus, our local luxury food mart. They are as serious as a fruitcake can get, rich, juicy and soaked in alcohol.
Serious Fruitcake
200gr 1/2lbs butter
200gr 1/2lbs cake flour
200gr 1/2lbs fine sugar
3 egs
8gr/ 1tbsp baking powder
30gr / 1oz almond powder
30gr / 1oz walnuts
350gr / 10oz candied fruit
60gr rhum
For the syrup:
100gr sugar
100gr water
150gr rhum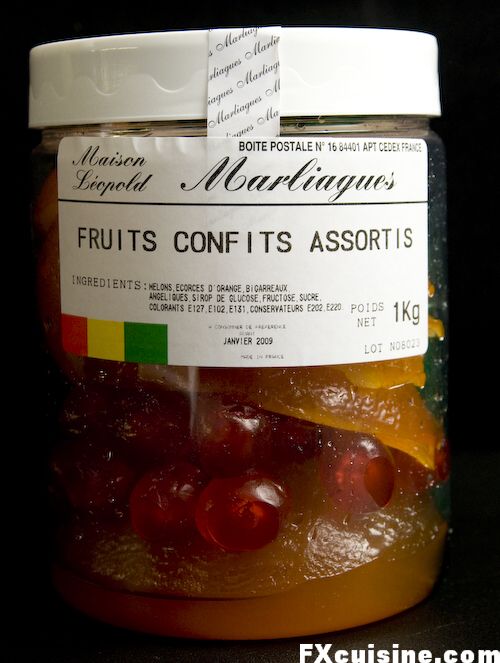 I will use this jar of candied fruits I bought at G. Detout in Paris. If you make your own candied fruits or know a confectioner who does, use it. Is there something to these fruits' garish colors? We'll see in a minute.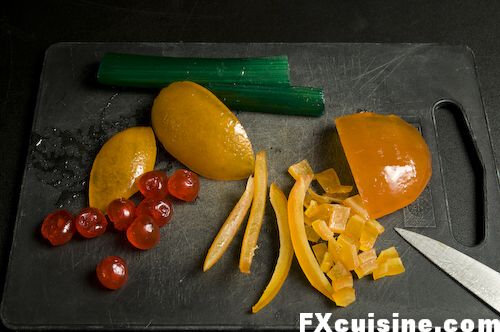 Weight about 350gr/ 11 oz of fruits.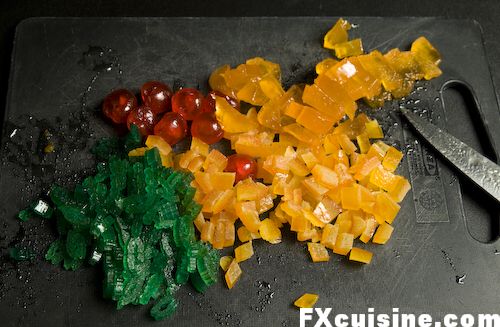 Chop them into cubes but keep the cherries intact.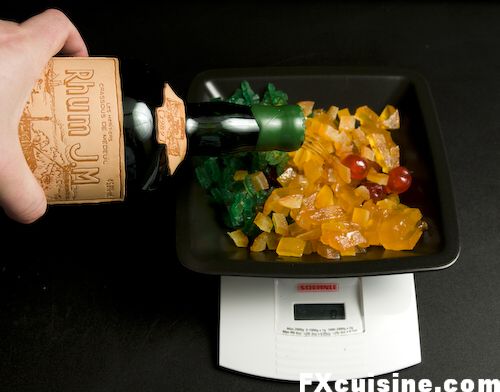 We want to soak our fruits with rhum, so let's macerate them for a couple hours. Sorry for the rhum I used, I know it is one of the most prized rhums in the world and usually not seen as cake fodder, but it's the only one I could find. People who know how much this bottle cost will think I'm nutty as a fruitcake.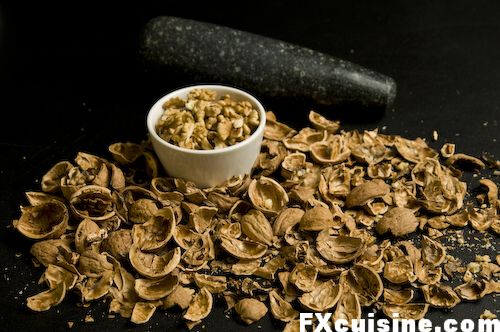 In a nutshell, the secret of a good cake is a combination of candied fruits and nuts. Break the walnuts open and measure 60 grams / 2 oz.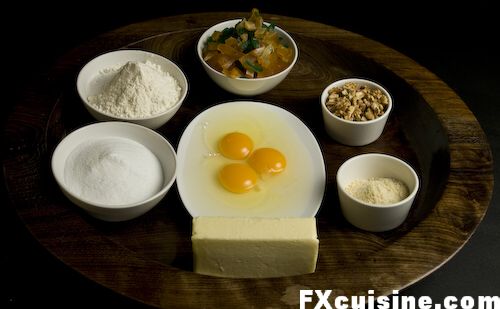 Our ingredients on my moroccan gsâa. Clockwise from the top: candied fruit having their last glass of rhum, walnuts fresh off the shell, almond powder from the fridge, butter, sugar, flour in the three eggs in the center. Ready to roll.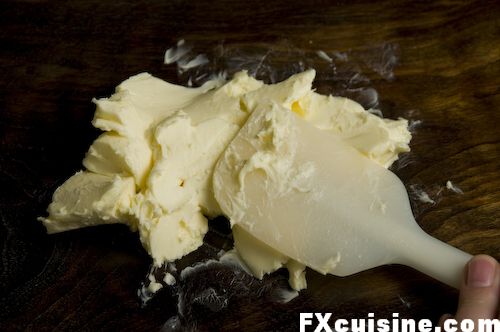 Work the butter until it is soft but not melted. You can take it out of the fridge an hour before, put it in the microwave for 30 seconds or give your forearms a workout, but whatever you do, do not use melted butter. We need butter in the precise consistency French pastry chefs call beurre pommade or 'butter in ointment consistency'.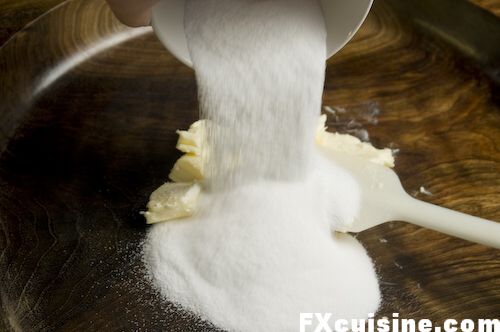 Add the sugar ...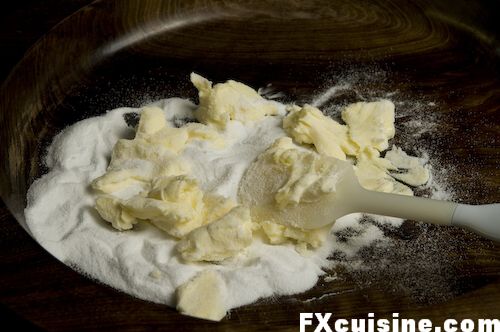 ... and work it into the butter.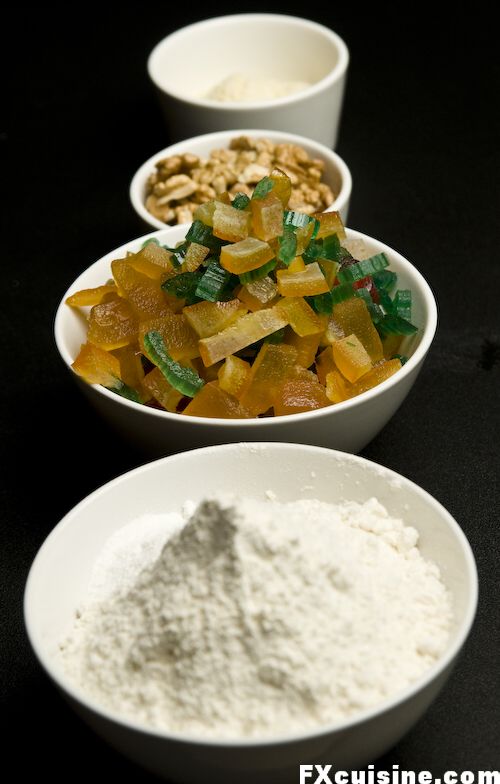 Our supporting cast is lined up behind the stage door.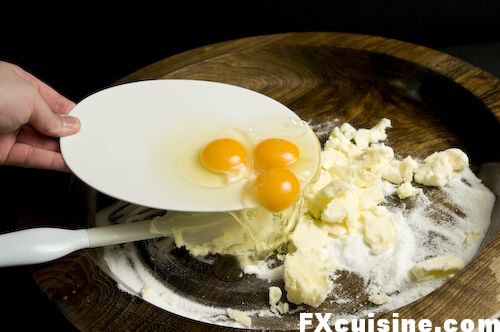 Let the eggs join in ...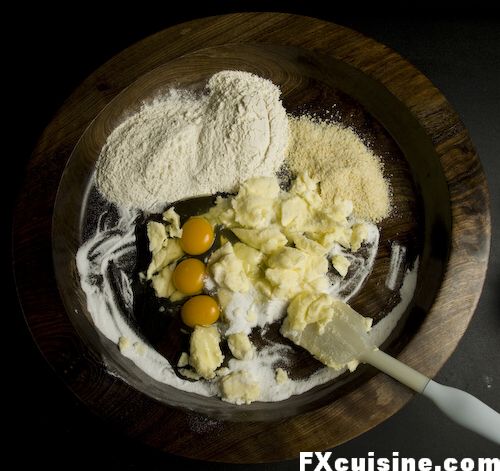 ... then the flour, baking and almond powders. Work everything to a smooth mixture with a paddle.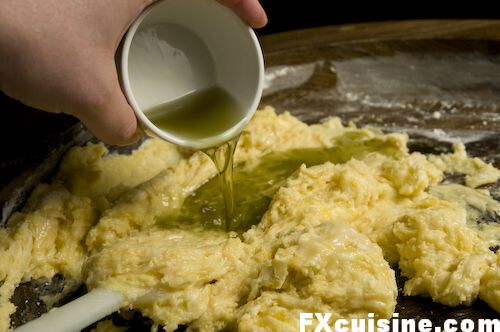 Mix the rhum the rhum you have used to soak the candied fruits in. Damned fruits, they show their duplicity now. The green coloring used on the Angelica stems has leaked into the rhum.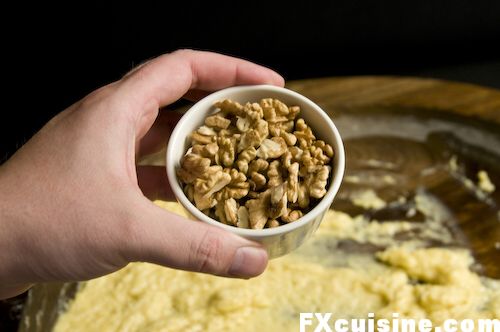 Walnuts...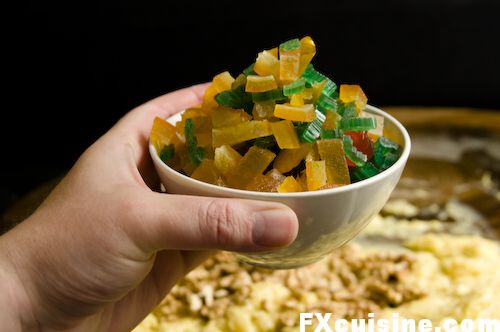 After the candied fruits had one for the road, drain them.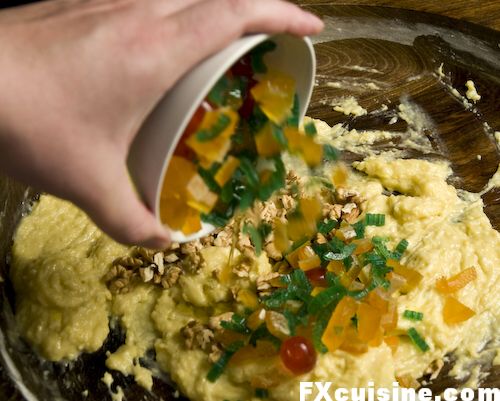 They are ready for their last drop.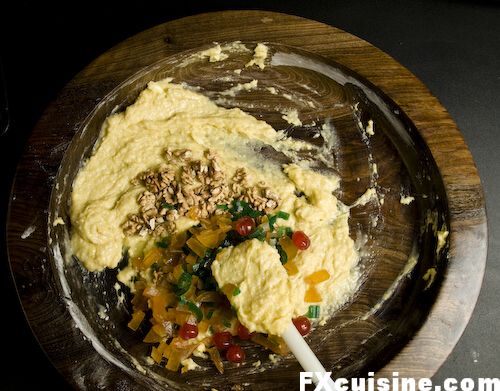 Time to work the paddle again ...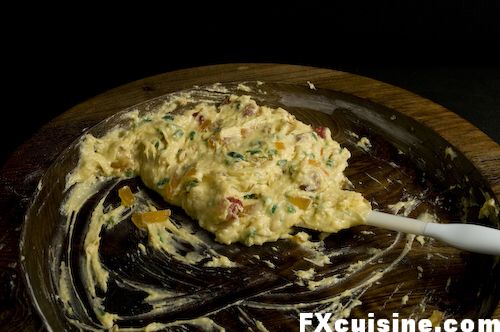 ... until you get a smooth mixture.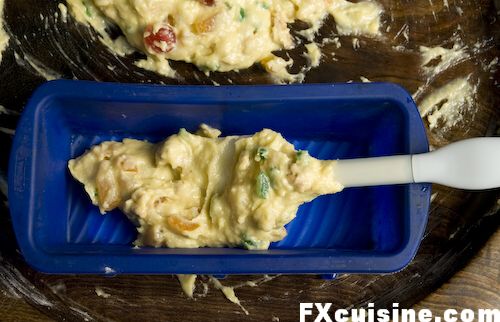 Start filling your cake pan with the dough. If you use a metal pan, line it up with baking paper or at least grease and flour to ensure a smooth future for your cake. You can make three small cakes or a large one with these proportions.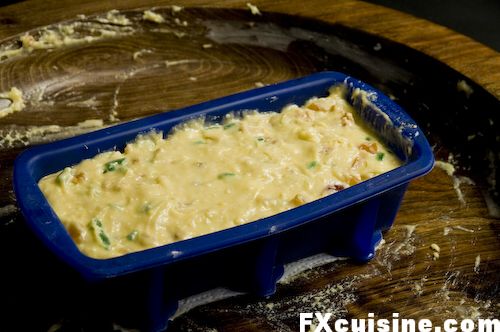 My pan is filled. In it goes in the oven preheated to 200°C/400°F. How long? For a small cake about 30 minutes, for a large cake up to 60 minutes. The only way to make sure is to dip a skewer or sharp knife into the cake after 30 minute and every 10 minutes after that. Remove the cake only when the knife exits the fruitcake with a dry blade. That means the fruitcake's goose is cooked and he's ready to exit the oven and be eaten. If you see the top become very dark, wrap it in foil and continue baking until the inside is no longer sticky.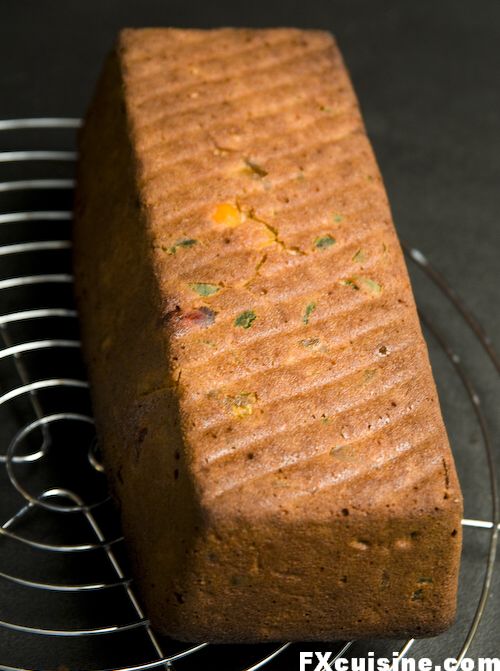 Remove to a cooling rack and unmold as soon as the cake is hard enough to hold together. If you like the idea of a cooking rack but fear it might be too expensive for you, you can buy one at Ikea, a Swedish furniture retailer, for less than 10$.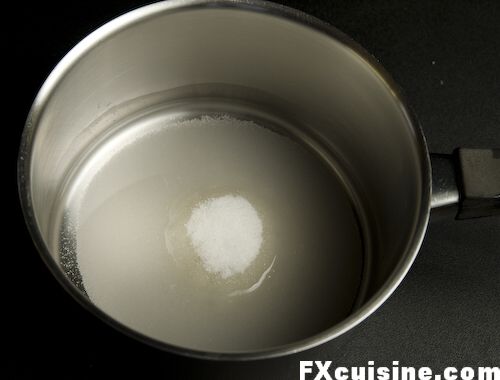 We will now prepare a syrup to soak the baked cake in spiritual sweetness. Melt 100grams/3 oz sugar in 100grams/30z water and heat to make was French confectioners call a '30 degrees syrup'.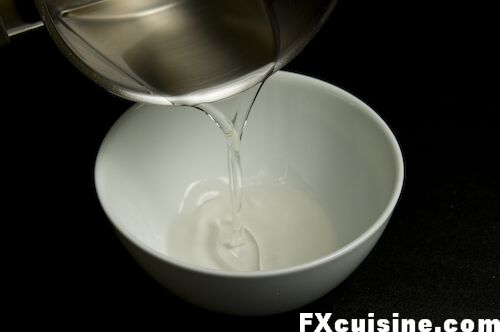 Wait until it is cold so as not to break the rhum's spirit, then pour the syrup into a bowl.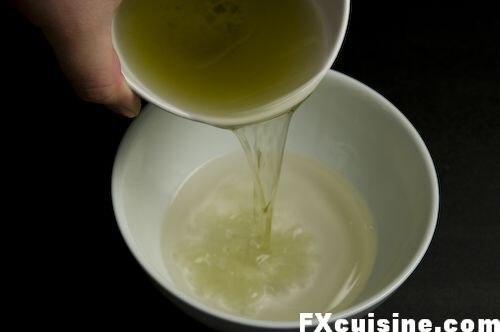 Add the rhum you have used to soak the candied fruits in. Damned fruits, they show their lies now. The green coloring used on the Angelica stems has colored my rhum.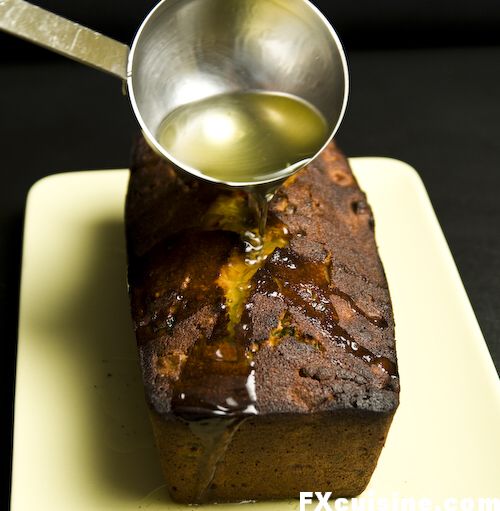 Soak the cake in the rich rhum syrup. Readers should not be alarmed to see the cake darken as it sucks up the rhum, this is quite normal and the serious gourmet should have nothing against fruitcakes of a darker complexion.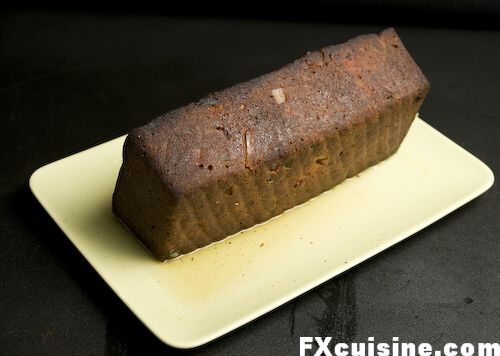 Don't forget to let the cake's sides soak up some syrup too. At first it might look like you've made way too much syrup, but after 15 minutes or so, most will have disappeared inside the fruitcake.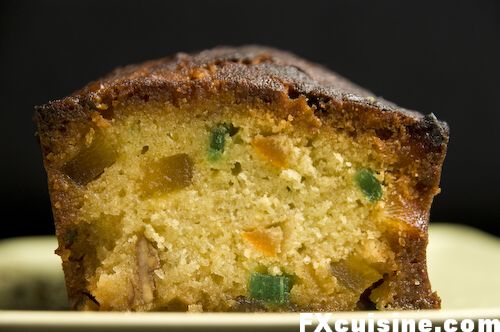 Ready to eat or to wrap and offer as a gift. Although it is very traditional, this particular recipe was designed by Swiss chef Philippe Rochat as food to be taken on an expedition by Mike Horn, an adventurer and friend of the chef. It is juicy, rich and fragrant - a very serious fruitcake indeed.
97164 views
Copyright FXcuisine 2023 - all rights reserved.
If you do this recipe at home please let me know how it worked for you by submitting a comment or send me a picture if you can. Thanks!