Bring Out The Falsomagro
(page 2 of 2)
Home
>>
Recipes
There is more than meets the eye to this cult Sicilian Sunday roast - a stunning highlight of any family meal.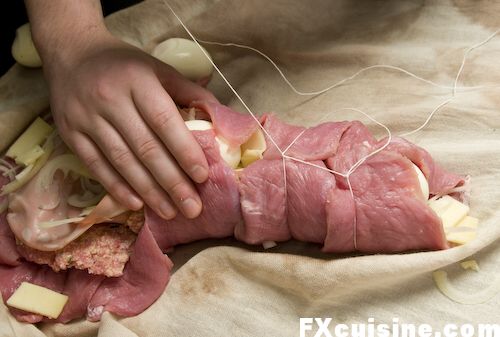 Start tying salami-style. This is quite easy. Just tie one of the end with a piece of string and do not cut it. Then pull the string about 5cm/2'' from where you made your first loop and circle again around the falsomagro. Pass the string inside the loop and pull (picture). You'll need to use all three pairs of hands for this. I'm not Vishnu and my falsomagro exploded on its rear end, with two eggs rolling out. But focus on the falsomagro's end you are tying and just place what came out back inside.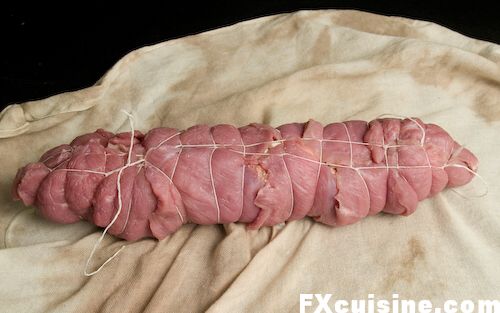 Finished. Actually, the more you tie, the easier it gets, and after a certain number of loops it looks really solid. In Sicily they say that 'Do not judge the cook by his falsomagro', but perhaps they say this only because people actually do judge cooks by their falsomagros, and want to remind themselves that size is not everything. Who knows?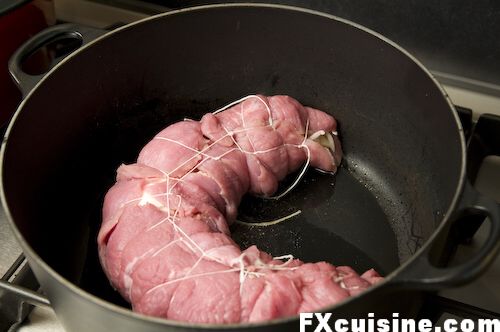 Peccato! My largest pot is smaller than my smallest falsomagro. What a pity, I wanted to play 'hide the falsomagro' in this pot. Let's bind the falsomagro a little, there, it fits.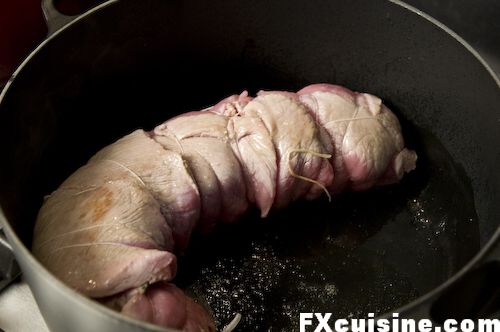 Let's bring a little olive oil to high heat, and then roast the falsomagro on every side to flavor the veal cuts.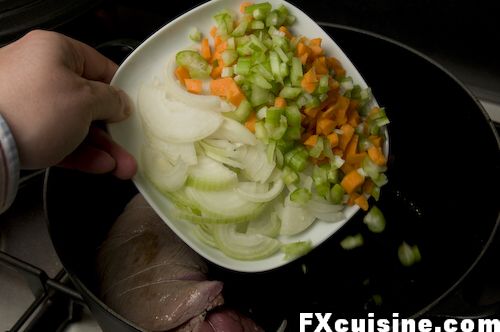 Dice the onion, carrot and celery stick, then throw in the pot.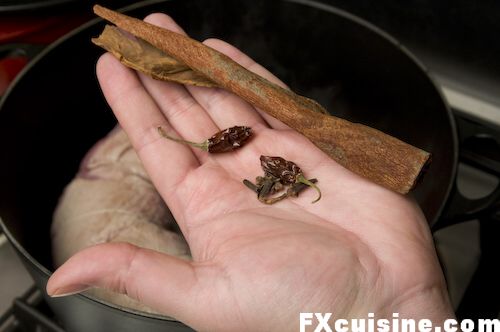 Add the spices - cloves, chilies (my way of doing) and a stick of cinammon.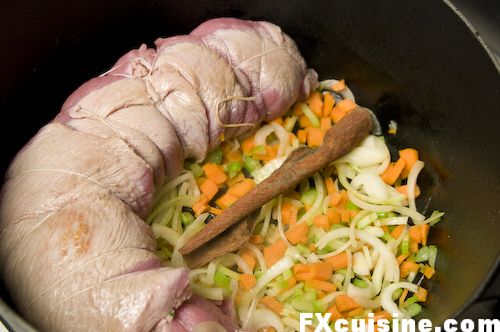 Sauté the vegetables.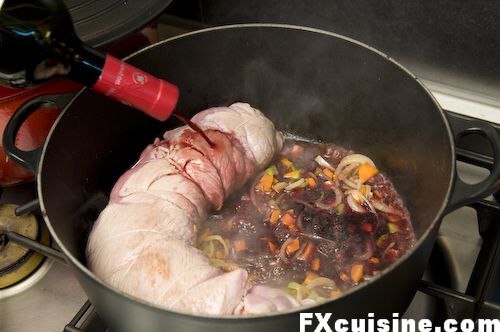 Deglaze with a glass of red wine. How much is 'a glass of red wine'? Ah, just look at the bottle. Enough to bathe the bottom of the dish and dissolve any meat bits that stuck to the pot before the wine is vaporized.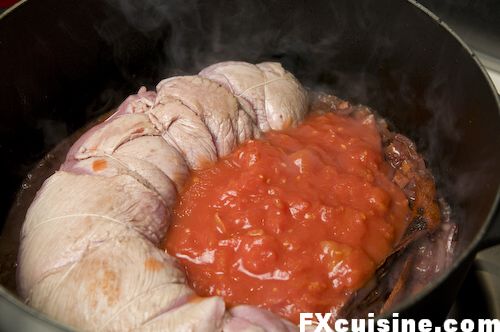 Add about 2 cups of tomatoes, either fresh, skinned and stemmed tomatoes, or from a good quality can. Which do you think I used?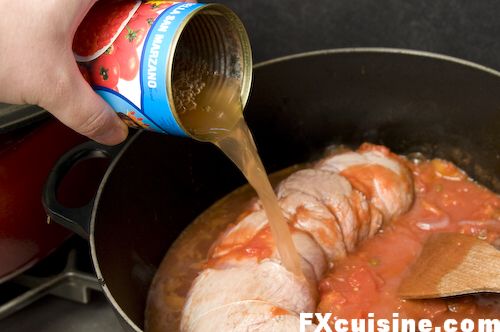 Ah, yes a can. Add a little liquid or stock if you have some. The idea is just to have enough liquid so that the sauce does not stick during the long simmer.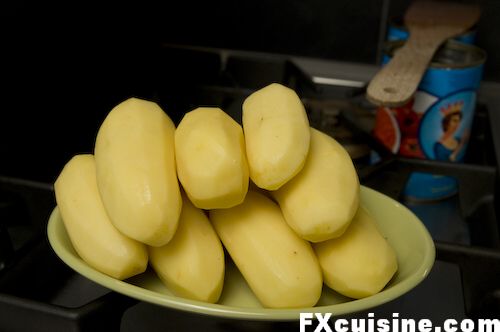 To achieve that home-cooked, homey feel, I recommend you boil some potatoes separately, then add them to the pot. This is the way it was served to me in U Cascinari, an amazing slow-food trattoria in Palermo for a most memorable meal. If you go lazy and add the potatoes uncooked, they might not be cooked through when the falsomagro is ready, so better pre-boil them separately before.
Cover the pot and simmer for about an hour. If the sauce is too chunky, you can use a potato ricer or straight out plunging mixer to make it a bit smoother.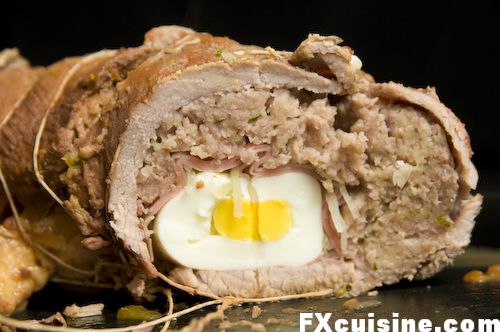 Slice, remove the string and serve. How does it compare to a professional falsomagro? Here is one I ate at Ai Cascinari, a delicious backstreet trattoria in Palermo, frequented exclusively by locals. They added green peas in the sugo, but otherwise it's the exact same dish. Well done FX!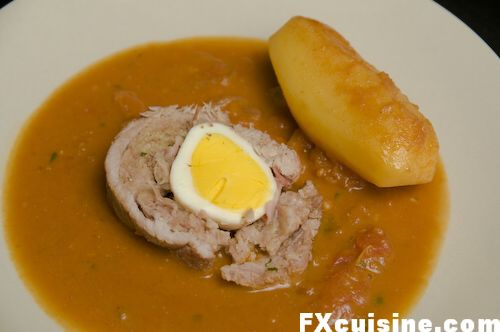 This is one amazing dish! It may not look like much, but I served it to an audience of experienced home chefs the other day, and they immediately endorsed it with cries of 'Jesus that's so good' or 'Hell, I'm going to remember this for long, is there any left?' One nearly fainted, and that was before I brought the Tangerine Sorbet for the dessert. The meat stuffing has a strong hit-me-back state due to the cheese, and the palate is pleasantly surprised to find various morsels inside, each with its own distinct and delicate flavor - cheese, onion or mortadella. A real classic!
Trattoria ai cascinari
Via d'Ossuna 43-45
091 1651 9804
Palermo, Sicily, Italy
155369 views
Related Articles

Authentic Sicilian Pasta With Broccoli *** Popular
This traditional Sicilian recipe brings together North African and Italian culinary traditions. A cult dish!

Italian Minestrone Vegetable Soup ** Popular
The most delicious traditional Italian peasant soup, simmered for three hours. Learn how to make this soup with your local seasonal vegetable and the three secret ingredients that will make your soup really Italian.

Arancini, the cult Sicilian dish ** Popular
These glorified deep-fried stuffed rice croquettes are a cult sicilian dish celebrated in a recent best-selling Italian novel.

Serious Pasta alla Norma ** Popular
Pasta alla Norma, a divine combination of eggplants, tomatoes, basil and ricotta, is one of the most elegant traditional Sicilian recipes. A real cult classic!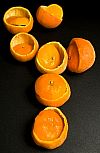 Sicilian Tangerine Sorbet **
Extraordinary sorbet served in the shell for a spectacular dessert suited for the calorie conscious vegetarian and the truffle-eating epicure alike. With no cooking and no ice cream machine required, this is an offer I can't refuse.

Copyright FXcuisine 2023 - all rights reserved.
If you do this recipe at home please let me know how it worked for you by submitting a comment or send me a picture if you can. Thanks!