Una Siciliana de la que Puedes Vivir
(página 2 de 2)
Home
>>
Recetas
Esta pasta horneada con berenjenas ha mantenido a la clientela haciendo cola en el restaurante italiano popular más exitoso de Ginebra durante 15 años.  Ve como puedes ordeñar tu mismo esta productiva vaca siciliana.
Si la salsa de jitomate está demasiado espesa dilúyela con un vaso de agua.  Agrega los pimientos y la berenjena y mezcla bien.  Tápala y mantenla caliente.
La ortodoxia culinaria italiana exige que siempre se descarte el ajo machacado que se frió en el aceite, porque la tradición dice que el ajo se pone amargo al freirse y que la parte buena del sabor ya se transfirió al aceite.  Es cierto, y aún así, en La Trattoria dejan pedazos grandes de ajo frito en la pasta y el resultado es muy agradable, con explosiones del sabor del ajo dorado reventando en tu boca de vez en cuando.  Sólo asegúrate de no dejar que el ajo se dore demasiado porque amargaría.  Simplemente regresa el ajo que reservaste al preparar la berenjena y la salsa de jitomate a la salsa terminada.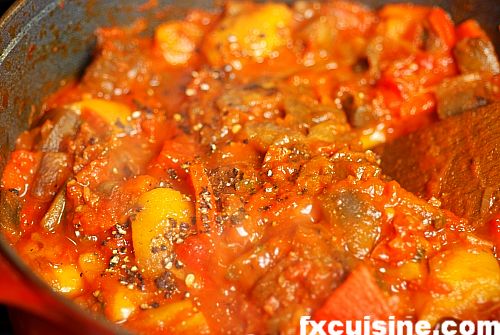 Finalmente, pero muy importante -  la pasta. Como puedes ver yo usé maccheroni mientras que La Trattoria usa penne.  Pero los míos son mucho mejores - lo hago desde cero con huevos de granja y harina de semolina con un dado extrusor de bronce.  Puedes comprar pasta extruida en bronce y lograr buenos resultados.
Llena tu olla más grande con agua y añade sal pero por favor NO le pongas aceite.  Cuece tu pasta hasta bastante menos que lista.  La pasta se seguirá cociendo en la salsa y no hay nada pero que pasta sobrecocida.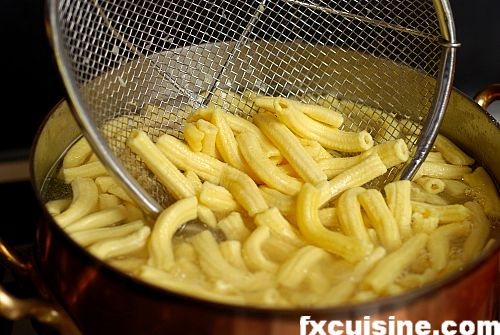 Utiliza el mejor mozzarella que puedas encontrar - en verdad se notará en el platillo terminado.  Yo uso mozzarella del merecado local, importado de Italia y que viene en su poropio frasco con suero.  you can find - it will really show in the finished dish. I used mozzarella from the local market, imported from Italy and stored in its own jar of whey. Corta en cubitos  el mozzarella y resérvalo.
Mezcla la pasta sin terminar de cocer con la salsa, agrega un poco de albahaca cortada y la mitad de los cubos de mozzarella, y coloca todo en un refractario plano.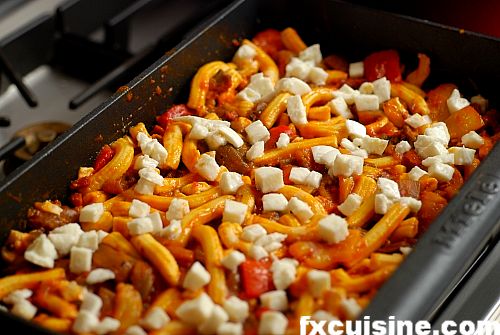 Esparce el resto del mozzarella encima y hornea en un horno caliente hasta que el mozzarella esté bien derretido.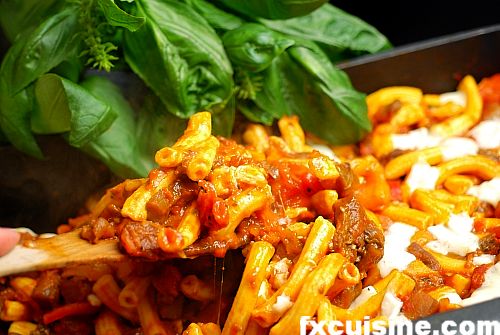 ¡Sirve de inmediato!
FXCUISINE VS LA TRATTORIA
¿Cómo se compara mi versión con la original?  Es claro que el secreto del éxito permanente de La Trattoria no está en las berenjenas grasientas o en la pasta sobrecocida.  Realmente son la combinación de ingredientes, el mozzarella derretido y el ajo frito lo que la hace tan memorable.  Me dá gusto decir que mi versión sabe mejor y es mucho, mucho más ligera. Y es por esto:


| | | |
| --- | --- | --- |
|   | FXcuisine.com | La Trattoria |
| Pasta | Maccheroni frescos recién extruidos en bronce de huevos de granja y harina de semolina. | Penne comprado y sobrecocido. |
| Eggplant | Berenjenas peladas fritas en una cantidad moderada de aceite de oliva de calidad.  Saborsasa y fáciles de digerir. | Berenjenas sin pelar fritas en un galón de aceite estándar - muy grasosas y difíciles de digerir. |
| Peppers | Pimientos asados en horno, pelados y sin semillas. | Sin pimientos (las recetas tradicionales llevan pimientos) - esta parte realmente es opcional). |
| Garlic | Machacado y frito en aceite de oliva, retirado al dorarse ligeramente y añadido de nuevo al final. | En su mayoría frito de más y amargo. |
Cocina un platillo como éste en un restaurante y estarás quebrado en dos meses.  Como chef casero, yo busco el mejor sabor, pero un restaurantero inteligente como Antonio Porcedda de La Trattoria no va tras el mejor sabor a cualquier costo.  Él quiere un flujo de efectivo saludable y a largo plazo.  Freri berenjenas en poco aceite simplemente cuesta demasiadas horas-hombre.  Y con todo y lo grasiento que es, el Penne Siciliana de 
La Trattoria
's me ha hecho regresar por más de 20 años.
Prueba el original en
La Trattoria
Rue de la Servette 1 (justo detrás de la estación de trenes)
Ginebra (Suiza)
+41 (0) 22 734 52 19
306044 visitas
Artículos Relacionados

Authentic Sicilian Pasta With Broccoli *** Popular
This traditional Sicilian recipe brings together North African and Italian culinary traditions. A cult dish!

Serious Pasta alla Norma *** Popular
Pasta alla Norma, a divine combination of eggplants, tomatoes, basil and ricotta, is one of the most elegant traditional Sicilian recipes. A real cult classic!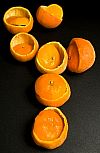 Sicilian Tangerine Sorbet **
Extraordinary sorbet served in the shell for a spectacular dessert suited for the calorie conscious vegetarian and the truffle-eating epicure alike. With no cooking and no ice cream machine required, this is an offer I can't refuse.


Pasta con i fagioli **
Homemade wholewheat spaghetti with a delicious beans ragu for a typical Tuscan peasant dish.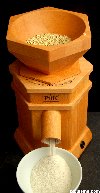 Italian Alpine Buckwheat Pasta Pizzocheri **
Traditional buckwheat noodles from the Italian Alps with cabbage and Fontina cheese. I made them from scratch with my own freshly milled buckwheat flour. Hard core pasta!
Artículos màs populares ¦ Ultimos artículos ¦ Por temas ¦ Ultimos comentarios
Copyright FXcuisine 2023 - all rights reserved.
If you do this recipe at home please let me know how it worked for you by submitting a comment or send me a picture if you can. Thanks!