Expedición a un castillo Francés
Home
>>
Experiencias Gastronómicas
Un lector me invitó a quedarme en su castillo en Hattonchatel cerca de Verdún en Francia.  Fuí el fin de semana pasado a cocinar platillos medievales extraordinarios en el castillo - ¡Ve lo que viene en mi serie de 7 artículos!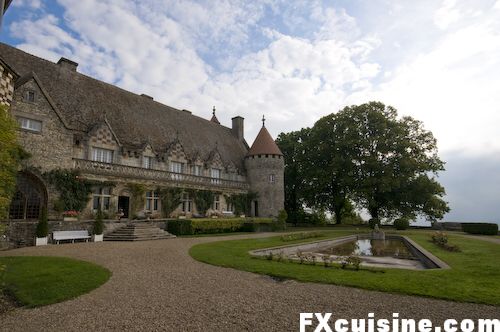 Habiendo escrito tan frecuentemente sobre trufas y otras delicadezas costosas, ésto tenía que suceder tarde o temprano.  Recibí este intrigante email en Junio:
Estimado François-Xavier,
Soy un gran aficionado a tu sitio desde hace tiempo y cada vez que miro esas fotos sensacionales, me da un apetito enorme.  Quise intentar hacer tu receta de la Minestrone, pero desafortunadamente, no me pude hacer de una pata de cerdo acá donde vivo. 

Te escribo este email porque tenemos un Château en la región de Lorraine en Francia y me gustaría invitarte a pasar un fin de semana para que lo conozcas y para que te diviertas con la cocina regional de Lorraine en el castillo.  ¡El Château está situado en un paisaje espectacular rodeado de bosques con trufas y jabalíes! Seguramente harías un gran artículo y nos haría buena publicidad entre los interesados en la buena comida.


Normalmente, el château se renta para bodas y celebraciones y no se usa como hotel así que tendrás el lugar prácticamente para tí solo.  Tampoco tenemos personal en la cocina.  Puedes ver fotos del castillo en www.ritz-resorts.com

Siéntete en libertad de traer a tu pareja y/o a tus hijos también.  Si hay platillos en especial que tengas en mente y que te gustaría hacer o ingredientes o vinos locales con los que desees experimentar o tienes otras ideas culinarias, nos aseguraremos de arreglar todo para lograrlo.

¡Espero tu respuesta! 

Los mejores saludos

Midas
Esto sonaba muy bien, pero ¿Era verdad?  En caso de ir, ¿Acabaría siendo perseguido por el Conde Zaroff, Count Zaroff o como Jonathan Harker, terminaría con la sangre chupada por el Conde Drácula Count Dracula? Hice planes para visitar a fines de agosto para averiguarlo.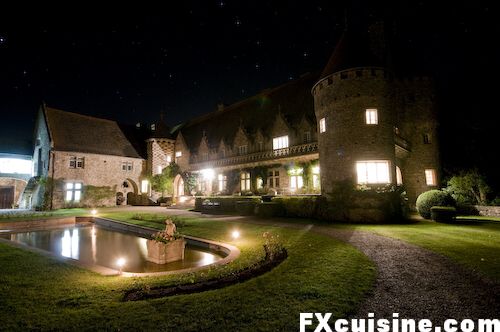 Este largo fin de semana en Hattonchâtel cerca de Verdún ha sido uno de los mejores en mucho tiempo - Un éxito rotundo.  Tomé 1847 fotos en 3 días.  Escribiré algunos artículos para intentar reseñar lo que hicimos y mantenerte entretenido,  educado y por supuesto  - babeando en tu pantalla.  Aquí tienes una probadita de lo que viene - los artículos completos serán publicados dos veces por semana comenzando el 5 de septiembre, 2008.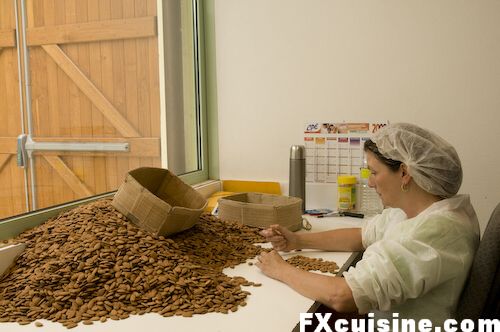 Mi visita a Dragées Braquier en Verdún, centenario fabricante de almendras finas cubiertas de azúcar, una especialidad del lugar.Leyen articulo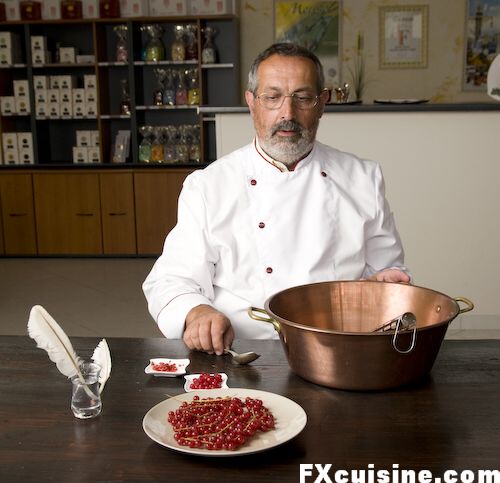 Una entrevista con un hombre que hace mermelada de grosella quitando la semilla a cada grosella con una pluma de ganzo.  Esta mermelada no es jalea y se ha hecho así desde hace 600 años.  Uno de los patrocinadores más famosos de este producto era Alfred Hitchcock, el director de cine británico.
Articulo...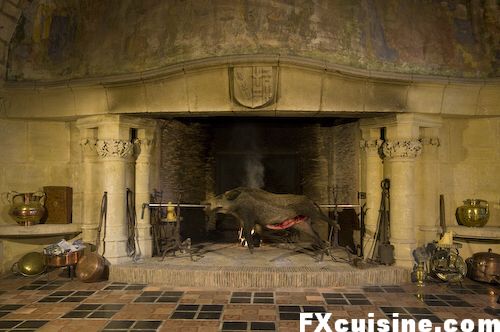 Le dije a Midas que necesitábamos un enfoque gastronómico para que yo pudiera escribir acerca de Hattonchâtel.  Sólo haz una lista de lo que quieres, me dijo.  Propuse unos cuantos platillos medievales que siempre he querido cocinar pero que a falta de un castillo no había podido.  La amable gente del castillo siguió mis instrucciones con entusiasmo y dedicación y crearon platillos verdaderamente extraordinarios salidos directamente de la Edad Media mientras yo fotografiaba todo.  Al final, hicimos tanta comida que invitaron a toda clase de políticos locales a compartir el banquete medieval, para su gran gusto.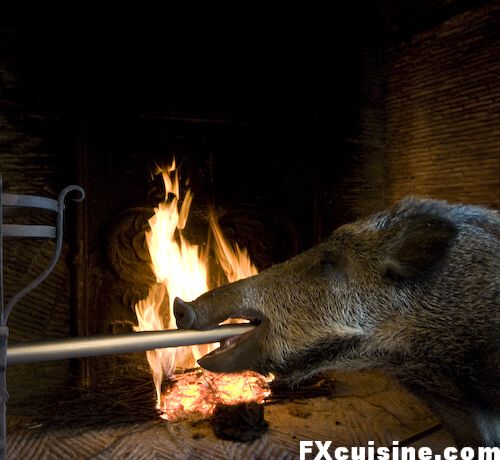 Un jabalí entero asado en la enorme chimenea del castillo, incluyendo el sangriento deshollar del jabalí y sus 4 horas de asado. Leer...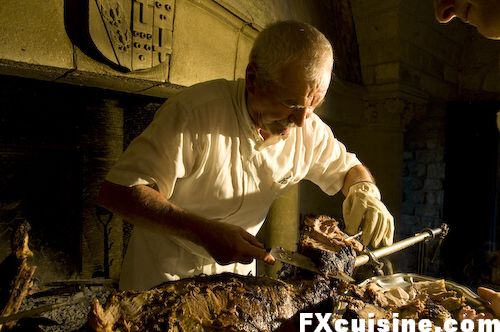 Cortado como un experto por el colorido cazador local, Hubert.  La carne del jabalí estaba rosada en el interior con una sabrosa costra dorada.  ¡Mejor que el cerdo, como me lo pongan!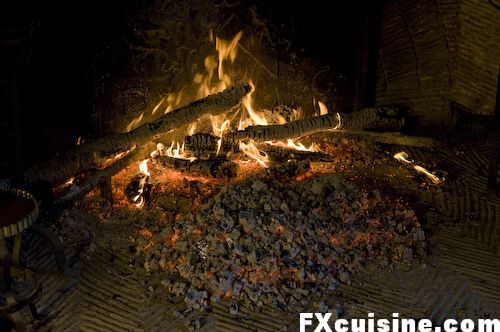 Tubérculos de los jardines del castillo (lo que alguna vez fueron los fosos) cocinados bajo las cenizas  en dicha chimenea gigante.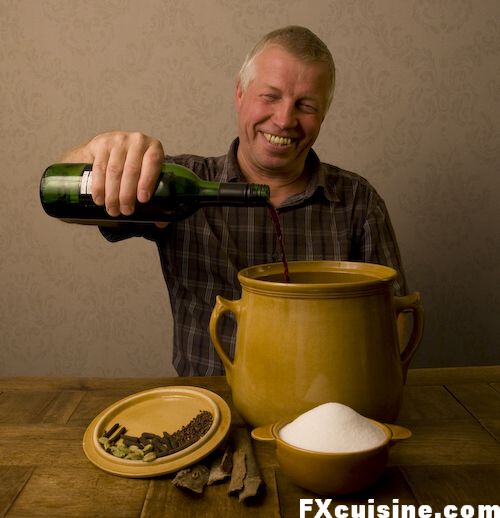 Hypocras - verdaderamente medievales con vino tinto con azúcar y especias poco comunes, servido luego a una colección de glitterati locales. Leyen artículo...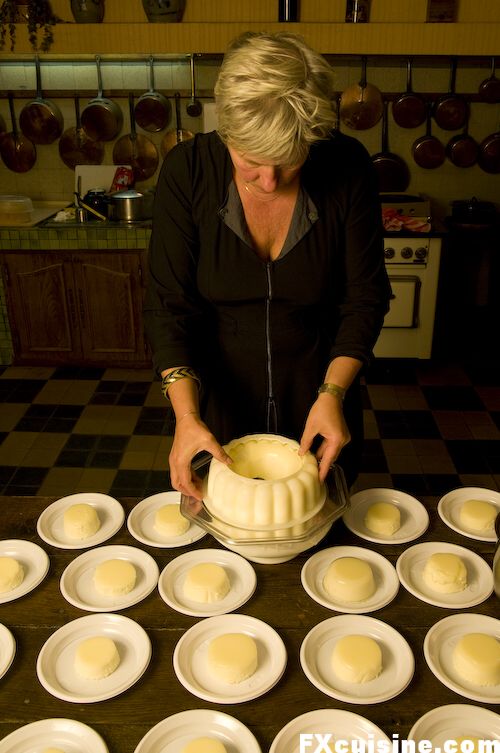 Mi favorita - un clásico de los viejos tiempos, blanc-manger, la jalea de almendras y leche.  Enfermamente deliciosa.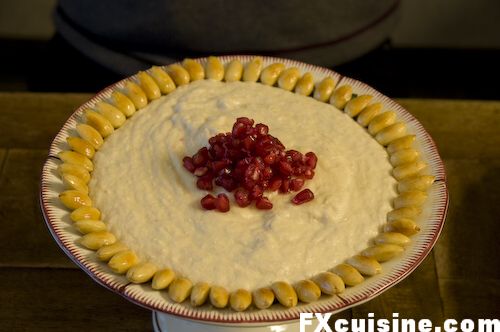 Un acompañamiento intrigante, una histórica blanc manger, cocinada a partir de una receta del siglo 14.  Una dulce y sabroza crema a base de almendras y pechugas de pollo molidos junto. Leer...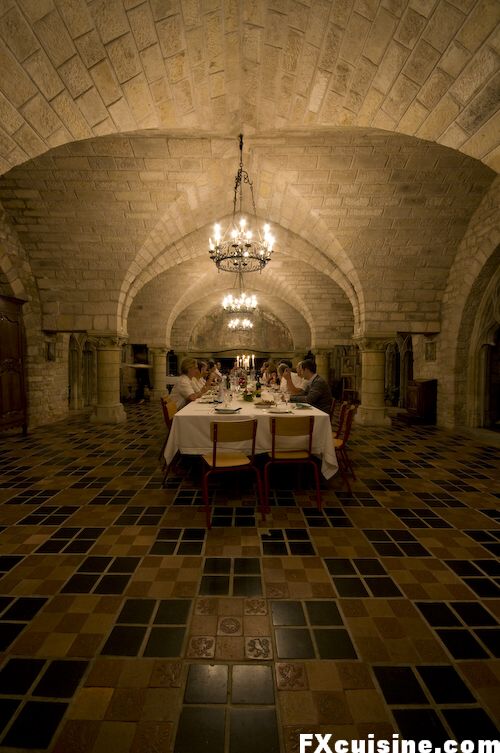 ¡El banquete medieval  de FXcuisine.com en Hattonchâtel fue un éxito rotundo!
Checa el 5 de septiembre el primer artículo.  Intentaré publicar uno cada viernes durante 7 semanas.
219464 visitas
Artículos Relacionados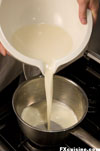 Chicken for Dessert **
One of the greatest desserts in Turkey is made with chicken breasts. It is based on an almond-and-chicken pudding once hugely popular in medieval Europe. See how it's made!
Artículos màs populares ¦ Ultimos artículos ¦ Por temas ¦ Ultimos comentarios
Copyright FXcuisine 2023 - all rights reserved.
If you do this recipe at home please let me know how it worked for you by submitting a comment or send me a picture if you can. Thanks!