Asi Comen Trufas en Paris
Home
>>
Experiencias Gastronómicas
Con la esperanza de que la crisis financiera haga al menos algo bueno y baje los precios de las trufas de sus alturas estratosféricas, te muestro como comen trufas en Paris.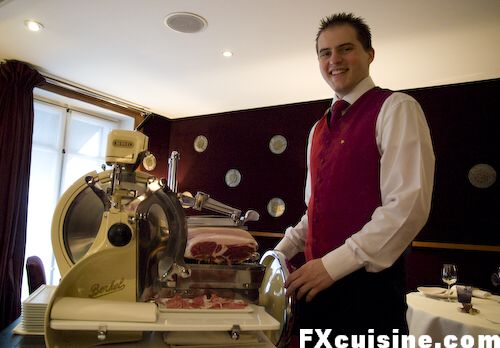 Muchas personas nunca han probado las trufas. No escribo ésto como una mofa si no las has probado, sino para mostrarte lo que son y la mejor manera de disfrutarlas.  Si apuntas 'Comer una trufa' en tu lista de cosas que hacer en la vida, te diré como hacerlo correctamente.  Y si piensas que simplemente nunca podrás darte el lujo de comer una tampoco te sientas mal. Las trufas no son mágicas.  Saben tan bien como una vaina de vainilla de calidad, sólo que su escasez y corta vida en el anaquel las hacen horrorosamente caras.  Tal vez te sorprenda saber que la producción mundial de trufas ha venido decreciendo durante los últimos 100 años.  Los recolectores de trufas de hoy recolectan el 15% de lo que sus pares lograban en el siglo 19.  Menos pasturas, menos huertos apropiados para su crecimiento y cuantas razones más te imagines.  Las trufas ni siquiera se preservan tan bien, sin importar lo que los productores de trufas en conserva quisieran que creyeras.  Todo esto hace que sus precios sean astronómicos y su disponibilidad muy escasa, seas quien seas.  Eso es todo.  Asi es que puedes disfrutar la vainilla, el azafrán, buenos vinos tintos y sensacionales tes oolong - todos están al mismo nivel que las trufas pero son mucho más accesibles.
Algunos de los componentes de los sabores de las trufas no son percibidos por todos.  Es una cuestión genética.  Pero a menos que pruebes una trufa verdaderamente fresca, nunca sabrás si es la trufa la que está insípida o es tu nariz la que no la puede oler en toda su plenitud.  Nunca compres trufas en conserva.  No compres trufas en una tienda a menos que conozcas bien de trufas.  Ve a un muy buen restaurante que utilice muchas trufas, y ve en temporada. Para trufas negras, la temporada es de diciembre a marzo.  Mientras más tarde en la temporada, habrá menos trufas pero serán las de más sabor.  Si te quieres llevar una a casa, pregunta al maître d' si les puedes comprar una trufa.
Durante la pascua, comí una comida con trufas negras en dos restaurantes de Paris.  No es tan caro como creerías así es que no me envidies.  Si puedes ir a Paris, lo más probable es que puedas el menos darte el lujo de un buen plato en uno de estos restaurantes.  SI no puedes, es posible que un día puedas, ¡No te des por vencido!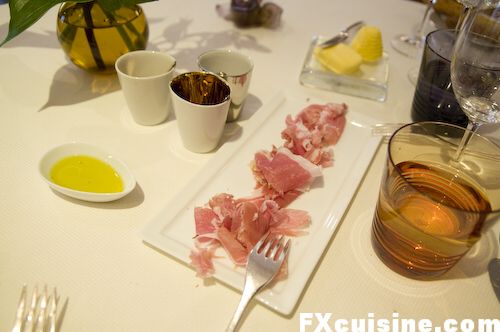 Mi primera comida fue en el Hélène Darroze, una joven chef del suroeste francés.  Hace un par de años, llamé a su último restaurante y la enorme Maître d' se rió de mi por atrverme a preguntarle si tenía una mesa para el día siguiente - Pero es sábado, Monsieur.  Ni siquiera intentó que reservara para otro día, pero cuando el restaurante quebró y montó otro en otro lado, decidí dar a la Sra. Darroze otra oportunidad.
El restaurant se encuentra cerca de la tienda departamental Bon Marché, en un departamento en un primer piso convertido en restaurante.  Al sentarme, un joven mesero vino y rebanó un jamón basco excelente en una gran rebanadora italiana de época (primera foto).  Muy divertido y un gran producto.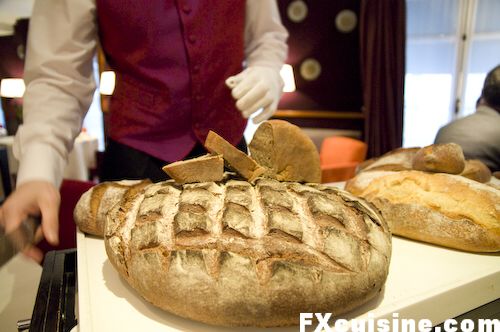 Nos toca escoger de una amplia colección de  panes antes de pasar al primer platillo.  Me gusta el guante blanco para servir el pan.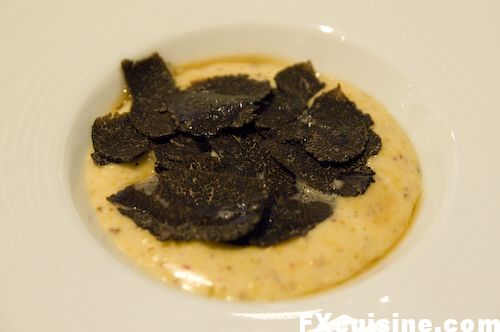 El primer platillo fue un escautoun de trufas, similar al que yo había cocinado cooked basándome en sus instrucciones pero que mezclé con el fondúe Mont d'Or Vacherin Truffle Fondue, que no resultó.  La versióin que cociné en casa fue mucho mejor que ésta, aquí el harina de maíz estaba muy gruesa o no completamente cocida y dejaba una sensación arenosa  y rasposa en los dientes.  Y demasiado salado.  Pero el platillo es brillante y nunca he podido realmente entender porqué es el artículo menos popular en FXcuisine.com.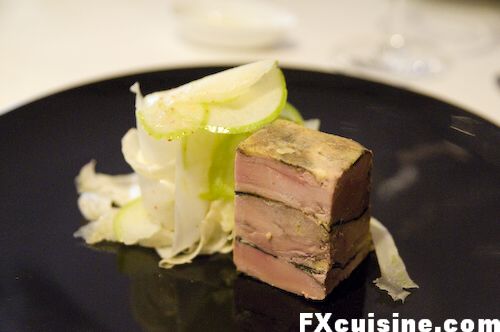 Una muy decente terrina de foie gras con trufas, aunque nada espectacular comparada con la que yo hago my own.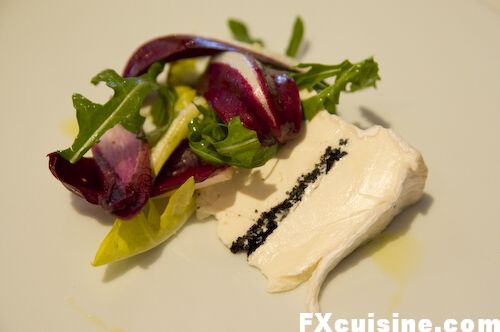 Brie, un queso suave de vaca de Normandía, añejado lo suficiente para que las bacterias lo transformen en un cielo cremoso, rebanado por la mitad y relleno de trufa negra fresca.  Lo puedes comprar en la cremería (al menos yo puedo a la vuelta de la esquina) pero nunca es tan bueno como éste, ya que utilizan trufas enlatadas y Darroze utiliza trufas frescas.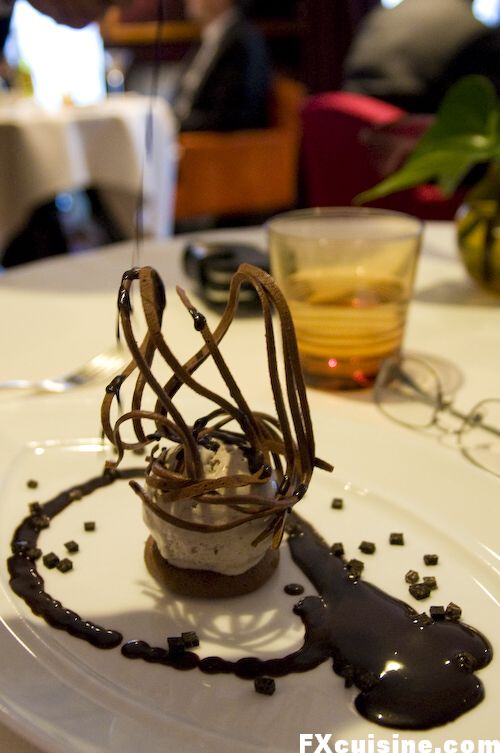 El postre simplemente fatal.  Trufas en el helado - no te sabe a nada, con cubitos de trufa y salsa de chololate en el plato.  Un desastre de buena vista y un desperdicio de una trufa perfectamente buena.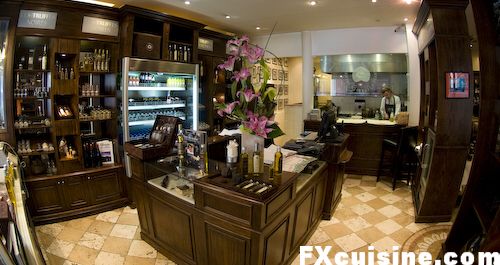 Un gran lugar para una iniciación rápida a las trufas es Tierra de Trufas 'Terre de Truffe' a la vuelta de la Plaza de la Madeleine en Paris.  Se te perdona el que pienses que ésto no es sino un aparador urbano para rendir culto a la trufa, pero sobre todo a su dueño, el enorme 'Bruno des Truffes'. Al entrar a la tienda ves un pequeño altar con fotos de este chef de Provence y sus libros, con citas enmarcadas.  En su restaurante de Provence, Bruno tiene un muro cubierto con un gran fresco, al estilo de Bocuse, con él al centro.  Pero a diferencia del restaurante de Bocuse, Terre de Truffe sí ofrece valor en su restaurante.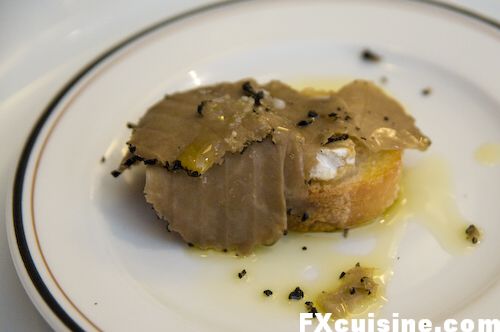 La trufa es mejor cuando se come con simpleza - con huevos o papas.  Aquí tienes una simple rebanada de baguette tostada con lajas delgadas de trufa negra, sal de mar y aceite de trufa.Truffle is best eaten simply - on eggs or potatoes. Here is a simple piece of toasted baguette bread with black truffle shavings, sea salt and truffle oil.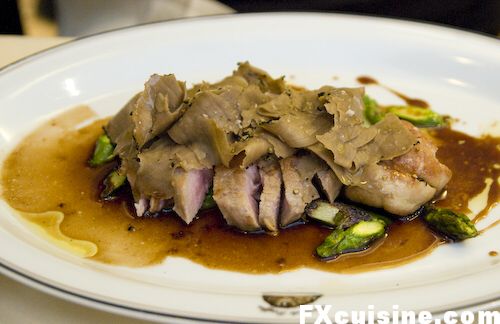 La ternera con espárragos y lajas de trufa estuvo buena, pero con las trufas, hay que escoger la simplicidad. Yo pedí un plato mucho más simple: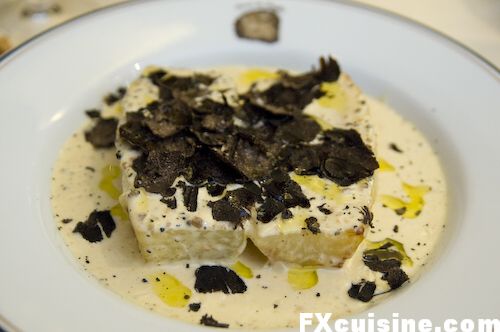 Mi platillo favorito con trufas - una papa grande horneada con crema reducida, aceite de trufa y todas las lajitas de trufa malanosporum que puedas pagar.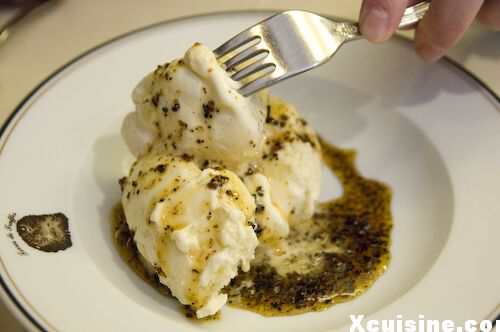 Helado con trufa en una salsa de miel en la Terre de Truffe.   Muy bonito, pero siempre necesitas algo de calor para captar el sabor de la truf; el helado de trufa es una idea que simplemente no funciona.  Nada como el delicioso Black Truffle Soufflé de La truffière.
Terre de Truffe
www.terresdetruffes.com
+33 (0) 1 53 43 80 44
21 rue Vignon
75008 PARIS
Tienda de trufas y restaurante.  Hay otro que se llama Maison de la Truffe en la Plaza de la Madeleine a 3 minutos de allí.  pero me gusta más la Terre de Truffe.
Hélène Darroze
www.helenedarroze.com
+33 (0) 1 42 22 00 11
4 rue d'Assas
75006 PARIS
También tienen una brasserie más accesible abajo.
La Truffière
www.latruffiere.com
+33 (0) 1 46 33 29 82
4 r Blainville
75005 PARIS
Me encanta este restaurante, muy acogedor y con trufas desde el principio hasta el postre.  Para conocer más, lee mi artículo sobre su Black Truffle Soufflé.
229899 visitas
Artículos Relacionados

Duck Tour d'Argent * Popular
Probably the most spectacular classical French recipe, le canard à la presse, here made at La Tour d'Argent, a Paris restaurant open since the 16h century.

Black Truffle Soufflé *
How you can make this astonishing dessert from La Truffière, a Paris restaurant specialized in black truffle.
Artículos màs populares ¦ Ultimos artículos ¦ Por temas ¦ Ultimos comentarios
Copyright FXcuisine 2023 - all rights reserved.
If you do this recipe at home please let me know how it worked for you by submitting a comment or send me a picture if you can. Thanks!