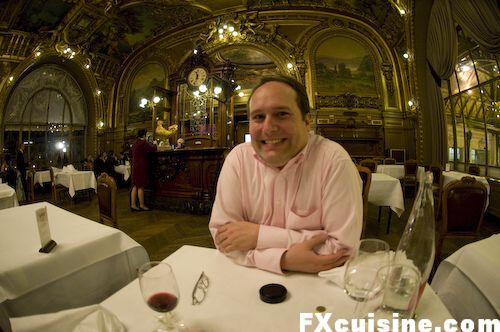 Who I am?
My name is François-Xavier (FX) and I am a French-speaking Swiss man living on the shores of Lake Geneva, an hour from France and Italy. I also speak Italian, German, Spanish, Russian and - obviously - English.
What do I do?
I do not cook for a living nor did I ever study cooking outside my home and a few 3-hours classes. My professional background is in finance/law and I deal with international clients. If you think that to cook is unbecoming a professional, this is not the right website for you.
Why this website?
I am passionate about gastronomy and cooking and created this website to share my adventures with Internet users the world over.
What will you find here?
I publish two articles every week about spectacular, intriguing or very tasty recipes that worked for me. I don't report about the many failed recipes or uninteresting visits or bad restaurants I visited unless they are especially entertaining. Most dishes I cook and photograph never make it to here.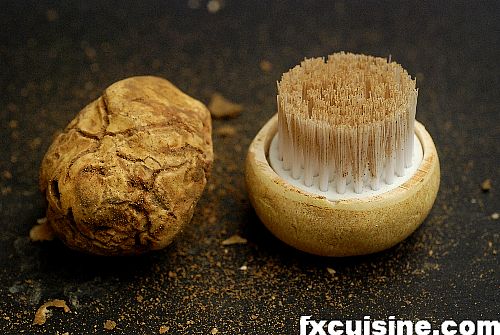 What do deep-fried atrocities have in common with truffles?
Memorability. I've had some of the most boring meals in my life in Michelin-starred restaurants. Some meals that cost me a dollar in some greasy hole-in-the-wall shop, I still remember today. I also very much enjoy the vivid contrast between the most apalling food and the most delicious. Some deep-fried food specialties are extremely tasty - not healthy but they have a very strong culinary appeal.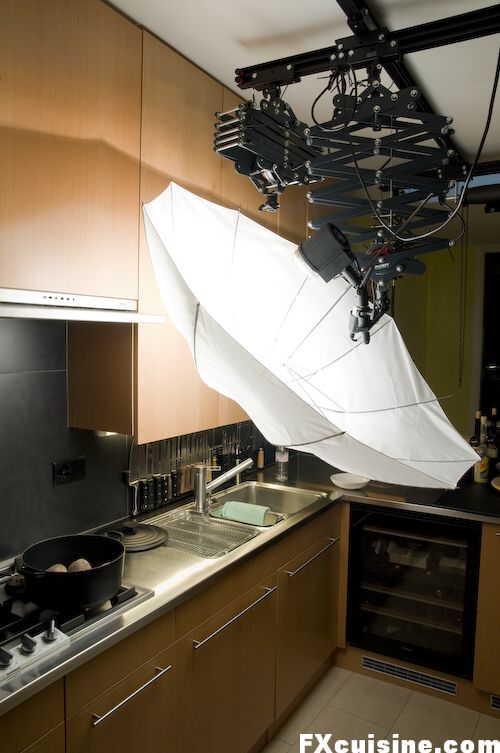 Who takes the pictures?
Thanks for asking - I do, with a Nikon D300 and a couple good lenses (Nikkor 60mm, Nikkor 10.5mm Fisheye, Sigma 10-20mm, etc...), a reflector and photographic lights. For backgrounds I use black cardboard, black silk, a black ceramic tile and my pride and joy, a large black acrylic panel. I am constantly working to improve my pictures, especially food styling and composition. Keep in mind I shoot everything myself and only have two hands. There is only so much I can do with the camera hanging from the ceiling. I have never studied photography or worked as a photographer - all this is purely a hobby. Some of my favorite photographers are Jean-Louis Bloch Lainé (French photographer who illustrates Pierre Hermé's books), Francis Ray Hoff, Tim Walker, Kevin Best (an amazing Australian still-life amateur photographer) and Melanie Dunea. For panoramas my inspiration is www.gillesvidal.com. The painters that inspire me most are Vermeer, Schongauer, Caravaggio, Rembrandt, Luis Meléndez, Georges de la Tour, in other words I am a fiend for chiaroscuro. Most of my pictures are shot with a 1000W photo light shooting through a translucent white umbrella hanging from the ceiling, with not reflectors. I like simple pictures with one light shot in low-key and close-up.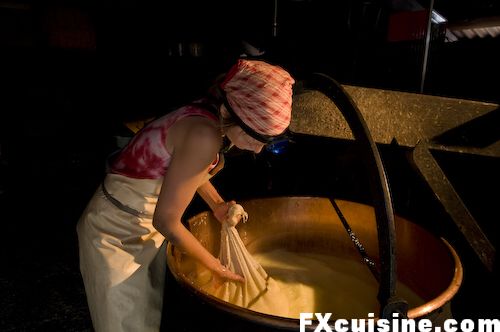 How do you get such fine pictures when in a pitch-dark chalet 7000' in the Alps?
I use off-camera flashes shooting through white translucent umbrellas and synced wirelessly. Off-camera means they are disconnected from the camera and placed usually on the sides to bring out the subject's features. Shooting with available light only is really limited, as sometimes there is no light at all, or not enough, and when there is it rarely falls on the subject of interested. Using flashes with light modifiers enables you to get beautiful light right where you need it. Nothing like the crap you get with on-camera flashes. I am indebted to Baltimore press photographer David Hobby for all this, he runs Strobist, a website devoted to off-camera-strobes evangelization. Really great stuff although I don't like the artificial look of most pictures using the "strobist look". But you can study light in art museum and when you know what you want, just configure your lighting to get that.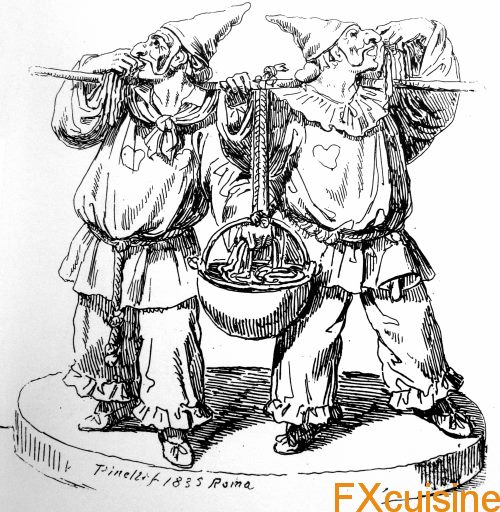 What's the deal with the banner?
A friend made using my collection of Mangiamaccheroni. These pasta-eating lads used to represent Neapolitan joie de vivre a century ago and you often see them on the walls of Neapolitan-owned restaurants abroad. I use forks to eat pasta - not fingers.
Where do you find the recipes?
I have a large number of cookbooks in six languages and often ask the chef how a particular dish is made in restaurants, such as the Truffle Soufflé or Grilled Foie Gras Terrine. A few, like the Indian Butternut Squash Soup or the Quail Egg Curry are my own invention.
When did you start to cook?
I've been reading cookbooks and trying to cook since childhood. For a decade I tried to make pumpkin gnocchis (never succeeded!) and pursue the perfect green pepper sauce. Neither of my parents are especially noted cooks so I guess my interest in cooking came from a large potential for improvement in the family kitchen.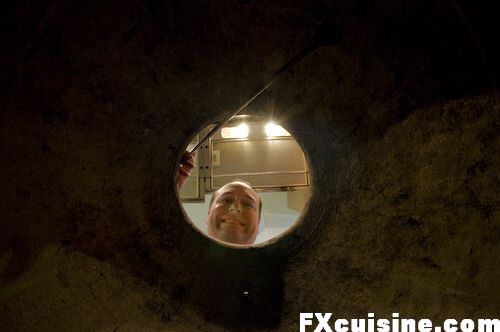 What sort of kitchen do you have?
I have three egular gas burners and a larger triple ring burner, a Kenwood Major mixer and pasta extruder, a few large stone mortars, an ice cream machine, a little Italian pasta laminator and good quality professional no-frills stainless steel cookware. I have both a charcoal grill with an offset fire-box and a Weber gas grill. The only really fancy item is the tandoor.
How do I know your recipes will work?
I have done several times most recipes published here and report honestly on good looking but foul-tasting dishes. If you apply my instructions scrupulously they will work for you too.
When will you open your own restaurant?
Never. I have much respect both for financially successful restaurateurs and those who consistently turn out high-quality, original dishes but make no profit. I have no plan to become either.
Which cuisines do you cook most?
Italian, Indian, French and Mexican. I love high-quality Tex-Mex. Unlike most French speaking Europeans, I like and respect American food. Although I don't cook it, I love Japanese, Korean and Lebanese cuisines.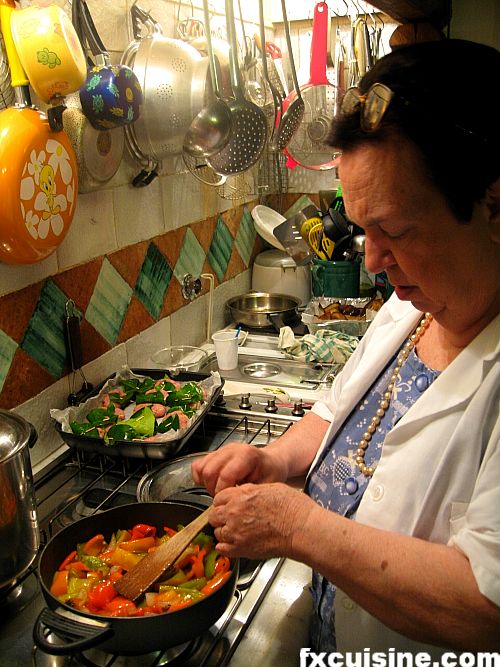 How do you know so much about Italian food?
I come from the Valais, a Swiss canton right on the border with Italy. Italian people in the neighboring valley of Aosta speak the same Romance dialect that is my grandmother's native language and eat very much the same food. I travel regularly to Italy and speak Italian fluently. Finally, I have a huge collection of Italian-language cookbooks with thousands of traditional recipes from every region of Italy, many of them unfamiliar to most contemporary Italians.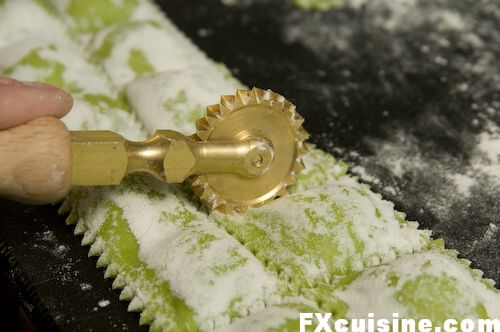 Why make your own pasta?
Home made pasta is great fun and never a chore. It invariably tastes better than almost anything you can buy and guests are always impressed and flattered you would make your own pasta just for their pleasure.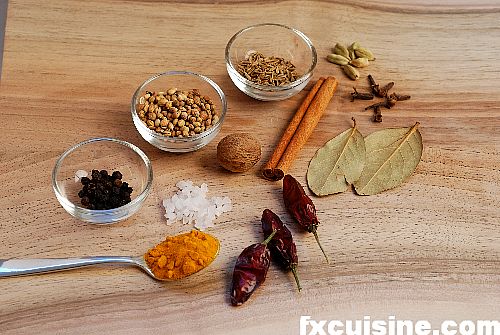 What spices do you like most?
Most spices but especially saffron, green cardamom, cinnamon, allspice, serrano chili, chipotles. I am big on chilies and subscribe to Fiery Food, a magazine devoted to cooking with them.
What's the deal with the cheese?
I'm a Swiss and love my cheese. Not only Swiss cheese, mind you, but any quality, artisan, raw milk cheese in the world. I love to visit cheesemakers, especially those who live with their cows in some high-altitude Alpine pasture. Making cheese is one of the oldest cookery on earth, transforming a highly perishable product like milk into a delicacy to be enjoyed months or years later. A cheese can open your eyes to a way of life, the history and culture of a region and is also like a slice of gorgeous meadows.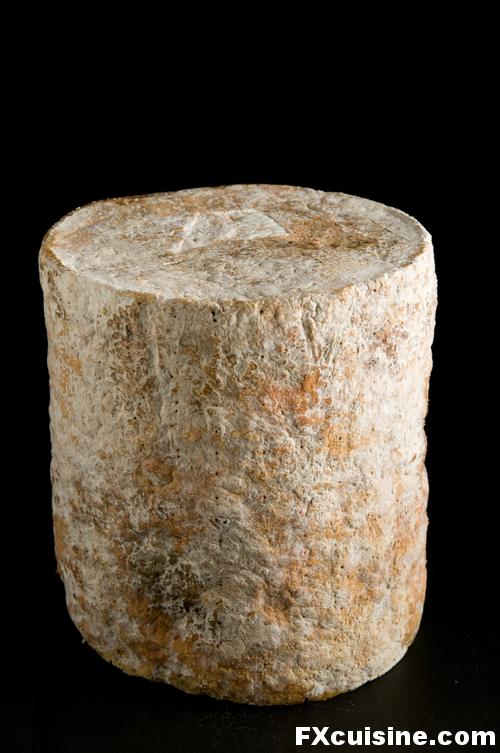 How do you go about sourcing good ingredients?
I call up local gastronomic restaurants, explain that I am a passionate home chef and a fan of their establishment and ask where they recommend I buy the ingredient I'm after. That's all there is to it. Sometimes they will even sell me direct.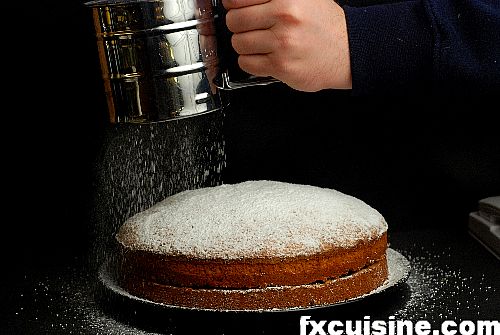 Do you have a sweet tooth?
Seeing so much pastry recipes, dessert and confectionery experiences and cookery classes on this blog, you may think I'm a devoted sugar eater. Not so much. I love too make pastries, pies, syrups and desserts but find them often sickly sweet and don't like to eat them so much.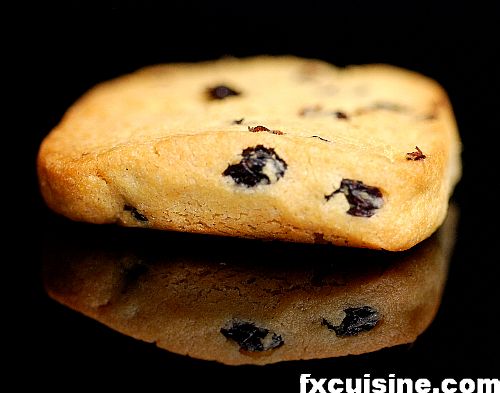 Why write in English?
My relatives complain the blog is in English. Why not in French, they say. Well, there are just more readers in English and I like that language too.
Which food blogs do you read?
Not many I confess, only because of limited time to do so. Among many, many fine blogs, I am partial to After Cheese Comes Nothing, a fine sense of humor with altogether better English than me.
How do I contact you?
You are welcome to leave a comment on this blog using the form at the bottom of each article or you can send me an email to fx[@]fxcuisine.com (remove the brackets).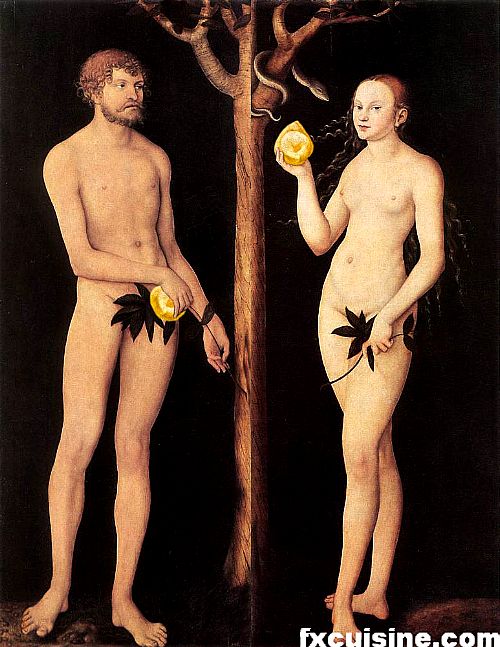 Happiness is in the Kitchen
Cooking is one of those everyday things within easy reach that can fill you with happiness. All you need is find out what works for you and then do it. For me buying and reading cookbooks, roaming food markets and talking to farmers and shopkeepers to locate the right ingredient, testing new dishes or cooking old favorites, having guests taste them, offering fine food I cooked or just speaking about it, all this fill me with hapiness. The eating in itself is just a small part of it. I enjoy the process in itself. And don't worry, I don't spend all my free time in my kitchen or roaming food markets. There are many other things I like to do, but cooking is such an endless source of fun and happiness that sometimes I wonder if I don't just live to cook.