Saint Martin Fair
Home
>>
Experiences
My visit to a 500-year-old country fair held once a year in Vevey, Switzerland.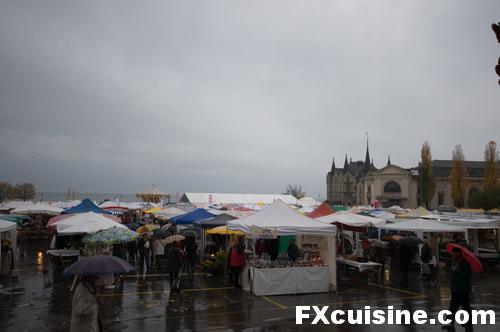 Every November 11th since 1496, the picturesque Swiss town of Vevey holds a country fair called La Foire de Saint Martin. I only had about an hour yesterday to shoot some pictures before rain worthy of the best days in Cork set in. Follow me in.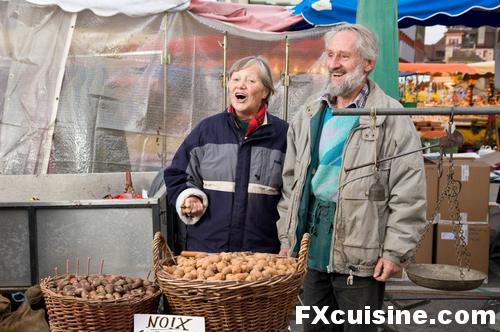 This husband and wife team sells walnuts and chestnuts, which they roast in a converted barrel filled with burning charcoal. As I left after taking my picture, the man ran after me. This is our 22nd year selling chestnuts at the Saint Martin Fair, his said with some emotion. Tell that to your readers.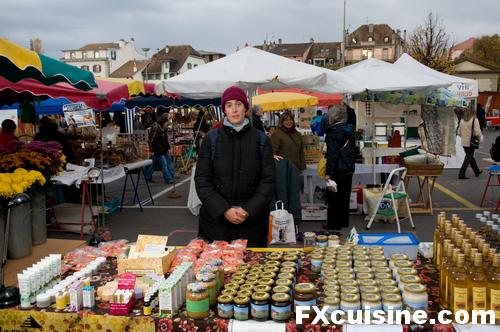 Many people are not professional market operators but just mamas up the hill with a passion for an artisan product.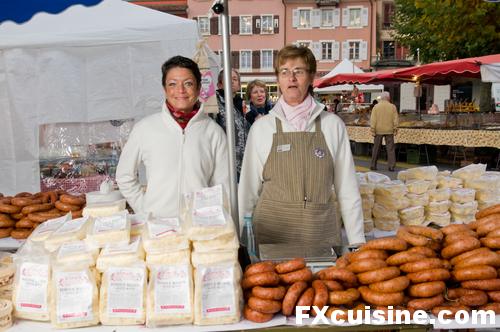 Big packs of fondue mix - freshly grated cheese with a little cornstarch and instructions printed on the label and a pile of saucisse aux choux, a sausage made with fatty pork cuts and cabbage. It is smoked and needs to be cooked like a Jesus.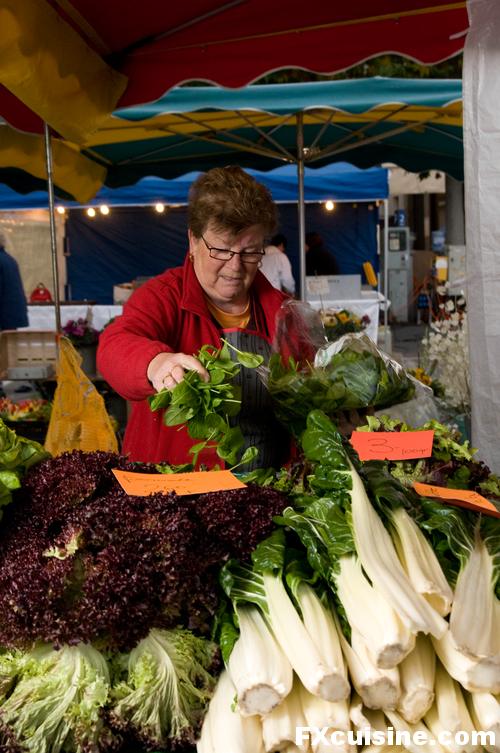 There are two types of grocery stands on this market: local farmers who sell their own produce...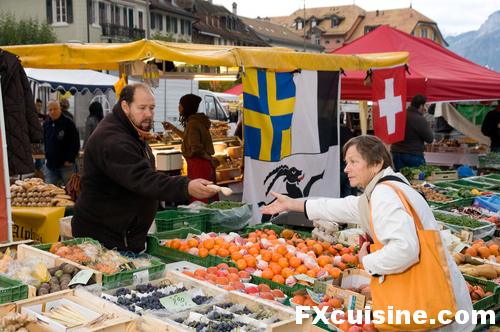 ... and professional grocers like this gentleman from Algeria who sell fruits and vegetables from the whole world.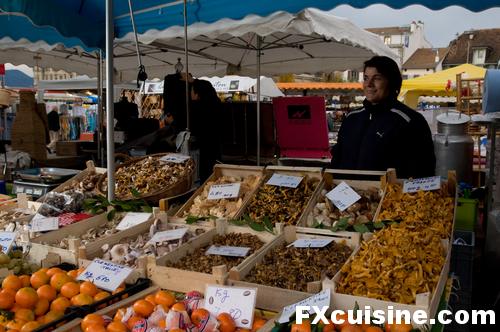 We get all sorts of fresh mushrooms on this market, including lots of wild mushrooms from France. Unfortunately even if you show up at 7 AM, you never really get the very best quality, those get sold to restaurants.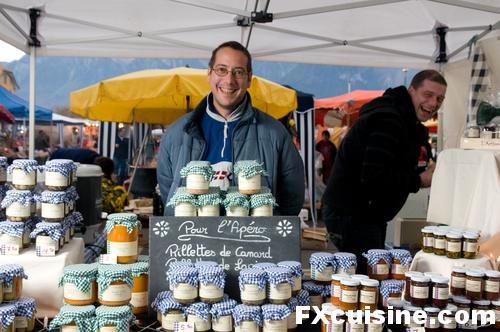 These guys sell various artisan spreads. The guy in the back was hiding while I took my first pictures. When I asked his friend if he was camera shy, he popped out and screamed You bet I am! We all laughed.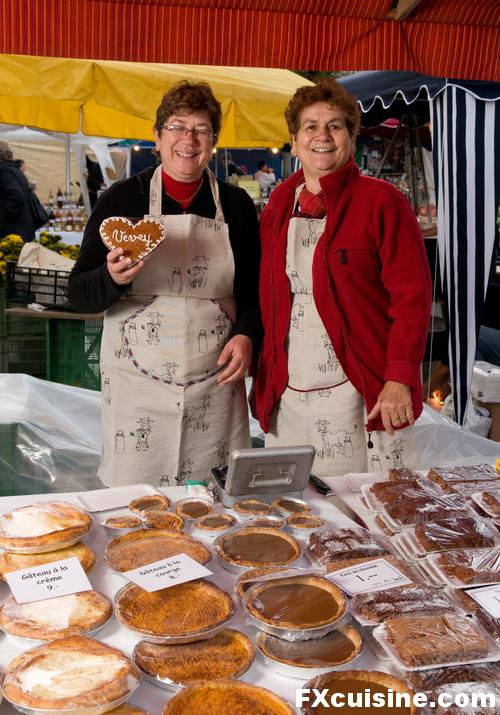 These two mamas had spent the day before baking lots of pies and cookies. Left to right: cream pie, pumpkin pie, cooked wine pie which is made from a reduction of pear and apple juice, and their divine nonettes which I buy every year.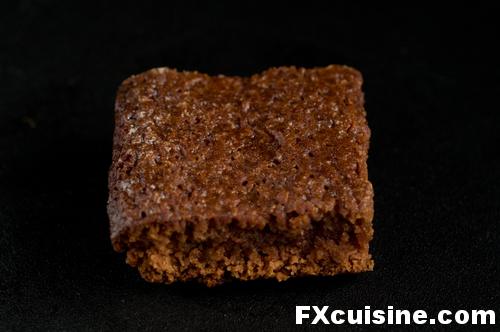 If there is one biscuit that is typical of Vevey's Saint Martin's fair, it is the nonnette. These are baked in a tray like brownies, but contain mostly honey, rhum and flour. Not much butter, if any, and very few spices unlike a gingerbread. If you like honey, you'll love them. If you don't, you won't.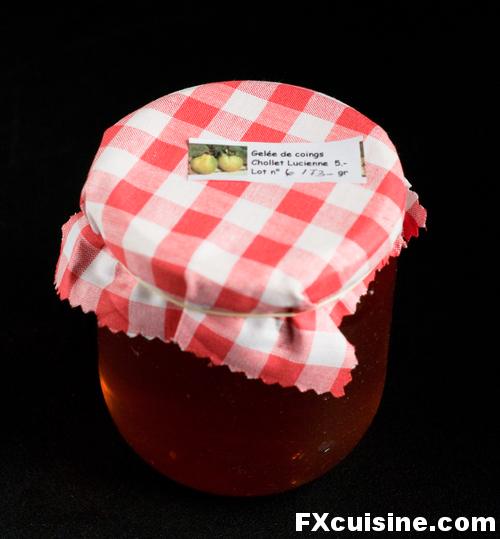 I am a fiend for quince jelly and bought them a jar, which released such a putrid smell that for a while I thought it was a poison gas canister left from the Great War. Such things happen with jams, and I'll get it replaced when I see them next.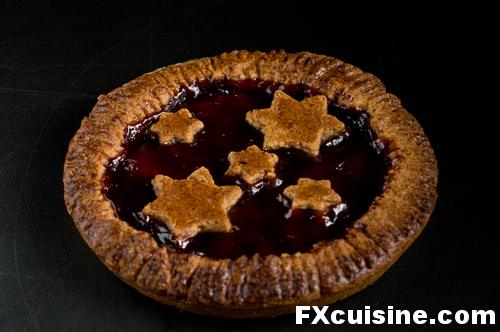 With those homemade jams, they also made two types of Linzertorte, apricots and raspberry (above). I got me one of those too.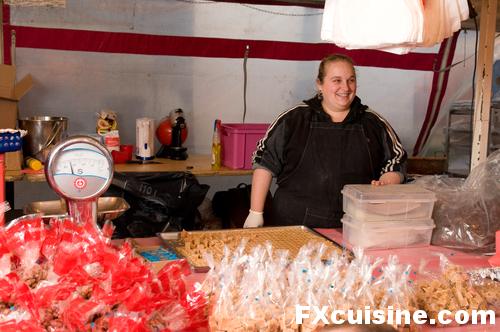 I wouldn't trust a candy maker who is lean as a telegraph pole, and this lady really sells good products. She bakes her own fudge (big tray on the table) ...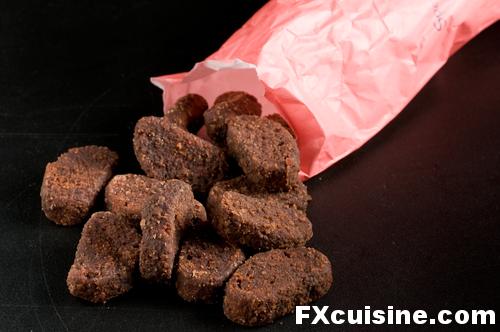 ... but when I saw huge bag of Magenbrot, she explained that they buy it from some semi-artisanal operation.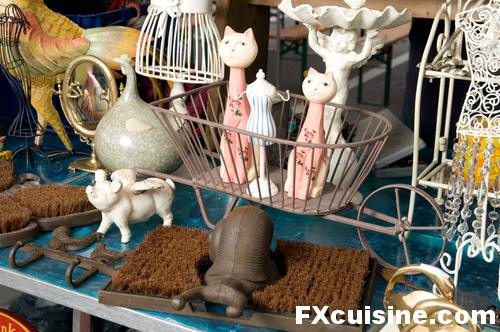 A good part of the old city of Vevey is filled with a flea market during the St Martin Fair. I nearly bought the boot-kicker snail you see in the foreground ...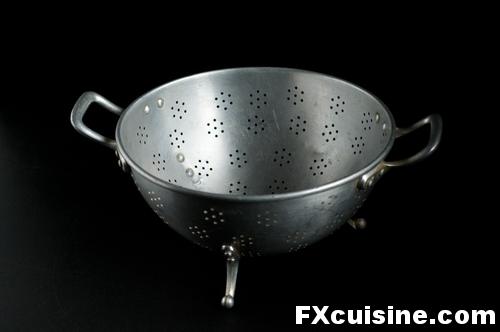 ... but finally settled on this deliciously vintage aluminium strainer. My grandma had the same, said somebody in the crowd. I paid 10 Swiss francs.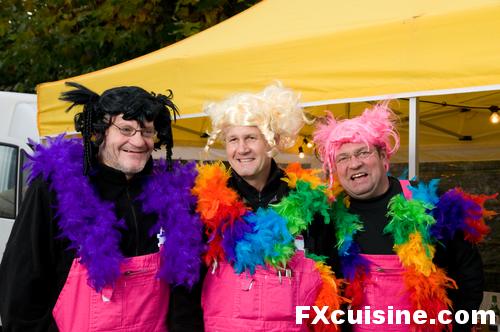 whereas I had to leave around 8 in the morning, many people take the day off on the Saint Martin and meet up with friends with fancy dresses ...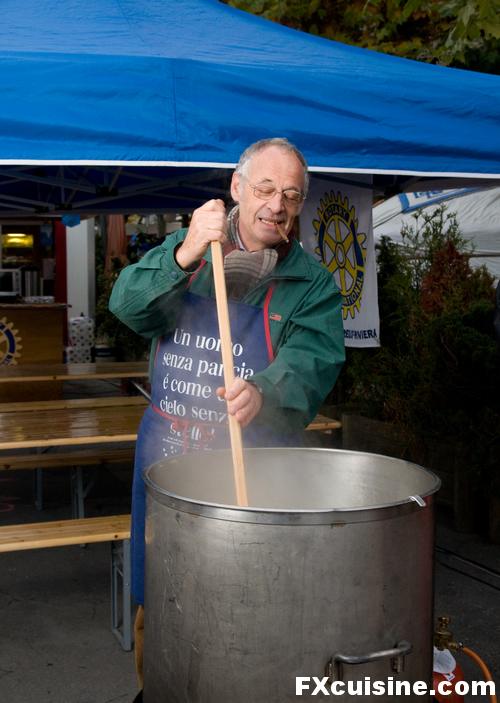 ... to eat some soup ...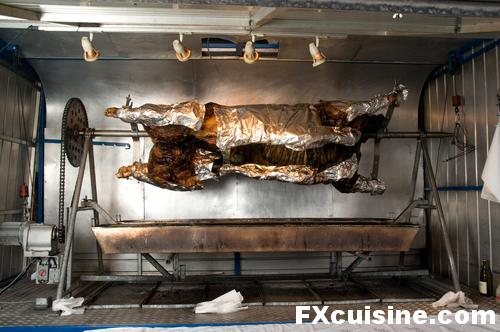 ... or have a slice of the whole ox that had been roasting for the whole night.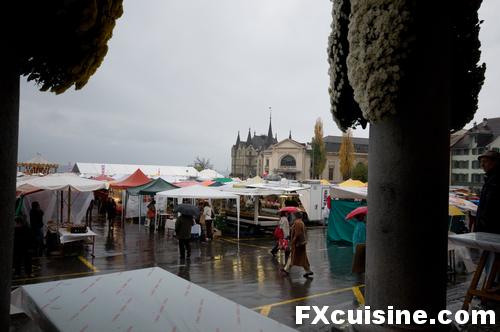 If the rain bothers you, you can sit inside the picturesque former grain storage that overlooks the square.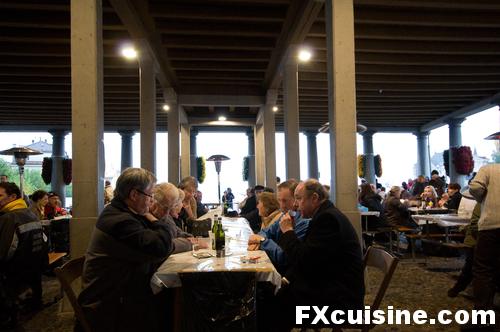 In La Grenette, you can sit down and enjoy a good meal with friends during the whole St Martin. Unfortunately as I came back after work, there was no beef left and even the roasted wild boar was gone.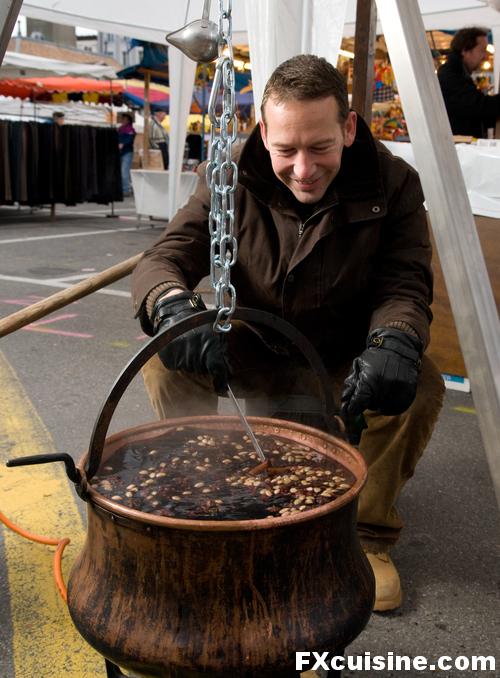 Many people sell vin chaud (Glühwein) at the Fair, this hot red wine mixed with spices and sugar. But some of them are made with bags of ground spices mix and make for a watery, tasteless brew. The best one is sold at the Battered Women League. Or at least, that was the cause they sponsored last year, as in fact I discovered that these gentlemen meet up to support a variety of worthy causes, including one that is dear to my heart - proper vin chaud.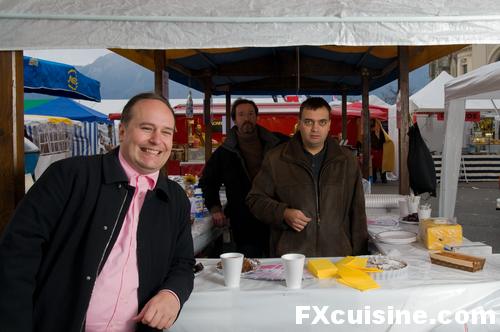 The cauldron was filled with cinnamon sticks, star anis and loads of cardamom pods, with a good lacing of brandy to replace alcohol lost to evaporation. At 8 AM this was just what the doctor ordered. It is a bit on the sweet side, the guy warned me. Indeed it was. I suggested they might add a touch of lemon or orange to balance the excessive sweetness. They looked at each other, then one rushed off to the grocer and came back. We tried with the lemon - perfect.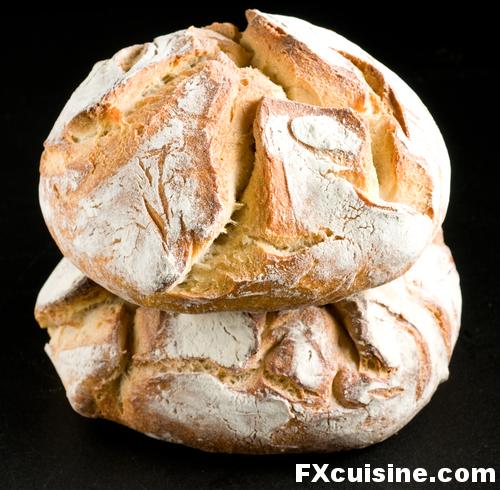 I also bought two loaves of my favorite bread, the sourdough I'll be using on Saturday to prepare bruschetta for my friends.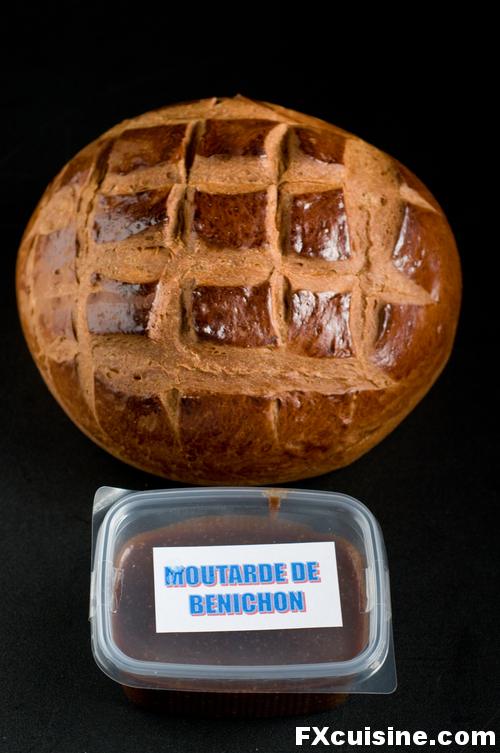 Finally, a loaf of cuchaule [kushawl], a saffron brioche typical of neighboring Gruyère. Cuchaule is traditionally eaten with moutarde the bénichon ...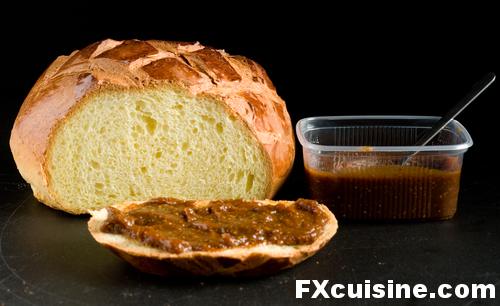 ... a mixture of mustard seeds, molasses, spices and flour to thicken it.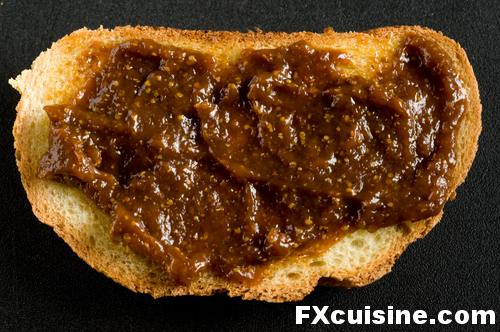 Spread it on a slice of cuchaule and close your eyes. Isn't life wonderful?
139827 views
Related Articles

Hard Core Swiss Vacherin Cheese ***
Follow me as I wake up in the wee hours of the morning to see Swiss armailli make a unique cheese in a small chalet up the Gruyere Alps.

A night at the Liboson ***
A memorable fondue in an over-the-top dungeon chalet straight out of a Hammer film. Our host, Paul du Marchie, has been building an architectural fantasy in the middle of the woods for the last 50 years. Dont' miss my eight 360° panoramas!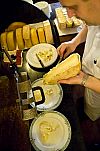 Swiss Raclette ** Popular
The national dish of Valais, my Swiss canton, raclette is the most gorgeous melted cheese you will ever have. Here at its best at the Manoir de Villa in Sierre.

Swiss Apple Roesti (Video) **
Make an extraordinary dessert in no time using stale bread an apple. A timeless classic from the Swiss Alps.

Swiss Alpine Pasture Cheese Croûte **
How I bought cheese in a small cheese making chalet in the Swiss Alps 2 hours walk from the last road and how I turned it into a delicious Croûte au fromage.

Copyright FXcuisine 2023 - all rights reserved.
If you do this recipe at home please let me know how it worked for you by submitting a comment or send me a picture if you can. Thanks!