Tandoor-Roasted Boiled Leg of Lamb
Home
>>
Recipes
Boiled, marinated and then roasted in my tandoor, nothing is spared to turn this leg of lamb in the most tender and tasty morsel.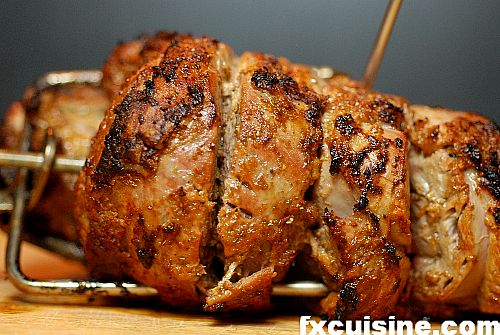 Boiling a leg of lamb is almost criminal. How about if you roast it in a tandoor afterwards? On Sunday I tried this traditional Indian recipe from Ranjit Rai's tandoor bible and it worked wonderfully! Inside the lamb is juicy and tender thanks to the boiling and marination, and outside it has intensely flavored crispy crust from the tandoor's hellish fire. A great success!
Ran-Nawabi
Tandoor Leg of Lamb by Ranjit Rai
1 leg of lamb with bone
1 onion
peppercorns
5 garlic cloves
1 piece ginger, peeled
2 tsp salt
3 tbsp lemon juice
3 tbsp yoghurt
2 tbsp grated ginger
2 tbs roasted coriander seeds
2 tbsp roasted cumin seeds
1 tbsp chili powder
1 tsp nutmeg powder
1/2 cup oil
2 tsp salt
oil for basting
saffran
silver foil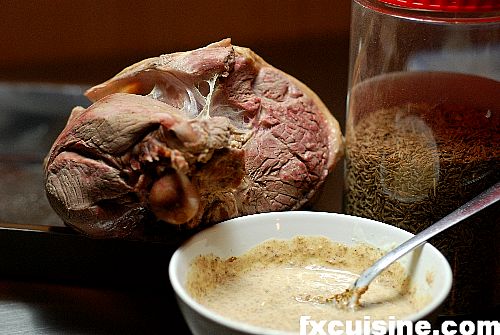 Meats roasted in a tandoor are always marinated first. The marinade has 3 functions. First it will tenderize the meat so it can be cooked through in the short time it will be in the tandoor. If you leave it too long, it will just burn and the center will remain raw. Second it will moisten the meat. And third the marinade will add flavor thanks to the spices.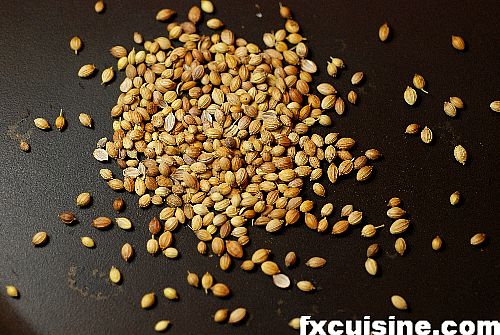 Prepare the marinade by roasting 2 tbsp coriander seeds in a dry frying pan. When they smoke remove them from the pan and into a mortar. Proceed with 2 tbsp cumin seeds (photo) in the same manner.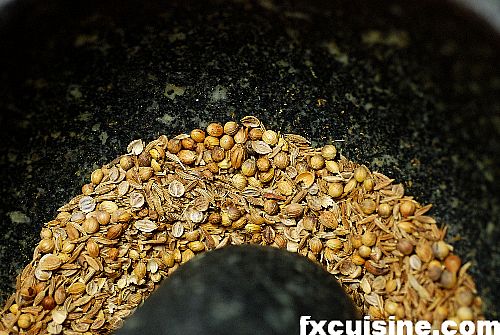 Grind these spices to a fine powder and add 2 tsp salt, 1 tsp nutmeg and 1 tbsp chili powder. Grind to combine intimately (photo).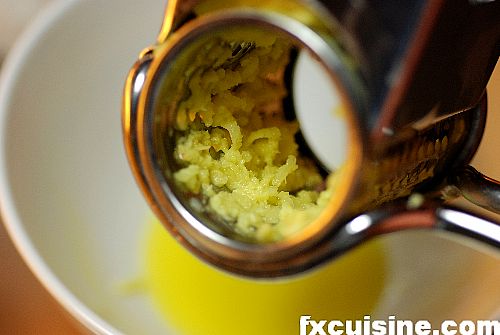 Peel a thumb-sized piece of ginger and grate it finely. Combine with 3 tbsp unsweetened white yogurt, if possible hung curd or Greek full fat yogurt.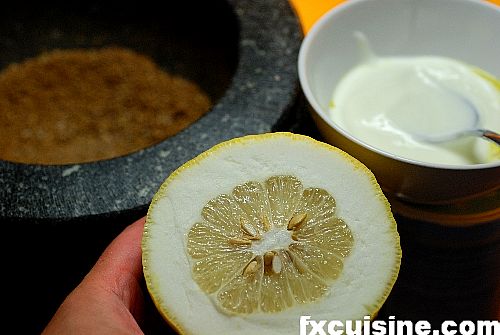 Squeeze about 3 tbsp fresh lemon juice into the yogurt.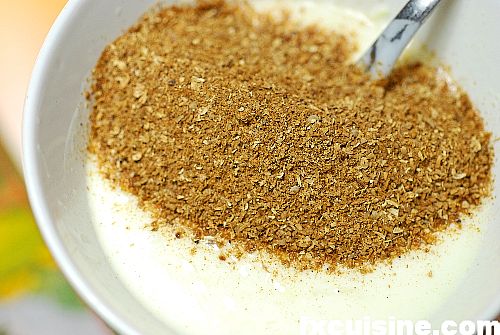 Add the ground spices and half a cup vegetable oil - use oil that can withstand high temperatures.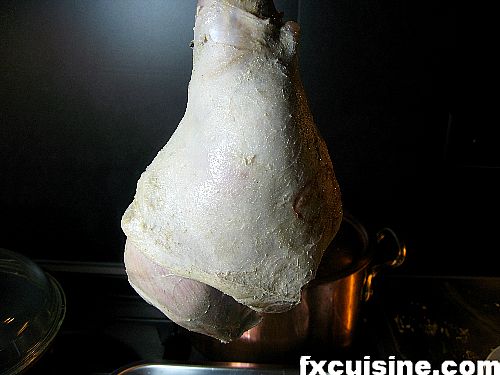 Before marinating you need to boil the leg of lamb. It sounds barbaric but is necessary because otherwise a whole leg of lamb would burn to ashes in the tandoor before it is cooked through. Fill a large saucepan with water and add a peeled onion, 10 peppercorns and a thumb-sized peeled piece of ginger. Add the leg of lamb and bring to a low boil for 30 minutes (photo).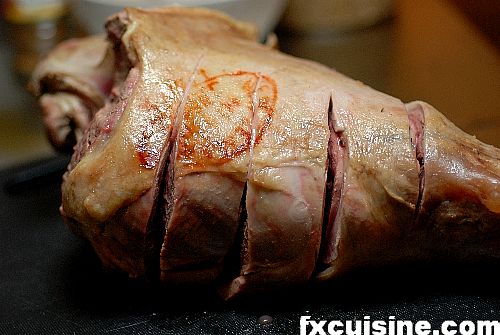 To make sure that the marinade will penetrate deep into the meat, we score it to the bone with a sharp knife. If we didn't marinate the meat and cook it for only a few minutes in the hottest of ovens, the tandoor, this would result in a desperately dry meat. But this heat from the fires of hell will sear the meat and keep the moisture in, preparing a meal worthy of paradise.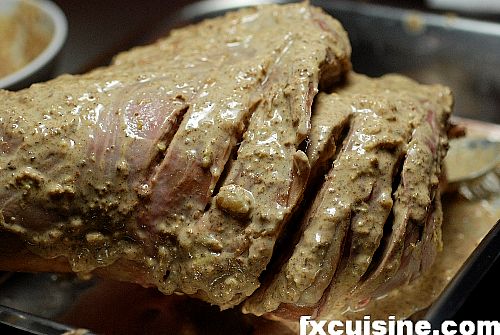 Pour the marinade around the meat and marinate for about 3 hours. There is such as thing as overmarination. Indian recipes call for very long marination because they use much tougher meat than we buy in the West. If you marinate too much, the lamb will be reduced to a pulp, like if the cook had chewed cooked lamb, then spat it and reconstituted it in meat loaf. Not very appetizing. On the other hand, undermarination will result in tough lamb or cooking time not compatible with the tandoor.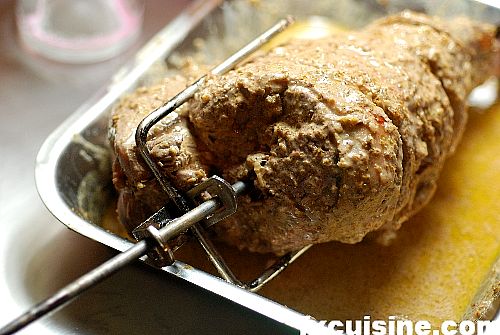 The meat is skewered on a seekh (long skewers for tandoor cooking). Indian tandoor chefs use ingenious combinations of potatoes, wooden skewers and threads to prevent food from slipping down the seekhs. None of these solutions is as simple, reliable and economical as using a rotisserie pitchfork as on the picture above. I don't understand how such thrifty and smart peoples as Indians go on wasting potatoes in tandoors (they end up quite burnt) when such a simple appliance would do.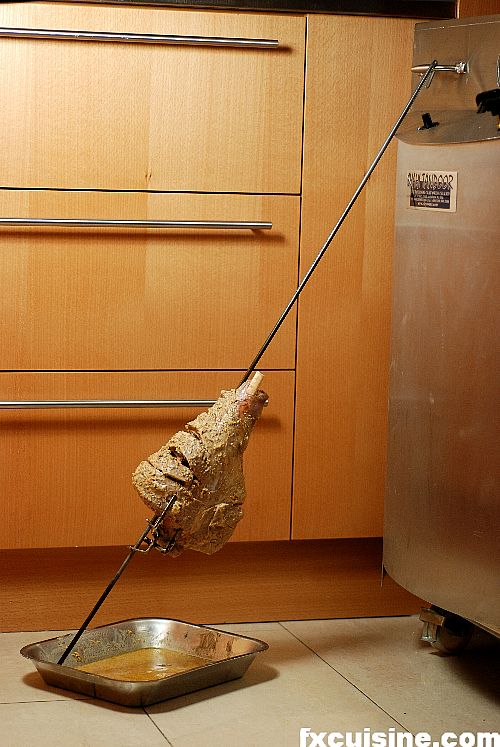 The meat is ready to go into the tandoor. Any last words? I rested the seekh against the tandoor with a tray underneath.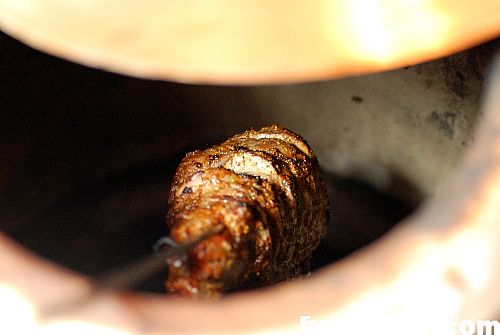 I tried to take pictures of the meat cooking into the tandoor but it's so hot the camera just stops working. Really stops - no autofocus, no exposure, no nothing. Like trying to snap a picture of a bear by minus 50°C in Antartica. Or of the devil in hell. The only pictures I managed to take apart from the one above are disappointing (photo).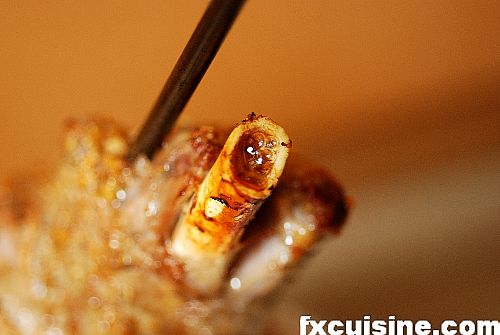 After 10 minutes, remove the meat from the tandoor and rest the seekh against the tandoor with a tray underneath to collect drippings, like pictures above. The bone section was actually boiling. Let it rest for 5 minutes.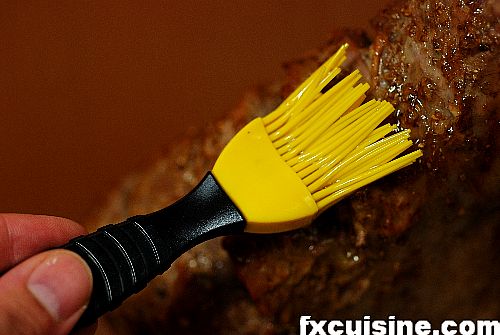 Baste with oil with a little saffron. The original recipe calls for ghee (clarified butter) but the one I can buy here has a rancid taste whereas my oil is terrific. This basting prevents any drying. Put it back in the tandoor for 10 minutes or until cooked. Don't let it burn.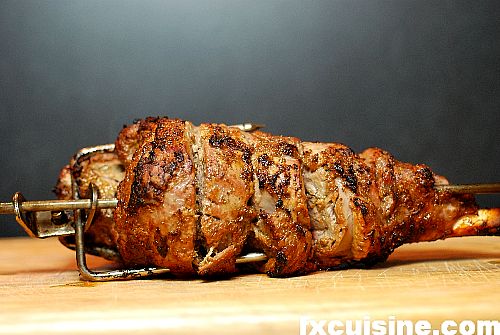 Cooking theory says lamb is cooked when - and only when - its internal temperature reaches 45°C. And yet, the inside of my leg of lamb was only about 25°C (photo) and perfectly grilled outside and juicy but cooked inside.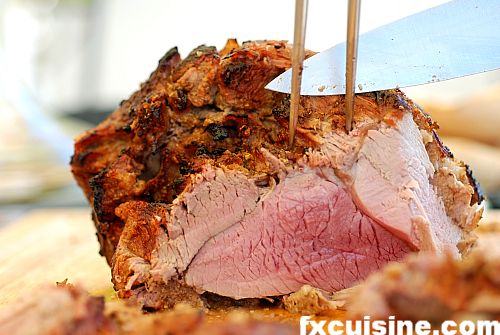 Let it rest a couple minutes before slicing at the table.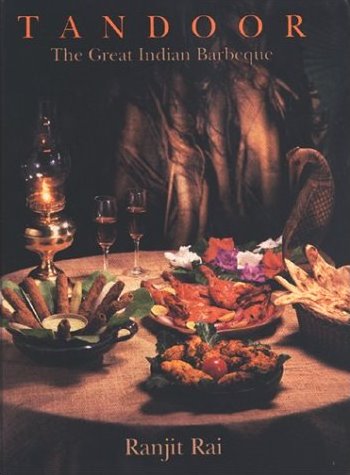 This recipe and most of what I know about cooking with a tandoor comes from Ranjit Rai amazing book 'Tandoor', by far the most complete reference on Tandoor cuisine in English. Warmly recommended.
163764 views
Copyright FXcuisine 2023 - all rights reserved.
If you do this recipe at home please let me know how it worked for you by submitting a comment or send me a picture if you can. Thanks!