Arancini, the cult Sicilian dish
(page 2 of 2)
Home
>>
Recipes
These glorified deep-fried stuffed rice croquettes are a cult sicilian dish celebrated in a recent best-selling Italian novel.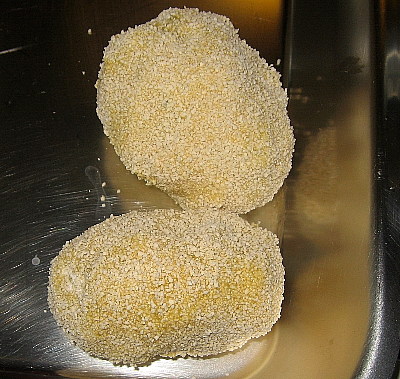 The recipe takes 2 days to cook. The day before I made the risotto and the ragù according to the stringent specifications of the Diamante. Then you let it rest in the fridge for a night, and prepare the workspace for the next day. If you don't have space in your kitchen or live with only one plate, don't try this. You have no less than 7 bowls around the frying machine: risotto, ragù, cheese cubes, flour, beaten eggs, water and the breadcrumbs.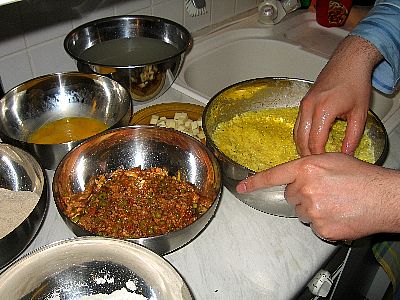 Here is the recipe. The amount of rice relative to the meat filling depends on how much you manage to stuff each arancino.
ARANCINI AL RISO
For the risotto:
1 onion, finely minced
20gr butter
2 cups risotto rice
4 cups chicken broth
150gr grated Pecorino cheese
For the ragù:
50gr pancetta
1 onion
1 carot
1 celery stick
1 clove garlic, minced
200gr beef chuck
1 cup tomato purée
1 cup red wine
2 twigs thyme
1 bay leaf
salt, pepper
1 cup cooked green peas
When making the arancini:
1 cup flour
1 cup breadcrumbs
3 eggs, beaten
200gr cheese, soft pecorino or other meltable cheese
The day before, make the risotto by frying the minced onion gently in a saucepan, then adding the uncooked rice and leaving it for two more minutes, then adding the broth and leaving it unocvered until cooked. Do not add saffron. When cold add the grated pecorino, cover and store in the frige until the next day. While you make the risotto, prepare the ragù. Fry pancetta, minced onion and garlic until soft. Gradually add finely minced chuck meat so that it will brown without releasing too much liquid at once. When all meat has been browned in this way, add minced carrot and celery stick and fry for 5 more minutes. Pour the red wine and let cook for 2 minute until alcool has evaporated. Add tomato paste, bay leaf, thyme, salt and pepper. Cover and leave to cook on lowest flame for 1 hours or until meat is soft. Store in the fridge until next day.
The next day, heat 2 liters (2 quarts) oil to 180°C in a pan and prepare 7 bowls:
Bowl 1: Cold risotto
Bowl 2: Ragù
Bowl 3: Diced cheese
Bowl 4: Flour
Bowl 5: Beaten eggs
Bowl 6: Breadcrumbs
Bowl 7: Water
To make an arancino, take two tablespoons of risotto in one hand, make a hole with a finger and stuff it with ragù and 1-2 cheese cubes. Close the hole with the risotto until you have a small ball with no ragù in sight. Some people make little volcanoes as you see in the picture above. Roll the arancino in the flour, shake it to remove excess flour, then quickly dip into the beaten eggs and check it is thoroughly covered on all its surface. If not, dip again in the eggs until it is. Then just roll in breadcrumbs to make a nice crust and deep fry until nicely brown.
Making arancini is not difficult and does not require special skill. Your first arancini will be very 'ricy'. The name of the game is to get as much filling in as little risotto possible. If you keep trying, each arancino will be better than the last one. Good luck!

603631 views
Related Articles

Authentic Sicilian Pasta With Broccoli *** Popular
This traditional Sicilian recipe brings together North African and Italian culinary traditions. A cult dish!

Serious Pasta alla Norma *** Popular
Pasta alla Norma, a divine combination of eggplants, tomatoes, basil and ricotta, is one of the most elegant traditional Sicilian recipes. A real cult classic!

Pasta ncasciata **
Uber-cult baked Sicilian pasta very rarely seen outside the island. Eating it off your computer screen is calorie-free.

Bring Out The Falsomagro **
There is more than meets the eye to this cult Sicilian Sunday roast - a stunning highlight of any family meal.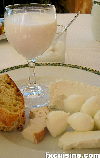 Sicilian Almond Sorbet **
The most delicate sorbet of them all, and you don't even need an ice-cream machine!
Copyright FXcuisine 2022 - all rights reserved.
If you do this recipe at home please let me know how it worked for you by submitting a comment or send me a picture if you can. Thanks!