Potato Chips Night Shift
Home
>>
Experiences
At midnight sharp, I entered Burt's factory in Devon to see how my favorite potato chips are made. Hand Fried in Devon.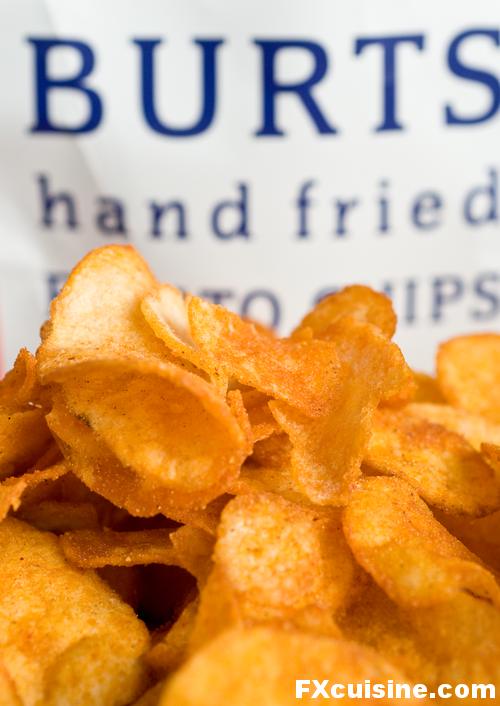 I don't eat much processed food, but for a couple years now I've been buying Burt's Premium Potato Chips at my local gourmet store whenever my cardiologist is on vacation. With their simple packs and delicious ultra-crispy chips, they are almost worth the calories. And it says on the label Hand Fried in Devon. What could that mean?
I emailed Burt's to request a factory visit and interview, saying that I needed to get close to the oil and not behind some glass, as some factories have a visitor gallery. Jonty White, one of the founders, replied:
Dear Francois

Thank you for your email. We would, of course, be delighted to see you at our factory. We know your website and we would be thrilled to be featured! Unfortunately the 12th July is a Saturday and the factory will be closed. My only suggestion could be the following Monday (14th July) when the factory will be open again from 6am in the morning.

If we can arrange a mutually convenient time, you would be very welcome to visit the factory floor (no glass screens!), take pictures and meet our people.

I look forward to hearing from you.

Kind regards,
Jonty White
I had a reader at Burt's! This is indeed a small world. They run the production for as many days a week are required to expedite all current orders, then spend the rest of the week cleaning up. The only time I could make it was on a Wednesday night in July. I arrived in Plymouth around midnight after crossing Dartmoor Forest, a no-man's land where the Hound of the Baskerville is still howling at night. As I drew near to the factory, a heavenly smell of sunflower oil guided me like the Christmas star leading the three Wise Men.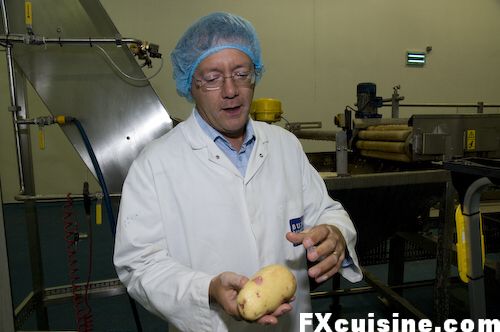 I knocked on a door and John Joseph opened and welcomed me in. He is Burt's Operations Director, a seasoned food industry professional and acted as a very friendly and knowledgeable tour guide for FXcuisine.com.
Burts started in 1997 in Kingsbridge, a small village in Devon, to supply farm shops. A couple years later they started selling to Waitrose, the British gourmet shop, and obtained nationwide recognition. Now Burts export to Denmark, Ireland, the Netherlands and Switzerland, where I've been buying their crisps for years. Production outgrew the original plant, and in 2006 Burts moved to Plymouth to a much larger plant that could accomodate a doubling in size. They turn out 13 million packs a year. The high season is July and August, where everybody's waistline is as thin as a chip. Biggest competitor in the UK are Kettle and Tyrrel's, but the US is the fatherland of the premium potato chip, with Good's, Martin's and Hers. My favorite US chips, Terra Chip, is very similar to Burt's in its technique.
Potato chips/crisps are made from potatoes, sunflower oil, salt and some seasoning. The big difference between premium chips and regular ones, is the way they are fried. Fritto uses continuous frying, with the potato slices dumped in oil that always remains at the same temperature. Premium chips producer such as Burts fry them in 50kg batches, allowing the oil temperature to drop, then increase again. This is what gives them their extra crispiness.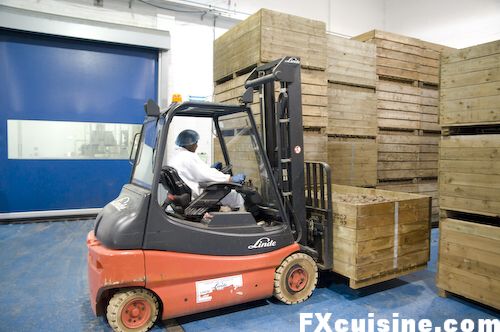 Potatoes are delivered by local Devon farmers. Between September and March, they are Hermes potatoes. From April to June, the factory uses late store Lady Claire, and from July to September the new crop of Lady Rosetta.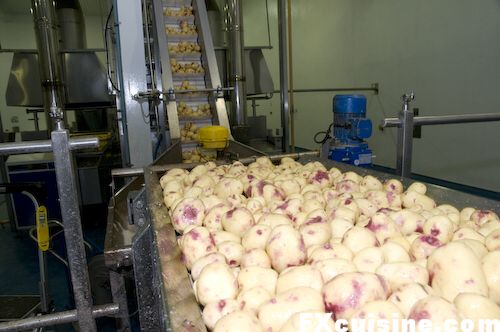 The potatoes are washed and quickly peeled. We can set the machine to peel more or less, but we deliberately leave a little peel on our potatoes, explains Joseph. I really like the way Burt's chips have dark patches on the sides, it gives them an artisan look.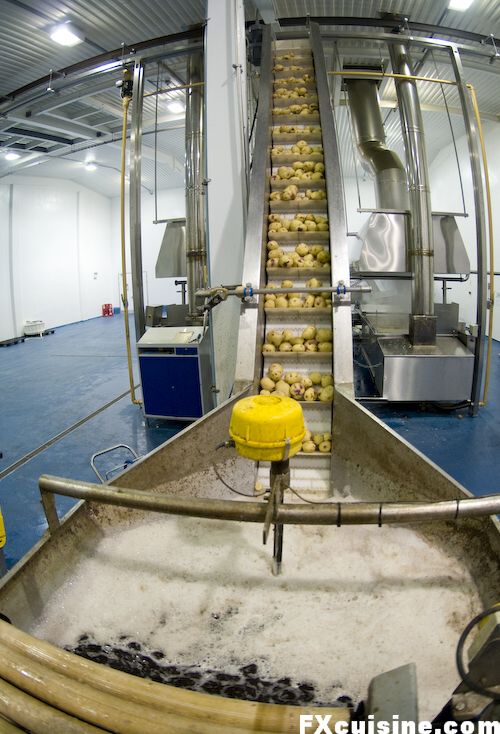 The coarsely peeled potatoes descend slowly into a washing tub ...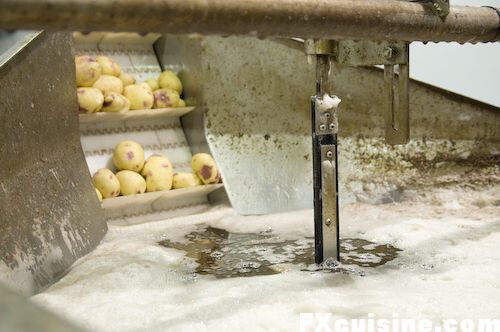 ... where they exit clean and ready for their last shave.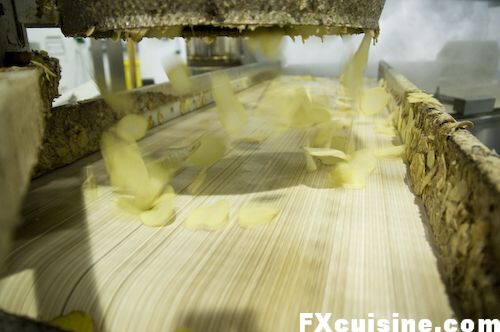 The potatoes are thrown into a hellish slicing machine and are spat back onto a special high-speed conveyor belt. Mama mia, you don't want your fingers stuck into that one!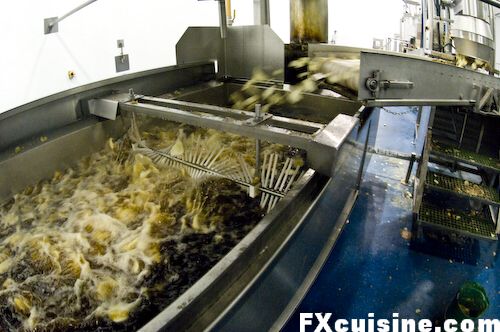 The potatoes fall into the hot oil. The oil rapidly cools down from 160°C/320°F down to 130°C/260°F. Then the temperature, absborbed by the cold potatoes, starts to rise again. It is this temporary decrease in temperature that make the potatoes really crispy, and it is obtainable only by working with batches, hence the name, batch-fried chips.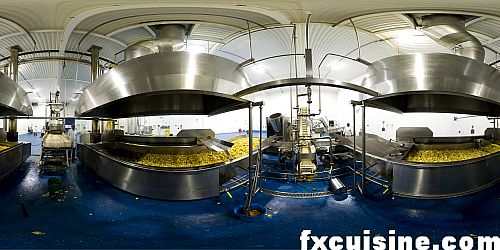 Interactive 360° panorama #1
 See the double batch-frying vats in action - that's the heart of Burt's. Meet the fryer, who gives to 'Hand Fried in Devon' a whole new meaning. But who could afford such fine chips if the machine didn't lend a hand to the man?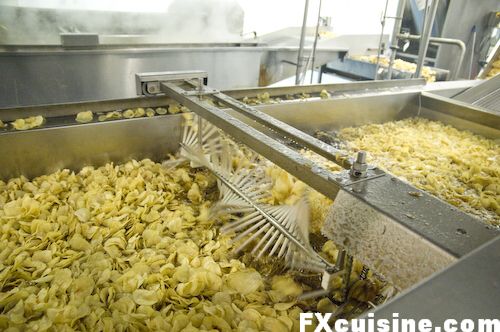 After only a few minutes, the potato slices rise on top, ready and crispy.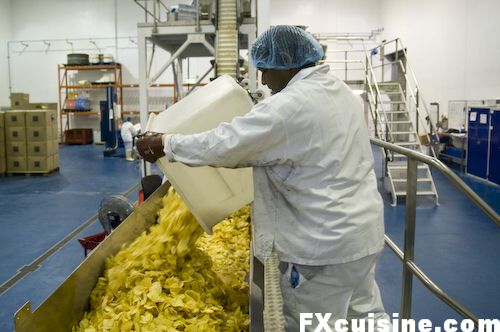 That night the chain was broken due to maintenance and the fryer had to carry the chips on his back to the next stage.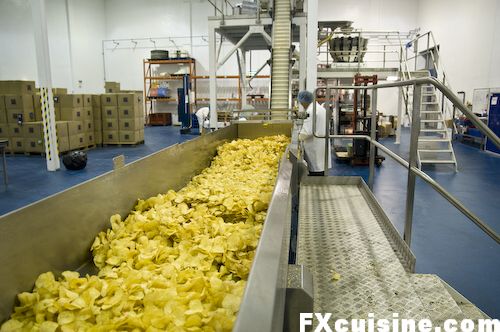 The chips now flow on a long conveyor belt where a Burt's lady checks for any black sheep.
The chips climb onto a tower and are fed, still wet from the fryer, into a huge cylinder to be coated with the seasoning mixture. Their best seller is the sea salted version, with salt sherry vinegar and mature cheddar as runners up.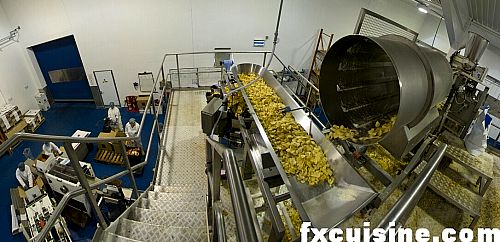 Out from the cylinder and onto another conveyor belt, the seasoned chips flow and fall...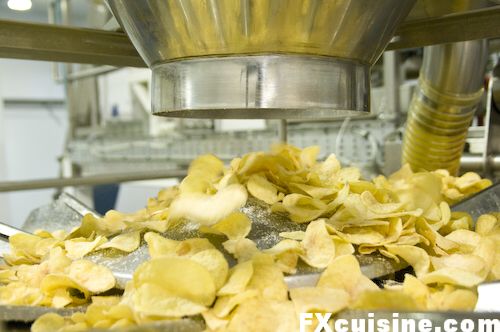 ... into a giant packing machine ...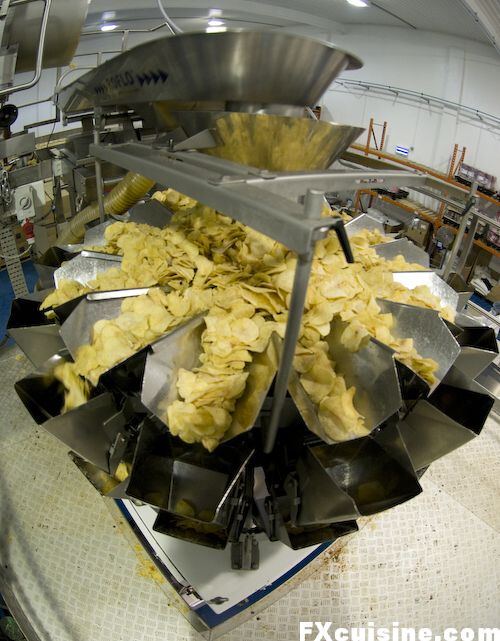 ... where they are fed into portion-sized chips packs.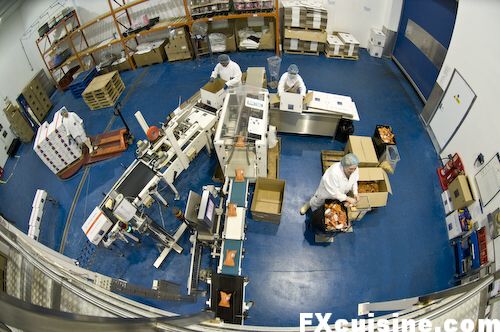 From the top of the seasoning tower, I see the fine people at Burt's are busy packing the final product. Let's come down for a closer look.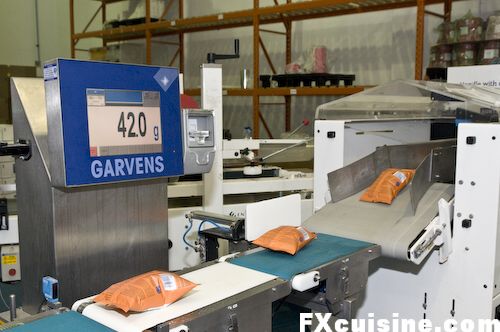 Each pack is weighted to make sure it exceeds the minimum weight printed on the label. A machine pushes underweight packs out.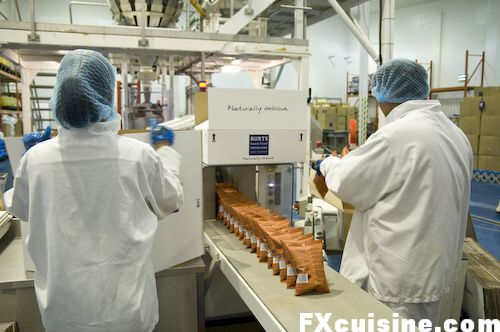 Finally the chips packs exit the chain where people place them in a box to be sent on their way ....
... to my stomach
Burt's
www.burtschips.com
Plymouth, Devon
UK
419548 views
Related Articles

Scottish Deep-Fried Candy Bar *** Popular
At last a solution to social security deficits.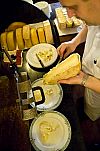 Swiss Raclette *** Popular
The national dish of Valais, my Swiss canton, raclette is the most gorgeous melted cheese you will ever have. Here at its best at the Manoir de Villa in Sierre.

Scottish Deep-Fried Pizza *** Popular
A northern cousin of the Neapolitan deep-fried pizza, this proud member of the Scottish Diet makes one nutritious snack.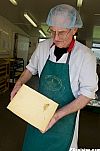 Quicke's Slow Food Cheddar ***
My visit of Quicke's Dairy in Devonshire, the largest of the nine remaining producers of real farmhouse cheddar, or how to produce world class traditional cheddar on a large scale.

Pizza Fritta - traditional Neapolitan deep-fried pizza ** Popular
Follow me inside the kitchen of working-class pizza joint in downtown Napoli and see how they make deep fried pizza, the cult Neapolitan street food.
Copyright FXcuisine 2023 - all rights reserved.
If you do this recipe at home please let me know how it worked for you by submitting a comment or send me a picture if you can. Thanks!