Homemade Garganelli Pasta
Home
>>
Tools & Ingredients
Thanks to a tiny a
garganelli comb
ordered from Italy I was able to make these legendary hand-rolled penne. A treat!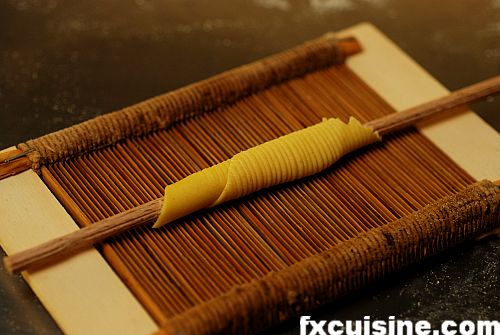 It took me a month of negotiations in Italian to convince the fine gentlemen at Medagliani in Milan to send me a garganelli comb over the Alps. Not that they are expensive, with their €15, but they just don't ship outside Italy. «Nobody wants these things abroad» explained Simone Medagliani. But once I had arranged shipping and collection at their shop, they were happy to process the payment, prepare a little parcel and wait for my man to show. And a week later, I received my pettine per i garganelli or garganelli "comb", a diminutive wooden kitchen tool indispensible to make one of Italy's most intriguing pasta.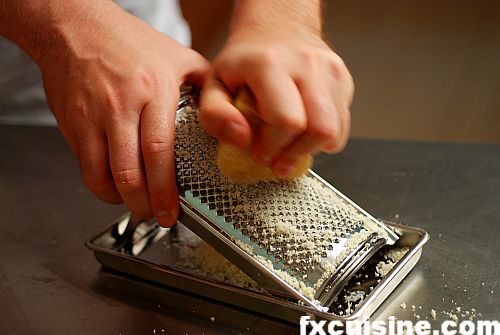 Garganelli [garga-nay-lee] are homemade combed penne from a grated Parmesan, nutmeg, eggs and flour dough. This is gorgeous pasta but you are unlikely to ever eat freshly-made artisan garganelli anywhere, even in Italy, because they just require too much work. But you can make them yourself! Let me show you how.
Garganelli in ham sauce
For 6 as a first course
4 of the best large eggs you can afford
Approximately 400gr/1 lbs semolina flour
100gr finely grated Parmesan
100gr cooked ham
2.5dl heavy cream
Nutmeg
A garganelli comb (special accessory)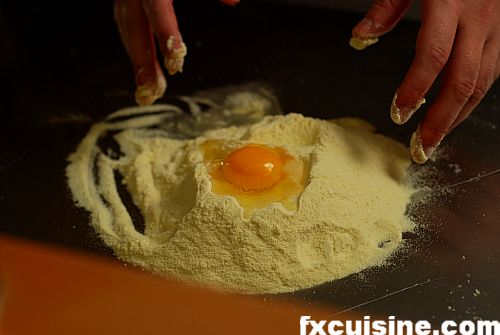 Make a little volcano with the flour and sprinkle with a pinch finely grated nutmeg. Break the eggs into the volcano, making sure they all stay inside. You wouldn't want this gluttoon's volcano to spit egg lava into your kitchen drawers.
Add the grated Parmesan and start mixing the eggs with the flour with no concern for getting your hands dirty - all with finally find its way back into the dough ball eventually.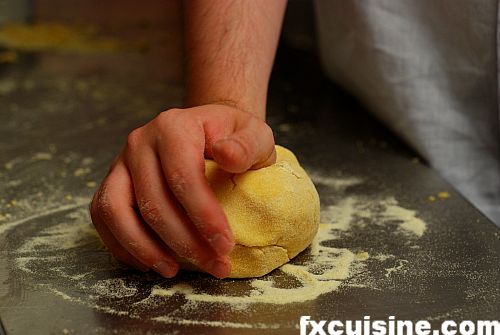 Squeeze the dough on the bench with the heel of your hand, then shape it back into a ball. Continue for about 10 minutes until the dough is smooth, homogeneous and silky. Wrap it in a plastic sheet and leave for 30 minutes in the fridge so that the gluten can rest and the water make its way to the tiny bits of dry flour left into the dough.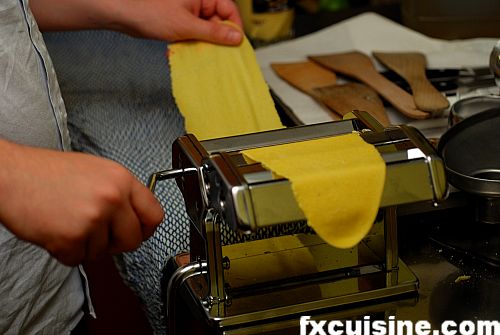 We now need to make very thin sheets of pasta dough. If you have one of this hand-cranked pasta laminators Italians call macchinetta [mahkeeNAYtah], just pass your dough bit by bit through the machine and finish with the next to thinnest setting. Otherwise, just use a long rolling pin on a wooden table like a real Italian mama.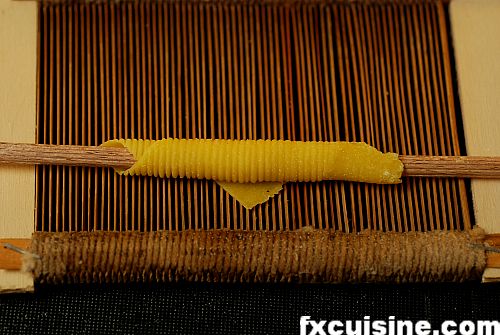 Let the fun begin. Cut your pasta sheets into 5cm/2 inches squares and using the supplied miniature rolling pin, roll each square on the garganelli comb with the pin positioned from one corner to the opposite corner so that the finished garganello will have two pointed tips. As you see the comb is rather simple tool, cheaply built and you could probably make one yourself.
After a few tries, you'll probably be able to roll two garganelli at the same time. Great fun and a truly memorable moment in any kitchen!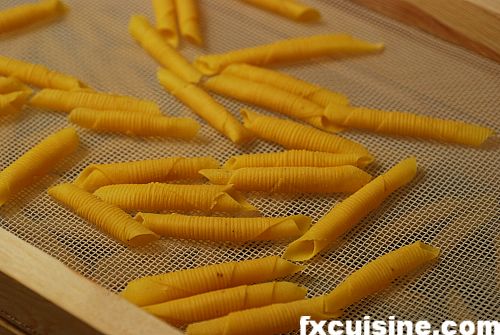 Let the garganelli dry a little either on a clean, dry towel or on a wire rack. Here I used special cassetti asciugapasta 'pasta-drying drawers' racks you can stack on top of each other I ordered from Italy. Sounds very fancy but they cost only about 10€/15$ a piece and let you dry pasta without taking too much kitchen real estate.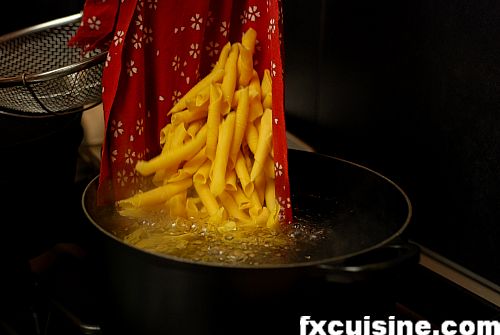 Fill the largest pot you have with water, add a tablespoon of salt and bring to a rolling boil on your hottest burner before plunging the garganelli in the water.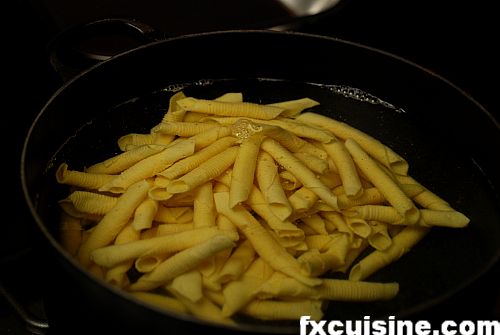 The cold pasta will stop the boil - that's not too good if it lasts more than a few seconds and we try to avoid this by using a large quantity of water and a very strong burner.
Taste a garganello from time to time and fish them out with a large sieve as soon as they are almost cooked but still retain some bite. They will continue to soften a bit in the sauce, so err on the side of rawness.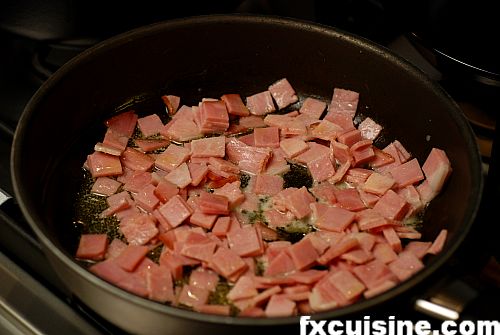 Italians are great innovators, but when it comes to pasta tradition holds them firmly in place. Each pasta sauce has its authorized pasta shape and deviation is frowned upon unless you are a successful chef. Garganelli are traditionally served either with a green peas and ham sauce, or in a cream and ham sauce. I bought myself three nice thick slices of artisan cooked ham and tonight, we'll eat our garganelli with the ham-and-cream sauce.
Cut the ham into 1/cm/0.5'' squares. You may discard the white fat on the sides as more fat is on the way. Gently melt the butter in a deep frying pan, then add the ham squares. If you use thick cream you can put the garganelli before the cream as it won't need any thickening. If however your cream is runny, pour it into the pan and let it reduce as long as needed to get a sauce that will coat the pasta nicely. Then add the garganelli and mix well.
Serve with the rest of the grated Parmesan.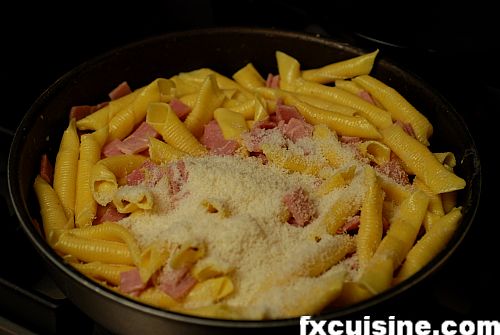 Not a quick-fix dinner, but what a treat! The pasta itself has a delicious parmesan-nutmeg flavor and is bity and strong to the teeth. I've been wanting to make this pasta for years and this little parcel from Italy with the garganelli comb really made my day!
217331 views
Related Articles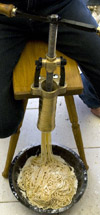 Bigoli, Bigolaro, Bigolarist ***
My largest and most unusual pasta-making accessory, the bigolaro, made 28 fat spaghettis, called bigoli, each as long as the room. Served with the traditional duck ragł, this made my guests very happy despite the fact they had to make their own pasta.

My New Italian Chitarra Pasta Cutter **
Homemade pasta with the legendary Italian chitarra, a harp-shaped pasta cutting tool.

Priest-stranglers in Neapolitan Meat Sauce **
These gnocchis served in the cult Napolitan ragł sauce would be a world-famous dish if they didn't take 7 hours to cook.

Pasta con i fagioli **
Homemade wholewheat spaghetti with a delicious beans ragu for a typical Tuscan peasant dish.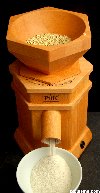 Italian Alpine Buckwheat Pasta Pizzocheri **
Traditional buckwheat noodles from the Italian Alps with cabbage and Fontina cheese. I made them from scratch with my own freshly milled buckwheat flour. Hard core pasta!
Copyright FXcuisine 2023 - all rights reserved.
If you do this recipe at home please let me know how it worked for you by submitting a comment or send me a picture if you can. Thanks!